If you could treat a cold without leaving your home or take a 2-hour drive to a doctor, what would you choose? Most probably the first option. Just like 76% of people who are interested in using telemedicine.
Such market tendencies offer entrepreneurs and startups a great investment opportunity. By turning to telemedicine, they get access to a rapidly growing target audience with versatile needs. These users readily switch to new solutions and innovations. If you want to know how to start your own telehealth business, get the answer to the everlasting question: "mhealth vs telehealth", this article is for you. Below, we will talk about the types of telehealth services, peculiarities of telehealth business, cost of launch, and other critical aspects.
Industry Overview: What Makes Starting a Telemedicine Business So Attractive
The latest physician survey by Deloitte also confirms the rising use of telemedicine by physicians. In 2020, more doctors started to use telemedicine technologies to communicate with patients, conduct physician-to-physicians consultations, and complete a range of other actions.
The Changing Landscape in Telehealth System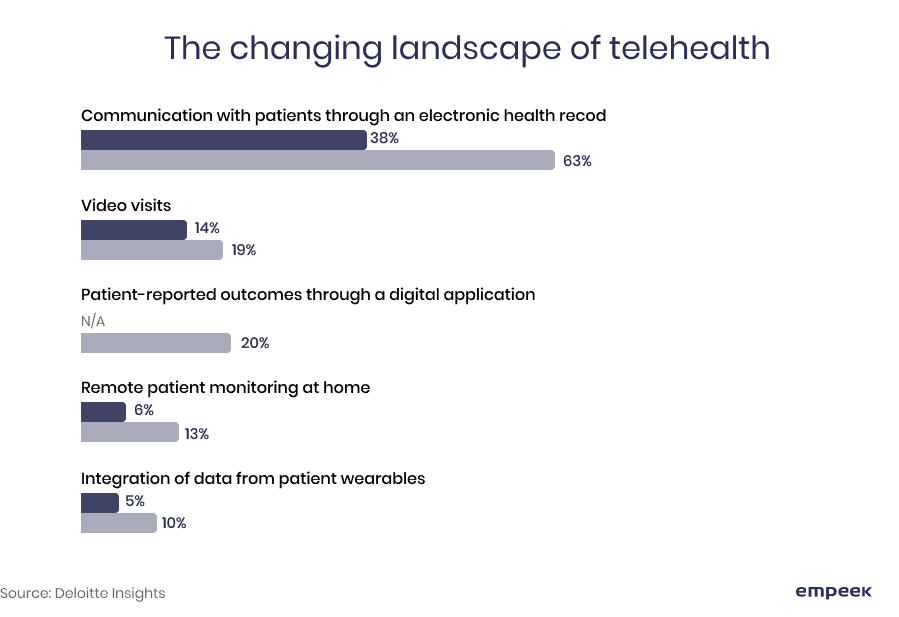 These changes are evident from the increasing worth of the telemedicine market from 45.5 billion US dollars in 2019 to 175.5 billion in 2026 is a quantum leap. On top of that, Data Breach market research predicts that the telehealth industry will continue to grow within the next few years at a CAGR of 22.67%.
Global Telehealth Market Growth 2020-2027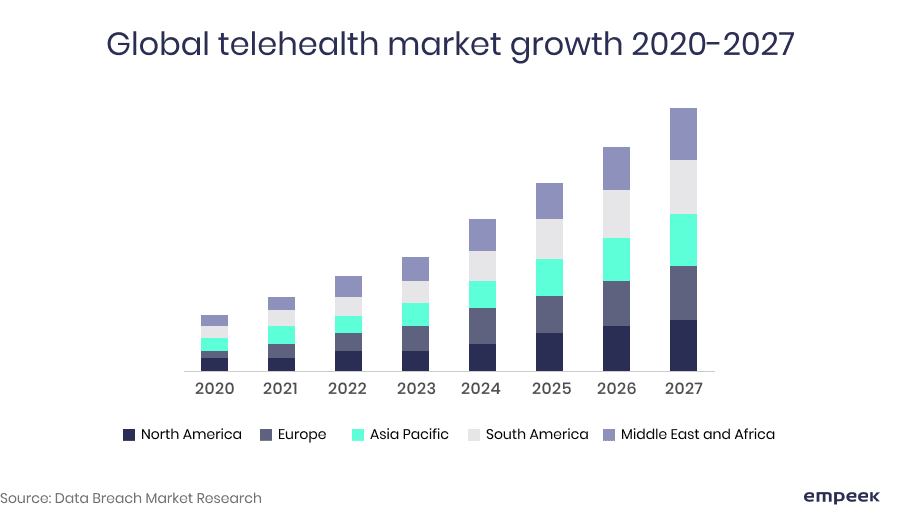 Apart from the market size, telemedicine boasts enviable stability. The 4X increase means that in the upcoming years, telemedicine solutions will continue basking in popularity. According to McKinsey, approximately 250 billion of all Medicare, Medicaid, commercial OP, office, and home health spending can be virtualized.
Launching a telemedicine business, you can focus on any type of these medical services or combine several options. This will allow you to cover a broader target audience and maximize the profit. Find out more info on how to create a telehealth business below.
If you want to learn more about the latest telemedicine trends, check our recent article about the latest insights on telehealth industry solutions.
Main Types of Telehealth Services to Choose Between
Although each app has unique functionality and capabilities, most solutions fall under two broad categories. Telehealth applications are either synchronous or asynchronous. This subdivision reflects the approach to information exchange.
Synchronous telehealth solutions are apps that support a two-way audiovisual connection between a patient and a healthcare provider. They substitute in-person appointments with the help of video conferencing.
Asynchronous telehealth applications transmit recorded medical history to a health practitioner. They don't connect patients and clinicians directly. Patients just upload their data to the platform enabling clinicians to follow the treatment progress.
Comparing Telehealth Practice Solutions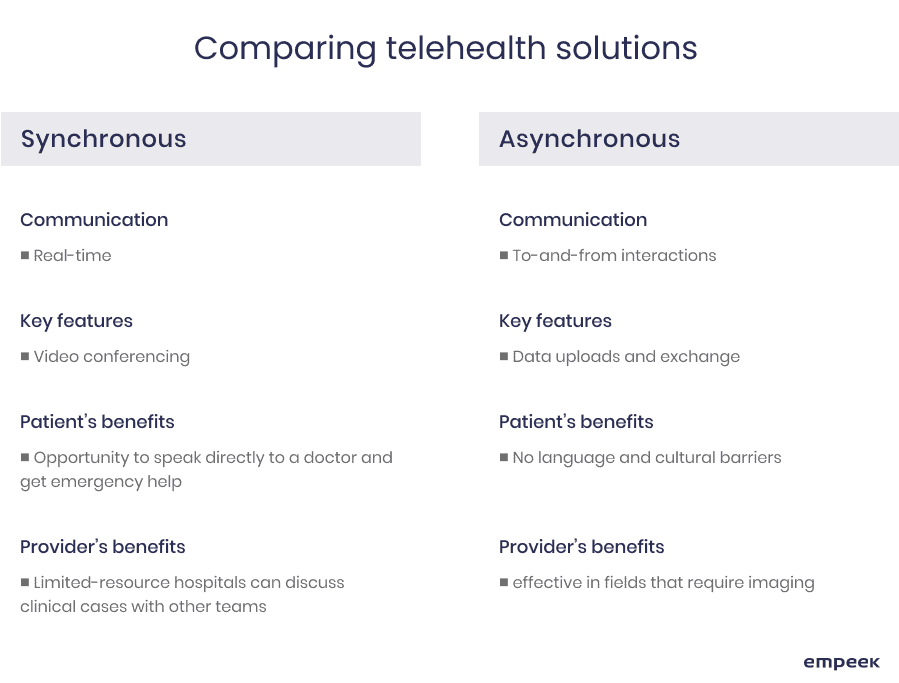 If you are not sure how to start a telehealth practice, choose the type of application first. This will allow you to understand who is your target audience, what features they need, and how to implement them. Once you make your mind about this, you can move to more specific tech choices and market analysis.
How to Start a Telemedicine Business: Top Tips You Need to Know
Whichever telehealth solution you want to launch, you need to be careful with compliance. There are some price transparency regulations, HIPAA, and other state-specific standards to follow. You should also decide on a pricing program, understand your marketing offer, and do some other essential steps listed below.
1. Learn Telemedicine Laws in Your State
Healthcare laws vary from state to state. Therefore, you need to clarify what rules govern telemedicine services in your state and other territories you plan to target. For example, most states still require you to receive some sort of informed consent before providing telehealth services. The reimbursement policies also vary: whereas 50 states reimburse live video consultation, only 19 reimburse home visits. The understanding of the applicable restrictions will allow you to stay compliant and inform users about reimbursement options.
2. Understand Your Market Position and Offer
To create a realistic business plan and factor in all expenses, you need to decide on pricing. We recommend analyzing your key competitors and their offer. Let's say you want to design something similar to MDLive. Their cost of a medical consultation varies from $0 to 82 depending on patients' insurance. In Amwell, the cost of a visit is $79. In other comparable apps, the pricing ranges from $0 (for a fully reimbursed visit) to $200 for physiatry.
Understanding the market situation, you will be able to set balanced prices that will attract the right users and business partners. It's also important to calculate the ROI of different features to understand what functionality is worth its money and what isn't. In your quest of setting up a telemedicine practice, this will allow you to design a solution that starts to generate revenue shortly after being launched.
In case you don't know how to estimate the profitability of software, you can engage experts. Find a software development company with skilled business analysts that will do the research for you.
3. Plan the Features Beforehand
Did you know that you need a physical address to bill insurance? Without address collection and verification, such an application just won't function properly.
This is also the case with a variety of telemedicine software capabilities. If you build a synchronous telehealth solution, you won't do without video streaming. Asynchronous communications require secure data storage. Solutions used for diagnostics must support high-resolution images. These are only a few examples of the things to consider.
That's why you must figure out what features you need before investing in a tech solution. This will allow you to offer compliant and quality telemedicine services.
Need more insights? Check out our article about how to start your own telemedicine practice.
Key Components of Successful Telemedicine Business Model
Startups and healthcare business owners are the main categories of entrepreneurs interested in telemedicine solutions. In both cases, to start your own telemedicine business, you will need to have a reliable telemedicine program and a business model. Find out its key components and check what they mean in the article below.
1. Customer Segment
Define your audience and the telehealth program. Who is your perfect customer? Then, divide your audience into smaller segments and define their specific needs too.
2. Value
Determine your main business goal. Continue with the uniqueness of your services and the socioeconomic problems they can solve.
3. Channels
Define the ways (social media, traditional and online ad, etc.) by which you'll aware the target audience about your product or services.
4. Customer Relationships
Think of how you can develop a positive emotional bond with your customers.
5. Revenue Streams
Determine how the tech solution will generate profit. Define whether each stream will have a different pricing model.
6. Key Activities
Define your action plan with all business-building steps.
7. Key Resources
Check whether you have acquired all necessary resources.
8. Key Partners
Define your stakeholders and outsource a team of tech professionals to help you launch your product.
9. Cost Structure
Calculate your expenses and add potential expenses.
A business model offers a concise view of what is your business value. It's another thing that will guide you on how to start your own telemedicine business and help better realize your business opportunities and resources.
Choosing the Right Telemedicine Platform
When launching a telehealth company, you will need to find a technology partner. It's better to cooperate with a proven video communication company that has already created solutions for telehealth. There is a range of criteria that should be considered while opting for telehealth software. Let's review them below.

Generally, a good telehealth platform needs to meet the following requirements:
Data Security
The average cost of a healthcare data breach reaches $7.13 million. Therefore, by adopting a secure platform, not only you ensure the safe processing of confidential data but also protect yourself from severe penalties.
Compatibility with Existing Software and Hardware
Telehealth software is often used simultaneously with other applications. When connected, they create a powerful multifunctional system that automates physician-patient communications and the treatment process. That's why you need to ensure the chosen platform integrates with other tools and hardware you're currently using. In particular, telemedicine software should allow you to automatically record important communications in an EHR system.
Healthcare Compliance
HIPAA is the first thing you should keep in mind. Apart from HIPPA, some security and data exchange standards might be applicable, including FHIR, ICD-10, and XDS/XDS-I. If you plan to use the features that fall under these regulations, your telemedicine platform must meet their requirements.
The Combination of Rich Functionality and Simple UI
The first impression depends on a design by 94%. Applications with poor UI/UX won't make users comfortable. As a result, you will have trouble selling such software on the market and attracting customers.
To avoid such problems, pay attention to usability when you select a telemedicine platform. Take time to test it and clarify whether it has the expected functionality. It's important to integrate a platform that fully covers your software needs but at the same time, doesn't include any unnecessary features. They will only confuse customers and make the product overpriced.
Tech Support
By selecting a platform, you initiate a long-term partnership. Hence, the software company you cooperate with must be ready to troubleshoot when anything happens. It's important to get technical support both for your team and your customers.
Robustness
The end-users of telemedicine software are large healthcare organizations with thousands of patients. Hence, you should choose a platform that can withstand a high load without slowing down its operations.
These are broad recommendations on what matters in telehealth vendors. The technical characteristics will depend on the functionality of the solution you are going to launch.
If you cannot find a ready-made telemedicine platform that meets your requirements, consider custom telemedicine software development services. Custom platforms will have unique features that perfectly fit your market needs. None of the existing platforms can give you the same flexibility and security as customized solutions.
Cost of Starting a Telemedicine Business
Regardless of who you are, a startup or a healthcare business owner, the cost of starting a telemedicine business will be dictated by software as it is the key component to ensure your business success.
If you need custom software development, expect to spend at least $50,000. Such a telehealth app will be tailored to the clinical workflows and the needs of end-users. Custom software is a preferable option for the majority of telemedicine business models. Besides, outsourcing is an effective way to make custom telemedicine cheaper. You can delegate the telehealth software development to a remote company with lower rates in the market but equally skilled engineers.
An MVP will cost you up to $20,000 and take less time to develop. It's a good time and cost-efficient option to test your product before investing in a full-fledged version, but the functionality of MVPs is too limited to use them instead of custom applications in a long-term perspective.
There are also white-label telemedicine apps that cost around $15,000. They have the core features, but you won't be able to offer anything unique or innovative. Attracting users to such applications can be challenging.
Note that if apart from software development you need to invest in hardware (tablets, headphones, etc.), the cost will be much higher. It's a usual extra expense for healthcare providers that adopt telemedicine solutions.
All things considered, it is also crucial to keep in mind the ROI telemedicine solutions may bring. Some cost savings estimates are presented below.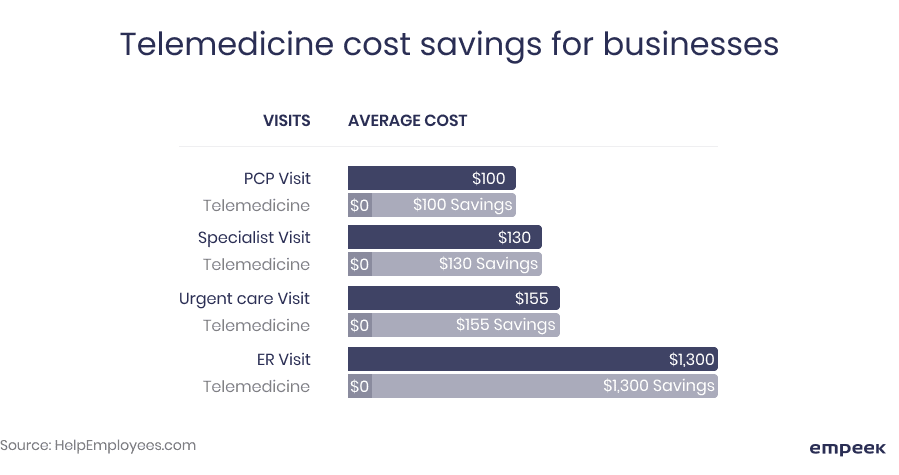 Final Thoughts
There is no point in making a leap in the dark. Before investing in telemedicine, you must know how to set up a telehealth business.
Learn how to start a telemedicine practice legally. Make sure to clarify what regulations govern telemedicine practice on the federal and state level. Choose the right platform, carefully pick the pricing approach, and build your business model beforehand. We hope that with our tips, the implementation of telemedicine services will be a breeze.
Empeek can help you if you need any assistance with software development. Our teams of tech experts specialize in healthtech products. With their support and skills, you will get custom telemedicine software that stands out on the market.
Check out our projects to understand how we work or contact us to discuss your business idea.