An in-person visit to a doctor can be intimidating. Moreover, in the age of pandemic, it is also challenging. Healthcare workers are busy with the growing number of severe cases and don't have time to attend to everyone. Besides, multiple studies predict that the shortage of physicians will only increase, reaching up to 121,000 by 2032. As a result, many people may be deprived of quality care.
Would you like your business to avoid the health care collapse?
Then you definitely need to invest in telemedicine app development. mHealth and Telehealth apps are a trending solution that connects patients and healthcare specialists remotely. For a reasonable fee, users can consult with doctors to solve their health problems and reduce the load on the healthcare system. Some of such solutions even support insurance coverage.
In addition to benefiting end-users, telemedicine development is also a profitable business niche. The telemedicine market is expected to reach a 23.5% compound annual growth rate by 2026. By entering it now, you join the competition for high-profile customers and increase your chances to lead the race.
Let's delve into the current telehealth mobile apps development market together. Learn how to develop a telemedicine app, what impacts its cost, and other useful tips on creating and deploying a telemedicine solution successfully.
Telemedicine Solutions and Market Trends
Before talking numbers and market statistics, let's discuss what telemedicine is and how it works.
Telemedicine explained
Telemedicine emerged when the first radiology images were transmitted via telephone line in the 1940s. After that, many clinicians started to exchange patient data remotely, which has evolved to the telemedicine we know now.
Today telemedicine is about all kinds of applications, web services, and devices that enable patients or caregivers to benefit from the help of qualified physicians regardless of their location. They are used for many types of remote healthcare services, such as telenutrition, telepharmacy, telerehabilitation, telepsychiatry, and others.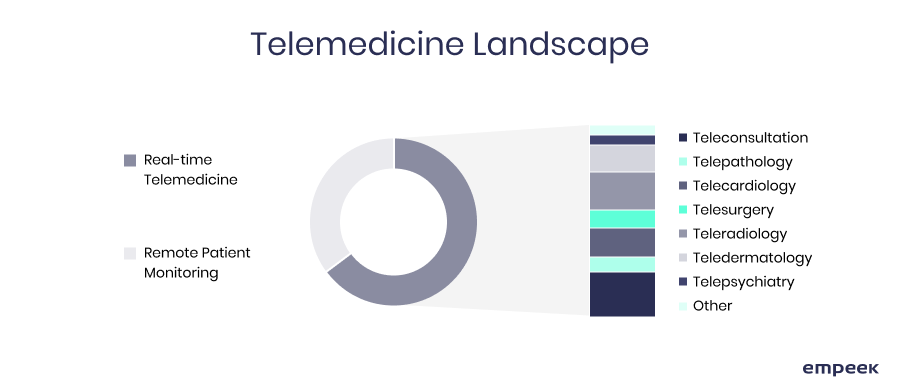 What's happening in the telemedicine market
The COVID-19 pandemic has significantly accelerated the growth of the telemedicine market. It has shown the weaknesses of the US and other healthcare systems that failed to manage thousands of patients remotely. Telemedicine software development services have been nudged into seeking solutions that can optimize the work of physicians and enable them to help people remotely. Telemedicine also comes in handy during the digital patient registration process.
Telehealth mobile apps development has turned out to be the best choice. Based on Statista's report released in April of 2020, in 6 years, the global telemedicine market size will reach 175.5 billion dollars.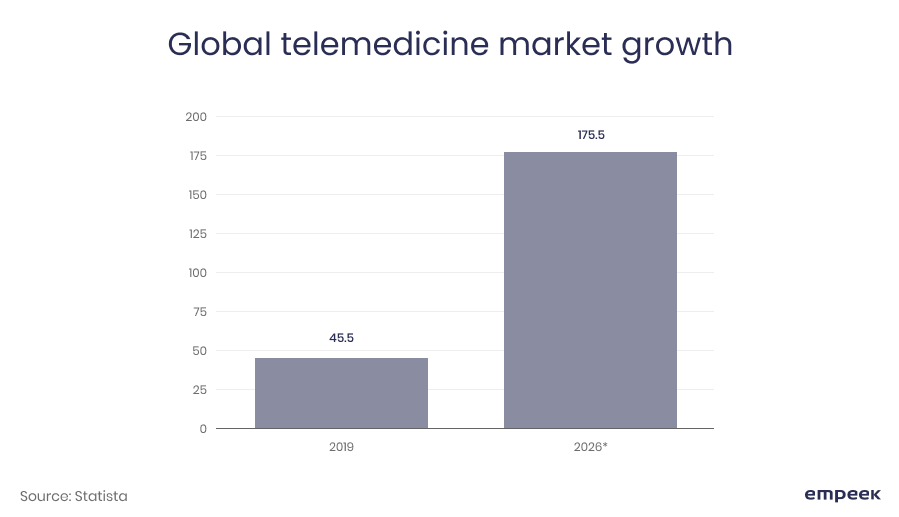 Global Market Insights states the most popular telemedicine market segments are teleconsulting and telemonitoring. This proves that most users look for some basic services as an easy way to solve their health problems. An application that allows contacting a clinician in several minutes is much more convenient than a physical visit.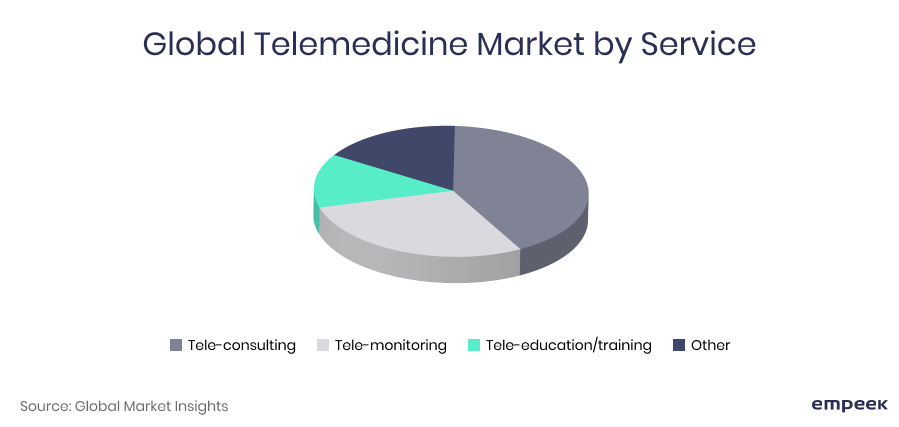 As the role of telehealth app development in the healthcare sector grows, the need to review regulatory norms also increases. Healthcare services collect and process a lot of personal information subject to HIPAA, GDPR, and other regulations. Thus, the launch of compliant solutions and the approval from governmental bodies is not always easy.
Given the current and expected changes, the rapid growth of telemedicine development services is certain. To join this market, you just have to come up with an idea of a custom solution that can meet the needs of patients and healthcare providers. Check out the main types of apps and reasons to launch telehealth app development below.
Telemedicine Platform Development: Real-life Examples and Types of Apps
In the early months of 2020, in the USA, 50% of patients already arranged online appointments while 71% considered this option. However, telemedicine app development isn't just a pandemic trend. It was long before COVID-19 has shaken the world and will remain in demand after it ends. Modern consumers have come to love telemedicine solutions as a convenient option to get a doctor's appointment.
Top use cases proving the advantages of telehealth apps
Having a telemedicine platform in place implies solving various patient experience issues and providing patients with reliable access to healthcare services. Read on to discover how telehealth technologies allow for medical practice optimization, providing better care, improving patient safety, and much more.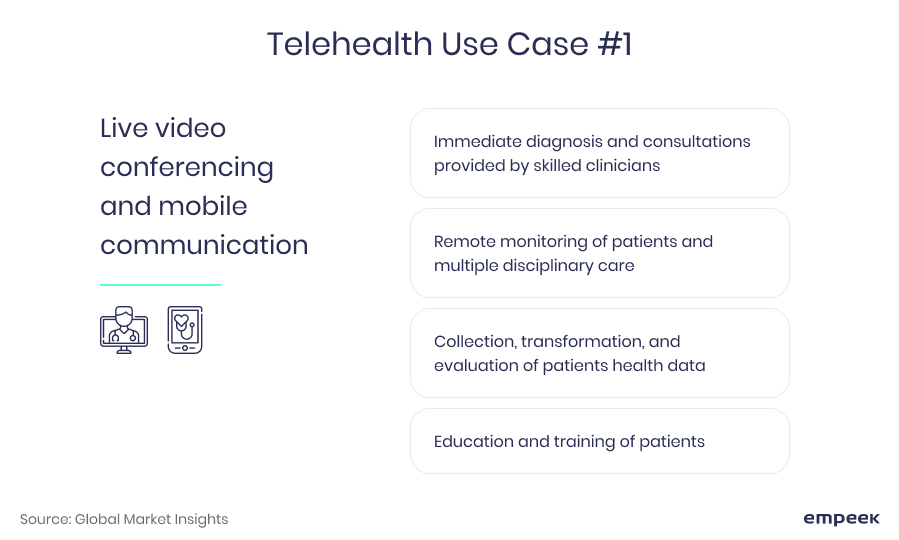 A solution for live video conferencing and mobile communication helps clinicians capture patient data and process it, allowing for real-time data exchange and access to disease prevention and treatment guidelines. It also eliminates direct physical contact in the age of pandemic and protects medical personnel and patients from the potential transmission of infection.
Once we take into account that long waiting time was named as a top reason to delay seeking care by 23% of consumers, the advantages of this solution become even more evident. Additionally, the research found out a video visit to a doctor saves patients up to 101 minutes on average. It's the useless time they spend commuting and waiting for the appointment, especially while being ill.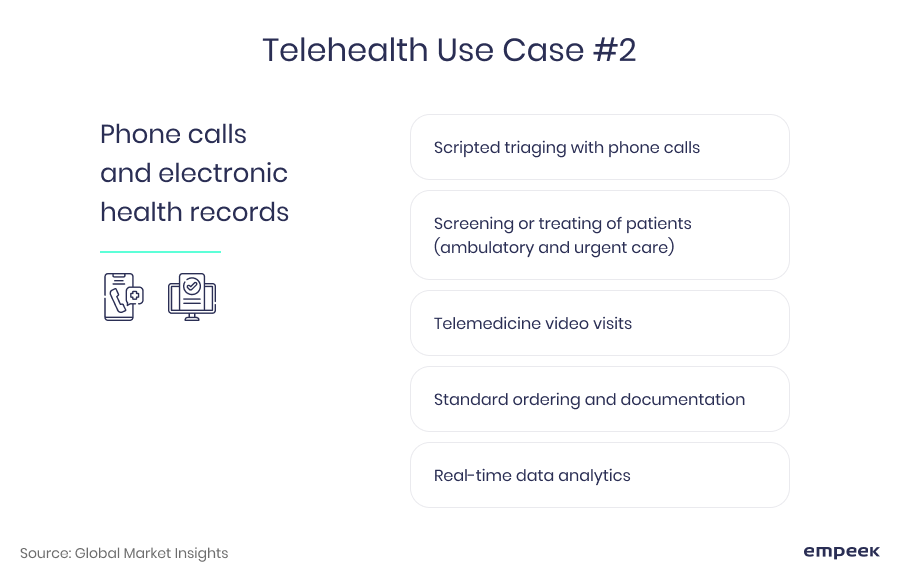 The EHR system allows healthcare institutions to track COVID related infections and persons under investigation. It provides guidance on the best setting and location of patient care depending on the specific data of a patient. Electronic health records also enhance patient management and provide automated reporting compliance. On top of that, clinicians can monitor patients' wellbeing more effectively and reach them by phone when necessary.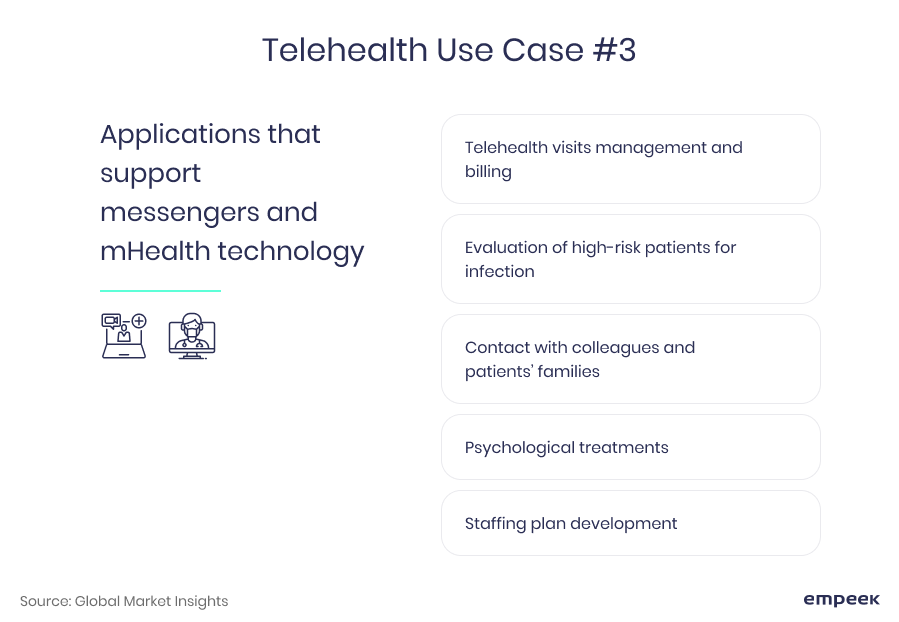 The application minimizes unnecessary exposure of hospital staff to patients and allows people to get consulted remotely. As a result, they receive early treatment with better outcomes. This application provides functionality both for physical and psychological treatment. Besides, the integration with messengers simplifies communication between different teams and departments.
These are just a few examples of how the companies that develop a telemedicine platform can benefit hospitals and patients. The actual advantages will depend on the functionality of the developed solution. Healthcare software is a custom story that requires a personalized approach and lots of experience. Thus, you will need to have strong expertise in medical software or engage a telemedicine software development provider to launch the right type of app.
Types of telemedicine apps
The first thing to do before starting a telemedicine business is to closely research and evaluate various types of telehealth technologies. This will help you figure out what kind of software matches your chosen market niche and meets the needs of users. Here're the most common options to create a telemedicine application:
Store and forward telemedicine
This application is a cloud-based solution that enables patients and healthcare providers to share images of health information remotely. The data can be accessed by only authorized users. The store-and-forward model is a popular solution for dermatology, radiology, and ophthalmology since these specialists can easily diagnose patients based on photos only.
Real-time telemedicine
Real-time telehealth services are very similar to offline consulting. A patient communicates with a doctor through video conferencing or phone to discuss the condition and symptoms. Such apps are suitable for follow-up check-ups or to treat minor health problems like flu. That's why real-time telemedicine has become particularly trending after the spread of COVID.
Remote patient monitoring
Telehealth solutions for remote patient monitoring allow physicians and nurses to care about patients' health regardless of the location. Healthcare providers can stay in touch with patients that have been recently discharged or are still recovering from minor illnesses. They evaluate the data collected from patients with telehealth software and provide recommendations.
Step-By-Step Instructions on How to Develop a Telemedicine App
To create a telemedicine consultation app, you will need to go through the standard software development lifecycle. Let's briefly cover all of the main stages below.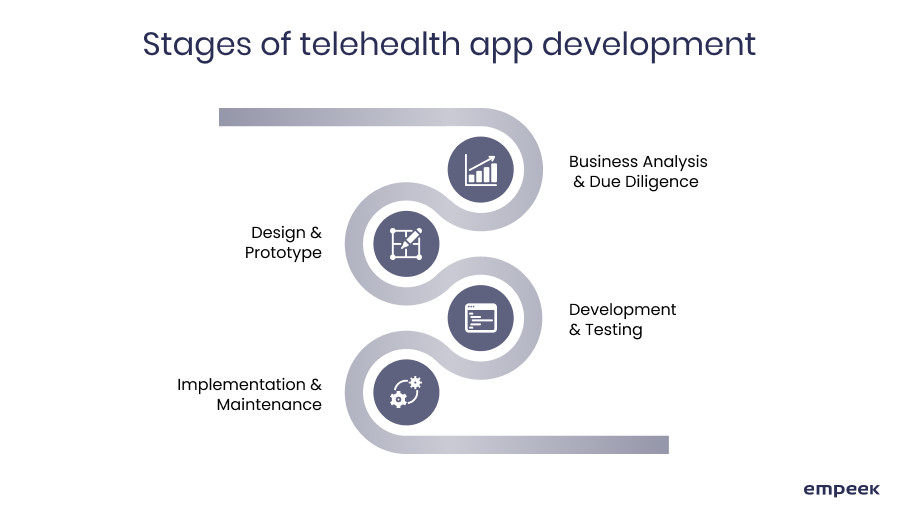 Step 1. Business analysis and due diligence
Business analysis and identifying a buyer or end-user persona is the first step to start from. Once the target audience and its main needs are clear, it becomes easier to research the market and build a telemedicine platform for a specific niche. At this point, you will also plan all the next steps of the SDLC and create a roadmap.
Step 2. Design and prototype
The next stage is a minimum viable product. The design team creates the model of the future telehealth application to showcase its look and functionality. The MVP is a must-have to test the basic version of the app before coding and start marketing the product. At this point, it is easy to make any changes to the app.
Step 3. Development and testing
The development and testing stage requires much more time and effort than other stages. Developers create the alpha version of the software and share it with QA engineers to begin testing.
Using the combination of testing approaches, the QA team checks the application for bugs and other flaws. If any problem is detected (which usually happens with the alpha version), the software engineers can fix it before the final release.
To speed up this stage, you can integrate various APIs with your app. They will provide you with ready-made functionality so you won't need to code everything from scratch.
Step 4. Implementation and maintenance
The development team releases the application making it available to end-users. Several tech specialists keep working on the project to support the application, troubleshoot, fix detected bugs, and implement new features if necessary.
If you need assistance with going through these stages, you should delegate the project to a third-party. Empeek can provide you with outsourcing engineering services and work jointly with your team. We offer end-to-end software development services and hold responsibility for each step from market research to maintenance.
Cost to Develop a Telemedicine App: What to Factor In
Most companies that are about to invest in software development want to know its cost from the start. The truth is no one can tell you the estimations until the requirements are clear.
Generally, the budget to develop a telemedicine mobile app in the US varies from $60,000 to $150,000. The final amount will depend on the complexity of an app and the number of platforms you need to cover. Native apps are usually more expensive since they require separate versions for iOS and Android.
In addition to telemedicine app development complexity, other price-formating factors include:
The best way to learn the cost of custom telehealth solutions is to consult with professional software development services. At Empeek, we will be glad to help you estimate your requirements and provide you with accurate estimations.
Final Thoughts
Telehealth solutions are easy to monetize and demanded among both hospitals and patients. On top of that, they promote wellness and help many people take better care of their health.Therefore, by establishing a telemedicine business you not only become a part of the rapidly evolving industry, but also contribute to healthcare accessibility.
Although to set up a telemedicine business you need considerable investment, healthcare is one of the best fields to invest in right now. Empeek's reliable team of developers can help you join it. Contact us to discuss the idea of your telemedicine project and find the best way to realize it.