Voice recognition technology is rapidly gaining in popularity. Speech recognition and virtual assistants augmented by AI can take businesses to the next level. Gartner predicts that a quarter of application interactions will be performed via voice by 2023. Amazon has already teamed with the Marriott hotels. As a result, they introduced VPA speakers with Alexa to assist with checkout procedures and management of room amenities.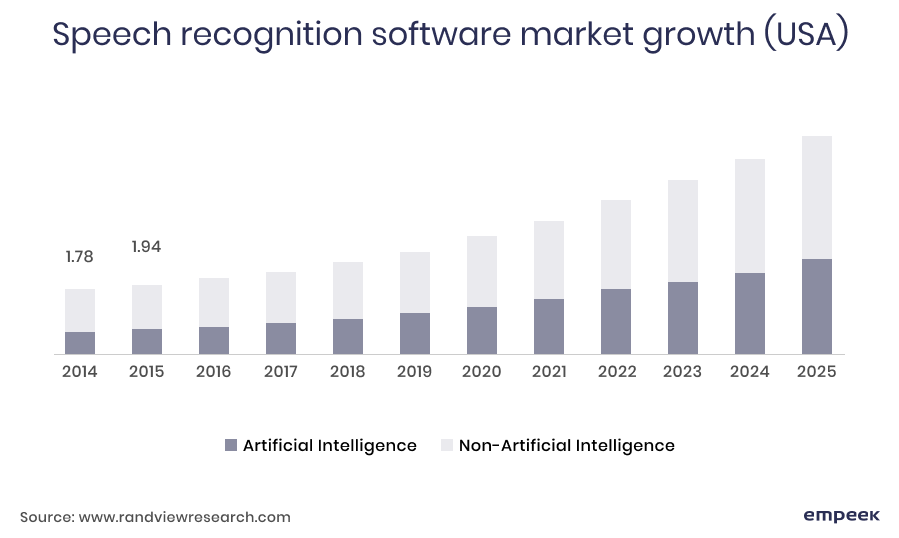 If we take the healthcare sector, speech recognition medical iot solutions and services opens new horizons for medical software. It serves as a tool to enhance patient experience and help medical staff automate their routine tasks while allowing doctors to focus on the ones they treat. Did you know that medical dictation software can turn speech into text at speeds up to 160 words per minute? Think how much time could be saved on documenting patient records daily.
This article will focus on the main reasons for the relevance of speech recognition technology in healthcare, iot medical devices, and spotlight the problems it can solve. The material will be equally useful to medical business owners or heads of medical offices who consider adopting medical voice recognition software and healthcare physicians looking for more advanced solutions to manage their medical practice.
How Speech Recognition in Healthcare Can Help Transform the Industry
What do physicians need the most when trying to diagnose a patient? Undoubtedly, it's information. And to make information digestible and structured, doctors need to put it on a piece of paper and organize it. Even though it is something medical staff used to do, and some still do, there is a way to end this struggle. In the past, speech recognition tools used to be quite limited and allowed their users only to dictate some chunks of text to their computers. Nowadays, the internet of things in healthcare serves much broader purposes, from carrying out email correspondence to managing medical records. Automated dictation systems for healthcare practitioners can take notes and generate prescriptions quicker and more efficiently, thus helping clinicians to focus more on patient relationships and treatment.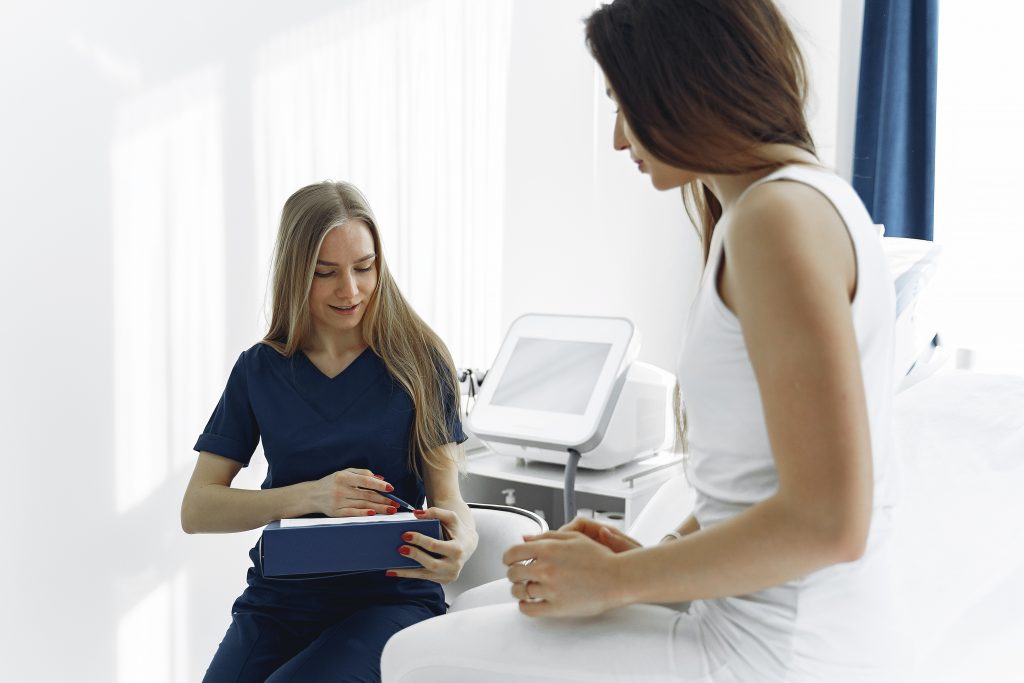 The Washington Post provided research stating that nearly 54% of doctors experience burnout, and that's before the COVID-19 disaster. That is why healthcare practitioners need effective technology more than ever to help them in their daily tasks, increase their productivity, build a better work-life balance, and improve their mental health, which has become increasingly important during pandemic times.
Practical aspects of using voice recognition software in healthcare
While some companies are only getting acquainted with speech recognition technologies in the healthcare system, many forward-looking healthcare institutions have already embraced this technology and use its benefits to the fullest.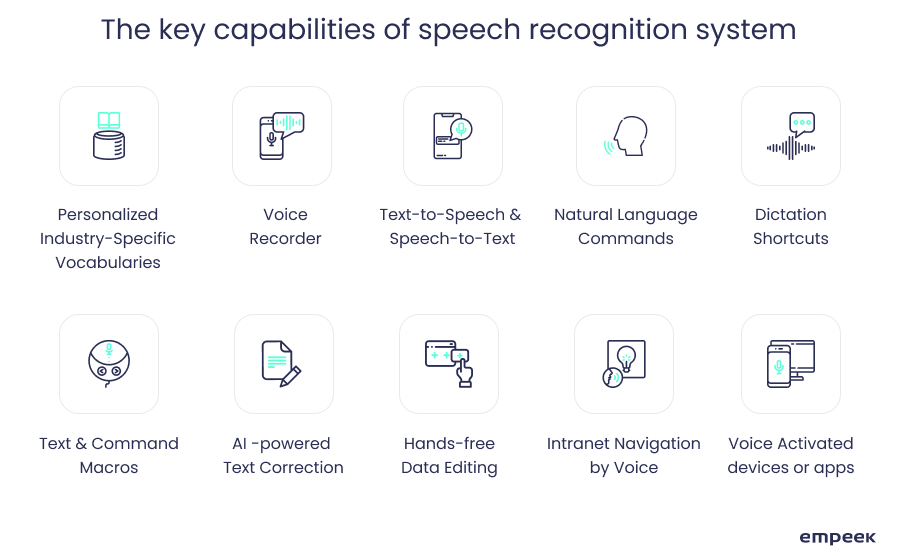 The accuracy of modern voice recognition technology has reached up to 99%. Most early adopters mentioned that soon after software implementation, they noticed significant improvements in patient data and documentation management processes. Widely used apps like Google or Siri help doctors find the necessary, updated information or respond to other user requests. Virtual assistants are also often used to pull data from various applications, automate manual tasks related to hospital logistics management, and optimize doctors' time management.
In the meantime, the growing demand for voice recognition technology makes healthcare institutions search for more advanced solutions able to meet their deeper needs. Therefore, custom voice-powered software keeps gaining momentum among medical practitioners. Below are a few practical aspects of using such technologies:
Using smart speakers to improve patient experience
A growing number of clinics in the US provide their patients with voice-powered assistant solutions, such as smart speakers. The speakers announce treatment and medication reminders at a specific time for each patient, so the one will never miss or forget to take their drugs. For patients who undergo therapy associated with taking a large number of different medications at different times and in different doses, this technology is a life-changing solution that makes their treatment easier and even more pleasurable. Isn't that what any doctor would love to see?
Apart from serving as reminder systems, smart speakers integrated with other medical software can help patients with impairments during their stay in hospital or at home. This solves a lot of iomt connectivity issues. The patients equipped with this technology can access the Internet via voice control, communicate via messengers with their doctors or family members, and receive consultation on their overall well-being, exercise routine, diet, or other health-related aspects.
Reimagining FAQs management
Not every aspect of the health care services can be automated. However, answering frequently asked questions can definitely be delegated to an AI system. With access to a built-in pool of medical knowledge about medication dosage and common symptoms, voice-activated apps can help patients resolve their concerns about a wide range of health-related issues, from curing a small cut to identifying the symptoms of fever. Additionally, some apps provide patients with first-hand information about the nearest hospitals and particular specialists.
Enhancing employee communication
Voice-activated applications can be a real panacea for large medical institutions. Designed to optimize communication among medical staff members across numerous hospital departments, these solutions can be vital when urgent actions and smooth collaboration are needed.
Streamlining mundane data entry
Many healthcare practitioners view the typing (or writing) process as a form of meditation that helps them put their thoughts together and come up with fresh solutions. However, speech recognition dictation software can be equally effective. Since many doctors feel overly loaded with manual patient data entry processes, more and more of them opt for medical voice recognition software that assists them in note-taking.
Medical speech recognition helps physicians with electronic health record filing making the medical transcription job less obsolete and more automated. This, in turn, gives healthcare practitioners more time to contemplate important medical decisions.
Challenges of Voice Recognition Software
Any new technology comes with numerous advantages that solve the target audience's pain points. However, as the technology is evolving rapidly, there are some drawbacks users have to deal with. We've collected the challenges you may face while using speech recognition software in healthcare and some advice on how to overcome them.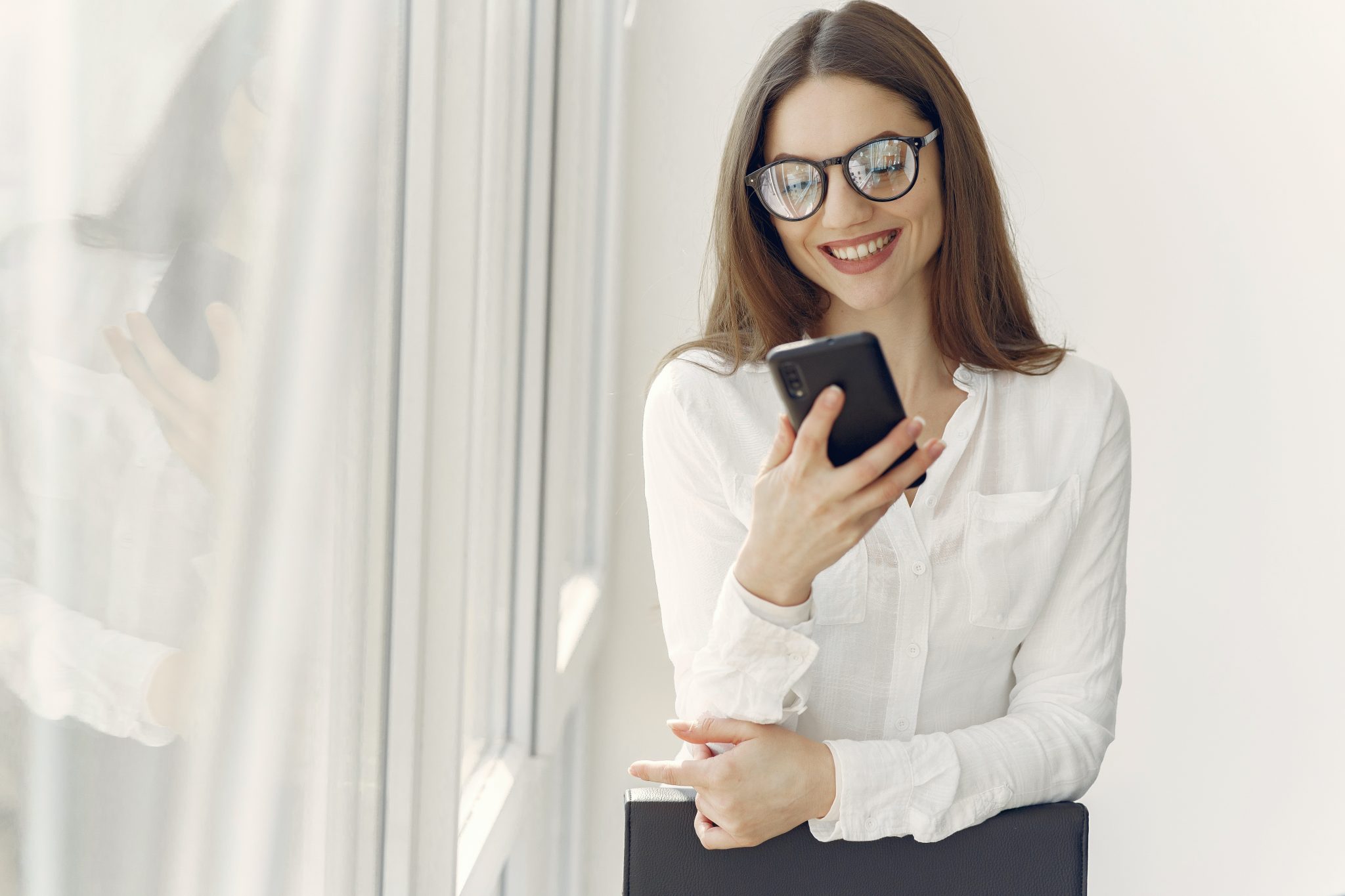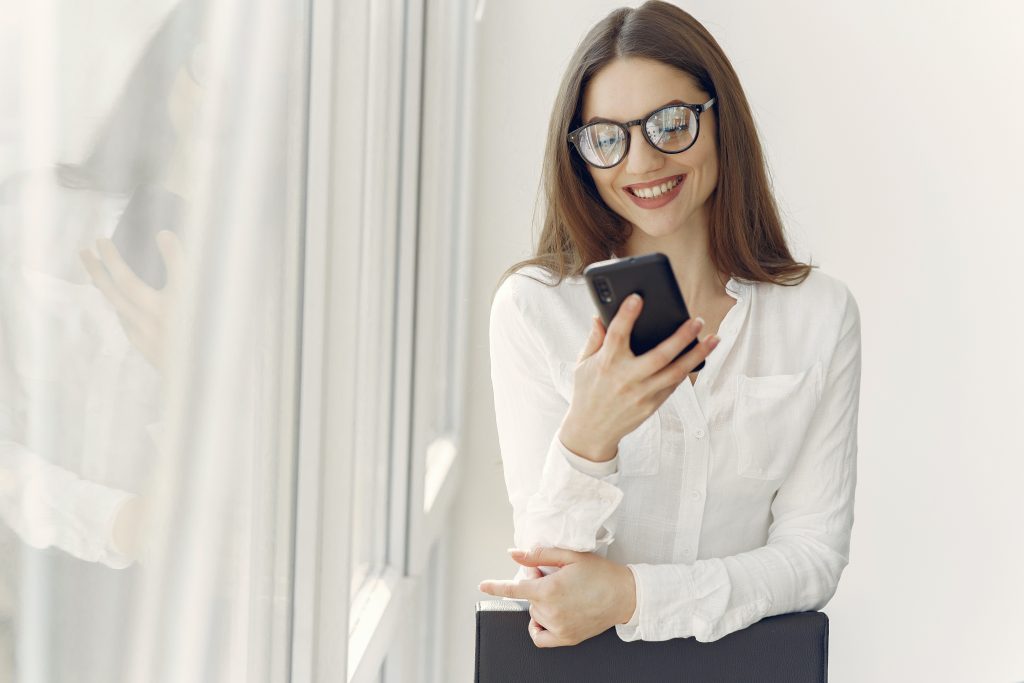 Transcription errors due to industry-specific terminology
One of the main challenges for voice recognition software developers in healthcare is the medical language specification and professional terminology. The difficulty may lie in the fact that doctors who are narrow specialists in different fields can often use special niche terms that apply only to their area.
To solve the issue, the virtual assistant is designed to optimize all information associated with one patient or one case of the disease. Sometimes, a special onboarding is needed to upload the relevant terms into the database of such software to optimize and speed up its use in the future.
HIPAA compliance
The Health Insurance Portability and Accountability Act, or HIPAA, heavily emphasizes patient data protection. Any information related to patients' health as well as personal data like a home address and phone number has to be confidential and unattainable by non-medical personnel.
However, a secure and reliable medical speech recognition software development can make the process of data storage safer. To achieve this, hire a reliable software development company, build a secure system, and make sure to grant access to only authorized personnel. Check also our guide on proper healthcare iot security and why it is important.
Cost of development
The total cost of building medical transcription software with voice recognition can be different and depend on many factors, including the customer's wishes and application area. But at the same time, the general pattern is as follows: the more customized and niche your solution is, the more expensive the development stage may end up.
The majority of optimal cases imply ready-made artificial intelligence solutions and the use of external integrated information resources.
How Speech Recognition Technology in Healthcare Works
There are two main types of speech recognition software for medical transcription in the modern medical business today. Depending on the functionality of interaction with medical records, all applications can be divided into dictation software and AI scribes.
Similar to old-fashioned tape recorders, dictation tools capture a speaker's voice using a microphone. But instead of merely recording your speech, they automatically translate it into a piece of text using acoustic and language modeling. Therefore, the doctors are relieved from typing the symptoms during the patient's visit or wasting time transcribing the recording later.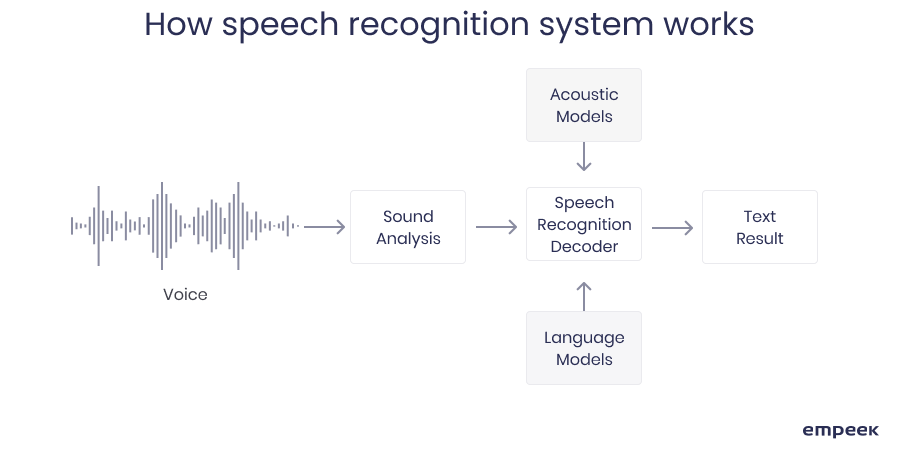 An advanced version of dictation tools is a smart AI scribe that keeps the best from its predecessor while also having some revolutionary functions. AI scribes convert the speech into a text, analyze the content, and remove the irrelevant parts in the conversation. The tool keeps only medically relevant communication and eliminates the small talk, niceties, and filler words. In the end, physicians get a summarized file with important information without having to sacrifice lively, engaging patient interactions.
There are two types of speech recognition that can be used separately or together in the mobile or web application. Let's take a look at the peculiarities of their functioning:
Back-end speech recognition software
Back-end technology still contains the traits of old-fashioned note-taking. Although it creates a voice recording and transcribes the speech into text, it also sends both files to a medical transcriptionist to double-check the quality. Healthcare personnel prefer this type of software since it reduces the risk of technology errors. However, human labor inefficiency and cost make this technology questionable.
Front-end speech recognition software
Front-end technology is AI-driven and learns from its mistakes. It constantly updates its database to improve accuracy, so you don't need to double-check the text with an expensive specialist. In the beginning, this type of application will produce text with small errors that will have to be corrected by a human. However, in the long-term, it will acquire knowledge and become more precise.
While choosing the perfect speech recognition software to meet your needs, you'll find myriads of various options. All of them are great assistants to streamline your work, but it's also a costly investment. If you don't want to make a mistake and pay twice, contact Empeek, and we'll be happy to consult you and help you choose the most suitable solution to your business problem.
The Key Features of Speech Recognition Software
Experts highlight several benefits of speech recognition software for healthcare institutions, such as increased productivity, cost-effectiveness, better documentation, diagnostic accuracy, improved patient experience. All of these are possible due to the main features of such software. Let's take a closer look at each of them.
Productivity tools
It is common for healthcare practitioners to perform several functions simultaneously, including administrative work. A real-time speech recording boosted by AI can take multitasking to a new level. With the advent of voice recognition software for medical offices, physicians are able to listen to the patient's complaints, examine them, and create a data record all at the same time. Additionally, specialists can reduce dictation time, create, edit, and sign electronic documents instantly using shortcuts and macros.
Patient experience management
This point is largely a consequence of what was described in the previous paragraph. Many patients experience a lack of actual human interaction during their visit. Instead of talking to their physician, sharing their symptoms and concerns, they have to stare at a person behind a computer. They get rejected on minute one after getting into the office, which leads to an unenjoyable experience and frustration with the medical system in general.
Thanks to speech recognition software for medical transcriptionists and its speech-to-text and recording features, doctors don't have to concentrate on typing; instead, they can focus on communicating with patients, devote more time to examining their health condition, and diagnose better. In turn, patients can hear every dictated word and make sure their doctor didn't overlook any disturbing symptoms.
There are many benefits of iot in healthcare. For example, voice recognition technology also allows patients to receive proper treatment even when the doctor is not around. AI-powered speech recognition gadgets contain extensive knowledge and can perform multiple actions, including voice-powered scheduling, setting up medication reminders, answering the most common patient queries, and many more.
Documentation management
Speech recognition technology in healthcare brings more transparency to creating and managing documents, automates data entry, and helps doctors standardize patient data efficiently. AI-powered algorithms identify and delete all the irrelevant parts of the dialogue. On top of that, the system is able to learn the patterns of the doctor's speech and recognize various accents, which allows for capturing medical data with high precision.
AI for diagnostic accuracy
Over their years of experience, medical specialists have learned to detect verbal cues behind some illnesses. In the meantime, an AI-augmented machine can identify speech abnormalities much quicker and more effectively. With the help of predictive analytics, these virtual assistants can recognize the tone and repetition of human speech and draw conclusions based on their findings. Alzheimer's disease, depression, autism, dementia, and many more illnesses can be identified efficiently with AI and ML tools built in the voice recognition software.
Final Thoughts
Medical voice recognition software is a win-win solution for businesses, doctors, and patients. This technology helps healthcare practitioners streamline administrative work, improve their productivity, reduce risk of error, cut HR costs, and increase patient satisfaction and engagement during the treatment process both within and outside the care facility. With a wide range of capabilities and even the greatest potential, medical speech recognition technology has proved itself as an indispensable tool for healthcare providers and one of the key elements of the future of healthcare technology.
As a GDPR & HIPAA compliant software developer and a trusted medical speech recognition software provider, Empeek opens new opportunities for your medical business and help you make medical voice recognition software. Whether you are a medical institution, clinic, office, or private physician cabinet, we will gladly collaborate with you to deliver tailor-made dictation systems for healthcare or any other solution your business might require.
How Speech Recognition in Healthcare Can Help Transform the Industry