Lidar-based App for Telecommunications Company
Category

Telecommunications

Time in developing

3 months

Country

The Netherlands/Europe
What does LiDAR have to do with our newly-developed app?
As a technology, LiDAR appeared back in the 1960s and since then has been applied in diverse fields, fastly providing highly accurate data and clearly interpreting it. To acquire data, most companies have been using such equipment as aircraft, helicopters, drones, moving vehicles, tripods. Naturally, it has been a complex and high-cost process. 
The introduction of the LiDAR scanner on the latest iPad and iPhone Pro in 2020 led to endless opportunities for new product development. We practically got LiDAR in our pockets.
Since it is a cutting-edge technology without a fully-fledged product, our customer decided to invest in such an MVP to understand how it could benefit their business and whether further exploration of this subject was necessary.
What if we told you that we managed to combine LiDAR with Point Cloud Technology in this project? Interested in hearing more? Well, let's find out first what exactly our customer had in mind regarding the product.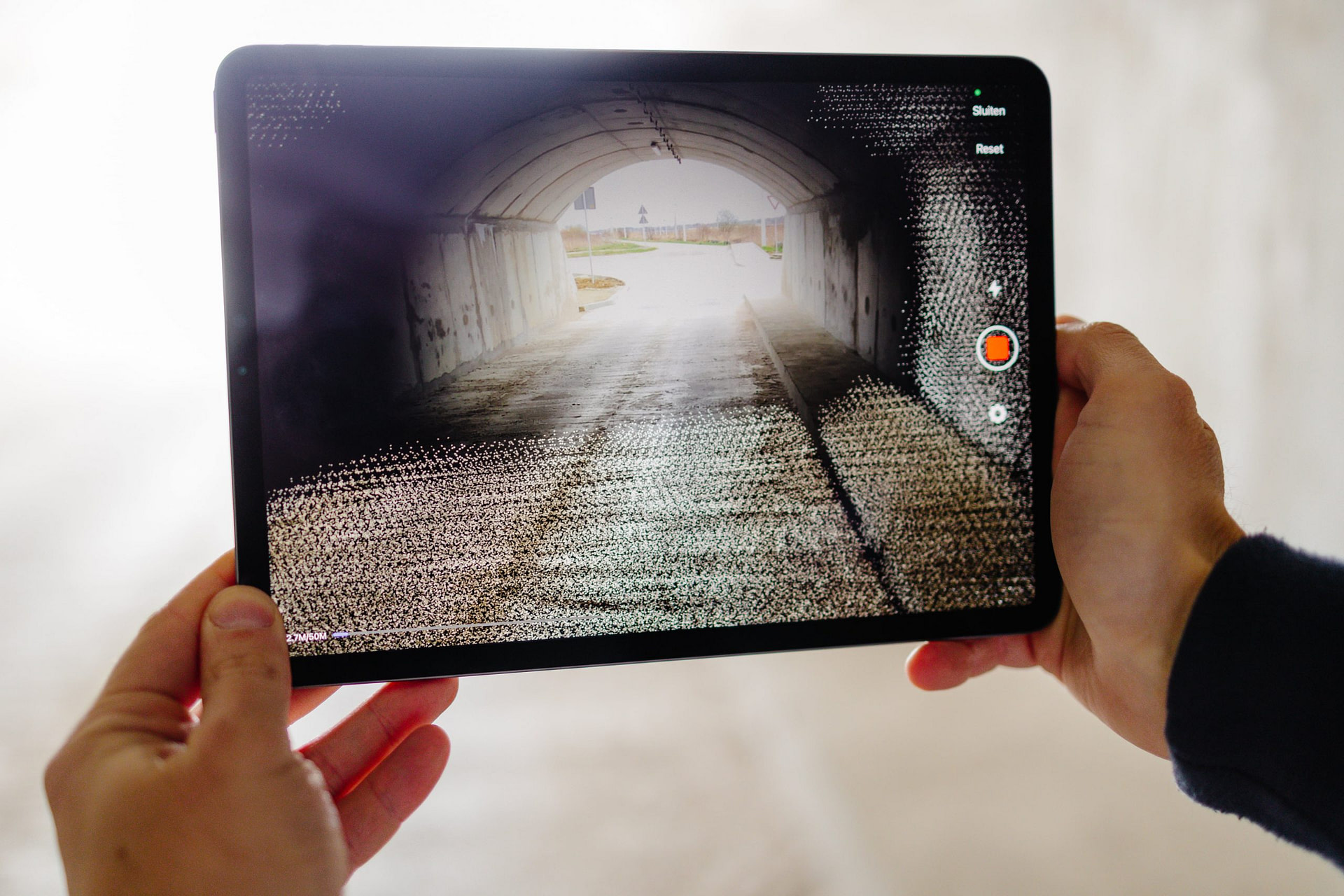 What were our project requirements?
The customer hired us to develop an application, which can assist in collecting information about specific terrain at one particular time. A sample 3D model of a cable laid across the streets was presented. Our task was to make an application that could produce such 3D models with the help of the iPad. Since the time frame established for product development was three months, we immediately started researching possible solutions.
What technology did we choose for our app?
During the investigation, we came up with two solutions to the problem: designing a polygonal model and using point cloud technology. A polygonal model requires texture support implementation. Due to the lack of existing examples to this solution and limited time frame, we decided to proceed with the point cloud technology for our application.
A few more words about the project
Lidar Project includes an application that contains specific terrain data recorded by iPad during a particular period. The distance the device collects data from ranges from 0.5 m to 10 m. All the collected data is afterward transferred to a server for further processing. Revolutionary point cloud technology and advanced LiDAR sensor enhance the data recording process making it accessible and time-saving. Besides, the application uses photos as another data source, which improves the quality of the final product. The project is designed for the latest iPad Pro 2020, equipped with a LiDAR scanner.

How good is our app?
The application automates the whole flow of telecommunication business perfectly matching the demands of our customer. It allows an employee to produce a 3D model, take an unlimited number of photos on particular terrain and with just one click, send all the data to the company's server for further processing. The whole data collection process becomes practical and straightforward and requires only application installation on the latest iPad equipped with a LiDAR sensor. 

In simple words, how do Point Cloud Technology and LiDAR Scanner operate?
Point cloud technology is a technology that presents a 3D shape or object in a set of dots in space. The color of the dots corresponds to the color of the pixel from the image. LiDAR sensor, in turn, determines the distance between itself and a particular space along with the color of this space with the help of a laser. Moreover, LiDAR can learn details about objects' orientation. All the collected data is projected onto dots creating a 3D model. In simple terms, point cloud can be considered an object, and LiDAR is a technology that makes this object with the help of the camera.
What data does the app collect?
The unlimited number of photos.

3D model of certain terrain using point cloud technology.

Individual's GPS coordinates during the data recording process.

Metadata such as the name of the project, a person's full name, and manually set time spent for data collection.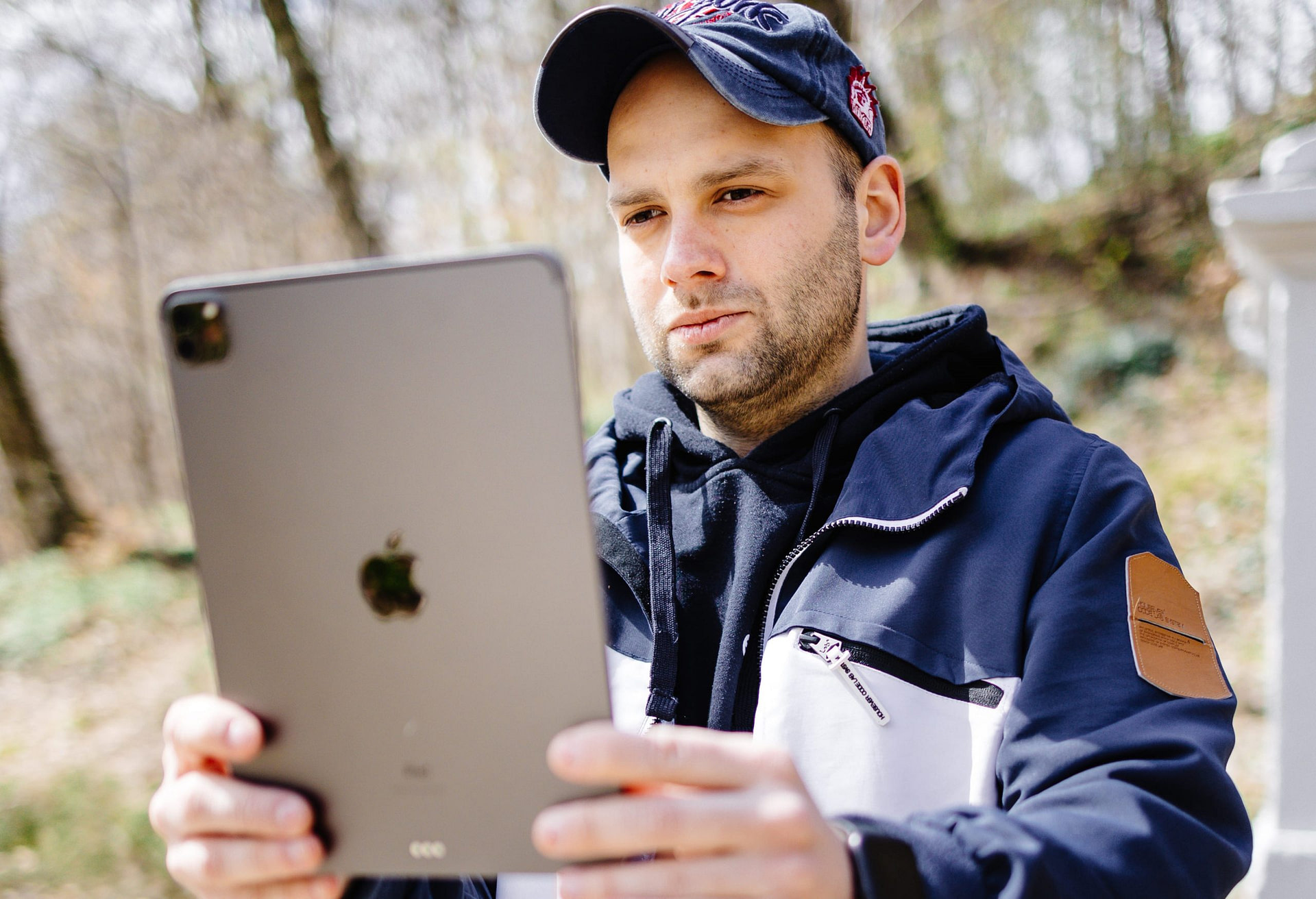 Challenges we dealt with during app development
Have you known that existing LiDAR apps on the market can only fit 30 million dots making the average file size of 1,5 GB? Having researched the matter, we managed to optimize these numbers up to 50 million dots and 600-700 MB, respectively. Moreover, there is a possibility to increase the figure by up to 80 million dots in the future, which consequently would provide more length for data recording.
LiDAR apps do not record data properly in the darkness. Certainly, there are 3rd party services aiding in reducing noise level during post-processing on the server. However, we managed to find a lightweight solution to this problem and integrated it into our app.
Implementation features
Our project has a camera feature that enables us to use two rear modules for filming: regular and ultra-wide. Features of scaling and switching between the two cameras are also available.

The dot data can be imported into any modern 3D packages allowing further data export. One of the examples tested by our customer was the game engine Unity. 
Tech stack
The tech stack of the application is React Native+Swift. The back end stack is .NET Web API based on .NET 5. We managed to run the back end faster than expected, with a possibility of expansion in the future. The project's database is PostgreSQL. Regarding the React Native features, there is a prospect of supporting Android tablets if they get equipped with a LiDAR scanner, and demand exists. The project's back-end architecture is designed to offer broader solutions in the future.
Get in touch
If you think your business could benefit from this technology or perhaps you have higher ambitions, contact our Empeek team, and we will develop a project according to your needs.