Did you know that 75% of chief executives believe that data technologies benefit their business? Meanwhile, 70% of the respondents claim that they lack the tools and skills to fully manage and analyze customer data. Different types of mobile health apps solve data issues, such as data errors and losses. As a rising trend in digital healthcare, an mhealth app is a promising solution that creates new business opportunities and reduces the risk of medical error along with the cost of healthcare services.
In the article below, you'll find everything about the types, values, and qualities of mhealth apps that an average healthcare provider will consider while choosing an app for their business.
How mHealth App Benefits Healthcare Providers
There are various categories of mhealth app that differ in purpose and the technologies required for the app to exist. What unites them is the goal to be beneficial to the user. How can an mhealth app be advantageous to healthcare providers?
Improves the doctor-and-patient connection

. A patient can access the provider with a few taps. This leads to faster messaging and scheduling processes; hence, fast and timely medical services;

Reduces the cost for healthcare services and business needs.

Telemedicine visits (made possible due to mhealth apps in particular) are lower in price yet attract more

healthcare consumers

. Meanwhile, mhealth apps solve the lack of medical facilities in rural areas; 

Opens new business opportunities

. A

pharma app

with a reminder option increases brand value and attracts more customers due to improved features; 
Solves bad data issues. The American economy loses $3 trillion because of ineffective data management (or 'bad data') annually. Meanwhile, modern types of mhealth app maximize networking in a healthcare organization and the clinical reference community. All due to upgraded management of clinical and financial records and improved data exchange.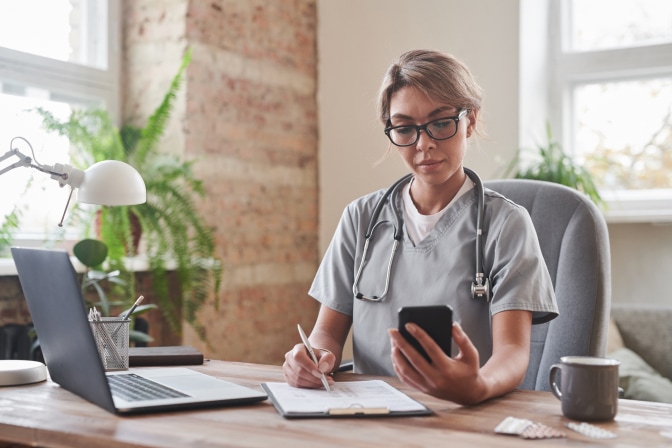 The Main Types of mHealth Apps for Healthcare Providers
More than 62% of smartphone owners have used tools for accessing healthcare-related data. The rapid growth of mhealth app development simplifies and improves healthcare data management. A doctor can easily diagnose, prescribe, and monitor one's health condition 24/7. So, which mhealth app types can upgrade the healthcare processes?
Medical Diagnostic Apps
An affordable solution, apps like PEPID assist doctors in diagnosing their patients. These tools allow the user to type in the symptoms and test results and get the most appropriate diagnosis. A diagnostic app suggests recommendations on drugs and treatment as well. Meanwhile, such apps decentralize the healthcare industry and are a promising future for patient screening. 
Got a game-changing app idea? Contact Empeek for professional guidance!
Remote Monitoring Apps
mHealth solutions are a part of the remote monitoring system. Most solutions like implantable glucose monitors include an IoT technology that detects the change in patient's vital signs and sends it to the provider. Meanwhile, a mental health app like Bearable allows the user to track changes in their mood, daily activities, or weight, and share them later with a caregiver.
Are You Sure That The Technology Your Company Is Using Doesn't Hamper Business Growth?
Talk To An Expert
Clinical Reference Apps
These tools serve as a safe digital space where medical community members can communicate and exchange their ideas. mHealth apps like Epocrates and UpToDate allow providers to access data on drug prescriptions, medical news, and treatment recommendations. The apps maximize point-of-care testing and include such irreplaceable features as drug-interaction checkers and medical calculators.
In-Hospital Management Apps
One of the most essential types of mhealth app, this group includes apps that increase the provider's productivity. For instance, apps like TigerConnect allow instant communication for the staff members, while tools like WELL simplify EHR management and send reminders to the patients.
Lifestyle Apps
Among all types of mobile health app, this one is the most popular. Healthy living apps are used as a part of the treatment plan when a patient is supposed to follow specific fitness and diet goals. For instance, an app like ShopWell analyzes the doctor's prescription and suggests meals and groceries that the user may consider a part of their diet.
mHealth Qualities a Provider Should Pay Attention To
In the recent decade, the mhealth revenue boomed from $97.7 billion in 2014 to 808.7 in 2022. Smartphones are more affordable nowadays. Yet, there will be more app developing companies to compete with. Which app qualities should a developer pay attention to while creating an app?
Adaptability
Customization and personalized experience have turned into the core factors when it comes to measuring adaptability as a tech feature. 'One-size-fits-all' is an outdated principle, yet developers should consider the customer's individuality and the customer's context. Let's say you're developing a remote monitoring app. Will your app detect sudden heart rate changes? Will your app optimize battery consumption?.
Interoperability
A modern customer needs a product that is flexible and accurate. There are different types of mhealth app, but they all require superb interoperability. In other words, working seamlessly in real time on more than one device is a must for your app. Interoperability also means seamless synchronization and data transfer. For instance, an app that is not compatible with the hospital's EHR system is of no use both to the patient and the provider.
Offline Mode
Working seamlessly offline is crucial for your app. The data connectivity question is especially important in the development of remote monitoring apps. In some cases, it is a matter of life and death whether your app can store the data and manage it offline. Make sure your app doesn't need a constant Internet connection.
User-Friendliness
One of the top barriers to mhealth adoption is an MUI that lacks user-friendliness in its design yet usage. Keep your app's interface simple and easy-to-use as much as possible. Pay attention to color, texture, and the composition of the elements. Think about defaults like pre-filled forms to simplify the app's usage.
Consider Empeek Your Trusted Partner
Empeek is a team of tech professionals inspired to offer tech-driven solutions that strengthen the global healthcare system. One of the recent projects is the creation of a mental wellness app aimed to relieve anxiety. As a part of the mental health program, the app tracks the participant's progress and presents it in graphs. It allows the user to schedule meetings and receive reminders and notifications on them.
Another project is a cross-platform solution, an app that keeps patients, their families, and providers connected. Due to 2-step verification, data encryption, and a remote backup system, the data exchange is safe. Created in full compliance with HIPAA, the app allows the users to schedule hospital visits, get medication reminders, and stay in touch with their providers.
Got a tech idea worth a million? Contact Empeek!