The COVID-19 pandemic accelerated digital transformation and fueled the boundless potential of IoT. Over the past two years, IoT technology has deepened its roots in all industries and healthcare is no exception. However, there is still a lot of uncertainty around healthcare IoT development.
Has IoT proved itself as a value-added technology? What are the pitfalls of IoT implementation? Is it possible to achieve a secure data transfer in IoT environments? Let's figure it out together.
This article will help you learn more about the influence of IoT on the healthcare industry, discover the benefits of IoT in healthcare, understand challenges of IoT adoption, and discover how it helps healthcare providers to enhance the quality of patient care.
IoT in Healthcare: What It Is and How It Transforms the Industry
These days, more and more healthcare organizations implement IoT technology for various purposes ranging from telemedicine, impatient monitoring, and connected imaging to medication management. IoT solutions open up new horizons for patient-centered care and allow for streamlining medical practices. That is why the IoT market is booming like never before.
Over the last five years, the healthcare Internet of things market has grown at CAGR 11% and is projected to achieve a market growth rate of 30% by 2023. AllTheResearch predicts IoT and healthcare market value reaching $254.2 billion by 2026.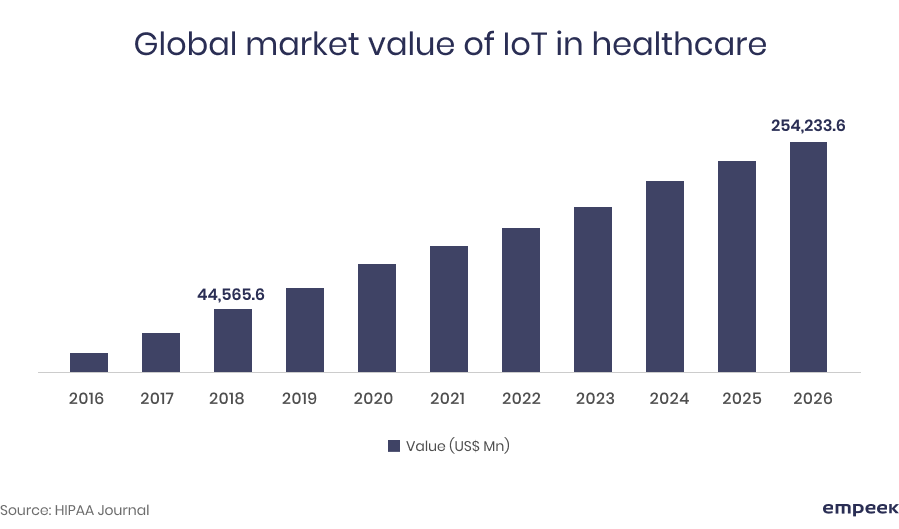 The rapid growth of the technology market leads to the substantial expansion of IoT solution variety. For now, retail experts distinguish the following segments of IoT applications in healthcare:
On-body devices: tools for personal wellness and clinical-grade wearables. They include activity trackers, wristbands, sports watches, smart garments. For example, smart belts detecting falls and deploying hip protection, headsets for brain stimulation during workouts that enhance muscle memory or endurance, and neuromodulation devices helping patients relieve chronic pain are in this category.
In-home devices: portable tools that can monitor heart activity, glucose levels, and other body reactions. In-home devices are designed to transmit patient medical data to healthcare providers and ensure consistent control. Most importantly, they alert the doctor when a deviation from the normal state occurs.
Community devices: mobility devices and equipment that enable patient tracking during medical transport or real-time drug transportation, medical equipment management, and shipment processes monitoring. This market segment also involves tools used in medical logistics, such as sensors for temperature monitoring in shipping boxes and delivery drones.
In-hospital devices: tools for asset management, solutions for the staff or patient flow management, and devices for environmental control. This group of IoT products can be used to track high-cost hospital equipment, scan arrival times at different locations, measure personnel productivity, and keep track of temperature and humidity rates of patients' premises and repositories.
Benefits of IoT in Healthcare
A survey conducted by Accenture revealed that 33% of medical care providers report a major reduction of operational costs, while 42% of patients save considerable amounts of money thanks to RPM IoHT programs.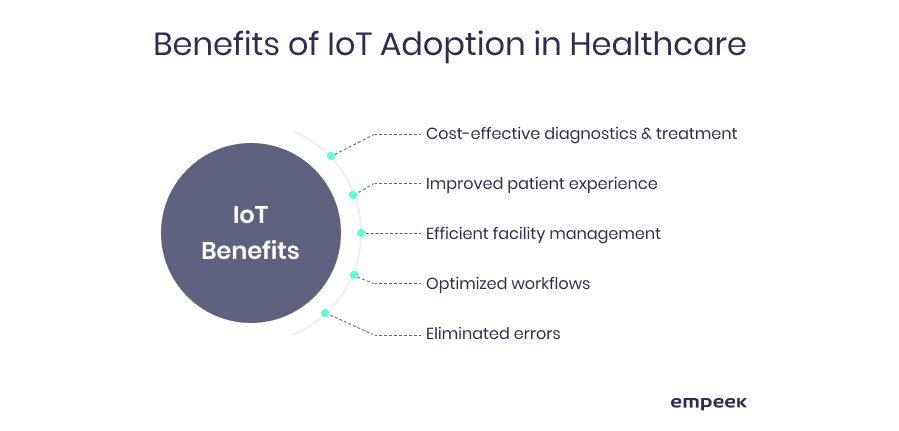 This proves the fact that the medical internet of things can improve an existing healthcare service in multiple ways while bringing benefits to healthcare institutions and patients alike. Let's focus on some important advantages of applying the internet of medical things (IoMT) in a healthcare business.
Cost reduction
While rising healthcare costs remain one of the key challenges facing the industry, IoT technology comes in as a viable solution for cost reduction. There are a few areas where they are able to cut business expenses:
Making diagnostics more cost-effective. Since IoT devices enable remote diagnostics, there is no need for healthcare providers to arrange the facilities for frequent visits because patients no longer have to be physically present in the hospital.
Reducing nurse to patient ratio at hospitals. Thanks to IoT solutions, medical service providers are able to monitor patients remotely, which eliminates the need for hospitalization of those who require regular check-ups. This, in turn, implies streamlining medical practices and, consequently, lowering hospital spending.
Lowering treatment costs thanks to a quicker recovery. Since IoT devices gather real-time data and instantly send alerts about the changes in a patient's condition, doctors can immediately detect alarming signs of health deterioration and take appropriate actions. This results in both disease prevention and more efficient treatment.
Сutting costs on transportation of supplies or medications. With an emerging trend of using IoT devices for logistical purposes, there is a great probability that IoT devices will soon be actively involved in the procurement process. It's expected that tools like drones will deliver medicines, test specimens, or even medical equipment faster and cheaper than traditional means of transport.
Improved patient experience
Patient experience is paramount for healthcare businesses, and the ability to enhance it with the help of modern strategies and cutting-edge solutions like IoT technology puts medical services providers ahead of the competition. How exactly IoT devices can improve patient experience? Let's explore it below.
Efficient facility management thanks to better equipment control. The use of IoT technology can guarantee the reliability and functionality of all hospital appliances, so treatment plans will be less likely disrupted. Additionally, connected devices, like RFID chips, can ensure asset safety via tracking, thus helping medical staff handle inventory and utilize equipment more efficiently.
Workflow optimization through allocation schemes and instant scheduling. IoT devices can collect such data as staff expertise, patient location, and therapeutic equipment availability. After gathering and analyzing data, managers can better understand staff actions and asset movements throughout the day. This helps them predict where employees and equipment will be most needed the next day or week, so it gets possible to schedule workflows more effectively.
Error elimination preventing disastrous outcomes. The likelihood of mistakes made by medical staff can be diminished with the help of technology. Unless healthcare workers fail to manage software, the IoT devices offer precise data. With the high accuracy of analytics generated by IoT tools, the probability of making a wrong data-based decision plummets. Therefore, there are also fewer risks of the patient's negative treatment outcome.
The Internet of Things in Healthcare: Key Challenges and How to Address Them
Alongside numerous opportunities provided by IoT, medical business owners receive some challenges. Security, connectivity, data collection and performance take the lead among them.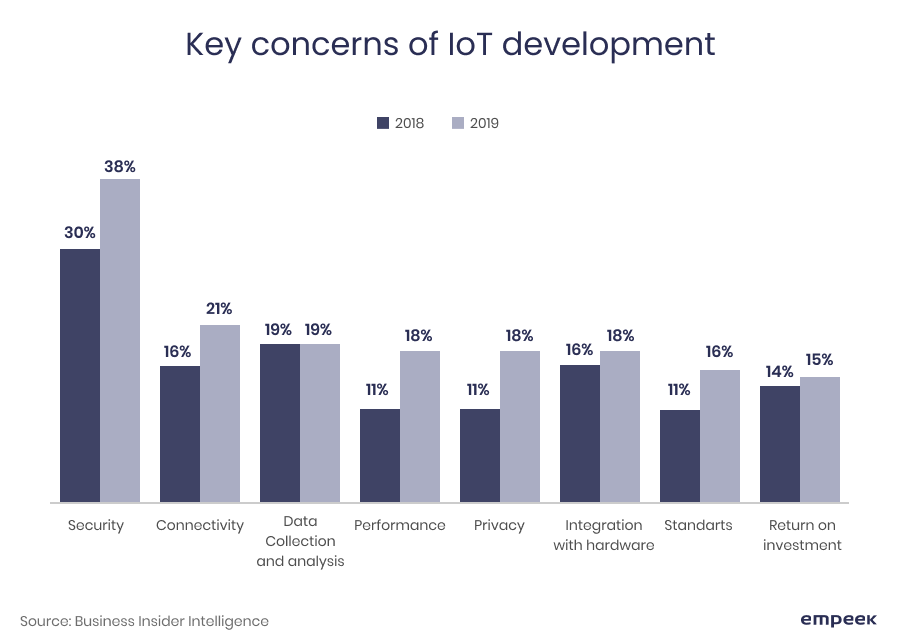 Let's review some of the most common IoT technology implementation issues and the ways of dealing with them.
Cybersecurity
According to the Internet of Healthcare Things Survey, security concerns are one of the most common reasons that holds back IoT implementation in the healthcare industry. It's a well-known fact that any devices connected to the web can be hacked and IoT tools are no exception. Thus, the data gathered by healthcare organizations may be exposed to various security threats.

To ensure data security, it's essential to use a private IoT network that can be accessed only by authorized devices. Patient privacy can be protected if administrators apply modern encryption protocols, create reliable access passwords, and keep the SSL certificates of remote systems valid. On top of that, healthcare organizations using IoT must have strict security rules to avoid breaches and hacks.
Connectivity
According to the HIT Infrastructure report, approximately 45% of connections initially fail, which results in two seconds delay in data delivery. Connectivity problems may occur due to different reasons, such as limited network capacity, poorly functioning IT teams, or physical interruptions of a signal. And yet, consistent connectivity is an indispensable condition for using IoT devices in the healthcare sector.

Since the stakes of connectivity failure may be too high, clinicians should ensure a reliable network infrastructure and anticipate potential connectivity issues. IT teams working for medical organizations need to create an adaptive and secure system that perfectly maintains IoT devices connectivity.
Cost
Since IoT adoption requires allocating a substantial budget to launch an IoT project, this may be a serious step that not many healthcare organizations dare to take.

However, the benefits of IoT devices have proved this investment worthy. Implementing IoT healthcare applications brings businesses a significant long-term ROI by allowing them to save a significant amount of money and resources and thus increase revenue.
Successful Cases of IoMT Development
With a growing demand for innovative patient-centered solutions, IoT use cases in healthcare become more and more common. Neuroscience and psychiatry, cardiology, chronic disease management, and many other areas are already benefitting from IoT solutions. Let's review some successful use cases below.
Use Case #1. Real-time medical monitoring system
An IoT-based wireless monitoring system gathers real-time health data through a wearable device and immediately transmits it to a patient's mobile app, hospital or clinic workstation, and cloud API server. Develop by Empeek, this IoT solution is able to monitor numerous health parameters such as arterial pressure, respiratory and heart rate, cardiac impulse and output, and many other measures.
Use Case #2. Diabetes management technology
The Bigfoot Unity Diabetes Management System was developed to help patients deal with insulin-dependent diabetes more efficiently. With the help of special algorithms predicting glucose levels, this IoT tool suggests accurate doses of insulin for injections. Hence, patients don't need to measure blood glucose and calculate insulin dosing manually.
Use Case #3. Insertable Cardiac Monitors
Insertable cardiac monitors aim at monitoring the heart rhythm continuously without interrupting the patient's lifestyle. This tool transfers gathered data to healthcare providers, so they can immediately create a personalized care plan.
Final Thoughts
The medical care industry is developing so rapidly that it's difficult to keep up with its pace. This leads to severe competition between companies and requires them to seek out solutions for staying a step ahead of rivals. However, the organizations implementing IoMT are able to put themselves a notch above their less technological competitors in terms of service quality.
The Internet of things in healthcare has a big potential to improve the industry in years to come. IoT devices are applied to boost patient comfort, expand outpatient opportunities, and make the treatment process more transparent. They also enhance healthcare management, streamline medical practices, and allow healthcare organizations to cut their expenses. With all the mentioned benefits, the internet of things technology turns into an indispensable asset for healthcare providers.
If multiple advantages brought by IoT implementation sound persuasive enough to adopt this technology in your company, Empeek professionals will be glad to help you develop fully-custom IoT-based technology for your business.