Before making any investment, businesses must start with the basics – the research. After all, you wouldn't want to spend money on software that doesn't generate the expected revenue. Undoubtedly, it's necessary to make sure the developed application will be demanded on the market and attract users. The analysis of app advantages can help to predict this.
In our article, you will discover more advantages of mobile health apps and learn the reasons to invest in mhealth ecosystem. We'll talk about the benefits of mobile devices in healthcare, trends in healthcare app development and their positive impact on patients, healthcare providers, and tech companies.
Mobile Medical Apps Changing Healthcare Technology: What Are They?
Medical apps are a subtype of healthcare applications that serves to connect healthcare providers with patients and improve the quality of treatment. The actual functionality depends on the uses of the pharmacy software solutions and can range from EHR management to video chats. Patient health monitoring apps, mobile-based telehealth solutions, applications for medical scheduling, medication administration, diagnostics, or dieting – the variety of options that the mHealth market offers is countless. Check our article on pharmacy preceptor development to get more insights.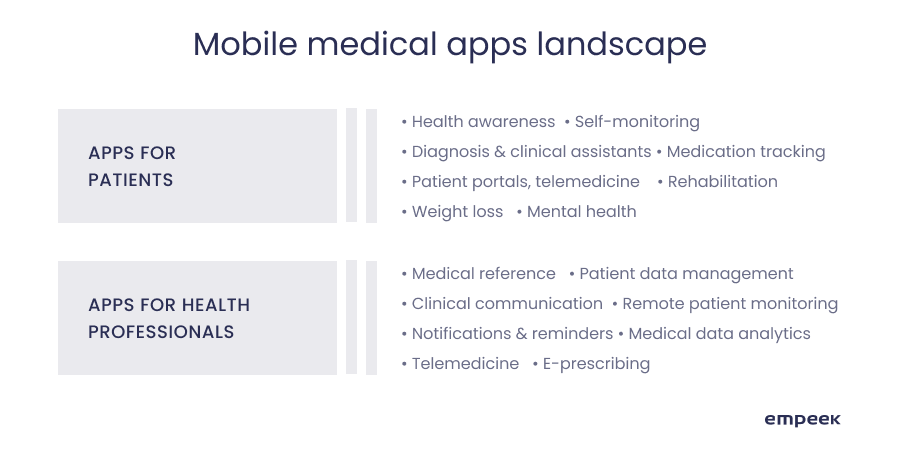 mHealth and telehealth apps for patients and healthcare providerscontinue to gain momentum. In 2020, 274.7 million people in the US accessed the Internet through mobile devices, and this figure is projected to reach 295 million users by 2023. This proves the point that the mobile target audience is tremendous.
Based on the recent data, Google Play hosts over 47 thousand healthcare apps of different kinds. This number grows by 1,5% per quarter, which proves the increasing interest in mobile health.
To figure out which mhealth trends in healthcare are the most popular, let's take a brief look at the top grossing apps in the Google Play Store.

In the Health&Fitness category, Calm, Fitbit, MyFitnessPal, and Headspace take the lead. These solutions are used either for home exercise and fitness tracking or mental health activities like meditation.
In the medical apps section, Epocrates, Sanford Guide, and Youper generate the highest revenue. The first two of the listed medical applications are intended to help clinicians find information about medications and provide better treatment.
Google Play's trends show that personal health, fitness, and mental health solutions are most commonly used by people. Statista's report on investment in leading mHealth companies validates this. In 2020, the highest amount of investment – 1782 million US dollars – went to telehealth apps. Personal health solutions raised 1457 million, whereas fitness and sport secured around 1390 million each.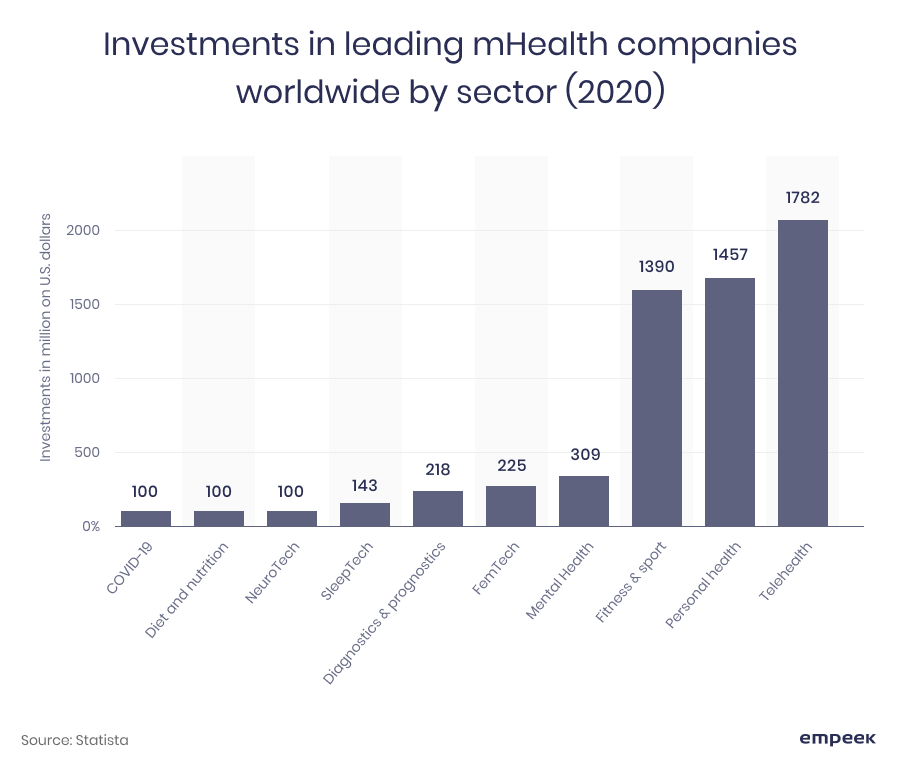 This information should help businesses realize what type of mHealth app they need and what mHealth technology benefits users expect. The findings will allow them to shape the concept of which types of mhealth app to consider and select the right combination of e-prescription software features.
Find more about the mHealth benefits for providers, patients, and tech investors in the sections below. Find out also some insights on the barriers to mhealth adoption visiting our additional article.
Real-Life Examples of How mHealth Benefits Simplify the Life of Patients
Patients are the end-users of most mHealth solutions. They monitor health indicators, get treatment instructions, communicate with clinicians, and complete many other actions. That's why they are one of the key groups that leverage the advantages of mHealth. Find more details on medical app usage below.
Easy treatment compliance
From 25 to 50% of patients don't take the correct medication at the right time. This harms the effectiveness of treatment and poses an additional challenge to healthcare practitioners. Neglecting the importance of personal accountability for treatment outcomes, people ignore their health and cause losses for the healthcare industry.
The situation changes completely with medication reminder apps. With the help of them, patients no longer have to keep track of all the medications or even doctor appointments – the app does it all for them. Applications send automated notifications beforehand to help the patient manage all treatment-related activities with zero effort.
Simplified access to professional help
In the US, there are 27 physicians per 10,000 people. As the population keeps growing and the load on the healthcare system increases, people may have trouble getting professional help. Especially, in distant and rural areas where access to quality healthcare services is limited.
Under these circumstances, mHealth apps with telehealth features can substitute personal visits. Patients can consult with doctors via video calls and discuss the progress of treatment remotely. They would no longer have to commute to doctors to get help with minor health issues like flu, cold, or diarrhea. An app will allow them to immediately contact a doctor or chat with an AI-powered virtual assistant for guided self-treatment.
Reduced risk of contracting infections
The COVID-19 pandemic has changed our attitude to physical interactions. Now people go to in-person medical visits even less willingly than before. The chance of contracting infection makes them opt for mobile applications and tap into the benefits of mHealth technology.
The graph below shows how the number of visits to ambulatory practices has plummeted with the emergence of COVID-19. Despite a rebound, the level is still one-third lower than it used to be.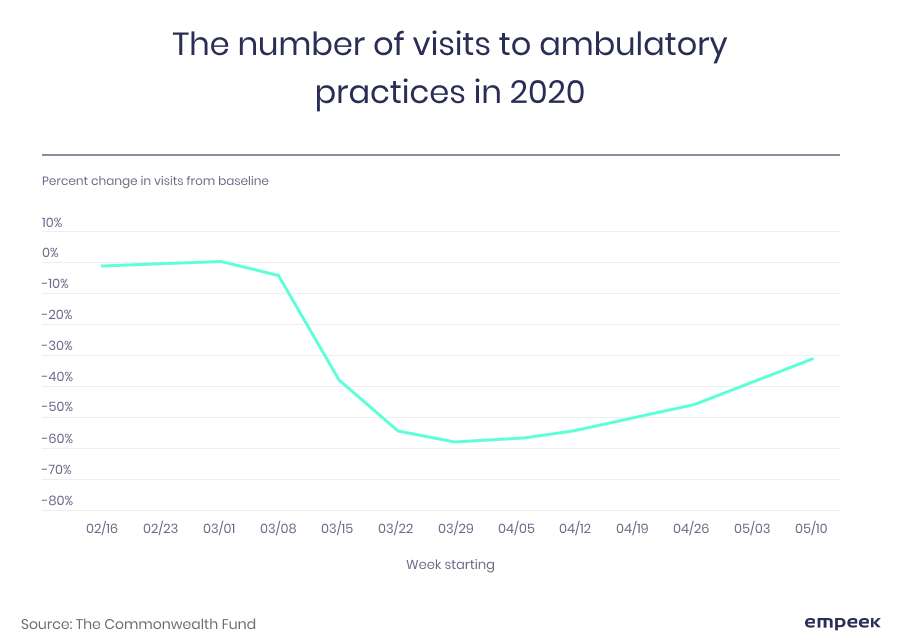 Thanks to medical applications, people can share health records remotely and enable physicians to manage the treatment process without face-to-face interactions. Doctor appointment, clinical examination, medical prescriptions, billing – everything can be managed remotely these days with the help of mHealth business models.
Advantages of Mobile Health Apps for Healthcare Service Providers
While we talk so much about mHealth benefits for patients, you might have wondered what's in it for businesses. Well, healthcare organizations are another group reaping mHealth advantages.
Medical apps allow clinicians to lookup drug information, calculate patients measurements (e.g., BMI), monitor the treatment process, interact with patients, and complete a range of other actions. All of this leads to streamlined workflows and thereby reduced costs.
Optimized person-hours
Based on the recent report, 26% of physicians work from 51 to 60 hours per week. Over 30% of the respondents work 60 hours and more. This causes excessive stress, negatively impacts the quality of care, and strains the resources of healthcare organizations.
To reduce the pressure on their teams and enable physicians to use their time more effectively, healthcare service providers adopt mobile solutions. Thanks to mHealth benefits, healthcare personnel have all records in one place and can get in touch with patients without wasting their time. They can also connect with pharmacists, check out insurance coverage before assigning treatment, automatically transfer data to EHR systems, and enjoy other benefits of mobile health software.
Reduced risk of misdiagnosis
When physicians handle patients' records manually, they are prone to diagnostic errors. Without mHealth software, it's easy to skip information, mix patients' history, or lose critical records. Such mistakes may lead to misdiagnosis. In the United States, 12 million people are affected by diagnostic errors every year. From 40,000 to 80,000 of them die from the resulting complications.
Since mHealth software keeps track of all communications, prescriptions, and treatment options, it minimizes the risk of diagnostic mistakes. Healthcare service providers can both offer data-driven treatment to their patients and secure themselves from malpractice lawsuits.
Enhanced data management
Healthcare organizations process tons of personal data and need to properly organize it.
When integrated with EHR, mHealth applications automatically record important patients' data and information from wearables or connected devices in the system. This allows healthcare providers to create a detailed profile of each patient and become HIPAA compliant. HIPAA is one of the key laws that regulate the collection and use of personal health information.
To find out more about HIPAA medical records retention, read our article about HIPAA compliance.
Benefits of Mobile Health for Investors and Technology Companies
Without software providers, healthcare organizations wouldn't be able to streamline their work. The patients would also suffer from a lower quality of care.
Although the ambitious goal of helping others is worth investing in mHealth software, tech companies are more pragmatic. They rightfully seek financial benefits and market reach. Here are the main reasons why technology companies should launch a mobile health app.
Multiple Monetization Options
Mobile health app publishers can generate revenue in multiple ways. Healthcare organizations readily pay licensing fees and order consulting or software development services to implement mobile health software. There is also premium content, pay-per-download, and other advanced use options to charge patients.
The report published by Statista features the distribution of revenue by sources. Based on it, licensing, service sales, and pharmacy preceptor development fees are the main sources of revenue, bringing 35%, 26%, and 25% of income respectively.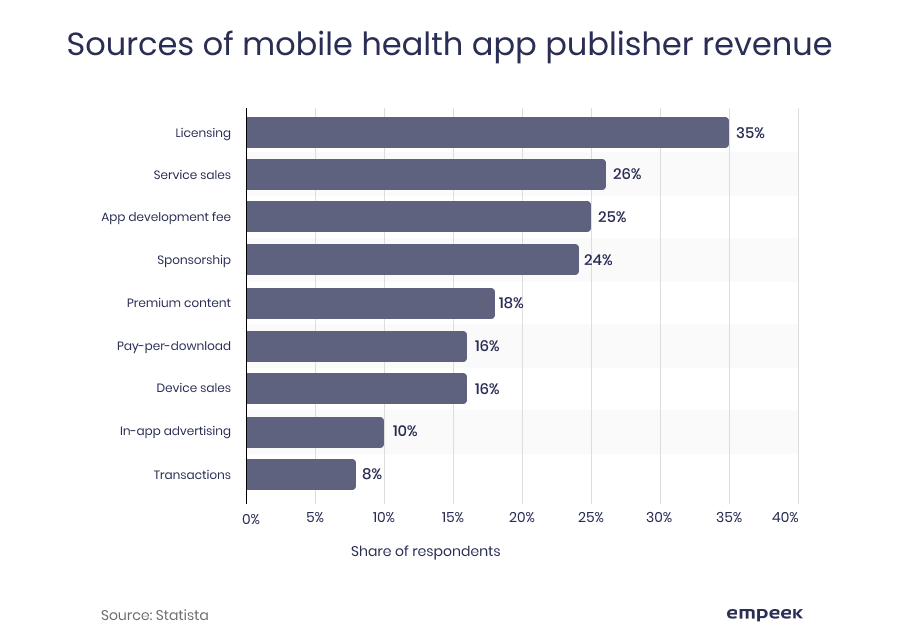 Such a diversity of revenue sources enables software providers to capitalize on published solutions and build a more stable business. If the current monetization options don't yield the expected results, it's always possible to adopt an alternative approach.
Steadily growing market
By 2025, the Health solutions market is predicted to reach 213.6 billion US dollars compared to 50.8 billion in 2020. Despite the pros and cons of smartphones in healthcare, more and more people are switching to mHealth services. Both patients and clinicians find it easier to communicate via smartphones than through any other channel of communication.
Thus, when a company invests in the development of an eHealth app, it joins a promising market niche with great perspectives. It will keep growing for the next decade regardless of the possible pandemic crises.
Competitive edge on the market
mHealth users seek three key features – access to medical records, appointment booking, and electronic requests for prescription refills. Guess what? The majority of existing mHealth apps don't support such functionality.
This gives technology companies a chance to take a free niche and attract users to a freshly launched solution. Although the eHealth market seems oversaturated, there is still a lot of space for growth and innovation.
Software Development Model That Maximizes the Benefits of mHealth
To launch a mHealth app, it's necessary to build a team that unites business analysts, software developers, UX/UI designers, and quality assurance specialists. The specialization of the team will depend on the tech stack you choose for the app.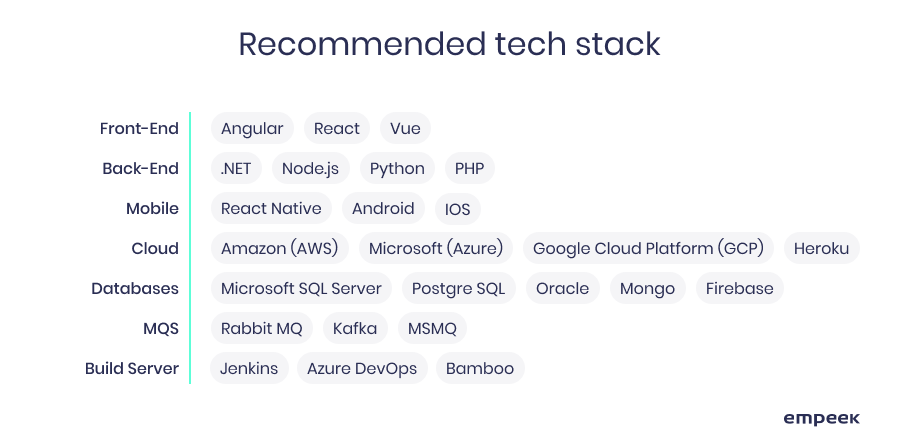 Once the team is assembled, it can start to research the market, create the prototype of an app, develop the backend and frontend. It's crucial to go step by step and know what solutions will attract users.
If you lack certain specialists or want to delegate the development process to someone who has experience in mHealth software development, consider outsourcing to Empeek. As a tech company with a strong focus on healthcare and dozens of solutions launched we know how to create apps that can conquer the market.
Final thoughts
Mobile medical apps are changing healthcare technology thanks to its multiple advantages they bring to its end-users. The market reach is the first and one out of the many benefits of mobile health technology. Enhanced patient care, revenue potential, and optimized healthcare processes are among some other mhealth patient engagement technology advantages able to put businesses at a competitive edge.
If we just said 'Yes' to your 'Do I Need a Mobile Health Application' question, you wouldn't believe us. Now, when you know the benefits of mobile health technology, you know why mHealth is worth investing in.
As an outsourcing software development company, Empeek can help you launch a mHealth app regardless of your location. We offer flexible working approaches and have a proven record of successful projects. One of our alike projects is drug testing software system. Check our case study to get more insights.
Want to reap the benefits of mHealth technology? Contact us to discuss your project.