According to the prediction of the leading healthcare analytics, the telemedicine system will grow huge. While in 2019 the total revenue of telehealth businesses resulted in $50 billion, the healthcare 'telemarket' revenue will have reached the $460 billion point by 2030. This means that the entire telemedicine field will attract a sum that is 9 times bigger than the current one. In the end, the demand for healthcare app developers will be 9 times higher as well. Considering these promising statistics, let's explore the healthcare app development trends a modern developer should know about.
In this article, you'll find the main healthcare app development trends to focus on in 2022. This will help you define the needs of your potential target audience and design potent revenue-generating strategies.
The Main Healthcare App Development Trends in 2023 and Their Specifics
How are the trends born? Which forces control what is called 'popular' and what is not? How do trends come and go in the healthcare market? Answering these questions is not enough, since the reality of top healthcare app development trends is far more complicated. Like with any other product, there must be high demand. Consider how healthcare mobile apps trends changed when COVID-19 invaded each corner of the world. Due to the risk of getting infected and quarantine rules, the population was banned from visiting hospitals. That led to the increased demand for mhealth apps and other telemedicine solutions. In the end, the global mhealth solutions market value grew from $40 billion in 2019 to $90 billion in 2022.
Telemedicine Solutions
The word is often used as an umbrella term for other tech healthcare areas like mhealth and telehealth. In its narrow meaning, telemedicine covers telesolutions like online software for remote hospital visits or remote monitoring. One of the best healthcare app development trends, telemedicine offers high-quality and effective solutions to modern healthcare providers.
Why is telemedicine a popular trend in 2023 healthcare development?
The epoch of COVID-19 is not over. Meanwhile, telemedicine suggests effective remote management of infectious diseases, preventing their spread yet saving lives;

Because of the russian invasion of Ukraine, gas prices have skyrocketed, reaching all-time highs in America. This complicates the hospital trips for patients in remote areas;

Telemedicine cuts hospital expenses and reduces the waiting time.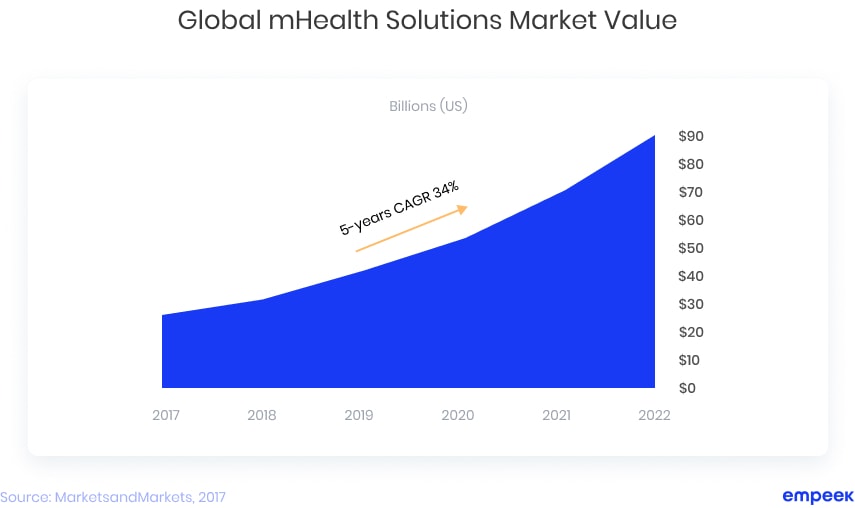 Artificial Intelligence (AI)
First of all, it's all about NLP or natural language processing. Artificial intelligence helps providers manage big data and determine bugs while doing it. For instance, a doctor can effortlessly transform their verbal notes into electronic health records. All they need is a voice record and an AI-powered tool. Secondly, check predictive analytics. AI has the power to improve disease management, predicting possible complications to the exact number of recovery days.
Artificial intelligence is currently associated with so-called 'precision medicine.' The latter implies the AI's ability to manage the patient's genetic, social, economic, and lifestyle data in order to determine the effectiveness of treatment and prevent complications.
Custom IoT Solutions
Currently, the most popular IoT solution is remote monitoring devices. This twenty-first-century magic tool collects vital signs and sends them to the provider with the use of a wearable. For instance, a device might detect an unusually high heart rate and send an alert to the healthcare provider. Many IoT solutions intersect with the best mhealth trends in healthcare as a wearable goes along with a monitoring app.
Modern IoT solutions have the potential to tremendously reduce overload. Around 30% of the cases considered 'urgent' don't require an in-person hospital visit. Long queues in emergency rooms impede patients in need of urgent medical help. Meanwhile, custom IoT solutions have the potential to determine which cases should be considered 'urgent' and which not.
mHealth Solutions
A digital Mecca for healthcare developers, mhealth app development is the most promising field to focus on. Why so? According to the statistics, 85% of American adults owned a smartphone in 2021 compared to 35% in 2011. Hence, by developing a mhealth app, you get more chances to reach a vast audience. Additionally, a smartphone is a tool that an average user carries around 24/7. Can we make the same assumption about a laptop or a tablet? Obviously, no. Again, expanding your target audience and selling a product is more effective once you consider the 'mobile' factor.
Which mhealth trends in healthcare should you focus on?
Personal Healthcare apps

. Call them remote monitoring apps or not, the idea is the same – a tool that allows an individual to monitor their health and make adjustments to their lifestyle if such are needed;

Clinical and Diagnostic apps

. Allow the clinicians to gather

patient

data, store and manage it, and quickly access or share it in hospital settings;
General Wellbeing apps. These tools increase the user's health awareness and offer access to data on healthy living.
Electronic Health Records (EHR) Solutions
The good old pen-and-paper writing is gone with the wind. Thanks to the new technologies, a modern clinician can make their notes digital with one mouse click. EHR solutions allow hospitals to process big data while storing and managing it in compliance with healthcare guidelines. EHR is vitally important to organizations that want to cut paperwork, add flexibility to in-hospital collaboration, and improve patient outcomes. They also coincide with trends of healthcare mobile apps like clinical and diagnostic tools.
Consider Empeek to Always be On-Trend with Your Healthcare App
Empeek is a team of tech specialists inspired to create modern tech solutions that help the global healthcare community. We believe that mhealth app development, healthcare IoT, telemedicine, and pharma software development among other tech healthcare solutions strengthen the modern healthcare system. Other services which the company offers are EHR/EMR solutions, the development of medical devices software, and healthcare CRM.
Creating a platform that would combine EHR and telehealth functions was one of our recent challenges. We upgraded the authentication process and other fundamental functions. As a result, the newly created system got a telehealth portal and data reporting powered by AI. The best thing is that all system activities work in compliance with HIPAA.
Another challenge our specialists encountered was an IoT solution with a real monitoring feature. The solution includes a light wearable that collects the data, manages it in the mhealth app, stores it in the cloud, and later transmits it to the hospital station. The best part of the project is the light wearable that accurately detects the user's vital signs, analyses them, and sends the results to the doctor.
Our specialists always consider the changes in the healthcare market and are aware of the tech novelties. Contact Empeek for the best on-trend healthcare solution!