With the growing complexity of the revenue cycle and government compliance, especially in the healthcare industry, the need for medical billing professionals is growing.
Medical billing and coding are no longer tasks that can be performed between scheduling and patient visits. In the good old days, billing for medical services was a simpler process, the authorities changed rules from time to time, gave enough time to adjust to new laws, and there were fewer denials.
In contrast, nowadays, if someone does not have the appropriate software and professionals for billing and coding healthcare services, the rejection rate for claims can rise up to 30-35%. What's more, frequent updates from authorities make it difficult for a healthcare provider to avoid compliance issues.
In the healthcare sector, it is not always about money, ROI and costs, but also about patient care and time. For this reason, healthcare providers are considering outsourcing the billing process for medical services.
What is medical billing outsourcing?
Outsourcing your medical billing audit is when your practice allows specialized third-party code and billing for your procedures.
Cloud-based healthcare billing solutions and medical claims processing software help healthcare organizations like yours increase revenue and reduce costs for insurance and patient payment management. The software can be integrated into your existing system or developed from scratch – both are viable options.
Organizing medical bills is important. This service can result in zero encoding delays, guaranteed quality, lower costs, and no worries about available resources.
There are many benefits of outsourcing medical billing for healthcare organizations. Some of them are discussed below!
Why outsource medical billing and coding
Again, the path of outsourcing medical coding software development can help healthcare organizations increase their revenues and reduce the cost of managing insurance payments and claims. Well-designed healthcare billing software ensures a seamless billing process, manages and tracks all billing information, submits medical claims automatically and on time, as well as reminds patients of payment or insurance expiration dates.
Let's focus on each of the reasons to outsource medical coding software development individually:
#1. Competence and Compliance
Insurance company rules and policies are updated frequently to improve the ecosystem. Companies involved in the healthcare billing process have dedicated experts who can follow the industry, read newsletters, attend seminars, and provide their clients with updated and fresh information. Moreover, HIPAA compliance cannot be ignored. Specialists of outsourcing companies closely monitor compliance with all regulatory requirements.
#2. Cost Management
According to data provided by the Society of Human Resources, the total cost of recruiting, hiring, and training can be as high as $4,000 or more. By using outsourcing, healthcare providers can keep these costs to a minimum. A medical billing outsourcing company achieves economies of scale by offering its services to a range of clients, making their services to a single client cost-effective.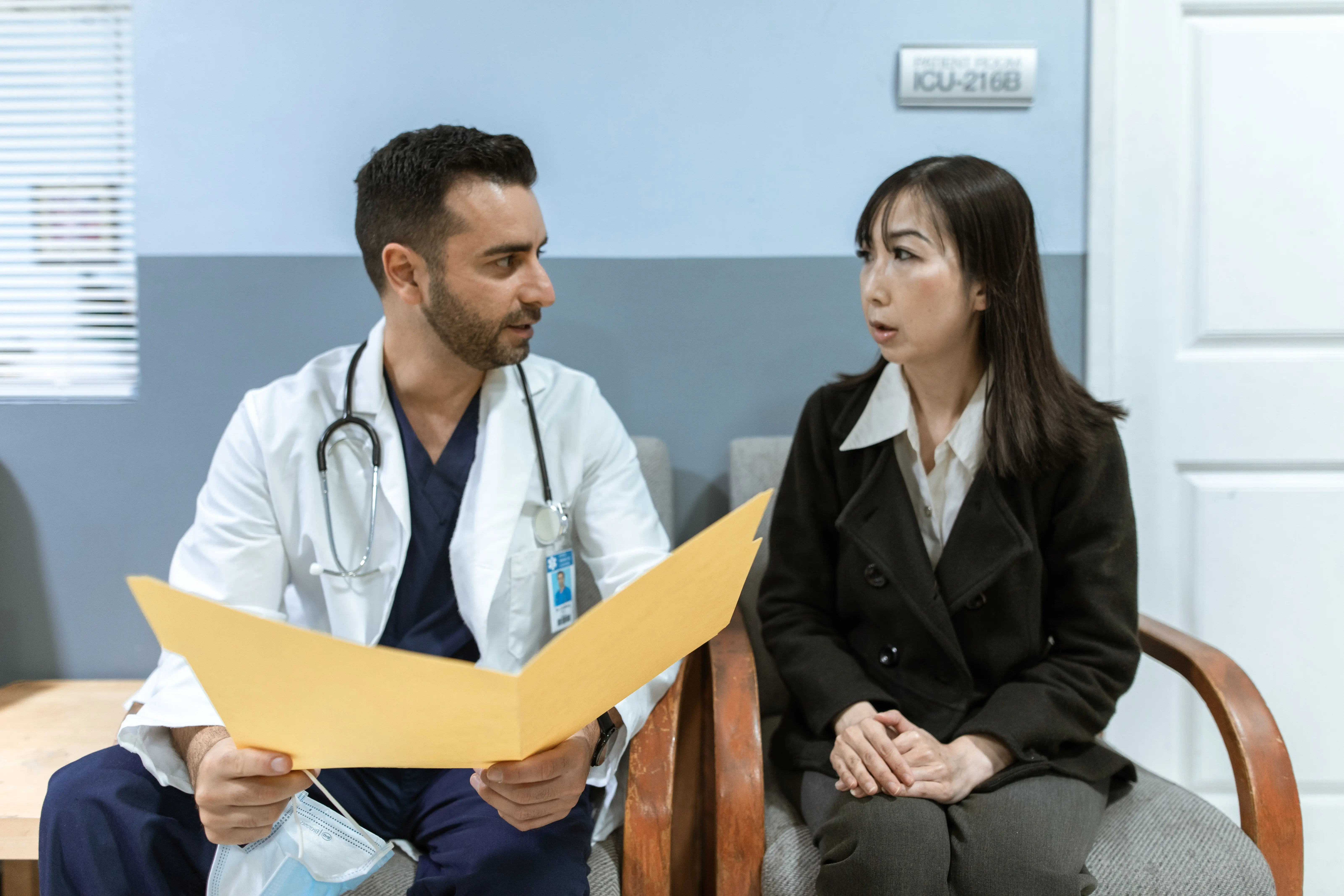 #3. Reduced Claim Rejection and Follow-up
Most claims are rejected due to common medical billing errors. On the other hand, follow-up is also a cumbersome process, but if not done on a regular or planned basis, it can lead to lost income. Thanks to the trained and specialized staff of outsourcing companies, these errors are minimized, and follow-up actions are taken on time, which leads to increased revenues. Continuous surveillance also allows health care providers to get paid faster.
#4. Business Improvement
One of the most crucial advantages of outsourcing medical coding. All businesses, whether healthcare or otherwise, need significant improvement. This can be achieved by focusing on the front-end and paying due attention to the customers. In the case of health care providers, the clients are the patients, and adequate attention is nothing more than a focus on getting the right care for them, rather than on operations and medical billing.
#5. Scalability
According to the latest estimates, there are currently 30 percent fewer medical coders in the United States than are needed. Combine this shortfall with the performance loss caused by the ICD-10 and the result is the perfect storm of wasted time and revenue, as well as rejected claims due to incomplete or inaccurate coding.
Outsourcing a team of highly skilled medical coders – those who understand the principles of ICD-9 and ICD-10 coding (as well as coding platforms) – offers many benefits to coding managers. First, it allows them to maintain their existing staff while reducing their workload. It also provides training encouraging new professionals to join the medical coding field.
In addition, with the abundance of offshore medical coders, this solution can meet the needs of large groups of hospitals, individual hospitals, large and small groups of doctors, and other medical organizations.
#6. Compensation and income are decreasing and you don't know why
If your practice is having difficulty processing health claims and managing the income cycle, the writing is on the wall. Reducing the amount of compensation is only a matter of time. By partnering with a billing company, you benefit from the deep specialization that certified programmers and practice management experts can provide. This specialization ensures that fees and coding are optimized (and compliant). Plus, you'll enjoy knowing that bounces are handled by a partner with the time and experience to overcome barriers to payment.
#7. Ensuring transparency in practice in the financial sector
Another point on our list of reasons to outsource medical billing. Billing companies provide a level of financial transparency that is difficult to achieve even with current generation PM / EHR software.
Moreover, we hear from new clients that they are surprised by the level of reporting that we do on a daily, weekly, and monthly basis. Essentially, you get enterprise-grade reporting and analytics with PM software that scales from single vendor practices to the largest, most complex operations.
#8. Get the confidence that all charges are fixed
Outsourcing your billing will ensure that all visits are accounted for and appropriate claims (e-super bills) are generated. Since refunds are directly related to their payment, it is very important that all visits and fees are recorded and then submitted. This level of confidence is achieved through a combination of automated failover devices in our software and a level of human control. The practice and interests of the billing company coincide with the maximum reimbursement.
#9. Increase attention to patients
One more element of the benefits of outsourcing medical coding is that office staff can now focus exclusively on the clinical aspects of patient care and the overall experience your practice provides, instead of purely administrative tasks like authorization or eligibility checks. Staff can be reassigned to perform tasks related to the quality of care and meeting patient satisfaction criteria, which are increasingly important.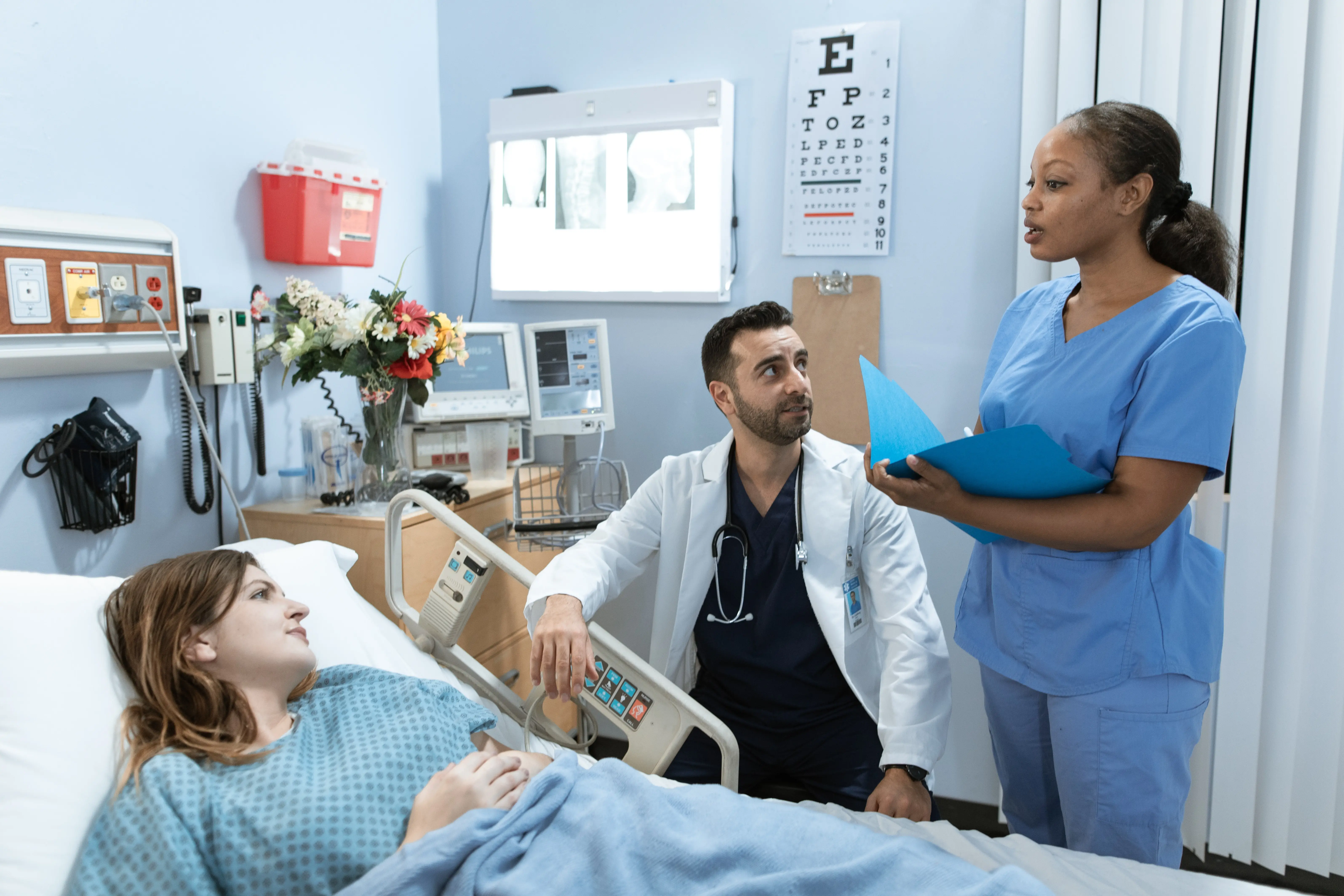 #10. Dedicated team of medical coders
Empeek assigns our clients a dedicated medical coding team to ensure that, in addition to fundamental coding knowledge (reading medical records and applying coding guidelines), they study and apply the customized guidelines and procedures developed by the coding manager for implementation in their remedy. Communication is directed to the dedicated team leaders who facilitate the rapid dissemination of new information and problem resolution.
Our dedicated team of medical coders will provide you with all the benefits of outsourcing medical billing services. They'll quickly become familiar with coding processes, services, and the providers associated with them. The chosen coding team works very closely with the customer to ensure that our processes and performance meet their expectations for high-quality coding.
The cost of outsourcing medical coding
Given the approach you take to create the solution, you can either outsource the development of medical billing software or build it yourself. A report from Grand View Research predicts that the size of the medical billing outsourcing market will continue to grow, while the share of in-house development will largely remain the same.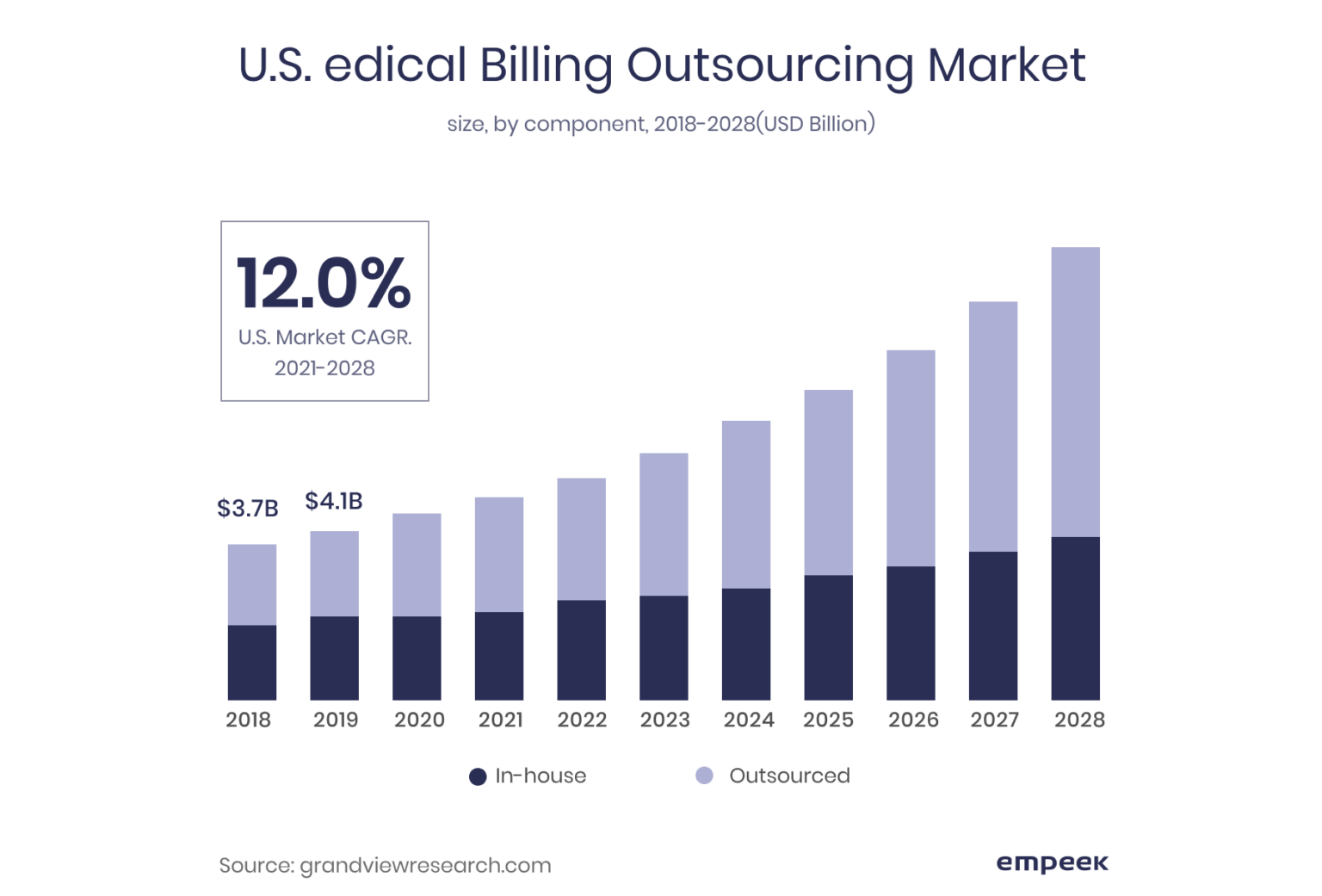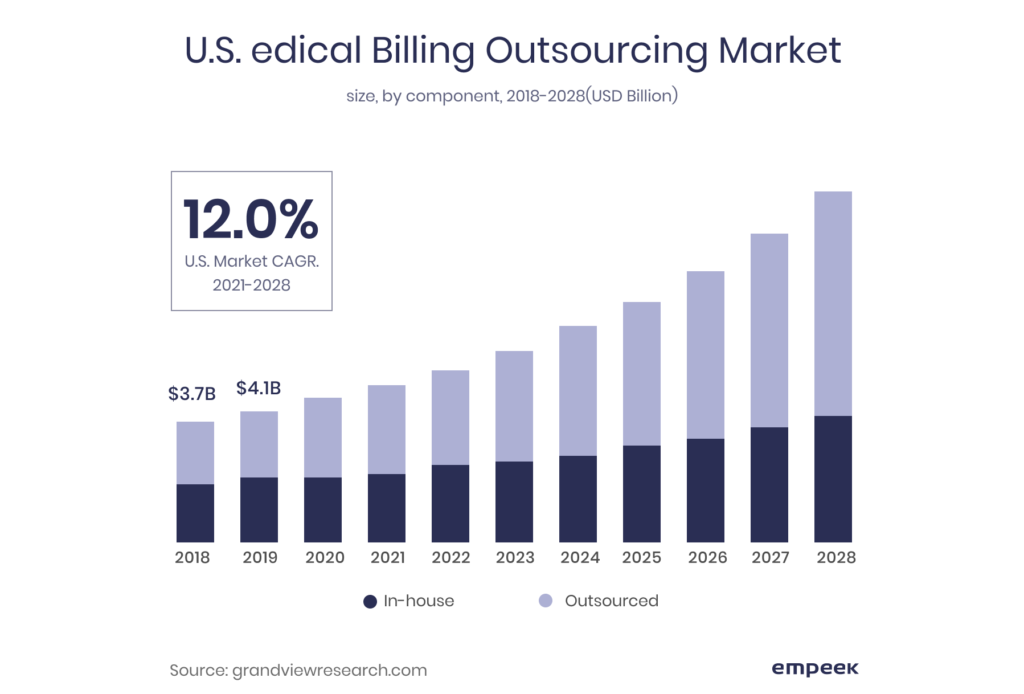 When there's a need to outsource healthcare software development, most software development outsourcing providers charge you per hour of work, but the cost of building billing and coding software for healthcare services will also depend on its features. The complexity and the number of features you want to include will affect the development time and the number of people you need to build the software.
As a rough estimate, you can expect to pay the outsourcing provider around $50 per hour (the exact rate will vary depending on the provider, your location, and the complexity of the task).
Testing and maintaining a billing application "post-release" is also a fundamental part of the development process – be sure to include them in your budget.
Choosing a medical billing software provider pay attention to the list of services. Not all vendors offer post-support services after an application is released. This means that you need to schedule a subcontract or hire staff to update the software and fix potential bugs.
If you decide to hire a development staff, you will need to do the entire recruitment, adaptation, and maintenance of new employees yourself. In this case, in addition to paying your monthly salary, you must also add the bill for hiring costs, paid vacations, and anything else the specialist needs.
You will also have to pay for any additional tools like issue tracking software (like Jira), software licenses, and cloud storage.
On the other hand, you can adhere to a trusted outsourcing company, like Empeek, and get all the mentioned benefits of outsourcing medical billing right away.
Consider Our Company Your Trusted Partner
Automating billing and insurance claims with a custom-made healthcare billing solution has many advantages. So, before you start building software for your healthcare business, make sure you partner with a software provider who knows tips and tricks for developing hospital billing software.
Empeek is a software provider that is committed to innovation, collaboration, and security. We work with clients from early research and idea generation to launch, maintenance, and product promotion.
Our team is experienced in software development with a focus on HealthTech.
Empeek has been tested by various companies all over the world and has a proven track record of closely monitoring and enforcing policies, security and operations to ensure high-quality performance.
The results showed that our approach provides a cost-effective yet first-class coding resource. As managers struggle to grapple with the challenges of ICD-10 implementation, the coding lag makes these issues even more pressing.
Our outsourced programming services help reduce coding backlogs and accelerate cash flow. Outsourced programming also makes it possible for coding managers to launch staff training programs without fear of coding backlogs.
This commitment to quality medical coding gives Empeek customers the ability to continue to confidently choose outsourced coding to complement their programming efforts.
Contact Empeek to learn more about how we can help you create medical billing and coding software right for your organization.
Final Thoughts
Imagine how much you would have to pay in-house software developers who have the technical skills and understand the specifics of building medical applications! Fortunately, offshore software development is less expensive than having a full team of programmers in the office. Among other cut costs such as office rent and administrative staff salaries, you can reduce your labor costs by up to 40% by choosing a professional development team from Eastern Europe.
There are several reasons why international enterprises and startups decide to cooperate with Ukrainian outsourcing and outstaffing companies or open their research and development offices in the country.
High level of education. According to a nationwide survey, over 75% of Ukrainian engineers have a master's or doctoral degree in STEM disciplines.
State aid. Ukrainian IT entrepreneurs are subject to a simplified form of taxation, which helps to reduce costs.
Affordable hourly rates. Due to the economic situation in the country, the salary of a developer from Ukraine can be up to 60% lower than the estimate of an American programmer with the same skill set and many years of experience.
Almost 200,000 developers. According to statistics, this is the number of specialists working as QA engineers, software developers, UX designers, and DevOps in Ukraine.
Good command of English. More than 70% of Ukrainian programmers speak English at an upper-intermediate or advanced level.
And of course, Empeek is one of the best representatives on the market. We add value to this process by providing cost and time efficiency in billing and coding healthcare services.
The above benefits of outsourced medical coding service are indicative only. With services we manage, such as medical data entry, medical coding, customer service, information sharing, accounts receivable management, and more, this can be a competitive advantage for any medical provider.
Outsourcing medical bills to Empeek well worth it to see higher revenues, reduce administrative burden, and streamline the billing cycle.
Contact us today and get professional help with your medical project.