Have you ever stayed up all night begging for something that could make you sleep? By creating meditation apps, software vendors provide users with a magic pill. Such apps help to fall asleep, teach mindfulness, and facilitate relaxation after a long working day. They offer users a way to relieve anxiety and improve their mental health, which is a big issue today.
Based on recent research, 26% of US adults suffering from psychological distress admit having suicidal thoughts within the previous year. 54% of the global population note that worry or stress affects the quality of their sleep. The rates for other mental health issues are also overwhelmingly high. At the same time, 40% of adults don't use mental health services because professional help is too expensive.
The sharp demand for affordable ways to reduce stress boosts the growth of meditation apps and AI-powered mental health solutions. Even though these applications cannot cure severe mental health disorders, they are an effective preventative measure. A good meditation can improve wellbeing and keep stress from accumulating.
If you are interested in developing an app for meditation, you probably have some examples in mind. We are ready to bet these are Calm and Headspace, the most downloaded and popular meditation applications.
Do you want to know how to create a meditation app like Calm or Headspace? Read on to learn what features, technology, budget, and other resources are essential for that.
What is a Meditation App?
Do people need a special app to meditate? No, if they understand how to do it. Yet if you want some guidance and cool music in one place, such applications are a great start. Meditation apps are software solutions that facilitate meditation through tips, instructions, and media resources such as nature themes and sounds. Apart from relaxation, they also help users to improve sleep, boost mood, get more focused, improve self-esteem, and make many other positive life changes.
So far, Calm and Headspace are the meditation app market leaders. Sleep Booster, Aura, Relax Melodies, and Breethe are some other players you can note analyzing the mediation application development market to find your unique niche.
Meditation App Development Market and Investment Overview
As people get more stressed and obsessed with their smartphones, the meditation app development market keeps growing. From $270.39 million in 2019, it is expected to reach $4,206.12 million worth in 2027 showing a 41.01% CAGR.
Meditation applications grow in popularity across all population groups and regions. Although they are more commonly used in the US, Europe, and the Asia Pacific, Latin America, and Africa also seem to like meditation. Hence, by making a meditation app, product teams instantly go global and can target users worldwide. Anyone suffering from stress – which is 8 in 10 working Americans, by the way – is likely to download their app.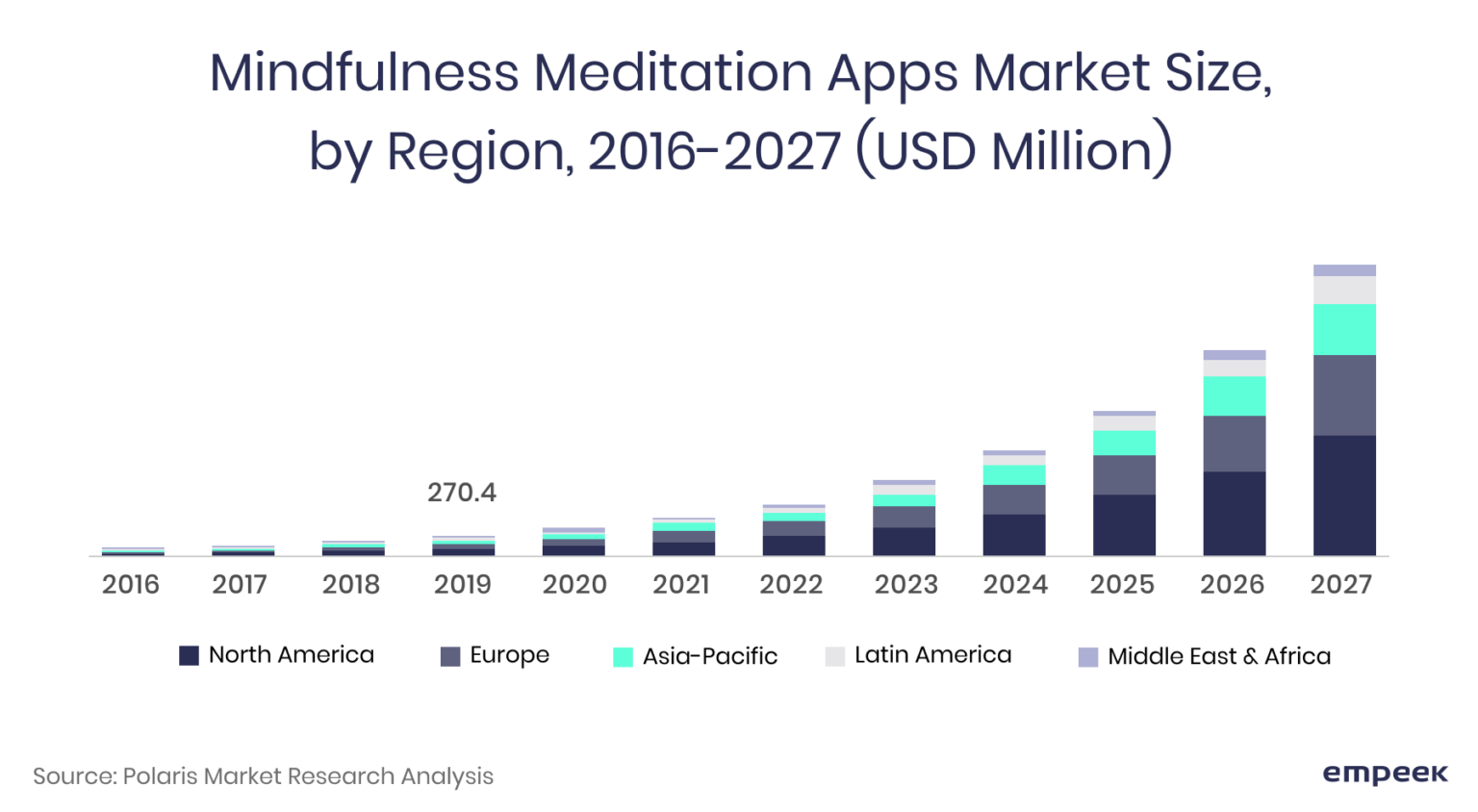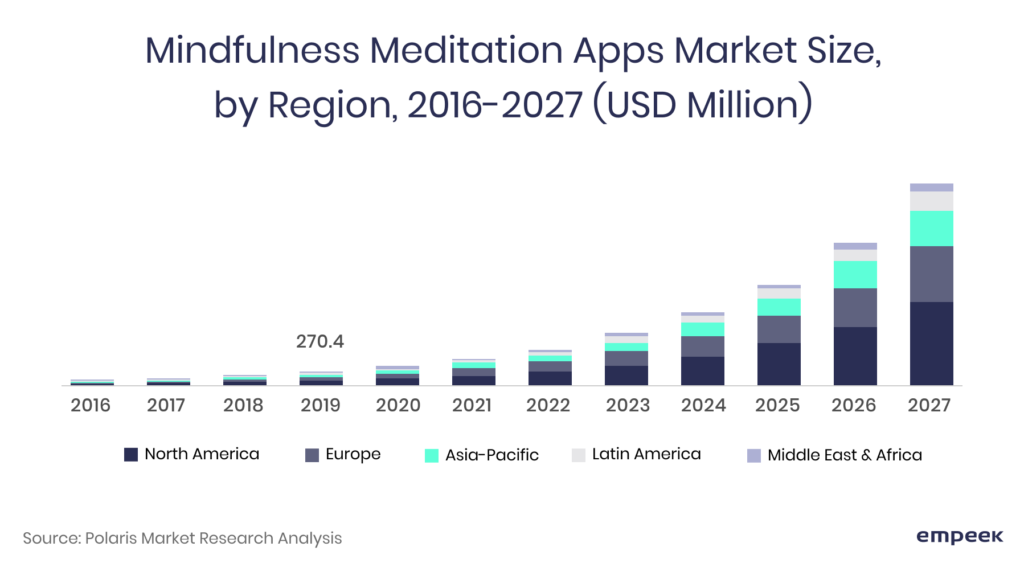 Thanks to a variety of monetization options, developing an app for meditation is also surprisingly profitable. Premium content and paid subscriptions encourage users to spend more. In 2019, mobile users spent $195 million in the top ten highest-earning meditation applications. That was a 52% increase compared to the previous year.
Meditation application development is a profitable niche not only for software vendors but also for investors. For example, the Headspace app has attracted 24 investors with over $215 million spent in total. Out of them, $140 million was raised in 2020. Hence, if you lack funds and expect to entice investors, meditation application development is a proven option to succeed.
The market overview reflects the increasing interest in the meditation app market and its earning power. While more and more users start to meditate, software development teams seek new capabilities and types of functionality to surprise their target audience.
Most Common Types of Meditation Apps
Before practical tips on how to make a meditation app, let's talk about theory. If you want to find your target audience, you will have to polish your idea. Building meditation app like Calm and Headspace, it's important to power some of their popular features with your unique offer. Only then, you get a chance to outperform the existing solutions.
Most likely, you will design one of the following types of applications:
Sleep meditation apps
These are applications designed for people with insomnia or sleep troubles. Most of them rely on guided meditations that use words to relax the listeners and help them quickly fall asleep. Such applications also often contain a library of suitable soothing sounds selected specifically to relieve sleep disorders. Insight Timer, Relax Melodies, Headspace, and Calm are often recommended as the best sleep meditation apps.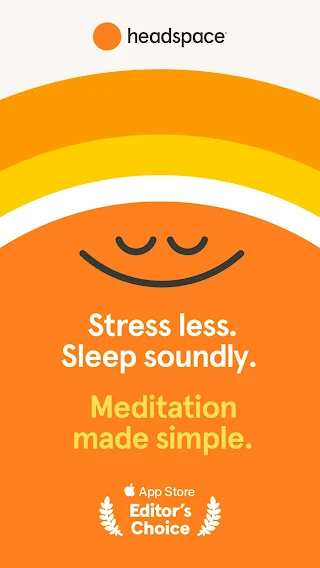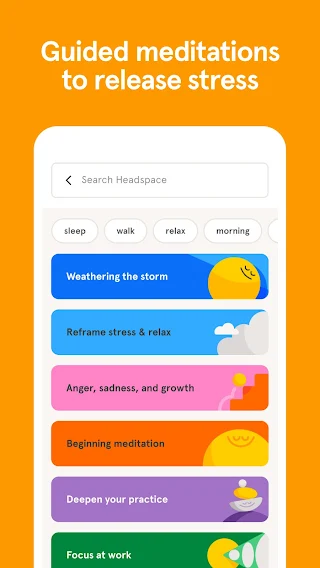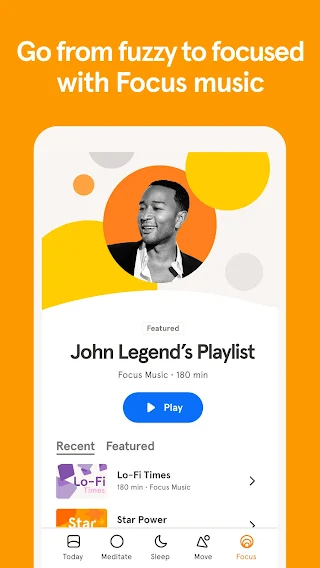 General meditation music apps
Such applications are similar to music libraries since they contain collections of meditation music of different kinds. The offered tracks belong to multiple categories and can be classified by Moods, Gender, Artists, or other characteristics. Users just browse the available options and select the audio they like to start meditating.
Walking meditation apps
Walking is a great way to train mindfulness and relax. That's why meditation apps that provide content tailored to walking are quite popular. Such applications usually include specialized music for different types of walks (e.g., calm dog walking), mindfulness tips, and guided meditations.
Breathe meditation apps
These are applications dedicated to breathing techniques for mindfulness and anxiety management. In addition to relaxing music, they provide detailed breathing instructions. An app shows when to breathe in/out and for how long to keep the breath. Breathe, INSCAPE, and iBreathe are some of the populars.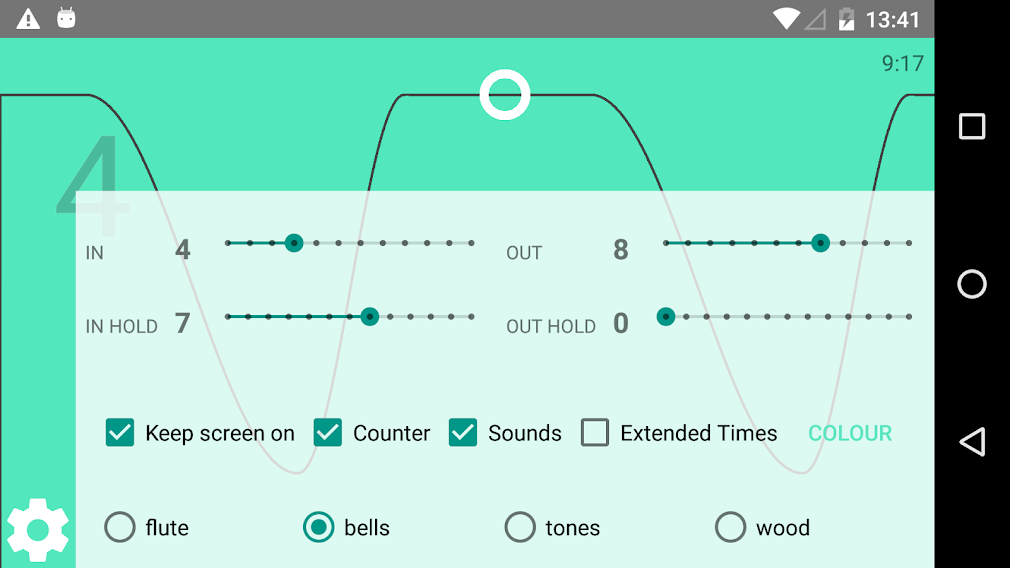 Yoga apps
Yoga and meditation go hand in hand. Creating your own meditation app for yogis, you will need to combine yoga exercises and meditation functionality. Good relaxing music or the sounds of nature are other must-haves. Such apps should also allow users to customize training levels, track progress, and select the length of yoga lessons. Headscape, Down Dog, Asana Rebel are a few decent yoga app examples to look up to.
Note that market leaders usually combine several types of meditation apps at once. They can, for example, provide guided sleep audios and a selection of meditation tracks. It's essential to engage a broader target audience and make the application more multifunctional.
Top Market Competitors While Developing an App for Meditation: Calm and Headspace
The meditation app market already has its favorites. The applications like Calm and Headspace that started in the 2010's boast millions of downloads worldwide. Based on the January data from Statista, Calm is a clear market leader taking over 40% of overall downloads. The next places are taken by Headspace, Sleep Booster, Sleep Cycle, Relax Melodies, and Breethe.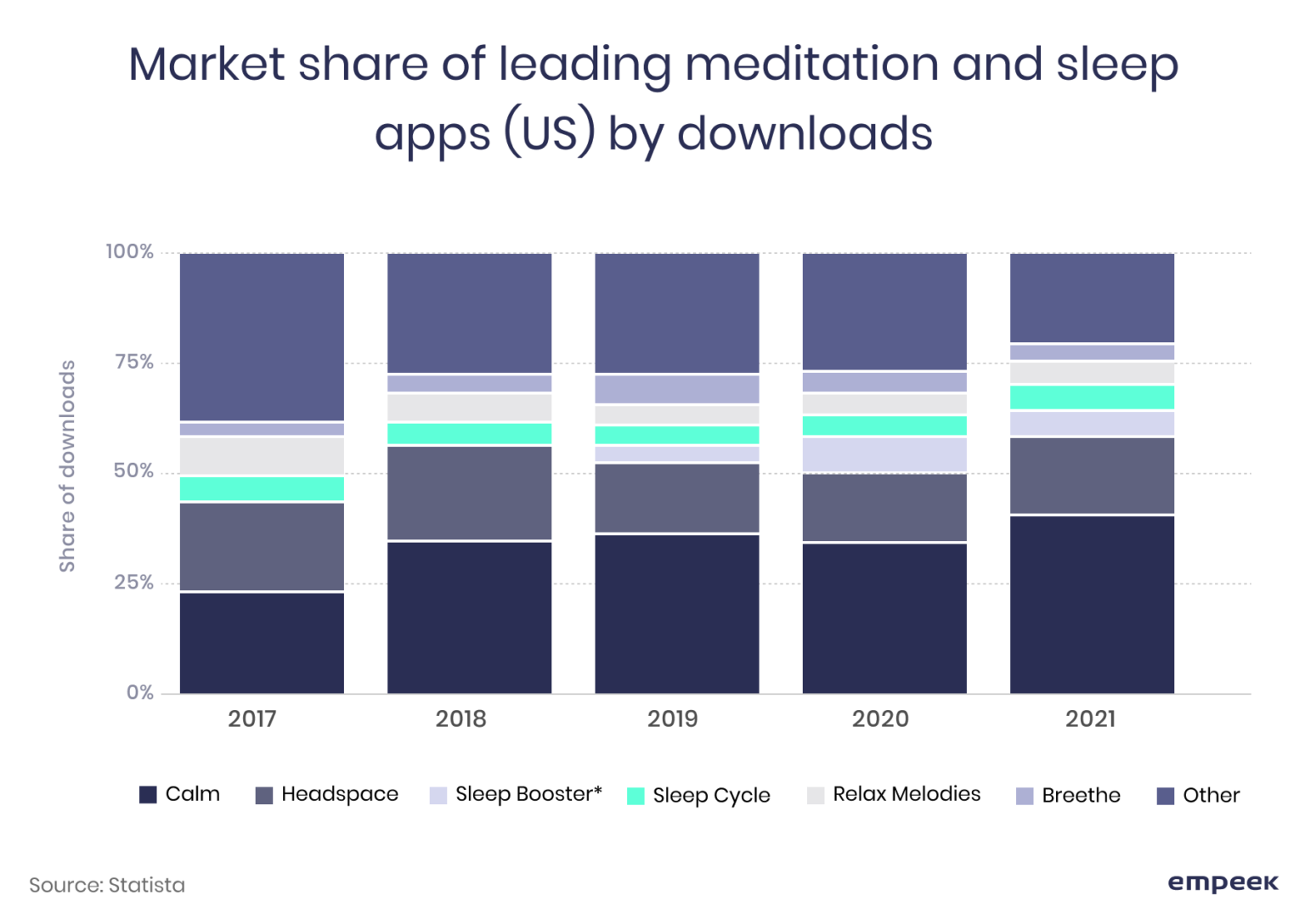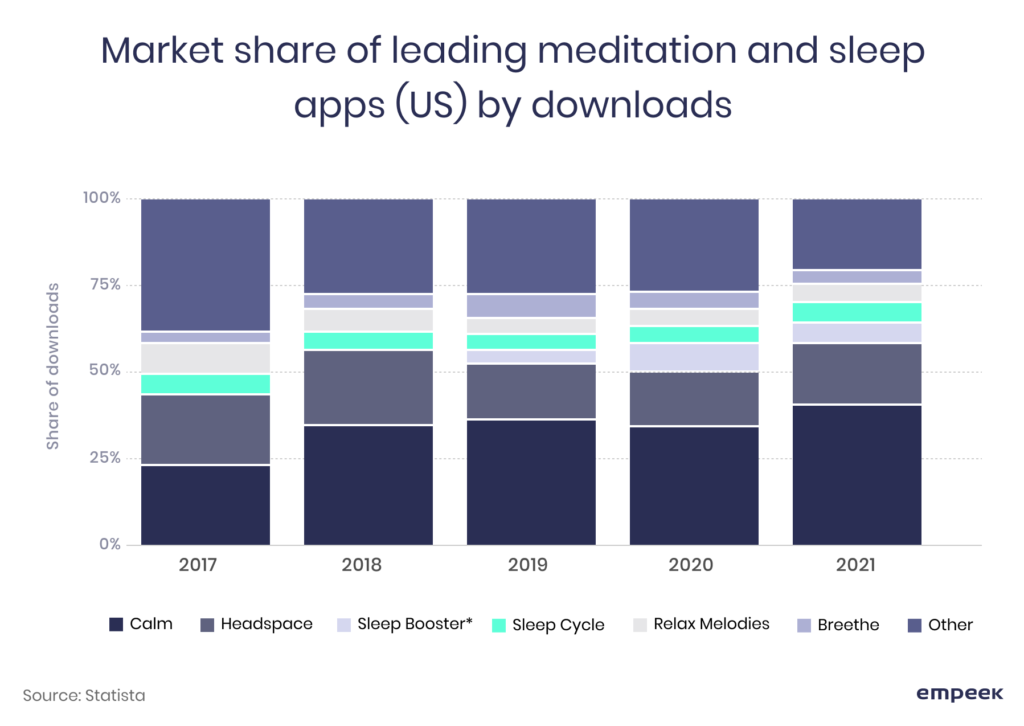 If you want to learn how to develop meditation apps, your successful competitors are the ones who can teach you a lot. The features, categories, monetizations models, and other capabilities they use have already shown to be effective.
Since our article is dedicated to developing an application for meditation like Headspace and Calm, we'll focus on these two solutions. Besides, they are also the most popular in their domain.
Calm
Calm is a universal meditation application designed for novice meditators who expect guidance and detailed instructions. It offers guided meditations of different duration, sleep tracks, and selections of music. After launching the app, users are asked to answer a series of questions that allow Calm to customize the content. It's an Android, iOS, and web-based application available with a 7-day trial. When the trial period ends, users can choose between $12.99/month, $59.99/year, and $299.99/lifetime subscriptions.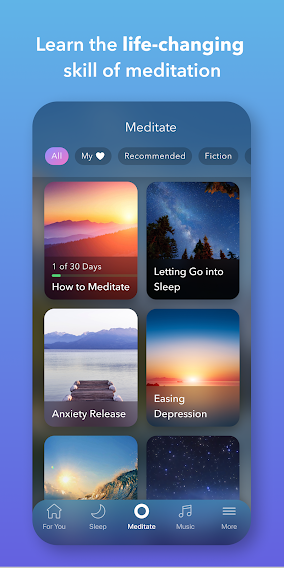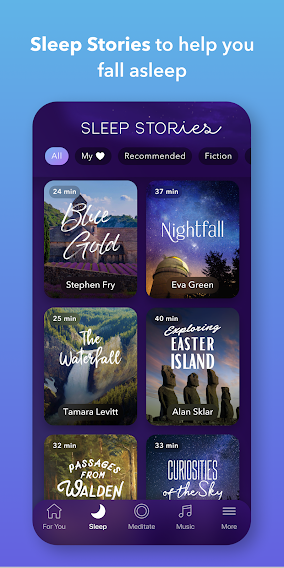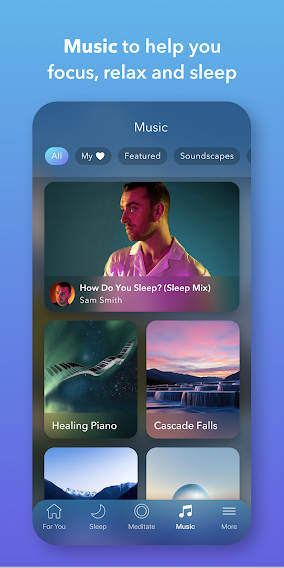 Key statistics
$218 million total funding amount with 38 investors according to Crunchbase
100+ million downloads across platforms
4.8 rating on the App Store and 4.3 on Google Play
Pros
Over 100 guided meditations to reduce anxiety and stress, improve focus, build gratitude, and more
Customizable content based on meditation goals
Meditation reminders
Quick Facebook and Google sign-in
An original Daily Calm added every day
A regularly updated library of sleep stories
Calm masterclasses from renowned experts
Content for kids
Cons
Users need to provide credit card details for registration
Requires continuous commitment to achieve progress
Headspace
Headspace is the second popular mindfulness, sleep, and meditation app. It offers stress and anxiety management techniques. Simple breathing exercises are provided with on-screen instructions. To help users follow them, the app vibrates when it's necessary to inhale or exhale. Here you will also find music for sleep, sleep casts, and short meditations. Just like Calm, Headspace has Android, iOS, and web versions. Users can test the app during a 14-day trial and then switch to a $12.99 monthly subscription.
Key statistics
$215.9 million total funding amount with 24 investors according to Crunchbase
70+ million downloads across platforms
4.9 rating on the App Store and 4.6 on Google Play
Pros
Variety of tracks and types of guided meditation (e.g., Meditate, Sleep, Move, and Focus categories)
Customizable content based on real-time questions and user reactions to previous exercises
Opportunity to choose a meditation teacher
Unique topics, such as meditation for grief or financial stress
Quick Facebook, Google, or Apple sign-in
The Move mode available for fitness
New meditations every day for particularly committed users
Cons
Most content is closed on the free plan
Periodic crashes and randomly interrupted sessions
These two apps set the bar for meditation app development and new solutions entering the market. To know how to make a meditation app like Headspace or Calm, we invite you to discover the core features such applications have.
Must-Have Features to Create Your Own Meditation App
Creating meditation application like Calm or Headspace, you won't do without certain features. They are the backbone of meditation applications and will make your solution handy and easy to use.
As a rule, mindfulness solutions include the following functionality:
Sign-up
Since most meditation solutions have paid features and include personal information, they should request a sign-up. Apart from the standard email registration, offer users a shortcut enabling them to register through social media or Gmail accounts.
Onboarding instructions
Such tutorials are necessary to help users navigate the applications and collect valuable information from them. Building meditation app like Calm and Headspace, make sure to ask users additional questions while onboarding them. 'How do you feel?' or 'Why do you want to start meditation?' asked at the start allow customizing content and improving user experience.
User profile
A personal profile usually includes information about the account owner, their preferences, subscription plan, mediation stats, and payment method. Be sure to collect only the information you need to provide services.
Navigation menu
It's a universal feature for any software, be it a complex EHR system or a basic mindfulness app. A meditation app menu should have icons of different types of meditations, like sleep, move, or focus, for quick access.
Settings
To change their preferences or personal details, users need the settings section. You should enable them to customize content recommendations, set up meditation timers, connect wearables, and more.
Content library with search
Since most meditation applications provide audio and visual content, they need libraries with a search bar. It's also important to categorize the content and provide users with filtering. It will help them conveniently find the necessary track for meditation.
Player
Once a user selects a meditation audio or video, the app needs to play it. Hence, a simple online and offline playback player is essential. Building a meditation app, consider adding some playback features to enable users to manage meditation tracks.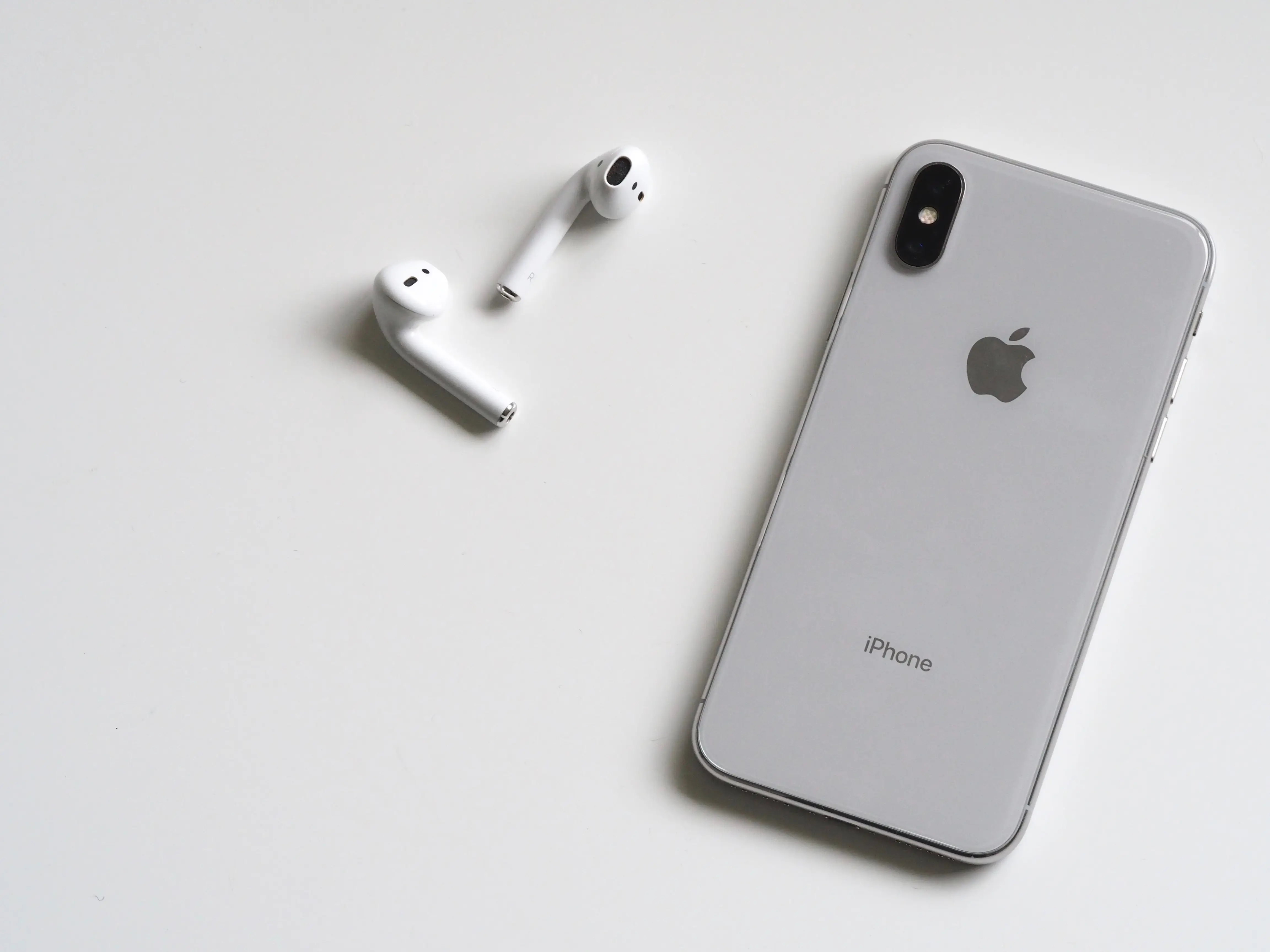 Favorites
To provide users with quick access to their favorite meditations or sounds, enable them to bookmark the content they like. You can also add the Favorites section to your library.
Recommendations
Offer users similar content based on their previous searches and choices. Recommendations are a well-tried approach to increase users' satisfaction and make them spend more time in your application.
Gamification features
When you create your own meditation app, boost user engagement with gamification elements. Points, timers, prizes, badges, and leaderboards encourage users to stick to the meditation schedule and do their best to achieve something.
Push notifications
Developing an application for meditation like Headspace and Calm, remember about notifications. Such messages will remind users to complete an action (e.g., start a meditation), ask them questions, boost motivation, inform about fresh meditation audios, and more. Notifications are the basic element of any mobile application.
Calendar
If you want to implement meditation scheduling, you will need a calendar. It should allow users to select the day and time when they plan to meditate.
Payments
To capitalize on creating meditation applications like Calm and Headspace, you need paid content. Hence, users must be able to pay for it right in the application. Google Pay, Apple Pay, PayPal, and the core credit card providers are the must-have payment options.
Wearable integration
If you are building meditation app like Calm and Headspace intended to improve the quality of sleep, integration with wearables is a huge bonus. Thanks to it, users will easily collect sleep data to get customized meditation recommendations and statistics.
A Step-by-Step Guide On How to Create a Meditation App
At Empeek, we develop anything from IoT healthcare systems to meditation applications. If you wonder how to make a meditation app like Headspace or Calm, check out the proven approach we leverage. These sequences of steps are essential in most software development lifecycles to create a quality product that matches business needs.
#1. Generate a business idea
Building a meditation app, start from the business part. Consider different types of applications to find out which model is more suitable for your market. There is no point in recreating applications that already exist. So make sure to analyze your market rivals, take the best from them, and customize your solution with unique features. At this point, it's also necessary to calculate your budget and decide whether you plan to hire an in-house team or outsource software development.
#2. Choose the right meditation app development platform
After shaping your business idea, you will already know the functionality. It helps to decide on the tech stack and pick the software development platform. Most probably, you will need to develop both iOS and Android applications for different smartphone users. If you want to cut the cost of develop a meditation app and have one app for all, cross-platform or hybrid solutions might be an option. But mind that they have lower performance and limited capabilities.
#3. Make the MVP
To better realize how the application will look in the future, create the minimum viable product. Add the core app features, like sign-in, user profile, library, and onboarding, to test the application. The MVP will also come in handy to promote the product and start engaging potential users before the launch.
#4. Choose the UI/UI approach
When you build a meditation app, the design is vital. Users that suffer from anxiety or depression can easily get irritated and leave because of poor navigation, messy interface, annoying colors, and other details. Therefore, make sure to involve UX/UI specialists at this stage.
#5. Focus on the software development part
Software engineering is the most time-consuming and troublesome stage of the SDLC. Now, engineers, quality assurance specialists, and designers join their efforts to finalize the project. The composition of the team and duration of coding depends on the complexity of the solution and chosen technology.
Besides, the location of your team and cooperation models affect how the coding process happens. For example, if you hire an outsourcing team, a third-party project manager will fully manage software development. You will get only the critical messages, deliverables showing the progress, and any other materials you request. On the other hand, an in-house team requires continuous management and offers less flexibility.
#6. Complete integrations
Use the APIs offered by the manufacturers of supported wearable devices to integrate them. Wear OS and Watch OS from Google and Apple are the most popular wearables to connect, taking 9 and 17% of the smartwatch market respectively. Integration through an API is quick and completed at the final stages of application development.
#7. Submit the application to the App Store and Google Play
To make the designed application available to end-users, you need to publish it somewhere. The App Store and Google Play are the primary places to target. Even though the application has to meet tons of requirements to end up there, it's worth it. By adding your meditation application to the App Store and Google Play, you reach a global audience and millions of potential users.
How to Monetize your App For Meditation
Headspace and Calm offer premium subscriptions and content. In Calm, users won't even complete the registration without their credit card details. Hence, developing an app for meditation, you will also need to think about monetization.
How to develop meditation apps that bring profit? As a rule, meditation apps include the following monetization models:
Subscription. Most startups making a meditation app prefer the subscription model. It allows setting clear rules for using the premium content in the application. Once users subscribe to an app, they get a one- or two-week trial period to test meditations. After the trial, people can continue with paid subscriptions and be automatically charged for each next period. They can pay monthly or opt for an annual subscription to save some money.
Pay per download. PPD or pay per download isn't a common solution for meditation app development. In this model, users need to purchase an application in Google Play or the App Store. The app marketplace takes around 30% of the income, transferring the rest to application owners.
In-app purchases. In this model, users can unlock premium content for a fee. For example, they can purchase meditation lessons, customized personal plans, networking opportunities, unique tracks, or other valuable opportunities.
Advertising. Advertising is a universal model for all kinds of apps, including meditation solutions. App owners charge other brands cost-per-click to display advertisements on their platform. It's the most effective monetization option for applications that already have a high number of daily visits. Hence, you can consider adding it later when your application reaches a specific threshold.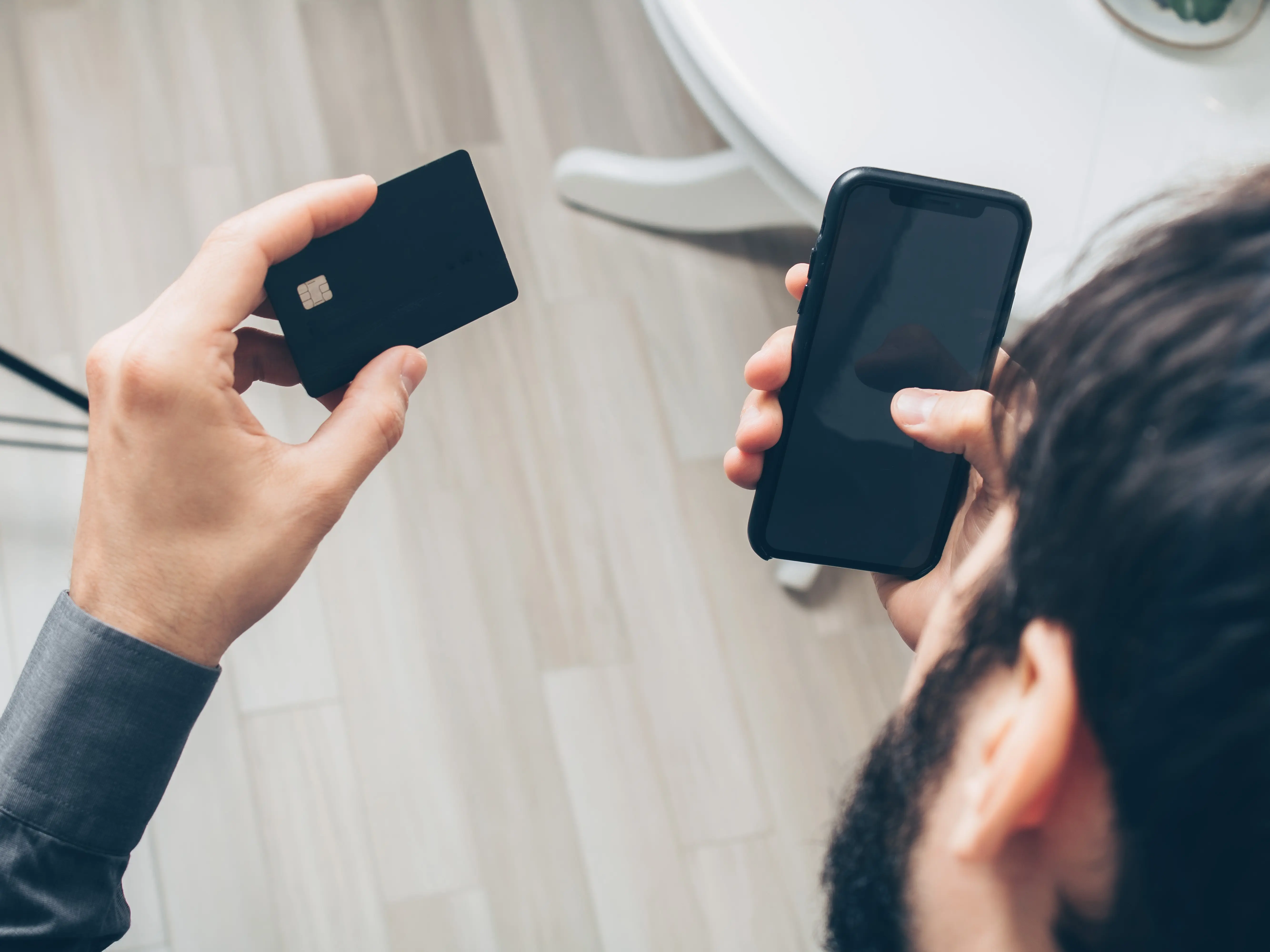 The selected monetization model has a direct impact on the profitability of the application. It's your way to get back the money invested to make an app for meditation and generate income. You can even combine several monetization approaches in a single app. For example, paid subscriptions and advertising. It will allow you to maximize the profit and make the application pay off sooner. Yet remember to keep the balance and engage customers before nudging them to buy something.
Approximate Meditation App Development Cost
No one can tell you the worth of meditation app development without knowing its features and capabilities. The decision to support an in-house team or outsource also affects the meditation app development cost. Generally, the cost of develop a meditation app depends on several key factors listed below.
Meditation app development complexity
The number of platforms and features translate into project duration and team composition. Building a native app, you will need two separate versions for iOS and Android, which almost doubles the mediation app development cost.
Tech stack
Programming languages and tools impact the final cost. You may need to pay for API access, additional storage, and other capacities. Tech specialists will be able to list such expenses only after the technology stack is known.
Team location
The location of your software development team has probably the largest impact on the engineering cost. In the US and Western Europe, hourly rates, office rent, and taxes are several times higher than in Eastern Europe, for example. This inspires many companies to outsource software development and work with remote teams for cutting costs.
Based on Empeek's experience, the meditation app development time ranges from 490 to 700 hours. With an average rate of $45/hour, the final cost of development will be $22,000-31,500. Note that if you want some advanced features or the hourly rate is much higher, the cost will also increase.
Consider Empeek as Your Trusted Partner
If you want to outsource meditation app development or specific engineering tasks, Empeek can become your reliable tech partner. We specialize in mental wellness app and other healthcare solutions, including EHR/EMR systems, IoT applications, healthcare CRMs, and medical devices. For the full list of completed projects, view our case studies.
Empeek covers the entire software development lifecycle, from solution research to product launch and maintenance. Therefore, you can outsource your product to us from the start or at any SDLC stage. We assemble a tailored dedicated team for each project depending on its technical and business needs.
Final Thoughts
Developing an application for meditation like Headspace or Calm is easy when you know what to do. Such solutions are also highly demanded in the current mental health market and, therefore, profitable. With the right functionality, quality software development, and proper monetization, you are sure to succeed.
If you want to hire professionals who know how to develop a meditation app, Empeek is ready to back you up. We have the necessary experience, affordable rates, and tech specialists ready to take up new challenges. Contact us to talk about your project and learn our proposition.