Medications save lives, but, sadly, almost half of the pills prescribed to patients aren't taken properly. The medication regimes are often disrupted or compromised through no ill intent. People tend to forget to follow through with their medication schedules regularly, especially, if they still haven't developed the habit of doing so. Here's when technology can lend a helping hand. Always on the lookout, pill reminder apps are sending alerts about impending medication intake and help users adhere to their healthcare routines.

As people get older, they become increasingly dependent on different types of medications and supplements to maintain their quality of life and their capability to enjoy daily experiences. The world population is aging, and in less than a decade the number of seniors needing assistance will surpass the number of potential caregivers. No wonder the market for medication reminder apps is predicted to grow at a 45,2% CAGR from 2023 through 2026: in the nearest future automated systems for monitoring health, as well as medication trackers, will be in high demand.

In this blog, we will tell you more about its solutions for the pharmaceutical industry, the existing types of medication tracker apps and outline their core features and capabilities. Read on to learn more!
What's a Medication Reminder App?
As the name suggests, the main pain that such pill reminder apps address is human forgetfulness. According to a survey conducted by Center for Disease Control and Prevention, the efficiency of almost 1 billion medications prescribed annually is compromised because of disrupted schedules. The same goes for chronic disease medications. The primary purpose of pill tracker apps is to remind people to take their medications regularly and in a timely manner.
In a nutshell, such apps ensure that the user never misses a pill. Of course, one can simply use a smartphone timer, but modern medication reminders are capable of doing much more than that. Some of them act like full-fledged medication reminder apps which are components of e-prescription software.

By tracking drug dosages, modern medication reminder apps can monitor the course of treatments, send alerts to users' smartphones, tablets, and wearables and even notify one's family and physicians, in case they continuously miss their medications. Some of these solutions may be simplistic, others have sophisticated functionality, such as drug compatibility checker, refill reminder, analytic modules, and gamification features. A drug testing system development always comes in handy for accessing, tracking, and managing drug testing data. Let's now discuss the features of pill management apps in more detail.
Must-Have Feature of Best Pill Reminder Apps
The number of apps for medication reminder defies imagination. While this means that users can definitely choose the one that suits their needs best, the criteria for which feature to prioritize in a personal medication tracker may be confusing. This checklist of must-have features will spill some light on the mandatory functionality of medical apps for medicine tracking.
Cross-platform functionality
For the app to win wide recognition, it should run seamlessly on as many of the popular platforms, devices, and operating systems, as possible. If you make an app exclusively for iOS, your audience will be limited solely to iPhone users, so a great medication reminder app should inarguably support both iOS and Android.
More than just a scheduler
An organizer app helping patients manage medication and sending notifications whenever they should take meds sounds great, however, it should be enhanced with some additional features. Wondering, which additional features to introduce? The list below may give you some ideas:
Tracking vital signals
Checking medication compatibility
Reporting on the progress of treatment to caregivers and physicians
Integration with wearables
Gamification features
Refill reminders
Emergency alerts for doctors and family
etc.
Top-notch usability and attractive interface
User experience is important regardless of an application's purpose. Medical tracker apps, however, will be used by people who need instant access to their medication schedules. A large percentage of them could be elderly or disabled. Think about attractive design as well as how intuitive and easy to navigate your app is. Minimize the number of clicks needed to reach the most vital app features whenever possible.
Best Pill Reminder Apps
Finally, below is an overview of the existing pill reminder apps. We've made sure to put pros and cons on this best reminder app for medication for your consideration.
1. Medisafe
Rated as one of the best pill reminder apps, this solution has high rankings on Google Play and is also highly valued by doctors, pharmacists, and patients. The pill tracking app has nearly every feature you can think of, which makes it a full-fledged healthcare management suite. Reminders and alerts tell users when to take their meds and get refills, plus, patients can schedule appointments with their doctors from the app and integrate it with wearables. Drug match recommendations and caregiver notifications are also available. Has wide acceptance among millions of loyal users.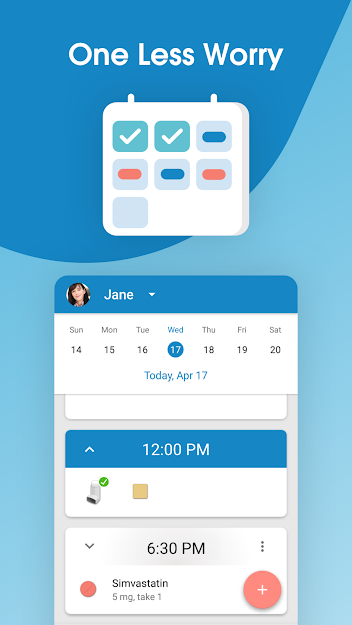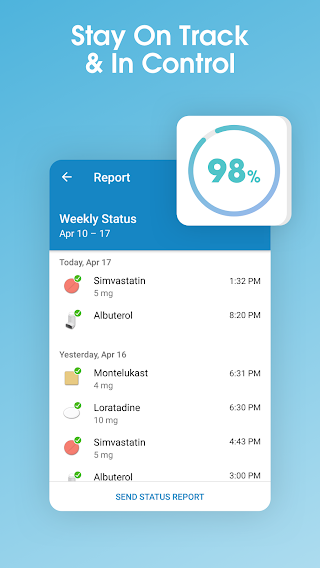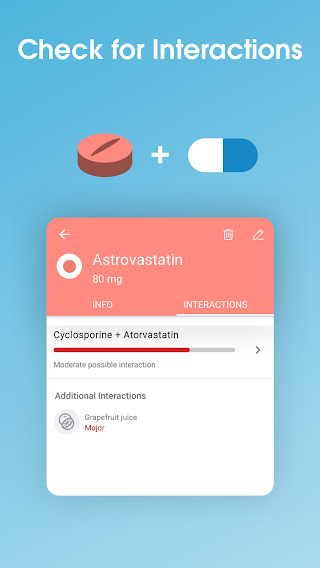 Pros:
Easy to use and customize
Works offline
Automatically generates and sends progress reports to physicians
Protected database
Enables to set up multiple user profiles
Cons:
Calendar and scheduling features need improvement, according to user testimonials
2. Mango Health
This free solution is enhanced with gamification features helping people track their healthy habits and get rewards for sticking to their health routines. Has all the stellar features of the best medication reminder apps, tracking how their meds interact with each other as well as with food, drinks and supplements. Includes note-taking features for tracking the effects that medications have on one's body and mood.

Pill reminder app available for both iOS and Android, however, better suited for Android use.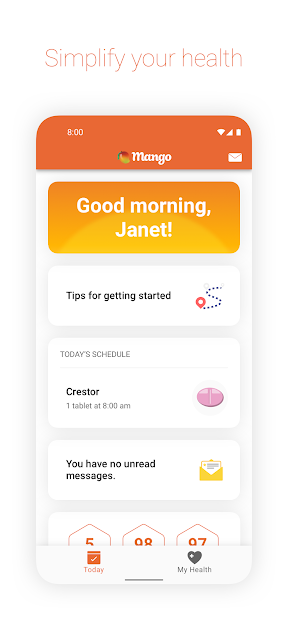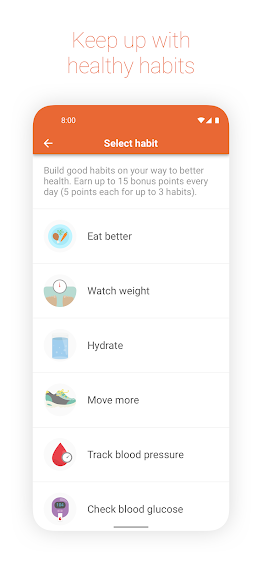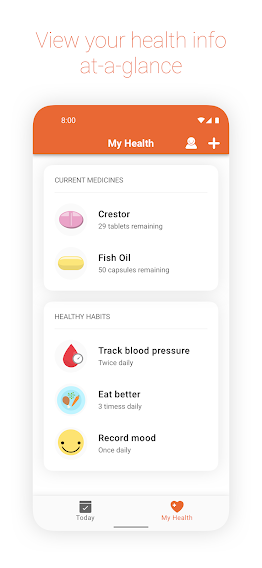 Pros:
Reward program, motivating users to stay health
Customizable medication schedules
Caregiver accounts, helping users control medications for other people
Cons:
Users have to input their medication info by hand, instead of using scanners or importing data from the pharmacy
The list of healthy habits is provided by default, and cannot be changed
3. Lady Pill Reminder
This is a birth control reminder app, targeted at women who want to stay in control of their fertility. The reminder app uses a vivid visualization of a birth control pill pack, helping users control their medication intake. Other features include a timer, which can be set to send reminders and adjusted to different schedules, and a note pad for tracking changes in the cycle. It also alerts users when they need to get refills.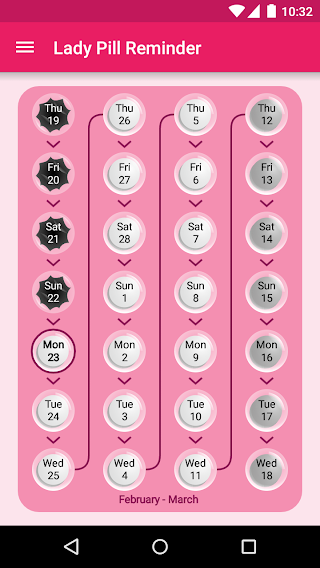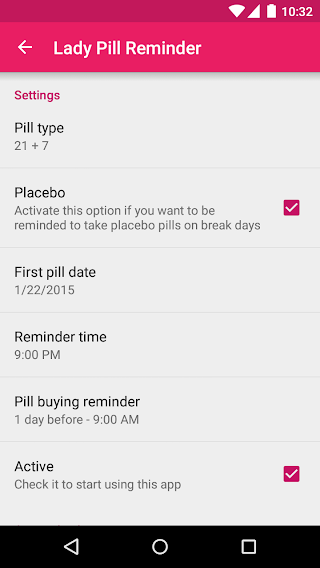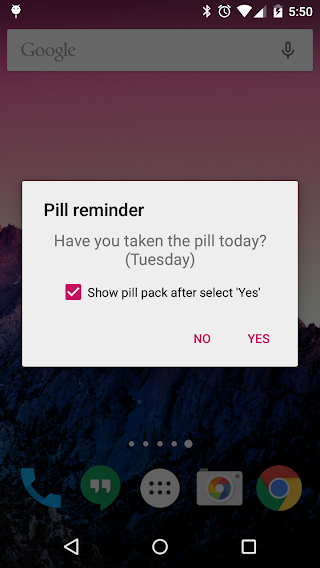 Pros:
Easy to use and simple
'Pill pack' visualization helping monitor consumption and get refills
Customizable interface with different sounds, icons, and colors
Cons:
Available for Android only
Limited functionality, no extra features except reminding to take birth control
4. Dose Cast
This medication reminder solution is freemium, which means users can download it for free and access additional functionality for a small monthly fee. The app's free version reminds users to take meds, controls dosages, and features a notepad for tracking medication effects. The paid version provides a plethora of other features of the pill reminder app, such as tracking refills, keeping logs of medication intake, connecting with doctors and pharmacists, and can run on an unlimited number of devices.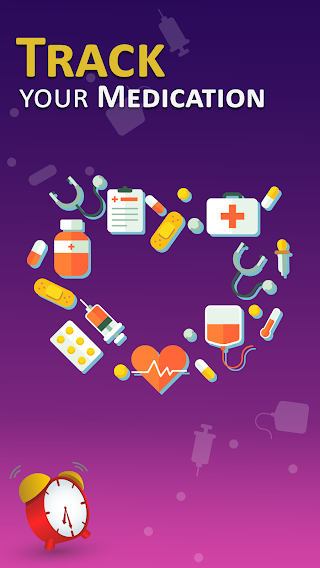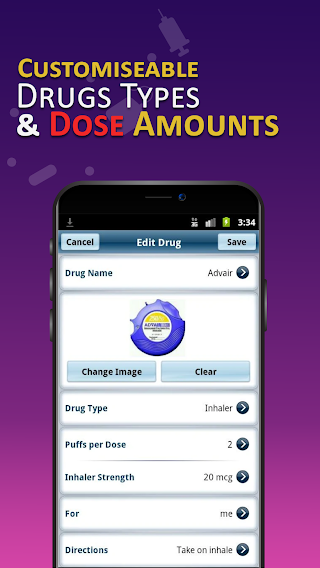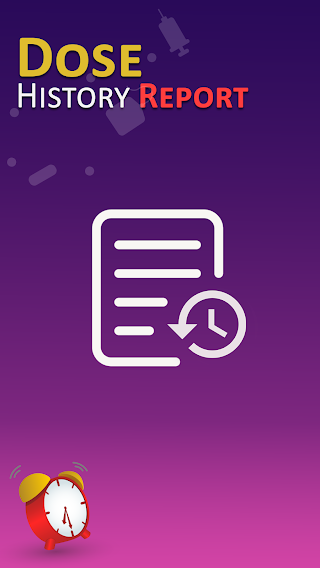 Pros:
Available in three languages
Can run on different devices
Uses geolocation to track time zones and adjust alerts to local time
Uses safe encryption and collects no personal information
Cons:
Its best features are available on a paid basis
Different reminders for different dosages on the same medication are required
5. MyTherapy
This is inarguably the best medication reminder app for international audiences since it is available in multiple languages including Chinese. Yet, its functionality extends far beyond pill tracking: the pill reminder app can monitor user's vital metrics such as glucose and blood pressure, remind them to exercise, and add caregivers who will be alerted if users fail to follow through with their medication routines.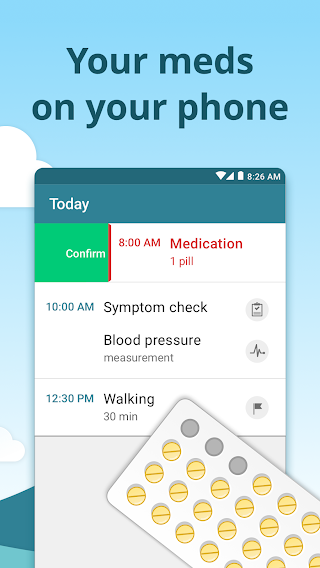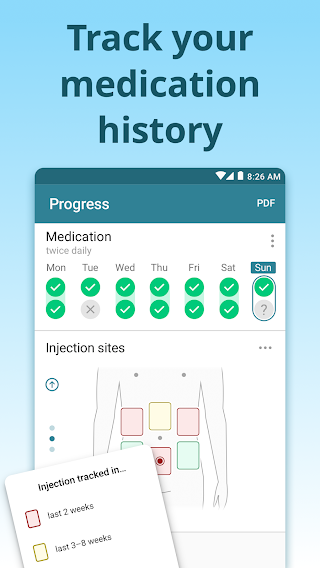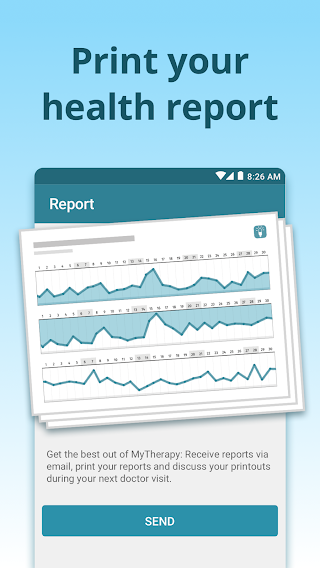 Pros:
Supports almost 30 languages
Enables to add caregivers
Tracks other wellness activities beyond medication intake
Generates reports about the state of users' health
Cons:
No reminders about refills
The app also doesn't offer any feature for monitoring the compatibility of medications
6. CareZone
More than just a pill management app, this software is an end-to-end tool for healthcare management. Making appointments with physicians as well as tracking important vital metrics falls under the scope of a CareZone app. This suite can also be used as an app to track prescriptions. On top of that, this pill reminder app includes a free delivery service: the meds arrive sorted according to dosages and expiration dates.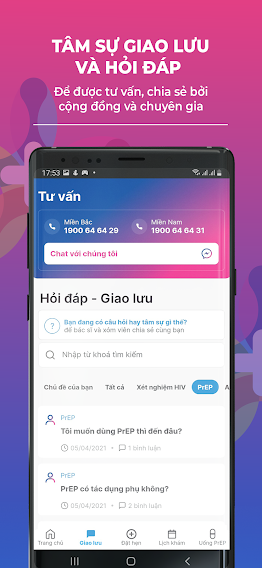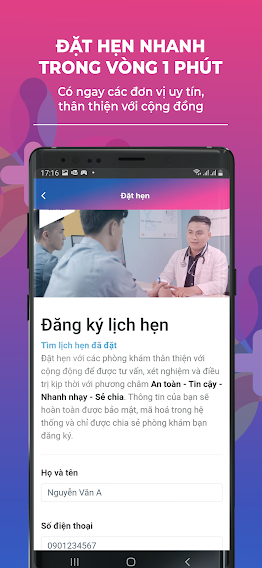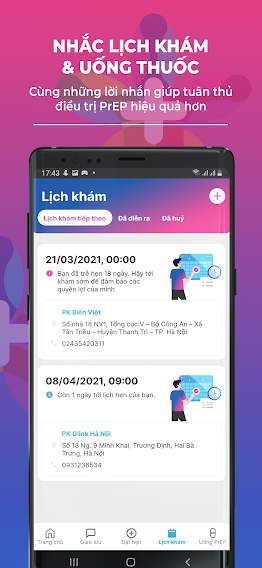 Pros:
Integrated pharmacy delivery that supports Medicare and Medicaid insurance plans
Motivates users by enabling them to track achievements
Users can create additional profiles for care recipients or family members whose health conditions they want to manage
Cons:
Available to English speakers only
7. Care4Today
Another comprehensive app for healthcare management, Care4Today not only tracks medication consumption and the supplies of meds but also monitors vital health metrics and important healthcare routines like diet, doctors' check-ups, and exercise. Users can also set up additional profiles if they want to act as caregivers for their friends and family.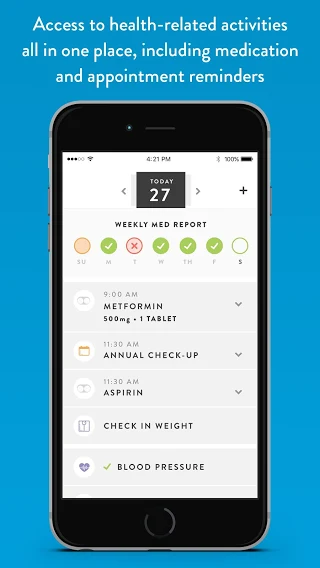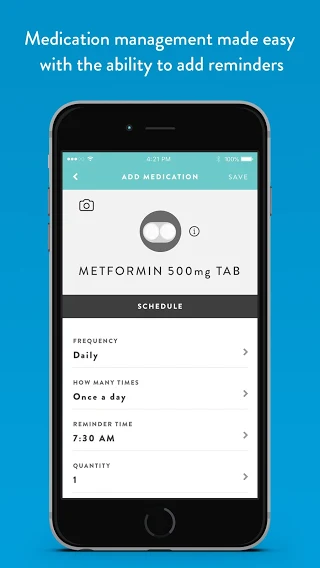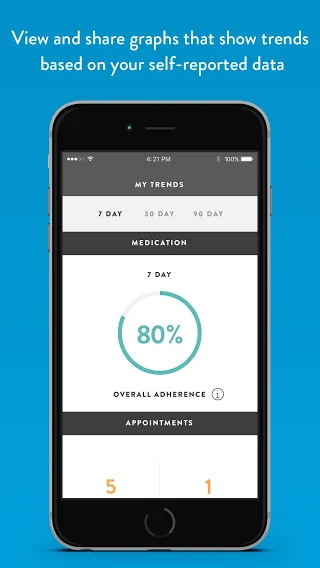 Pros:
Extends beyond monitoring medication intake
Available in oriental languages, as well as English
Cons:
Has some bugs and needs updates, according to user testimonials
8. MedPlan
This medication reminder app combines features with educational content to help users learn more about how to stay healthy. Apart from reminders about medications and appointments, the app provides tips, quizzes, and articles on healthcare subjects. The diary is also available so that users can track their condition. Users can also monitor a wide range of vital metrics through this app.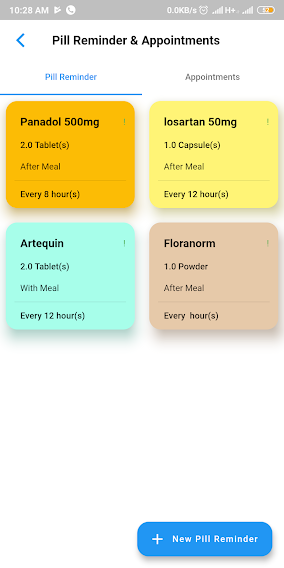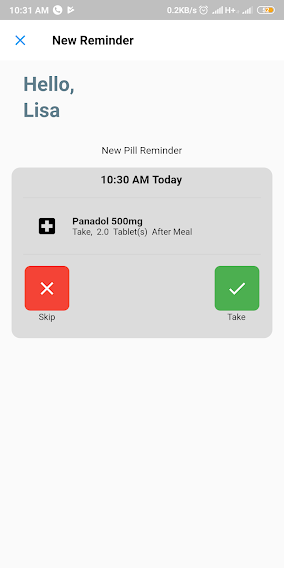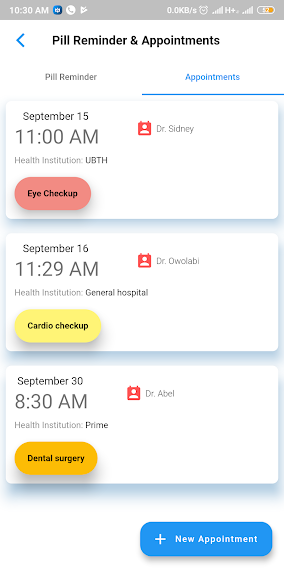 Pros:
Lot's of features free of charge
A plethora of health tips and content
Health diary feature, facilitating tracking symptoms and communicating with doctors
Cons:
Available to Android users only
9. RoundHealth
Conversely, RoundHealth is an app targeted at audiences using iOS. Very simple and straightforward, it is basically a pill reminder app which sends users several notifications during a pre-defined time span. The dosages can be customized or selected from a range of options. The app features refill reminders and integrates with smartwatches.
Pros:
The app tracks both prescription drugs and OTC medications, such as vitamins and supplements
Syncs with smartwatches
Sends alerts when users need refills
Adjustable dosages
No account set up required, so users can stay private
Cons:
Only available for iOS
No option to set multiple alerts for the same medication is available
10. GrooveHealth
This is an advanced reminder app for medication schedule management. Has all the handy features of classic pill reminder apps, such as medication alerts, refill reminders, dosage control, and drug compatibility tracking, plus ab advanced AI-based health assistant ready to answer users' health-related questions. Enhanced with the capability of notifying friends and family about the progress of the user's treatment.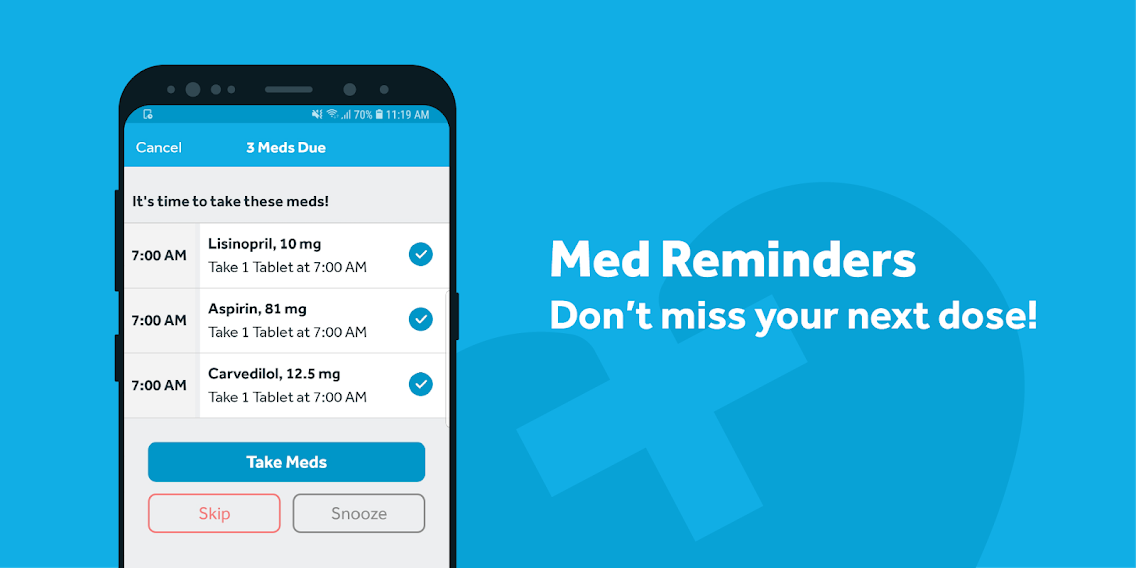 Pros:
Unique AI chatbot to answer health-related questions
Sends notifications and reminders even in offline mode
Aggregates information about medications and treatment history in one place
Cons:
No scanner available, so users have to enter medication info manually
Targets only English-speaking users
11. Pill Reminder All in One
This pill reminder app enables users to set up different types of reminders and control them in different ways. Users can snooze, reschedule, resume, or suspend the treatment courses. The app generates health reports and sends them to doctors, and supports multiple users. Available for both iOS and Android, this comprehensive pill reminder has high rankings on both Google and Apple app stores.
Pros:
Will work on almost any device, smartphone, or tablet
Works in offline mode
Allows to add photos of medications
Cons:
Allows to add only three meds in a free version
The choice of these and sounds is limited, as reported by users
12. CareClinic
This app for healthcare management not only reminds users to take their pills and supplements but also acts as a robust system for tracking all kinds of symptoms, vitals, and healthcare conditions, from headache to pregnancy. CareClinic sends medication reminders, controls moods and energy levels, supports multiple users, and helps them create personalized healthcare plans.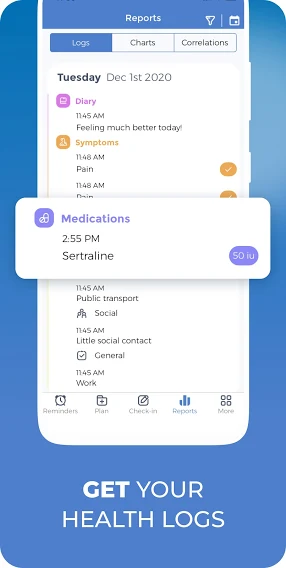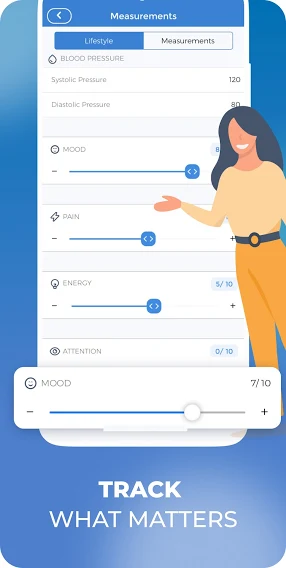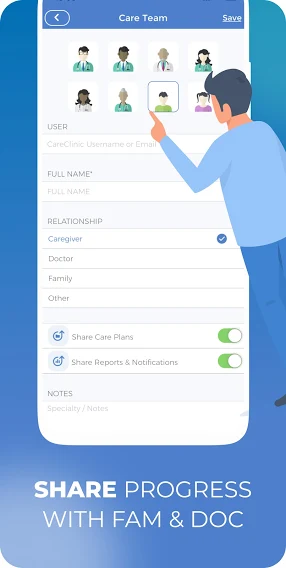 Pros:
Enables patients with chronic conditions to control their diseases and manage treatment plans
Integrates with wearable devices for IOS and Android
Offers a wide scope of features for managing both physical and mental health
Cons:
The free version needs improvement, according to users
The chronic conditions aren't listed in alphabetic order and are difficult to scroll through
Consider Our Company Your Trusted Partner
At Empeek we are experienced in building solutions for healthcare monitoring that help users adhere to their treatment plans, receive medication alerts and track vital signals such as temperature, blood pressure, heart rate, etc. Get more insights reading our guide on pharmacy preceptor development.
One of our case studies is a comprehensive system we developed for one of our clients. It includes 5 modules: wearable devices, smartphone and tablet apps, hospital workstations, admin panel, and cloud server.
We've used technologies like REACT, Node JS as well as AWS stack to build this robust healthcare solution. Needless to say, the system is 100% HIPAA and GDPR compliant and has been approved by FDA.
Final Thoughts
As you can probably see, the list of pill reminder apps is vast, however, most of them need improvement. With the growing demand for digital assistants and caregivers, the market is ripe for the advent of innovative solutions for pill reminder and healthcare management.
At Empeek we are always ready to offer you a helping hand. If you're looking for a software company to build med trackers and pill reminder apps, you can fully rely on our experience and expertise.
Looking to build a medication tracker that will stand out among competitors? Contact us now for a free consultation!