The adoption of electronic health records (EHRs) has been increasing and now is rated at around 87 percent in the US. However, the software systems in use still burden medical organizations with a lot of challenges and there still isn't a unified way to measure EHR return on investment.
Do facilities and individual professionals get a return on investment for EHR system? How do they calculate it? What prevents the majority from reaping all the benefits of EHR? And finally, how to make sure your EHR investment will pay off? Let's find out answers to these questions and learn how to get the return on investment in electronic health records.
Measuring a Return on Investment in EHR
EHR adoption is a time- and cost-consuming process which doesn't stop the moment the system is in place and goes live. To understand the benefits EHRs can offer and measure return on investment in the EHR system that you have adopted, you need to take into account various parameters of your financial investments, both short-term and long-term outcomes, as well as quantifiable and non-quantifiable metrics.
Since EHRs can be involved in every hospital operation, their impact is fragmented across different aspects, which makes it harder to measure the EHR return on investment. Plus, many valuable improvements that EHR adoption can bring are not that tangible like, for example, cost savings, and it takes additional efforts and time to measure them and include them in the picture.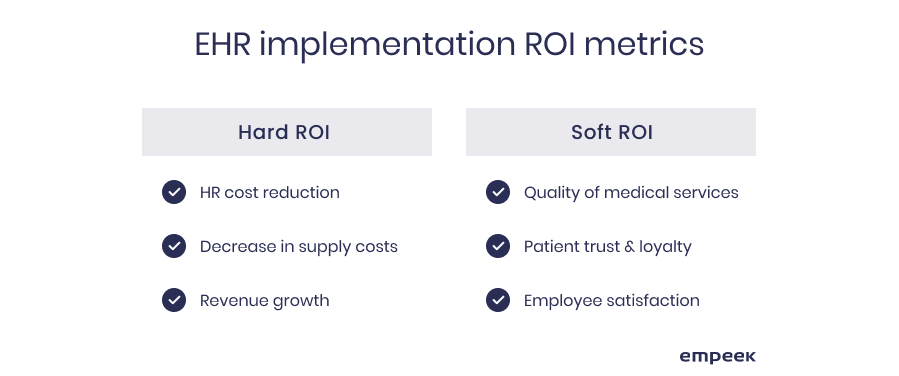 Those metrics that are easily quantifiable—reductions in employee and supply cost or increased patient flow and revenues—constitute a so-called hard ROI. Those that are more of a qualitative aspect—improved patient care in general or increased employee satisfaction—are part of soft ROI. While both quantitative and qualitative parameters are important for hospital efficiency and achieving ROI from EHR, the latter category represents a more encompassing societal benefit.
Let's take a closer look at these quality indicators and how it is possible to measure them within ROI calculation.
Better Patient Care
At the end of the day, the goal of every medical practice is to ensure the best possible care, and the implementation of EHR systems helps healthcare institutions achieve that goal. Increased patient safety, improved doctor-patient interactions, streamlined clinical workflows, and enhanced patient engagement are only a few out of multiple benefits that optimized EHR systems bring. Learn more about them in our article.

If EHRs are user-friendly enough and able to collect patient information and manage their treatment plans efficiently, their usage undoubtedly leads to improved medical outcomes and patient loyalty. There is also a growing trend for EHR automation and "plan-centric" EHR systems that allow for a more advanced approach to health care and patient experience.
To maximize the benefits and ROI for EHR system, medical institutions have to not just adopt the right software but also introduce proper training and continuously improve the system. Gathering feedback from end-users might come in handy when identifying the areas that need to be optimized within the EHR system. There are different types of EMR and EHR systems that can bring value to your business. Depending on the software you choose, it will help you achieve the following advantages:
Fewer Readmissions
One of the strongest benefits EHR systems offer is automated data analysis. If applied properly, EHRs help physicians keep a better track of patients' health and allow for eliminating human error or identifying potential risks. This, in its turn, reduces the number of rehospitalizations and adverse outcomes.

Hospitals need to put EHR data to effective use by collecting maximum information and setting alert patterns. A 2014 study claims that disease management software integrated into EHR can decrease healthcare costs by $136 per person per month thanks to fewer admissions.
Fewer Allergic Reactions and Side Effects
By collecting information about patients' allergies, diseases, and treatment history, EHRs can potentially eliminate allergic reactions and drug side effects. Thanks to unified, well-structured, and easily accessible historical patient data along with predictive analytics built into EHR systems, physicians are able to anticipate their patients' health risks.

To achieve this, each particular EHR system should be optimized through documentation guidance, standardization across tools, and training, both on the patient and hospital employee side.
Increased Patient Satisfaction
Reports show that institutions experienced in EHR integration discharge half of their patients in less than 5 days. Data transparency, easy access to health records, user-friendly hospital portals, and payment systems—all these factors make for improving patient satisfaction. When patients feel that their issues are addressed and treated in an efficient way, all their data is easy to understand and kept in one place, their level of satisfaction, as well as loyalty to a facility, increases.
Studies show that the overwhelming majority of patients are satisfied with e-prescribing usage. More importantly, patient engagement will boom if the overall quality of medical care gets better thanks to EHR-powered operations and the time to care and length of stay decreases.

To learn if the level of patient care has improved thanks to EHR and how exactly, medical institutions can perform engagement and satisfaction surveys. To capture more direct metrics, they can track their patient flow (of both new and returning patients) and measure the length of stay within different treatment contexts. For instance, more efficient hospital operations will result in generally shorter stays.
Increased Physician Satisfaction
Since EHR adoption standardizes documentation practice and streamlines routine processes with automation, doctors and nurses can feel the difference and see the value in such digital transformation.

If applied with proper training, EHR systems can release physicians from many unnecessary hurdles, leaving more time for patient care itself. UI/UX improvements based on physicians' feedback on the EHR's usability is another aspect that can contribute to physician satisfaction.
Documentation Standardization
Automated and standardized documentation is beneficial to all sides involved: physicians and administrators don't need to type a lot of data, suppliers can complete and track their documentation quicker and more efficiently, all information is kept in one place and can be easily understood by patients and caretakers.

To reap the benefit of unified documentation and allow for achieving return on investment from EHR, medical institutions need to make sure they are using standardized templates and order sets within their EHR systems.
Calculating ROI for EHR Systems With More Tangible Parameters
As we've mentioned, there are some quantifiable benefits that come with the adoption and optimization of EHRs. Healthcare organizations and individual practitioners can use them to evaluate a direct financial impact and measure an ROI.
Cost Savings
The University of California research shows that medical institutions were able to save as much as $33,000 per provider per year thanks to EHR adoption. To learn how an EHR system helps reduce expenditure, medical organizations need to compare their administrative and financial performance before and after the implementation.
Optimized EHRs can help healthcare institutions reduce:
Equipment and supply costs. When connected to the supply chain, drug inventory, insurance, and other related systems, EHRs help combine all the necessary data to reduce supply costs.
IT costs. While most hospitals struggle with data fragmentation and spend millions on several software products disconnected from each other, EHR systems can help standardize information and replace many tools as a single unified one.
Labor costs. Streamlined scheduling and billing can result in a lesser need for personnel. With EHR, there's a bigger chance of developing a dynamic staffing model, which also saves in labor costs.
Administrative costs. These spendings account for more than 30% of healthcare costs in the US. They include accounting, facility maintenance, and other things which might be not that visible to patients but which are responsible for all processes to run smoothly.
Revenue Increase
Not only successful implementation of EHR can help reduce expenditures but it can also lead to financial gains. Here's why:
Automation. Automated clinical documentation eliminates the need for manual entries, saving time and providing more accurate billing.
Enhanced scheduling. By identifying the need for medical services and follow-up care with the help of EHR data, facilities can improve scheduling and achieve an increase in patient flow. Even the addition of one to two consultation visits per day can be translated into $80,000 more per year per physician.
Returning patients. What also improves patient flow is a greater level of patient satisfaction and general operational efficiency, which are among the major benefits of proper EHR utilization.
Standardization. Thanks to standardized forms, EHR can help eliminate clinical variation which adds to unnecessary costs of $750 billion per year. After enhancing EHRs with evidence-based order sets, Texas Children's Hospital achieved a positive ROI and reduced the cost per patient by over $2,000.
Operational Efficiency
EHRs can provide hospitals not only with better scheduling but also with real-time performance tracking. By analyzing EHR data, medical institutions can learn what areas to improve in order to increase profits. There are many aspects to track such as the following:
Bed availability. By tracking how many beds our occupied during certain periods, hospitals can avoid the critical occupancy rate.
Patient wait time. The time it takes for a patient to get to a scheduled appointment or to an emergency room is an important operational metric.
Equipment utilization. Healthcare facilities can better allocate their equipment by analyzing how it is used.
Physician performance. Even though it's not a direct qualitative parameter, the number of completed and canceled appointments can help evaluate physicians.
A 2012 Beacon Partners report reveals that half of the industry executives regret not tracking performance metrics as soon as integrating their EHR. By making reporting reviews a regular practice, healthcare providers are able to evaluate the benefits of EHRs and identify specific bottlenecks and come up with ways to further improve the systems' efficiency.
The Importance of EHR Optimization
We've gone through many important benefits that EHRs can bring but to actually improve patient care and gain a positive ROI, facilities have to optimize their EHRs.
Just the digital systems per se aren't undeniably helpful: in a 2017 Medical Economics survey, many physicians reported that EHRs were harmful to their practice. They identified many pain points such as lack of user-friendliness, interoperability issues, and inability to customize the system. Therefore, it is undoubtedly crucial to be able to critically assess an existing EHR system and keep optimizing it on a regular basis.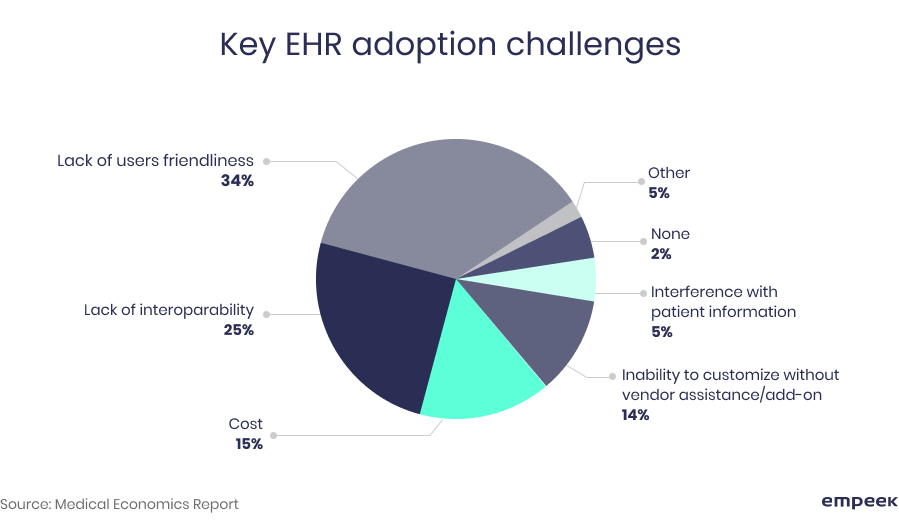 EHR optimization implies solving these problems thanks to the following aspects:
Customization. Tailoring the system to particular needs is what makes EHR truly great for improving the quality of services and ROI. No off-the-shelf solution can grasp what exact features are going to be used. Only when adopted with a particular workflow in mind, these systems can help get distinctive insights from EHR data and achieve financial gains.
Scalability. The EHR solution has to be scalable so that it can adjust to changes and expand its functionality if needed.
Training. It needs to be a continuous focus in EHR adoption: only when all staff members correctly understand all the functionality and patients are aware of how to access and use their information, EHRs lead to operational efficiency. Medical professionals claim it's crucial to invest in EHR user training to make the most out of the system.
Long-term improvement plan. McKinsey's report on achieving the EHR ROI suggests a five-step maturity curve for EHR adoption, where getting actionable insights and elevating patient experience becomes possible when EHR is an integrated, holistic platform consistently used by physicians and nurses in their daily workflow.
As we can see, it's the combination of the right software and the right kind of training that makes for positive results in EHR utilization.
Successful Use Cases: Empeek's Experience
At Empeek, we know how hard it is to fit a ready-to-use EHR solution into a particular medical practice. We vote for custom EHR software development, and so should you: this way, medical facilities will have only those features they actually use.
We've worked in different healthcare areas, delivering various solutions from medical monitoring through wearables to clinical screening automation to the medical emergency app. Among other projects, we've built a custom platform that combined EHR and telehealth functionality—it simplified the hospital's workflow and led to a wider reach of patients.
By replacing a 7 years old desktop-based EHR system, Empeek was able to automate hospital processes, improve facilitation of routine tasks, and increase patient engagement.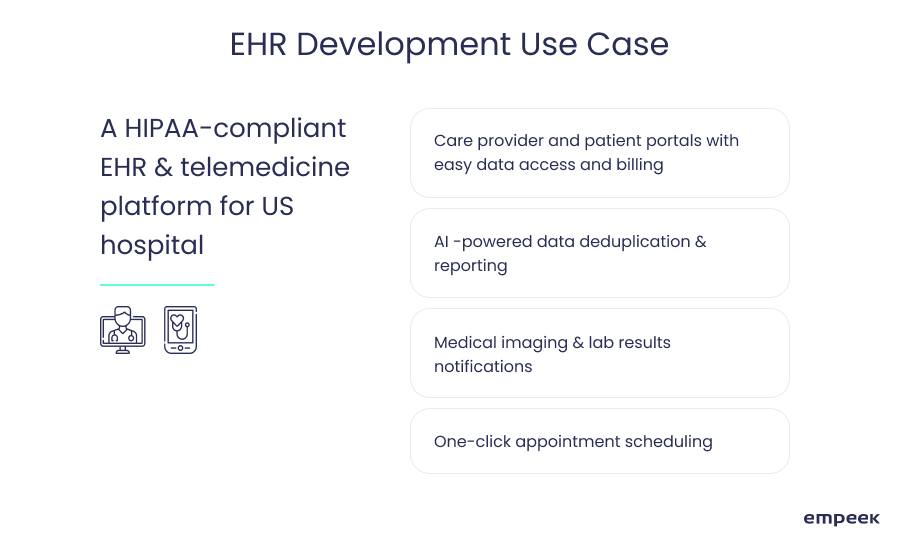 Keeping our customers' ROI in mind, Empeek is a proven EHR vendor that develops software solutions that are robust, scalable, and user-friendly. Explore our portfolio of successful projects to learn more about the technologies that we created for our customers.
Final Thoughts
In this article, we've discussed how to achieve a return on investment in EHR and covered the major tangible and intangible benefits that optimized electronic health records solutions can bring to healthcare organizations. However, the most important thing is how well a particular technology is optimized for a particular workflow. Comprehensive EHR systems implemented with continuous training and consideration for long-term goals can bring a positive ROI and improve the overall performance and patient care significantly.
If you are interested in custom EHR development and looking for a secure, scalable, and user-friendly solution that would allow for achieving electronic health records return on investment, contact us for consultation and we'll get back to you to discuss the process.