Today's healthcare services are closely intertwined with technology. They leverage mobile video conferencing, artificial intelligence, machine learning, and other advances to provide the best care to patients and help physicians do their job.
Hence, each time the tech world offers something new, it's very likely to become one of the latest trends in telehealth. In 2020, it was the boom of mobile apps for COVID-19 tracking and remote patient care, and remote cardiac monitoring.
But what does 2021 hold for us? Does telemedicine reduce costs? Let's discover telehealth increasing trends in this overview. Empeek has prepared the collection of top trends in telemedicine listed in the article about telehealth numbers and facts, the latest trends in the industry, and expert predictions on the future trends in telemedicine.
Telehealth Trends in Numbers and Facts
Even though we are hopefully leaving the global pandemic behind, the COVID-19 trends remain powerful. An unexpected lack of physicians, excessive load on the healthcare system, social distancing barriers, and the need to consult with doctors remotely have accelerated the adoption of telehealth technology. The number of users has rapidly increased with 83% of patients planning to keep using telemedicine solutions after the pandemic.
Whereas a year ago, the telemedicine market was worth 45.5 billion dollars, in 2026, it is expected to reach a 175.7 billion threshold.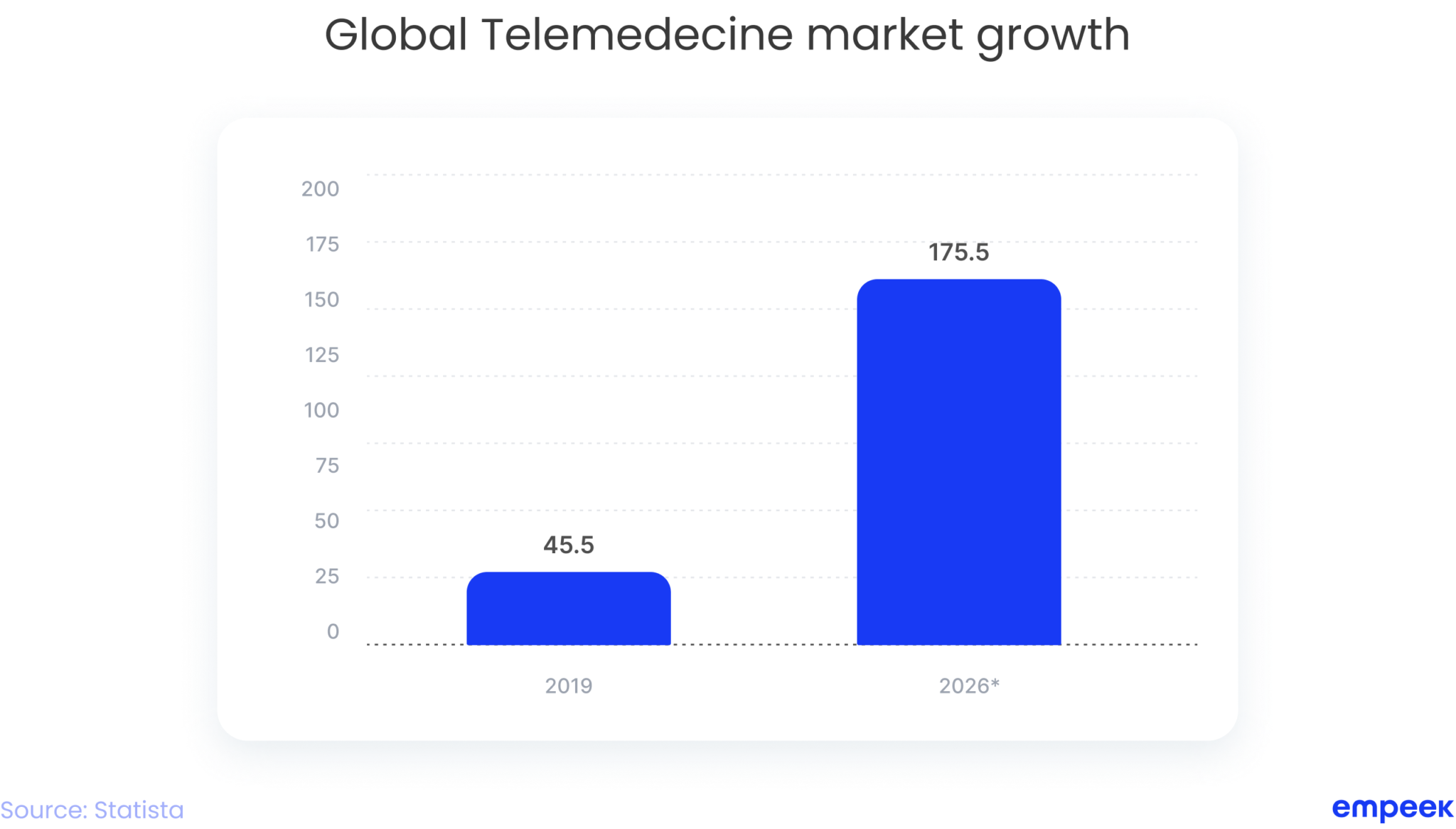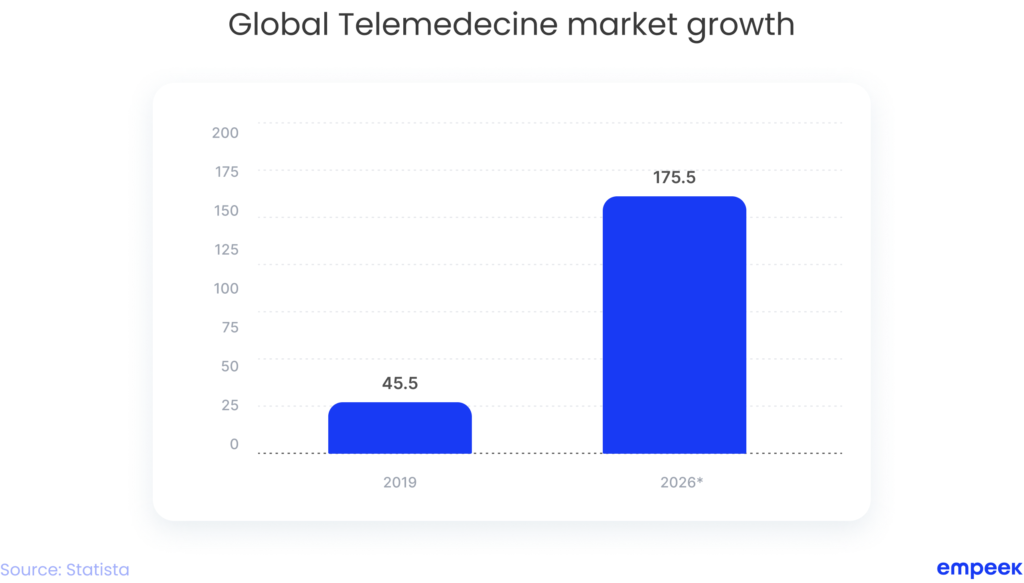 Such telemedicine trends and the steady market growth are not surprising. As telemedicine solutions become more common, people are also more likely to use them. According to the recent report published by Statista, from 61 to 74% of US adults aged 18-54 are very or somewhat willing to use telehealth. Up to 16% of them have already tried telehealth services.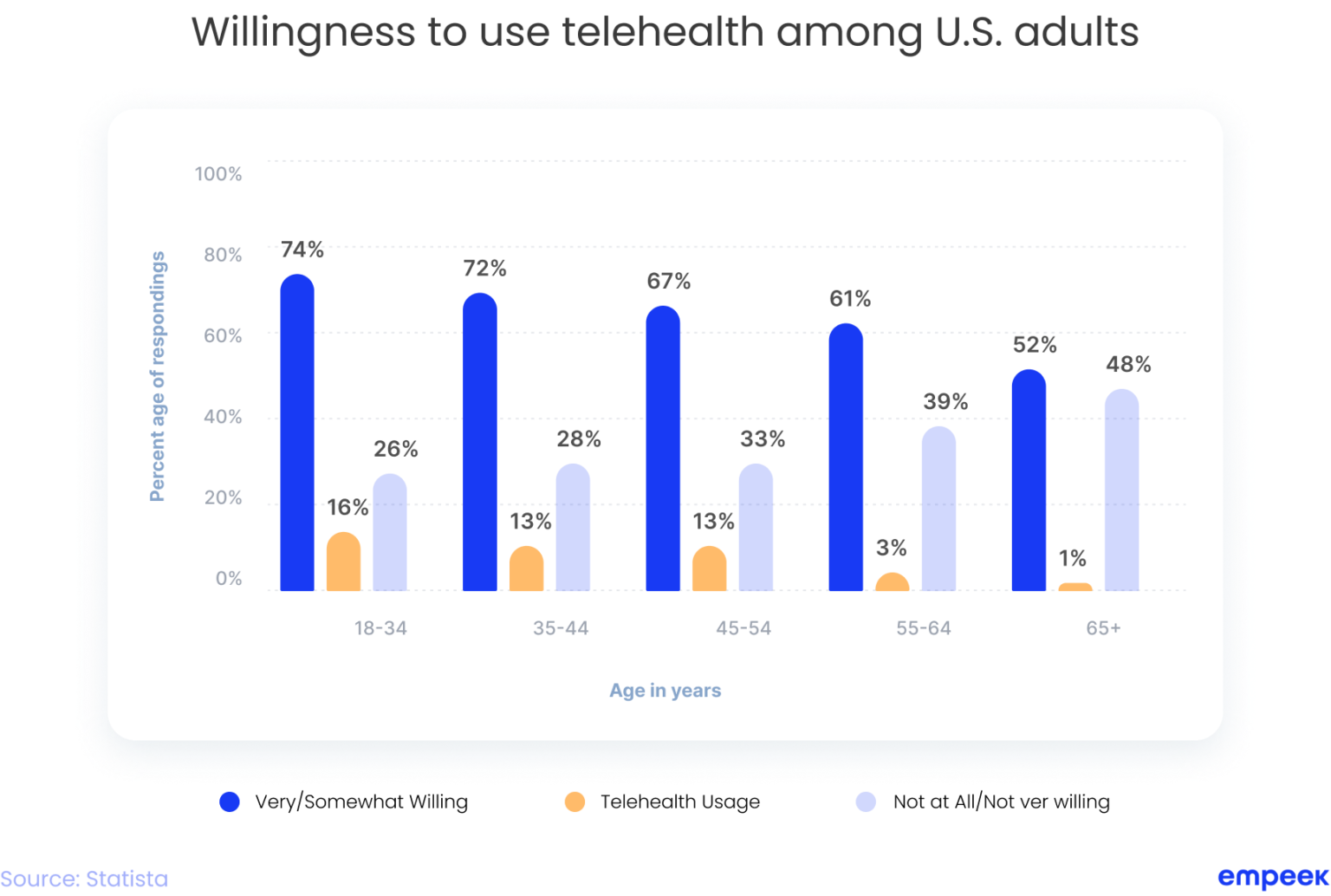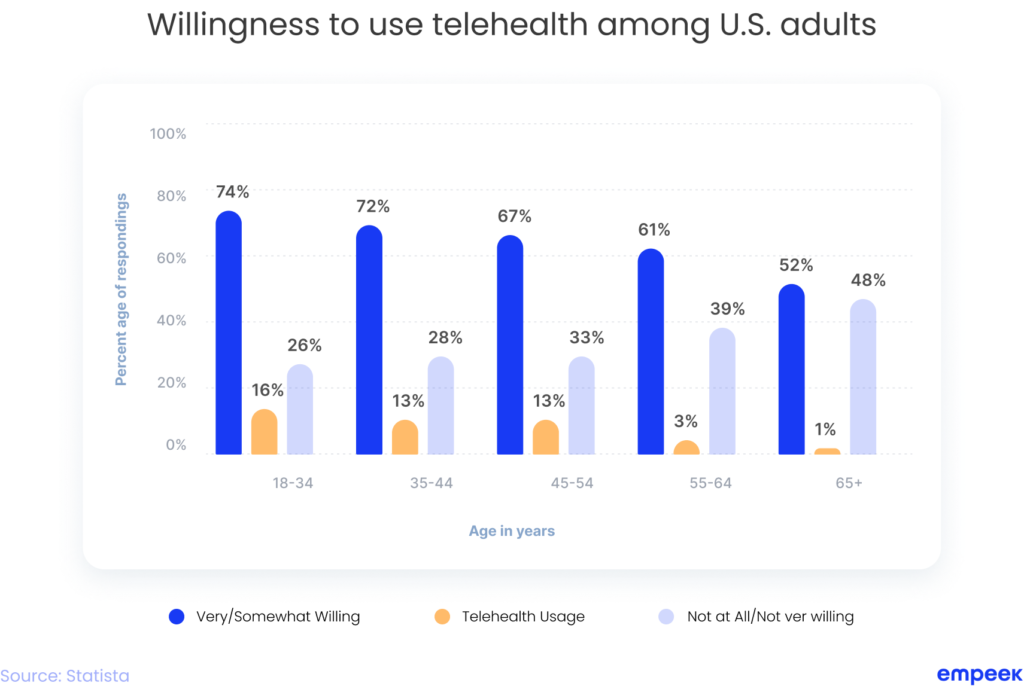 Based on the research findings, healthcare providers might need to reconsider the common idea that telemedicine is well received by mainly the young segment. As the statistics demonstrate, the middle-aged group is also quite open to switching to telehealth technology and adopting innovations. Therefore, covering a broader target audience may result in attracting more users, increasing revenue, and conquering the market.
A high percentage of people also want to use telehealth for mental health reasons. Since the pandemic has caused an increase in mental issues, including depression, anxiety, and insomnia, the interest in mental health applications is likely to grow. Based on the report released in 2019, around 30-40% of people in all age groups were already positive about using apps for mental health. After the pandemic, these numbers will increase even more.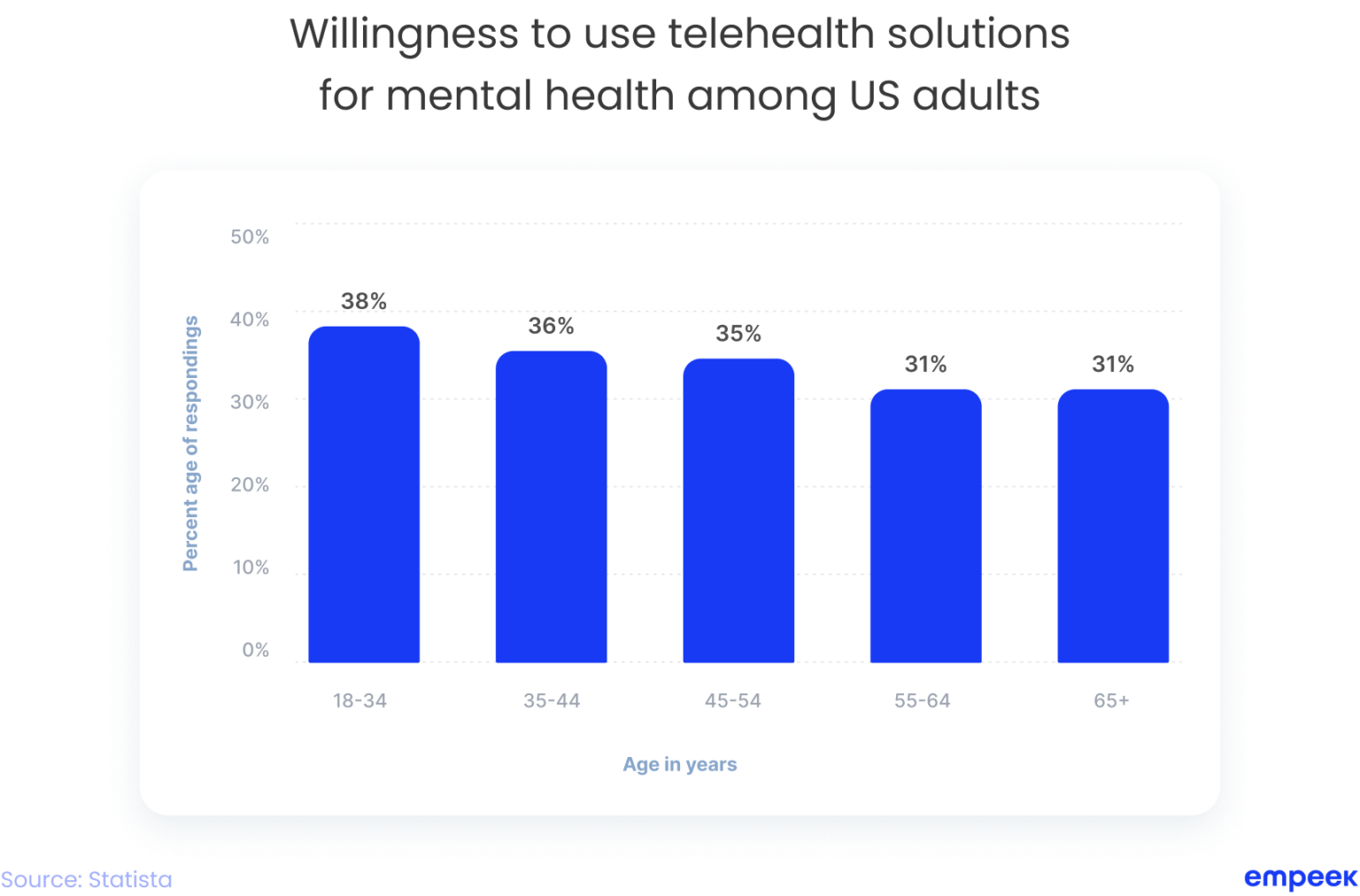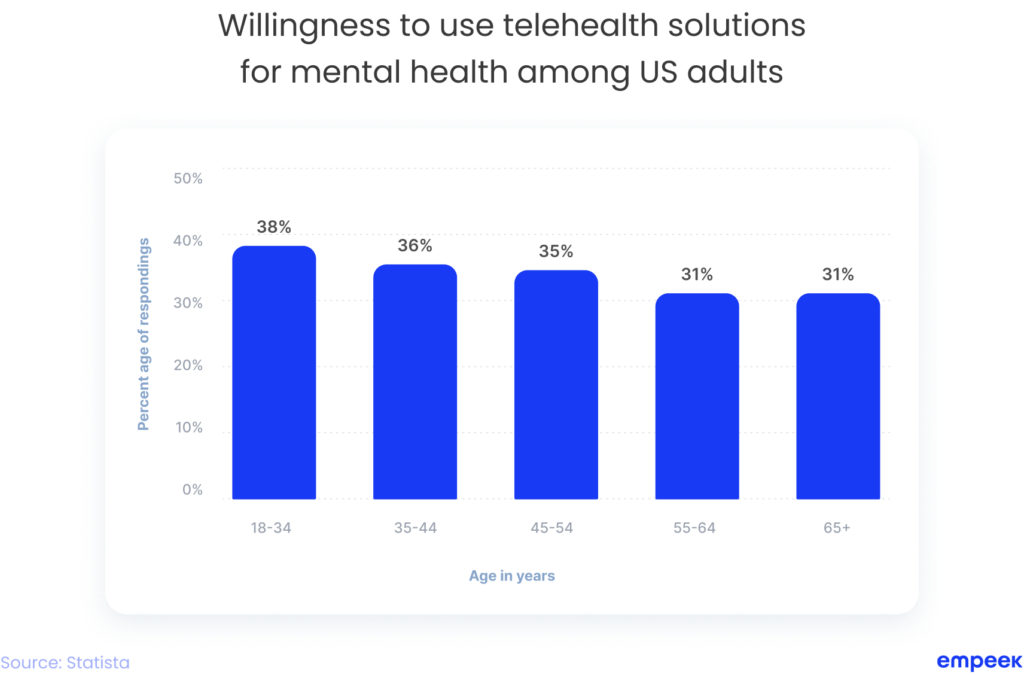 Apart from improving patient care, recent technology trends in telemedicine simplify the life of healthcare providers, payers, and caregivers. Telemedicine software allows them to stay in touch, organize the work of hospitals, manage the treatment, and improve the wellbeing of patients in many other ways.
Where Are We Standing Now: General Trends in Telehealth
Before talking about telemedicine future trends, let's look at industry trends in telemedicine we have now. They will largely continue to 2021 and shape the landscape of healthcare. Check out the infographics below to get a general idea of what is happening.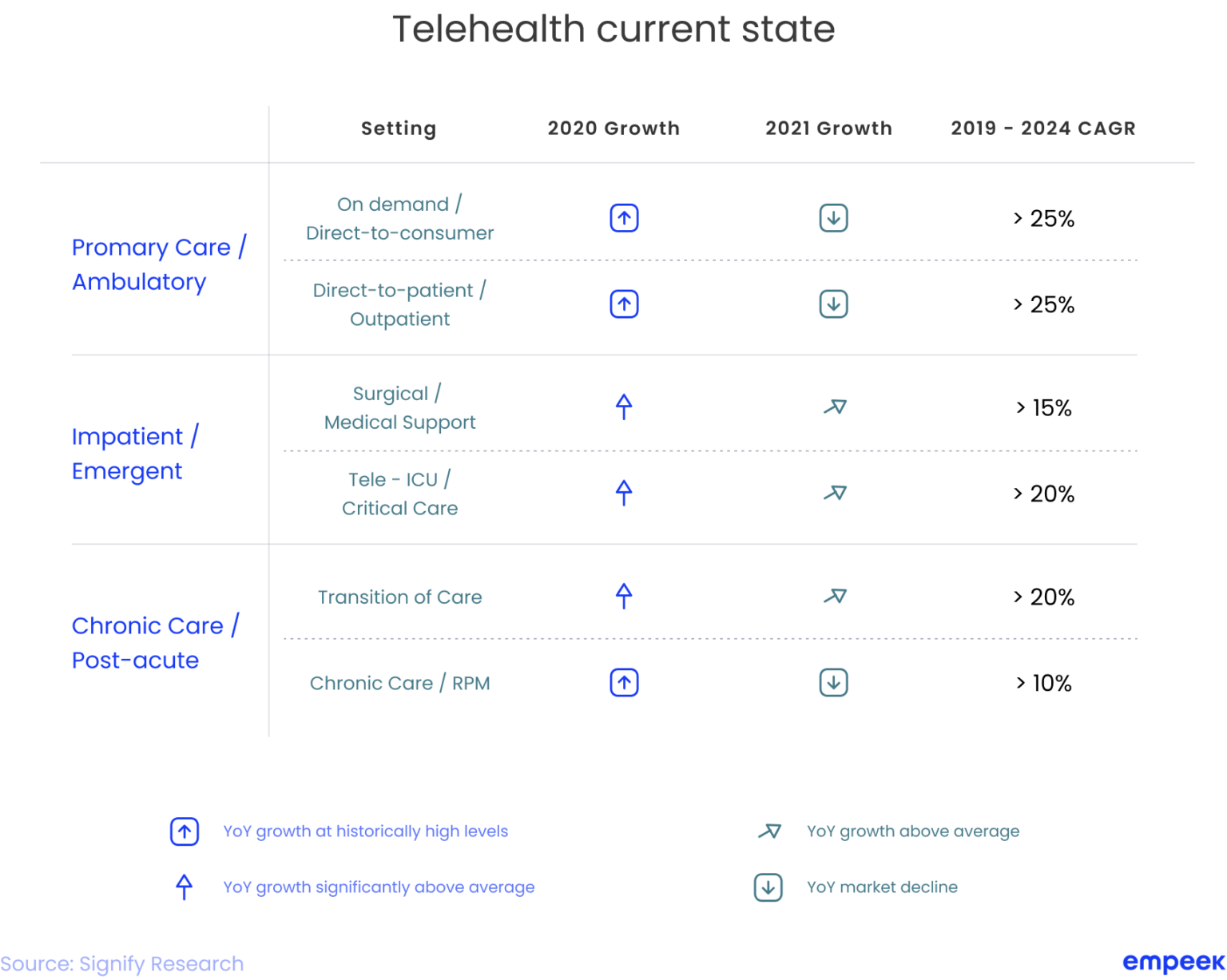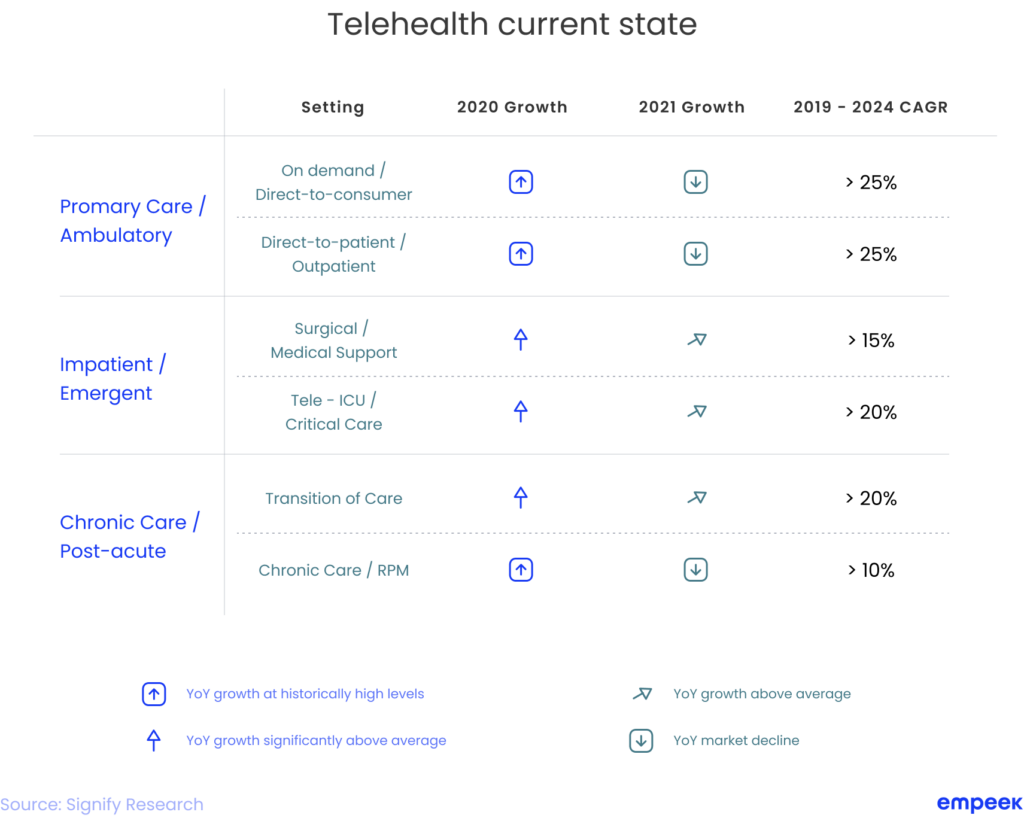 Although the market will slightly decline in 2021 compared to 2020, the growth tendencies will continue in the following years. The focus on the telemedicine trends listed below will also remain strong.
Chronic management
As the world's population is aging, the number of patients with chronic diseases that require ongoing care also increases. Besides, 87% of adults aged 65+ are willing to stay in their current home as they age. This means they need quality remote care that is only possible with telemedicine software.
The healthcare tech market already offers handy mobile applications that allow the elderly to communicate with their physicians, share health indicators, and stay in touch with caregivers. In the next several years, we will probably see the boom of such software solutions.
Mental health
Mental health is a big issue which is, unfortunately, not always covered by insurance. Telehealth solutions offer a cheaper alternative to therapy sessions and allow people to get on-demand help regardless of their location. The meditation app Calm, with over 10,000,000 downloads on Google Play and unprecedented popularity during the pandemic, proves the growing importance of mental health services.
In the future, apps for mindfulness and remote psychological help will only gain traction.
COVID treatment
COVID related apps are one of the most obvious telehealth industry trends of the previous year. Telehealth technologies, including phone calls, messaging, and video conferencing, allow physicians to communicate with patients and their healthcare team remotely. This minimizes the risk of catching the virus and helps provide quality treatment regardless of social distancing restrictions.
These are the key trends that impacted the telemedicine software development services last year. Although this year, they will remain in force, new telehealth industry trends will emerge. Find out more about what are telehealth evolving trends in the next section.
5 Future Trends in Telemedicine in 2021
There is no doubt that technology and telehealth solutions, in particular, will affect the outlook of the healthcare industry. In 2021, software providers will implement leading innovations, such as IoT, big data, augmented reality, and stringent data security measures, in telehealth solutions. Understanding hipaa compliance is also an integral part of successful telehealth software development.
The listed telehealth industry trends will expand the functionality of telehealth software and make it more convenient both for patients and clinicians.

Read also: What you need to know before starting a telemedicine business
Telemedicine trend #1. EHR-embedded telehealth


When using EHR software, physicians expect the ease of use and operational efficiency. That's where the need for data interoperability steps in. If physicians cannot automatically access and record patients' information within one system, the scope of manual tasks increases immensely. Each time they have to add patients' records manually, they waste a lot of time and risk missing important information.
To solve this problem, software providers will be creating solutions that combine the capabilities of telehealth services with electronic health management. They can either migrate existing telehealth platforms or provide additional builds in the EHR. This will optimize the work of healthcare professionals and allow patients to avoid repeating their medical history when they contact a physician remotely.
Telemedicine trends #2. Telehealth IoMT and wearables


IoT solutions and wearables are among the most prominent industry trends in telemedicine. Healthcare technology providers invest in software that connects patients and physicians through physical devices. The global internet-of-medical-things (IoMT) market is expected to grow from 24.4 billion dollars in 2019 to 285.5 billion dollars in 2029.
IoMT tools enable clinicians to monitor patients while they say at home or do anything else. Modern smart beds, inhalers, ECG, and EKG monitors can exchange information with telemedicine apps through an internet connection. This increases the mobility of the patients, reduces the load on offline healthcare facilities, and allows the clinicians to monitor the health of people. IoMT telemedicine and wearables can also remind patients to take medications, measure vitals, set alerts, and complete a range of other actions.
Telemedicine trends #3. Big data and artificial intelligence


Even though telehealth solutions are quite effective on their own, big data and AI can additionally supercharge them. Software that collects, processes, and analyzes a large scope of data automatically can provide recommendations on the most suitable treatment plans based on thousands of cases. The more data you collect and analyze with machine learning, the more accurate recommendations the software will provide. Apart from personal patient information, physicians can factor in demographic and geographic data to provide the best possible care. This technology also handles data privacy successfully as per data protection laws.
Big data collected by telehealth solutions is also valuable for global research. Researchers can use it to find out how age, social status, symptoms, and other characteristics affect the outcome of the treatment. Later, these studies will help physicians all over the world to prescribe the most effective medications and make data-driven treatment decisions.
Telemedicine trends #4. Augmented reality for quality care


The combination of telemedicine with augmented reality brings healthcare services to the next level. Such solutions enable untrained people to provide quality care to patients and allow medical personnel to perform procedures more accurately.
For example, when caregivers deliver patients in transportation, they may need to use medical devices that require specialized training. In this case, augmented reality can be life-saving. Tailored applications will analyze the patient's data and provide real-time guidelines on how to help the person and operate the device.
Augmented reality has many other applications – from smart glasses displaying patient data during surgery to vein scanners. That's a huge potential that will inspire top software providers to invest in AR-based telemedicine in 2021.
Telemedicine trends #5. More stringent data security
Personal health records are protected by HIPAA. Thus, any organization that processes PHI must ensure limited access to data, encrypt information, run cybersecurity checks, and implement a range of other security measures.
Given that telehealth solutions collect lots of personal information, security will remain one of the leading telehealth trends in 2021. The previous year and increasing load on telemedicine software showed that many software providers were unprepared to handle large volumes of personal data. They lacked decent security and became the victims of targeted cyber attacks. Blackbaud, DCA Alliance, Luxottica of America are just a few of the healthcare companies that suffered from data breaches and resulting regulatory audits.
Final Thoughts
Current telehealth technology trends reflect the growing importance of remote patient care. This boosts the demand for quality telemedicine software and tech experts that can develop telehealth solutions. Since the competition in the EU and US labor market is fierce, finding a reliable software development partner is a challenge.
We offer you to use Empeek's outsourcing software development services to design a telehealth solution. Our company specializes in healthcare software and has already launched dozens of products for telemedicine and other fields. We follow telehealth industry trends and leverage the latest technology to develop competitive and popular software solutions. One of our alike projects was a hipaa compliant telehealth platform. Follow the link to get more insights.
Want to get a quote for your project? Contact us to share your idea.