Claim management is an important part of a medical provider's routine, as it's not only the most vital component of their income planning, but also a factor that defines the quality of services they deliver to their patients. This process involves five major steps (appointment scheduling, visit, claim submission, claim adjudication, and payment approval/disapproval), and the claims processing problems that may occur at each, can affect the end result.
For instance, the wrong coding may lead to higher co-pays for clients that would have otherwise been avoided. Long processing time may cause delays in payment receiving, while processing large amounts of sensitive data via non-compliant technologies may lead to data leaks. These are just a few challenges in claims processing currently faced by carriers, and if not addressed timely, they may be the reason for staying way behind the competition. Let's review the whole picture and see what can be done to solve the problems of handling claims.
Сhallenges in claims processing faced by providers and insurers
Wonder how to avoid common medical billing and coding errors? Claiming process involves a lot of parties and requires plenty of correct information to be processed accordingly. The problem is, the more touchpoint it requires, the more errors may occur, especially if done manually. Check the medical billing audit checklist. The figure exemplifies the workflow that the insurer and medical provider have to do to resolve the claim.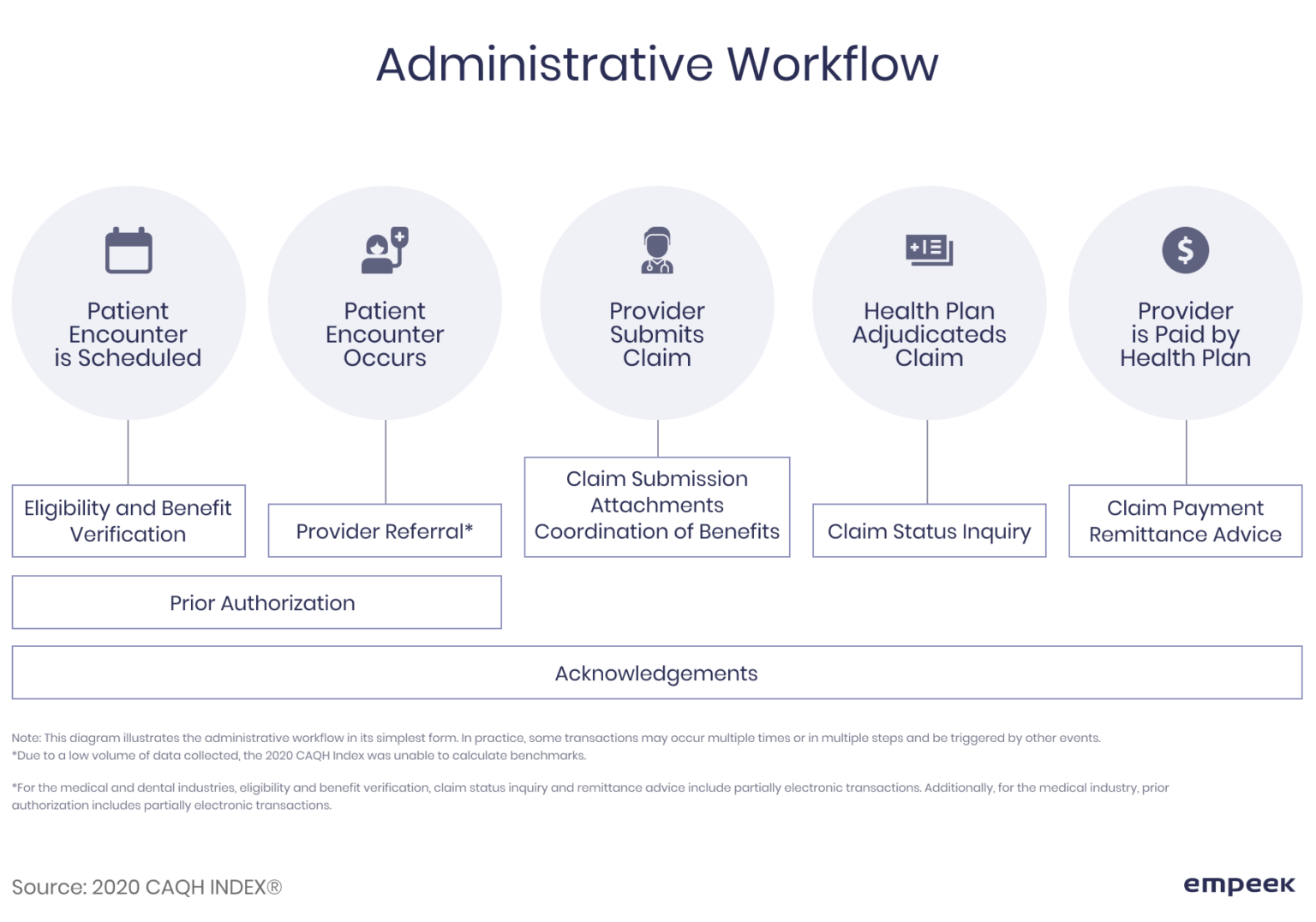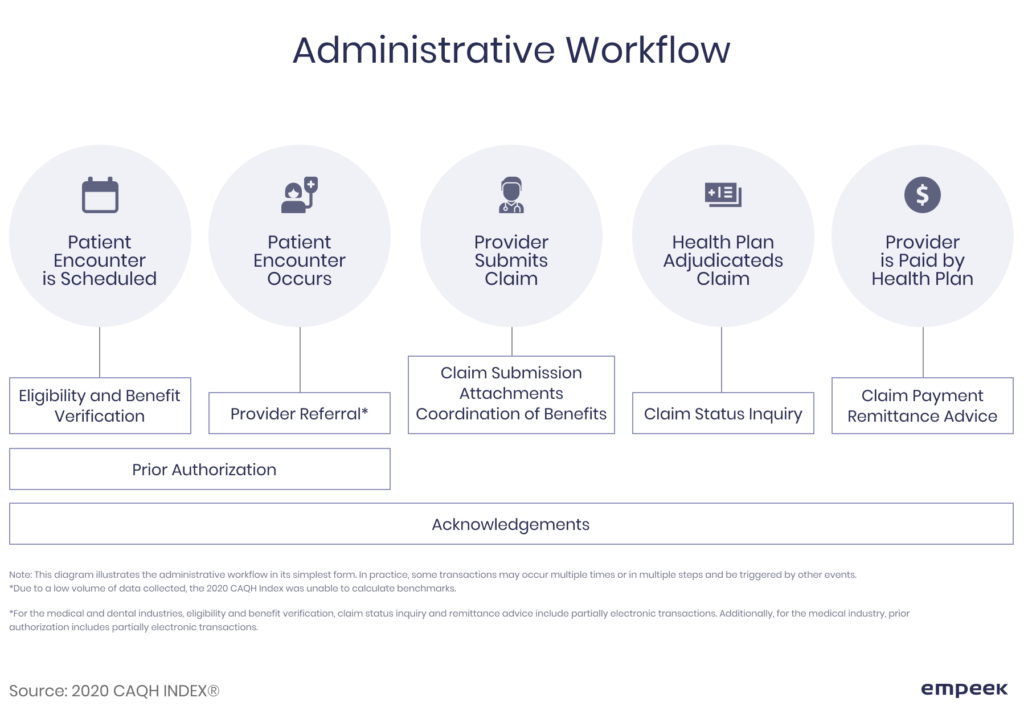 Here are current problems in claims processing.
Massive data amount
Every claim case requires an incredible amount of information when it gets processed. Data in manual or electronic EHRs, doctor's input and diagnosis, test results, identification information, carrier and payment details, SSN, and more — all of these are used to review, adjudicate, and finalize the claim. Two issues arise here:
if this data is processed manually, it will take a lot of time and effort by the time one collects all the needed information and documents;
If it's done electronically via non-compliant software, it poses a security threat.
The thing is, there's no lesser evil. Check also how to organize medical billing.
Multiple touchpoint claim handling
Since there are many stakeholders and employees who should transmit the data back and forth, miscommunication and lack of a unified platform can cause higher chances of errors. In addition, the providers and insurers get the fragmented customer experience instead of the holistic 360-degree view.
Slow claim resolving time
It's a state requirement to process the claim within the mentioned time. For Washington, for instance, it's 30 days for 'clean' claims and 60 days for all claims, and these periods can vary from state to state. However, in practice, not everything happens as fast. The delays in claim resolution are among the top problems of claim process and usually, they occur due to wrong coding, investigation process, and miscommunication between the provider, carrier, and patient.
High claim resolving cost
Each of the steps of claim resolution is done either manually, automatically, or combined. As you can see from the table below, the transactions done manually cost a lot, compared to the same transaction done automatically. Prior authorization, for instance, is still predominantly manual and causes a lot of administrative burdens, associated with the process, to say nothing of its high costs. As you can see from this figure, switching to a fully automated prior authorization process has the most cost-saving opportunity.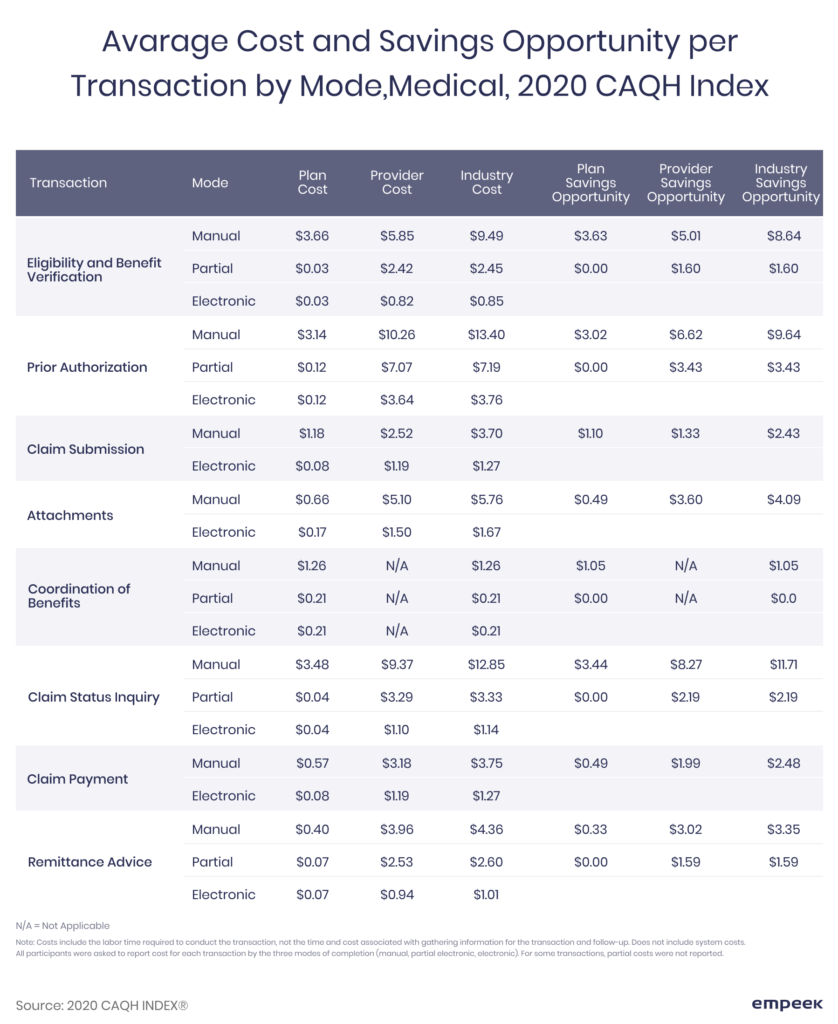 Technological growth
With the advances in technologies, those who introduce the latest solution wins in terms of customer satisfaction, money-saving, and quality of work. There is also market pressure, as one has to keep the systems up to date, deploy technologies that can help meet the KPIs, and, most importantly, make the claim resolution process accurate. And there's one more thing.
Since the insurtech market is full of solutions that offer the best way to automate and streamline the processes, the carrier has to choose which will work best and which will be compliant with HIPAA and other requirements. Another issue concerns the integration of these solutions with already existing ones, as there is the chance that both need tech adjustments to comply with the industry rules and regulations.
Workforce shortage
Skilled data analysts that understand both business processes and the tech side of insurance analytics are the niche specialists that are hard to find and expensive to recruit. The thing is, effective data management is what can help you stand out of the competition, drive insights, and resolve cases faster. Plenty of legacy systems are still running on code, and recruiting professionals with coding knowledge becomes harder. Plus, dealing with the claims manually will require a lot of employees, who have to be trained to do the job.
Ineffective claim management legacy systems
Dealing with rigid legacy systems has a few issues of its own. First, it's getting harder and harder to find a specialist who can deal with coding. Second, it takes a lot of resources to maintain the old legacy systems, and if you introduce new technology and keep the old one in, you're likely to pay twice. Third, their outdatedness may become the reason why your business can't keep up with the customer's needs.
If these challenges in claims processing remain unaddressed, the businesses risk getting stuck with resolving claims manually, and with an increasing amount of information, can take forever, cost too much, and cause delays that may scare the clients away. How to deal with such challenges of the insurance claims process? Digital technologies are the answer.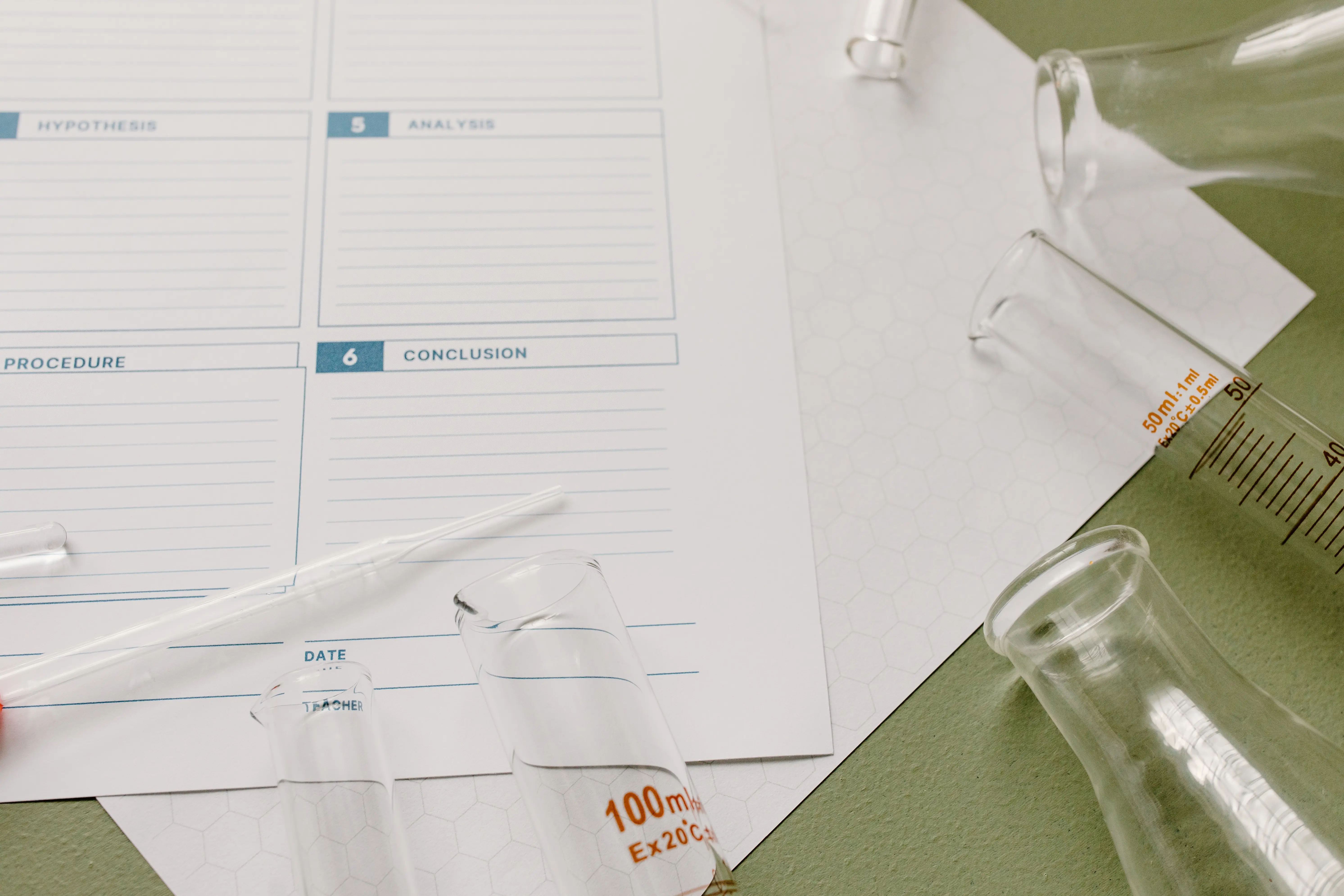 How to Solve Claims Challenges
Handling claims challenges with modern tech solutions is a surefire option to not only streamline the claim process, but also to save a lot of money along the way. Automating insurance claims processing can significantly resolve the issue. Let's see the examples of challenges claims process and where Empeek can help.
Overhaul the entire claim processing cycle
The number of stakeholders involved, industry regulations, and business requirements bind the insurers to control every step of the way when reviewing the claim. Making a unified code of strategies, system requirements, and policies may help with making this process faster and smoother, as every participant will know what they need to do and how to avoid inconsistency.
This is also the basic step for mapping out the data transmitting cycle and stakeholders' input, so every employee understood their tasks and could assist the patients when the latter have any issue regarding the claims (delay, appeal filing, etc.) Plus, this is the stage when the company evaluates where the legacy systems can be replaced by its new analogs.
Switch to fully or mostly automotive claim processing
There's a proven financial benefit from going digital. Not only will it eliminate the cost associated with the employee's work, but it will also cut pending times. For example, prior authorization, according to respondents, takes the most time, averaging from 20 min doing it manually to just eight via fully automated portals.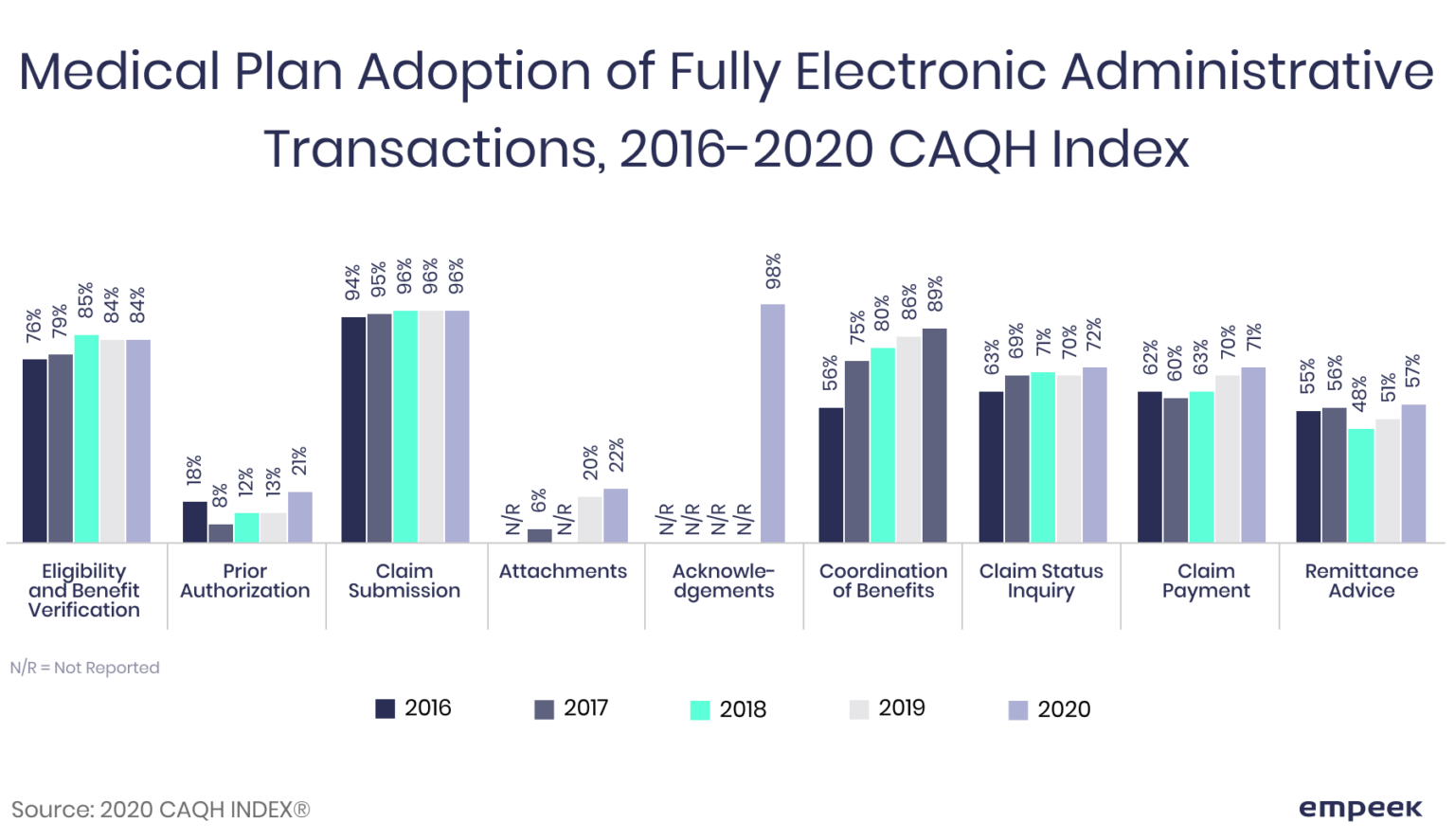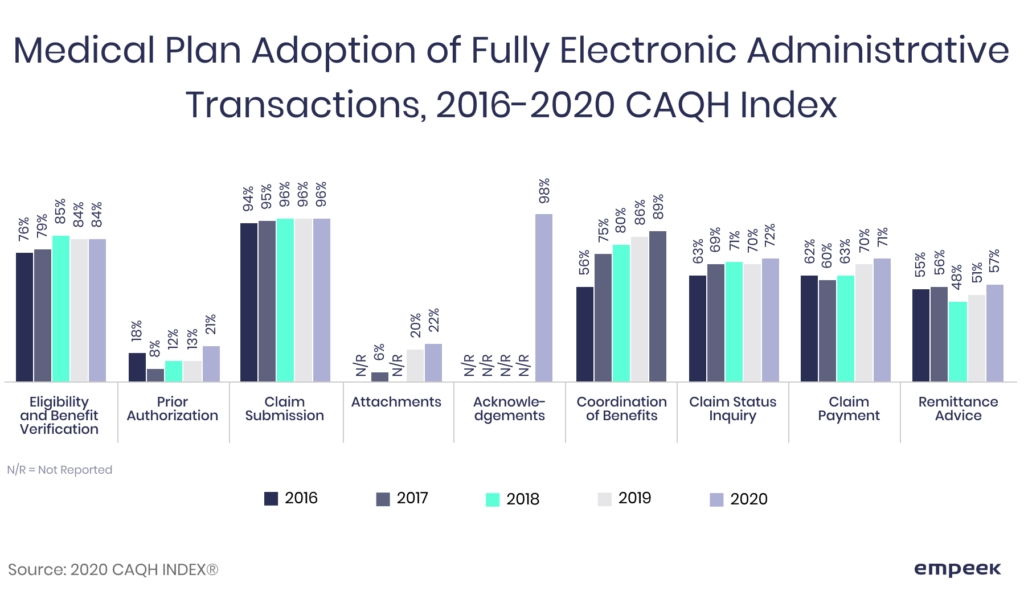 Deploy legally approved technologies and claim processing solutions
Those products that can't satisfy the legal demands of the chosen markets can't be used in practice, and if they are, the company will face charges. Why? Because there are legally defined requirements and recommendations that the software developers, classified as business associates, should follow. Since every stage of claim processing involves individual identification, health, and other sensitive data, the tech vendor has to create its products according to the laws that govern the patient's data use.
Employ skilled professionals
Data analysts become the most sought-after professionals for the insurance market — and rightly so. Those employees who can operate with data using the latest technologies and software are valuable human resources for any company. In addition, since many repetitive tasks can be delegated to algorithms, the practices can save up on costs associated with human labor.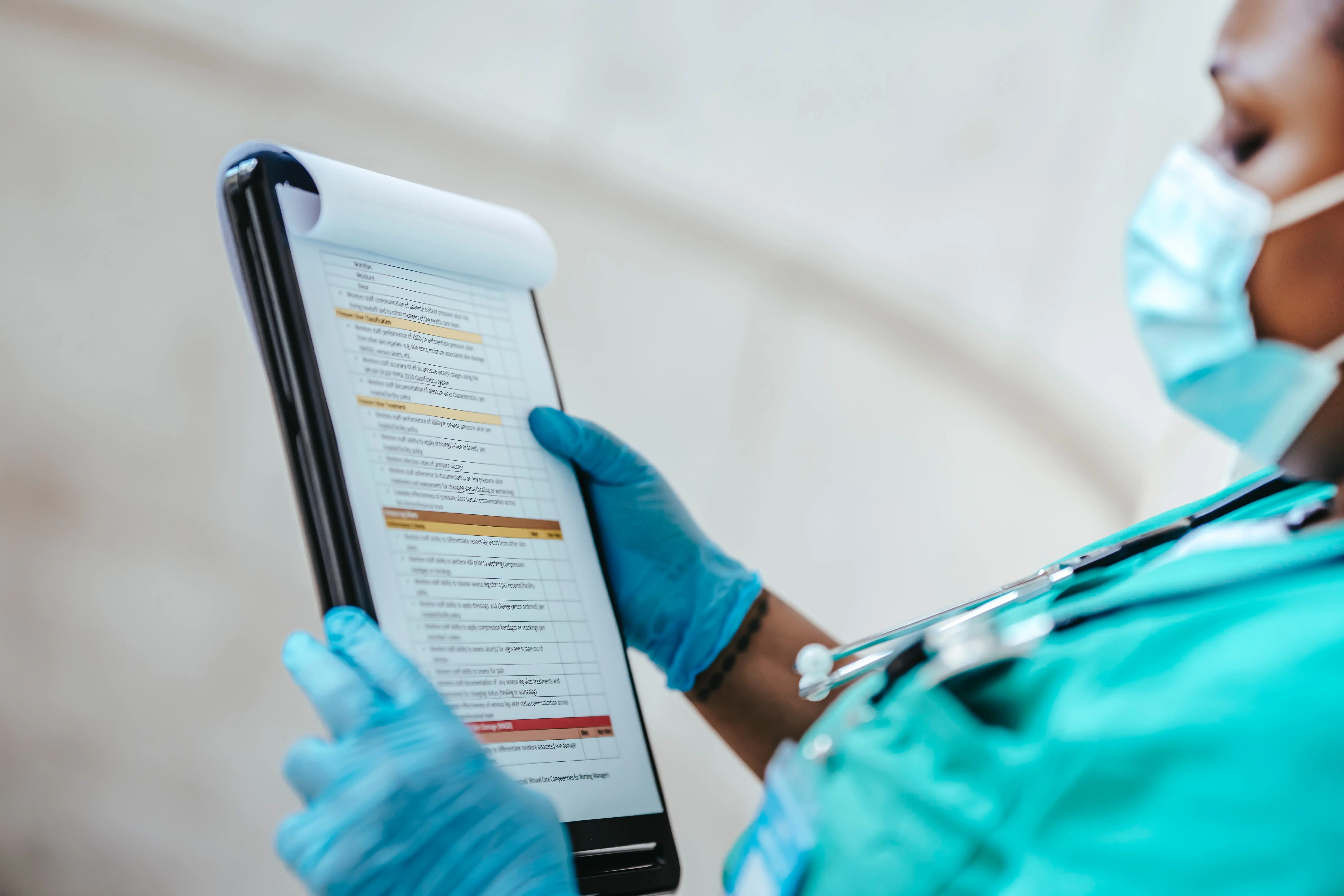 Consider Empeek Your Trusted Partner
Proper data management is indeed what any insurer and healthcare provider needs to organize the workflow efficiently and overcome claims processing challenges along the way. Choosing a medical billing software provider pay attention to the list of services. Empeek offers you collaboration on the project aimed at streamlining your claim reviewing process accurately. Whether you need a sophisticated AI-based algorithm to structure the data and eliminate the need for manual dealing with paperwork, we're here for you.
We have expertise in creating, deploying, and integrating our solutions into the client's existing network to assure a swift and reliable software base for their practices. Every solution we work on is HIPAA-compliant, developed according to governmental guidelines and requirements, and aimed at helping your business reach its goals.
Empeek team is particularly skilled in creating data management software like EHR and EMR for healthcare providers and insurance companies, which come in handy when handling claims challenges. Our products are custom-made, flexible, and easy to integrate, so you can rest assured you can customize them according to your particular needs.
Final Thoughts
The complexity of claim handling, the number of stakeholders associated with it, and the massive amount of data that has to be taken into account pose plenty of challenges of the claims process. Small practices and corporations deal with multiple touchpoints case reviews, massive amounts of data to process before submitting, adjudicating, and resolving the claims. No wonder it takes too much time, allows for errors, and requires human resources to accurately finalize them.
To overcome these challenges and improve the quality of claim handling, many businesses opt for digital solutions that help to streamline the claim processing workflow and eliminate inaccuracies, errors, and mistakes associated with the human factor. We at Empeek offer our experience and creative approaches to designing the solutions that would solve the workflow challenges of your practice. Contact us today and let's discuss how our products and software can help your business reach its goals!