"Automation" has become a buzzword these days. Every manager within a company seeks to shortcut, optimize existing business processes, reduce costs, and increase productivity and efficiency. In the medical industry, this situation is not a trendy case but a case of urgent need.
RPA in Healthcare: Short Overview
Hospitals' administrative burden increased in the last few years due to the COVID-19 pandemic. As a famous Harvard health economist Professor David Cutler admits, healthcare organizations' administrative costs in the US range from 25% to 33%. So healthcare providers are seeking automation solutions to reduce these expenditures.
One of the answers to that issue is Robotic Process Automation (RPA) in healthcare. It's intelligent software which mimics repetitive human actions. RPA virtually performs programmed, structured tasks instead of employees.
RPA tools are applicable in different spheres, as shown in the diagram down below.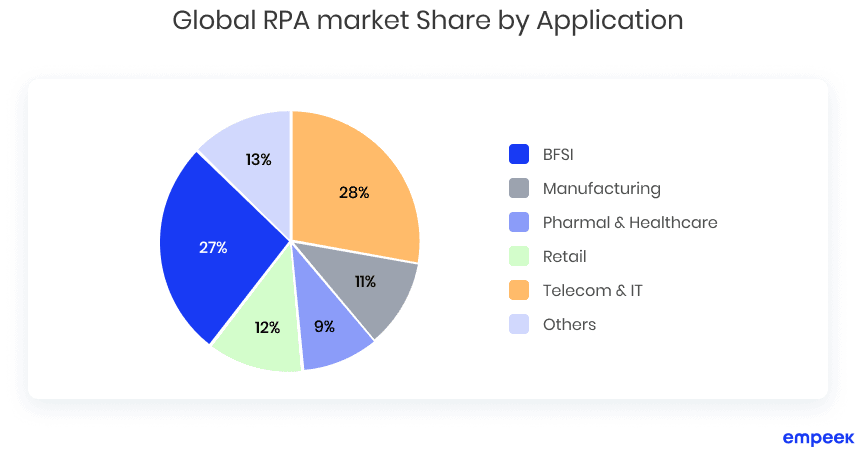 So only 9% accounts for Pharma & Healthcare. As we can see from the chart above, it's the smallest share in the whole market.
But this percentage steadily grows every year. According to statistics published by Gartner, 50% of healthcare organizations are ready to invest in Robotic Process Automation (RPA) in the next three years.
Why do C-level managers want to implement this tool in their healthcare organizations? Read answers to that question in the next part.
Benefits of RPA in Healthcare
The robotic process automation in healthcare improves many processes within medical organizations, e.g.:
Increases Productivity of Day-to-day Tasks
Bots do algorithm-friendly tasks, which humans can do during particular periods of a working day. But a robot doesn't get tired. As a result, the number of sending emails, scheduling appointments, insurance claims processing, etc., grows significantly when the number of patients rises.
Enhances Accuracy of Mundane Tasks
RPA enables avoiding errors and does every process seamlessly regarding build-in algorithms.
Boosts Efficiency
As a result of the error-free mode, robots operations' efficiency increases.
Enriches Customer Service
The number of customer complaints, wrong prescriptions, discharges, insurance claims, etc., decreases. So patients' satisfaction elevates.
Strengthens Security
Employees don't have data access to sensitive information. Special encryption protects from different threats in this case. Each logged step assists in investigations when needed.
Bumps up Opportunities to Scale Up
Most RPA tools work very well when a medical facility has a huge amount of patient's data, repetitive tasks, and processes. Besides, automation implementation in one hospital leads to the same results in another one within one organization. Especially if they have identical or similar operating systems.
Improves Reporting
RPA can easily derive analytical reports. They build up automatically without any mishaps provided by humans. For instance, good quality data can be retrieved from the clinical trial's database to minimize treatment mistakes.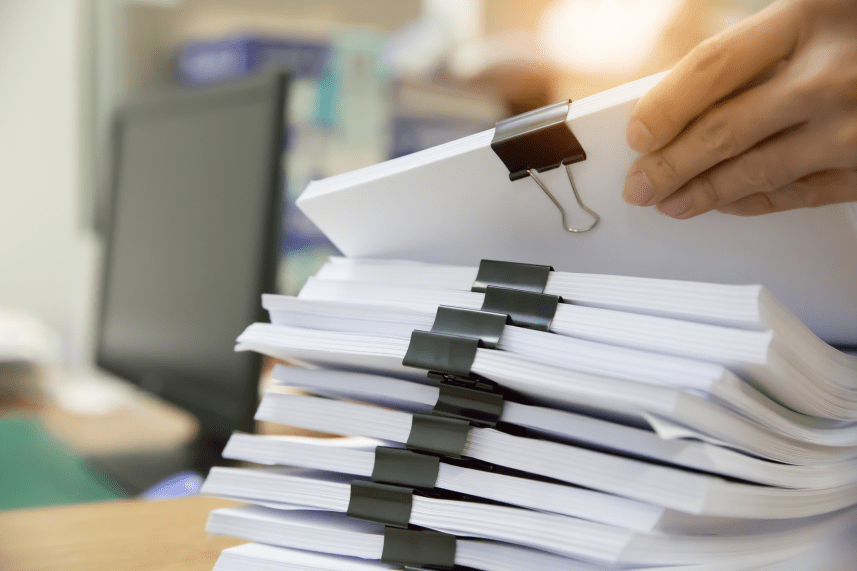 Streamlines Resource Usage
Current hospital's employees would do less administrative but more caregiving tasks. There is no need to hire extra staff to do monotonous jobs.
Cuts Costs
RPA for the healthcare industry reduces costs and time in HR, finance, insurance claims processing, and other management areas. If you don't need to hire more employees for boring jobs, you save some money and invest them into something else.
Implementation Without any Hindrances
In most cases, you don't need to teach your staff to code or something of that kind. You just need to install RPA software and follow support's instructions.
Enriches Communication
Employees release their time for more creative work and communication with colleagues. Doctors can focus on treatment, not on tedious jobs.
Gives Automated Responses Via Triggers
Structured data (information that can be gathered, extracted, and transferred without additional processing) enables unattended RPA tools. These tools can work without human intervention via specific triggers: a new message or record appearance, deleting a file, text, or record, etc. When one of the events mentioned above happens, robots automatically do programmed actions.
Let's discover the practical utilization of robotic process automation in the healthcare industry in the next paragraph.
What are the Main Application of RPA in Healthcare
RPA medical fields of usage can be different. For instance, with the help of digitizing business processes, those tools can send emails, extract and delete files, copy and paste data, etc. The data for such operations should be well structured (i.e., not hand-written). Unfortunately, in healthcare, a lot of information is in paper form. So digitizing business in healthcare is a matter of necessity.
But nowadays, RPA tools can process data from manuscripts using optical character recognition (OCR) to identify and process unstructured data.
That is why robotics automation in healthcare is applicable in almost every department. Especially when the most daily operations are time-consuming for employees, standardized, stable, scalable, and hard to outsource.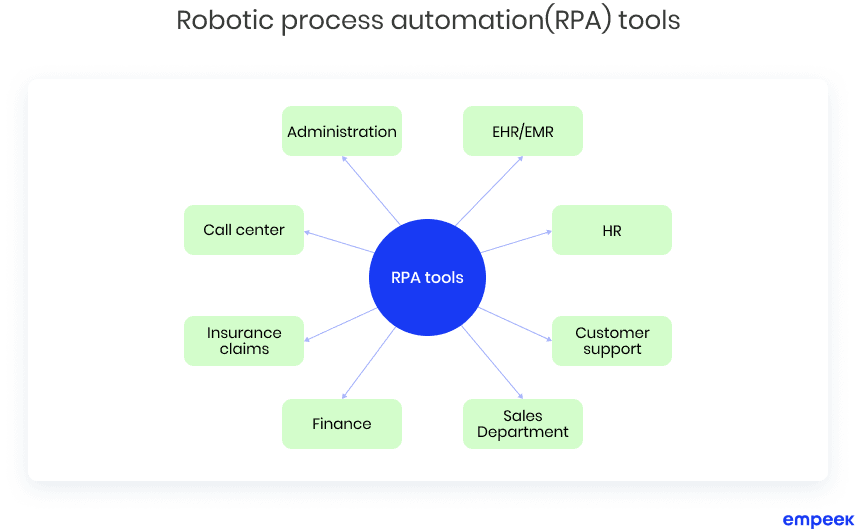 In the next section, we will discuss the most common RPA use cases in healthcare in more detail.
Common RPA Use Cases in Healthcare
There are several RPA case study in healthcare. Let's look at the most typical ones. Any RPA tool:
Enables Automatic Patient Appointment Scheduling
Nowadays, most patients register and schedule meeting with a doctor online. The RPA system maintains all free time slots of relevant doctors for patients. The bot notifies a day patient if there are doctor's schedule changes.
Boosts Billing Procedures
RPA precisely calculates the bill amount and notifies the patient considering collected data about his / her expenses, e.g., medicine and tests' costs, doctors fees, cost of the ward room, etc.
Provides Accurate Insurance Claims Management
According to statistics, more than 80% of Americans have health insurance. So it's vitally important for hospitals to work with insurance claims accurately. RPA tools process incoming claims quickly without any mistakes. They receive, store and transmit patient data without any human intervention. As a result, no frauds, no mishaps, and no client's disappointment.Establishes reliable communication with patients. RPA tools can send reminders for patients to upcoming visits to their doctor, take medication, medical tests. And in the end, robots pass discharge guidelines for smooth patient recovery.
Records Data to Eease Auditing Procedures
No need for redundant paperwork, because everything can be found in records via RPA. Every action within a system is logged. So it streamlines an organization's audit in any management area.
Assists in Treatment and Recovery Processes
Making the correct diagnosis is critically important to improving patients' health or saving people's lives. Precise data analysis and clear visualization through RPA tools serve well enough for doctors who make the proper conclusion based on them.
Enhances Revenue Cycle Management (RCM)
The whole healthcare cycle within an organization utilizes RPA features to make the right decisions based on accurate information. All interconnections between patients, clinics, doctors, insurance companies, and other third parties can be done much faster, accurately, and timely.
Reinforces the Entire Healthcare System
All healthcare organizations integrated within one system can efficiently and effectively use RPA to boost workflows. RPA tools can improve the healthcare system management, coordination, and monitoring processes.
What about real, applicable examples of RPA in healthcare? You can see more information in the next segment.
The Most Successful RPA Case Studies in Healthcare
Over the last few years, we can see many examples of RPA implementation throughout the health industry. Most of them regarding insurance claims processing, but there are a few other areas of its utilization.
Let's briefly look at the most common robotic process automation case studies.
1. Jolt improved insurance claims processing
Client's short overview
The top-notch hand therapy company in the US has over 200 outpatient centers there.
The challenge
The company needed to streamline insurance claims processing to lower human errors and increase productivity. The workflow was disjointed before automatization. Records were in
different places: paper form, applications, websites. The ultimate task was to optimize these processes and automate them.
The solution
Jolt developed a series of 9 automation solutions using UiPath resources within 12 weeks. They established control, monitoring, records checking, performance reporting, and release management.
The results
5500+ clients' eligibility checked
$570,000 of approximate savings in 2020.
2. Helse Vest reduced the administrative burden on doctors and nurses.
Client's short overview
The company provides health services in the Southwestern region of Norway. Five trusts deliver health services for roughly one million citizens.
The challenge
The Norwegian clinic has many administrative tasks performed by doctors and nurses. Personnel needed to do double or even triple registration for cancer patients because data input was required in three different places. It took a certain amount of time to do such a job. This time could be used for patients' taking care. So the essential task was to reduce monotonous jobs and increase medical staff productivity and efficiency by using RPA tools.
The solution
RPA lead Celie Løvslett, and her team designed an automation tool called "Robbie Vest". This robot automatically updated registration data in the right places. This automation liberated doctors and nurses from tedious jobs. So they could devote more time to care delivery. Eight minutes were freed on each registration input.
The results
Time for cancer patient's registration decreased by 80% (from 10 to 2 minutes per 1 data registration)
14000 annual working hours released for doctors and nurses
Around $550,000 in savings in 2020.
3. Max Health Improved its Insurance Claims Processing Workflow.
Client's short overview
The client is the Northern India's large healthcare provider. It has a significant network of 14 international class hospitals with 29 specialties and 2300+ doctors.
The challenge
There were several tasks to improve within Max Healthcare. Data entry and reconciliation, low turnaround time (TAT) for claims processing, workflows with unstructured data, unclear or missing fields in records, surges in operations volume are worth mentioning.
But the RPATech team (an RPA consultant company with whom the Indian healthcare network cooperated) decided to choose tasks which gave the most significant concern and would be more beneficial for the hospital's personnel's productivity. So they turn to two primary headaches:
Data reconciliation with:
Central Government Health Scheme (CGHS);
Ex-servicemen Contributory Health Scheme (ECHS)
2. Claims processing.
The solution
Consultants analyzed workflows automation solutions to use. UiPath robot was chosen to tackle data entry and reconciliation issues. This RPA tool extracted patients' data from documents in different formats (Outlook, PDF) and put it into one form (specifically with a .csv extension) to place into the database for big data analysis.
Data reconciliation with CGHS and ECHS was done in another way. The robot logs from 17 hospital's and third parties URLs with the CGHS portal and 12 associated hospitals URLs with the ECHS organization's website. He reads the client's record there and validates its status. Then, he notifies the relevant department via email whether the data is correct.
Twenty-eight different insurance providers send settlements to Max Healthcare in various formats (images, PDF, emails, etc.). The team devises a series of automation solutions for certain insurance companies to resolve this issue.
The results
claims processing by 50%;
CGHS & ECHS by 65-75%
Saved roughly Rs 1 crore (around $133,000) within 12 months
Security enhanced. No access to fraud and human errors.
Staff's job satisfaction increased. Employees can enhance care delivery and spend more time on analysis, planning, communication, and other valuable activities.
The implementation of RPA depends on specific steps to reduce time on mundane tasks, increase productivity and efficiency of workflow, healthcare providers' ROI, and other parameters to consider. RPA is not a "magic" tool but an investment. You need to calculate analyze its feasibility and efficiency beforehand.
How to Start RPA in Healthcare with Empeek
If you are ready to take the first step in your journey with RPA, you need to consider with whom you will go on that path. Many pre-designed RPA solutions won't give what you exactly need for your business. That is why a reliable partner, who can suggest custom decisions in the intelligent automation sphere, is your best guide for your project to be successful.
Consider Empeek as an experienced partner in software development, specializing in providing bespoke solutions for the healthcare industry. We offer our IoT, mHealth, Telemedicine app development solutions, and many other services.
As a development company focusing on healthcare, we know what RPA tool to choose and how to configure it correctly. Write us a note and we gladly help you with that issue. And in the end, you can reap the fruits of automation merely in months.