As the number of information sources in the healthcare industry gradually continues to grow, the necessity to incorporate the right integration tactics increases as well. Moreover, in some cases, traditional approaches may not be enough to forge a comprehensive source of information.
In this article, we will explore the key benefits of data integration for healthcare businesses, discuss data integration challenges for healthcare, provide tips on how to start the integration process without risk, and some other pivotal factors.
Challenges of clinical data integration
When it comes to clinical data integration, many healthcare businesses underestimate the number of pitfalls awaiting them. Integrating sets of information into a complex healthcare ecosystem is a mastery that, unfortunately, only a few businesses have perfected so far. One of the surveys demonstrates that healthcare data integration obstacles lead to project hold-ups in 85% of cases. This proves the fact that it still remains a significant challenge that far too many companies face.
A recent report by HIMSS media provides a list of the most painful healthcare data integration challenges. We will elaborate on some of them below.
Keeping in mind the most common difficulties means being ready to tackle them efficiently. Therefore, to go through the integration process successfully, businesses should consider the following aspects:
Dozens of Unstructured Data
In healthcare, the volume of unstructured information reaches up to 80% on average. Legacy data, duplicates, and assets collected from multiple systems and devices make up an unimaginable amount of information that is hard to handle. On top of that, IoT solutions that leverage analytics insights all the time make the accumulation of information more complex and cumbersome.
Dealing with unstructured data is the first step towards successful data integration. Therefore, it is important to consider setting up the workflows for data collection, processing, and quality assurance. This will allow for a more efficient way to manage unstructured data and thus simplify the integration process.
Privacy Risks and Compliance Challenges
As we all know, complying with HIPAA, HL7, FDA, and many other regulations that take care of non-disclosure of patients' personal information is critical. With tons of information exposed and easily accessible on the Internet, the question of privacy policies and regulations is a burning issue. Let alone data breaches, which is a substantial hazard for healthcare companies.
The healthcare sector beats all other industries in terms of costs associated with the breaches. It is predicted that by the end of 2020 security breaches can cost $6 trillion for healthcare organizations.
Having cybersecurity risks in mind, database administrators should keep a close eye on the transparency of the collected information. One of the ways to avoid potential information privacy risks is to opt for a robust healthcare data security solution that will safeguard important assets while also satisfying healthcare compliance mandates.
Data Unification Challenges Due to the Lack of Interoperability
Software incompatibility and interoperability remain one of the main challenges of clinical data integration and the major obstacle to its successful delivery. Many healthcare IT teams still battle with siloed IT systems that keep patient information trapped inside them without the chance for standardization. Poorly integrated EHR solutions, IoT devices, medical CRM software, telehealth, and other healthcare services slow down their operations.
To avoid this issue, more and more healthcare institutions opt for cloud-based solutions. Modern cloud technologies along with message standards such as DICOM protocol helps healthcare organizations provide a unified view of all patient info across different systems and make sure not a single asset is trapped in the siloed systems.
Lack of Usability
The absence of user-friendly solutions to manage medical information slows down daily healthcare practices drastically and hinders successful data integration practices. Sophisticated, hard to use data management tools often do more harm than good. Clear and simple user interfaces, in turn, enable users to exchange and manage information much quicker and easier. This should be kept in mind when choosing or developing new software.
Key Benefits of Data Integration for Healthcare Organizations
The whole process of prep practices, data collection, ingestion, and storage determines the future success of your business project. How is that so?
The incorporation of data integration in healthcare systems creates new opportunities and chances to improve already existing practices. By choosing a flexible and highly functioning methodology, your company will be able to collect all the needed information from a variety of streams to provide a detailed picture that can lead to upgraded patient care and preventive analysis. Check more info on benefits of ai in supply chain.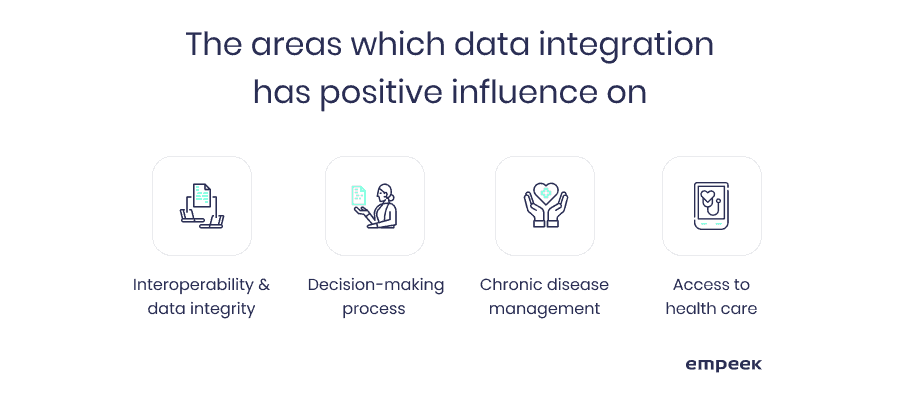 Improved Interoperability, Consistency, and Integrity
Bringing order to various sets of information across multiple systems and unifying them into a single data environment allows for seamless operations and easy instant data exchange. While interoperability is a great benefit itself, achieving it leads to other significant advantages such as a high level of staff productivity, increased patients' data security, improved patient care, better exchange with other systems, and, last but not the least, reduced costs.
Are You Sure Thay The Technology Your Conpany Is Using Doesn't Hamper Business Growth?
Contact Us
Streamlined Decision-Making Process
Unified healthcare information helps physicians make evidence-based decisions and develop possible preventive strategies. Namely, by having an access to a unified patient data environment, physicians can provide quality time-sensitive care for at-risk patients and react faster when a patient's life is at stake.
Revolutionized Chronic Disease Management
Another immense benefit of clinical data integration solutions is the opportunity to ensure remote patient care. This case may apply to those who have chronic diseases.
The specific nature of chronic diseases implies that a patient most probably would not be monitored by one specialist, but several at different points in time. That is where the need for interoperability steps in. With the smooth integration, all the information that has been collected over some time is stored and can be easily accessed from anywhere.
Enhanced Access to Health Care
Remarkably, successful data integration for healthcare providers enables the industry to become more accessible for everyone. With dynamically growing remote patient monitoring and mHealth trends, patient health information ceases to be associated with only a hospital and the idea of disease management is being reshaped. Now, patients from rural or distant areas are able to receive quality care through a whole range of new technology, and interoperable healthcare systems can help medical institutions set up this process smoothly.
Data Integration in Healthcare: Where to Start and How to Do it Safely
Carrying out integration activities might be challenging for many businesses, especially those who do it the first time. To make sure this complex process goes seamlessly, you need a solid strategy to guide your efforts. Here are some practices you might want to stick to.
Invest in Advanced Technology
A lot of businesses working in healthcare use obsolete technologies that can't ensure proper integration. For instance, there are dozens of EHR and EMR systems that support only a few data formats.
Advanced solutions available on the market allow healthcare organizations to aggregate various types of information stored in different formats, unify it, make it compliant to the codification standards, and present its final version in a meaningful and user-friendly way. By opting for custom software development, all of this can be achieved far more smoothly since the solution is tailor-made for your business.
Create a Solid Interoperability Strategy
Getting interoperability right is pivotal for healthcare providers. But how to achieve it? Well, the answer is an elaborate, step-by-step plan with all migration risks and bottlenecks considered.
Secure the success of your strategy by involving people from different areas of expertise including technologists, specialists, clinicians, and others. By bringing the right people together in an effective way, you will be able to establish a well-thought-out plan that will meet all your business needs successfully.
Prepare for Data Migration Thoroughly
Any migration process bears a certain level of the risk of losing some pieces of information. For example, if a healthcare organization decides to change its OS, some files can eventually become inaccessible upon the migration. This aspect should be carefully considered before starting the migration process. By ensuring there is a reliable solution in place able to address all backup and compatibility issues, medical facilities can eliminate data losses and make the migration process smoother.
Medical Data Integration Tips: What Else to Consider
There a few more things that can add the finishing touches to your data integration strategy. Find them below and feel free to use for your successful integration process.
Assurance Testing
Regular testing practices may also be beneficial for healthcare institutions. This procedure allows for ensuring that not a single piece of information has been lost, misdirected, or misinterpreted in the process. A failed integration strategy may have a significant impact on future business decision-making and disrupt the efficiency of preventive approaches.
Using Industry Best Practices
Collaboration with a trusted healthcare software development vendor may assist healthcare organizations or institutions to establish their preventive tactics and perform more successful IT landscape analysis, which would result in developing an elaborate data integration methodology. This experience can also help healthcare businesses see the potential migration issues and solutions to them from another angle of view.
Over the recent years, data integration has become a tool to improving standard business practices for healthcare organizations, care providers, and many more. Hospitals that have already implemented our state-of-the-art technology into their workflow experience multiple benefits of medical data integration such as improvements in delivering a patient experience, effective disease prevention, and workflow automation.
Implementing innovative strategies and modernizing the already existing ones allow healthcare businesses to upgrade their daily business practices, enhance the quality of care, and open new opportunities for business growth.
At Empeek, we take your security seriously to ensure all healthcare data integration benefits are achieved. Our professionals are ready to deliver our best, providing you with guaranteed security, compliance, and the customized software that helps you keep up with your goals.
Ready to discuss your project? Contact us and experience the excellence of medical data integration today.