Investing in new technology in the hospital environment requires a solid understanding of when and how its return will occur. And the higher cost of adoption, the more information one needs to collect to take a step. Medical institutions are no different when it comes to such a change. But why should hospitals invest in IoT devices, among other things? From the market forecasts to short- and long-term adoption consequences, read about other important factors why you should contact companies providing hospital IoT.
Medical IoT Market Potential and Benefits of IoT in Hospital
The Medical IoT market is booming and is expected to grow during the following years for a few reasons. IoT implementation in healthcare industry makes medical services more accessible. There are technological resources to make it possible, and we witness legal changes that regulate their use. Just have a look at how will the medical device market expand, and you'll get the idea that the need for IoT will increase proportionally. Check the case of solution for IoT remote monitoring we have designed recently.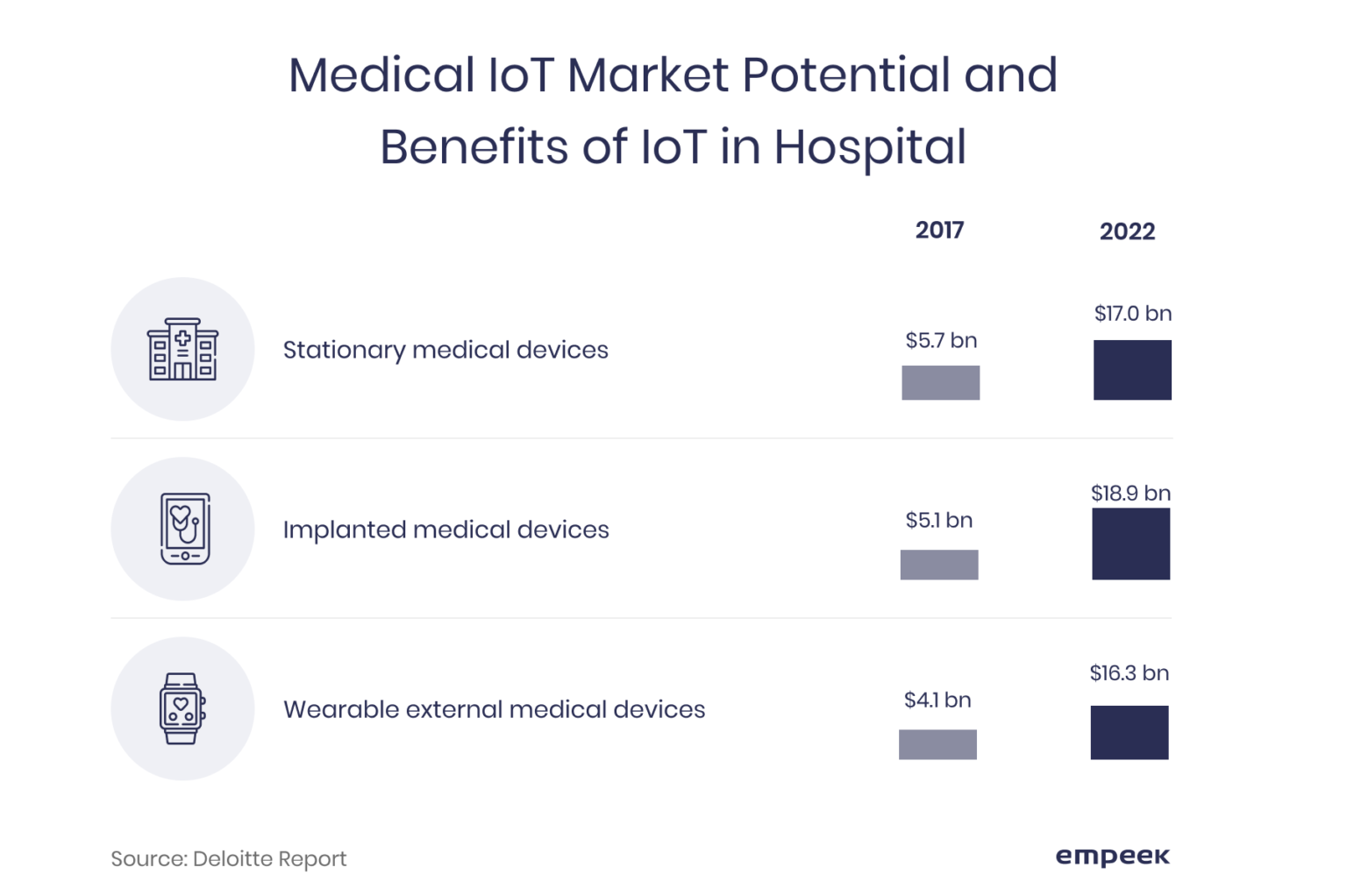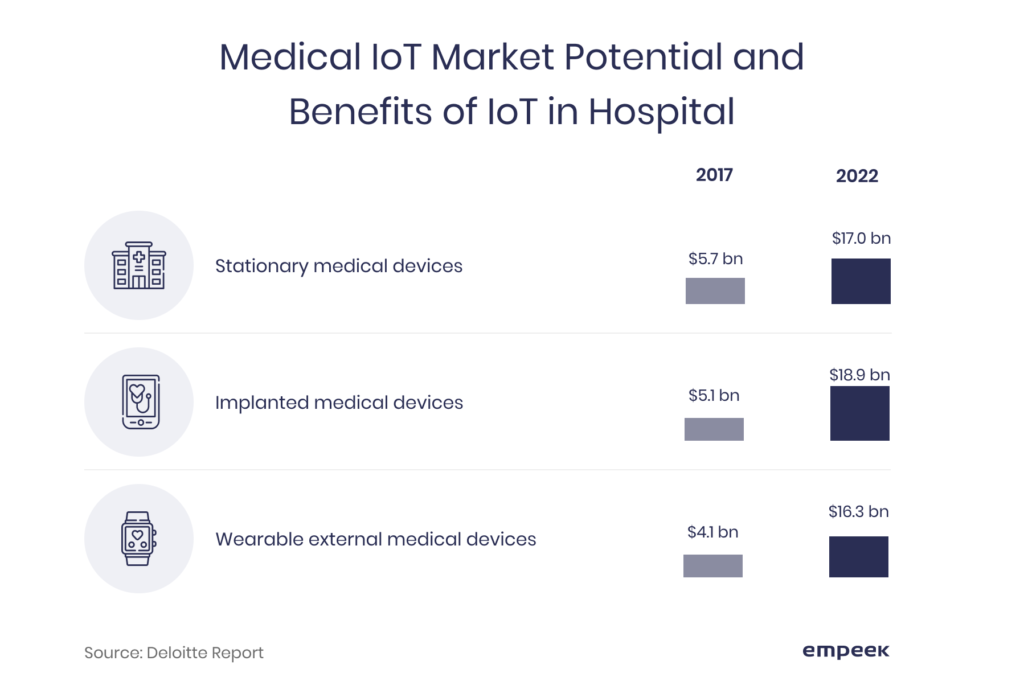 The development of medical iot app and telemedicine constitute the biggest share of IoT market segmentation by component and by application, respectfully. While there is a clear demand for borderless medical care provision and the development of new devices to improve healthcare, there are plenty of other domains where smart IoT solutions can come in handy. Here you can find the living example of solution for IoT remote monitoring.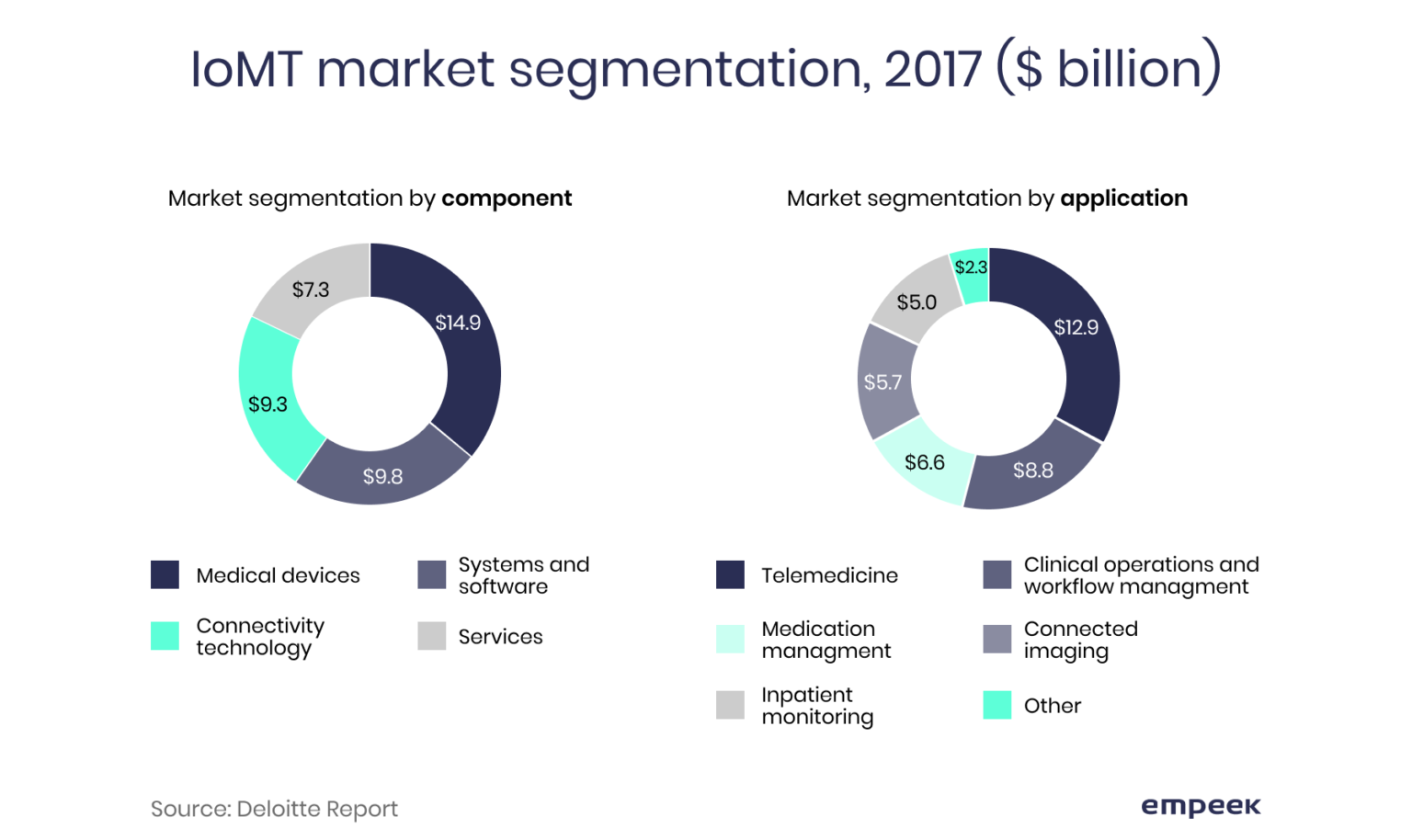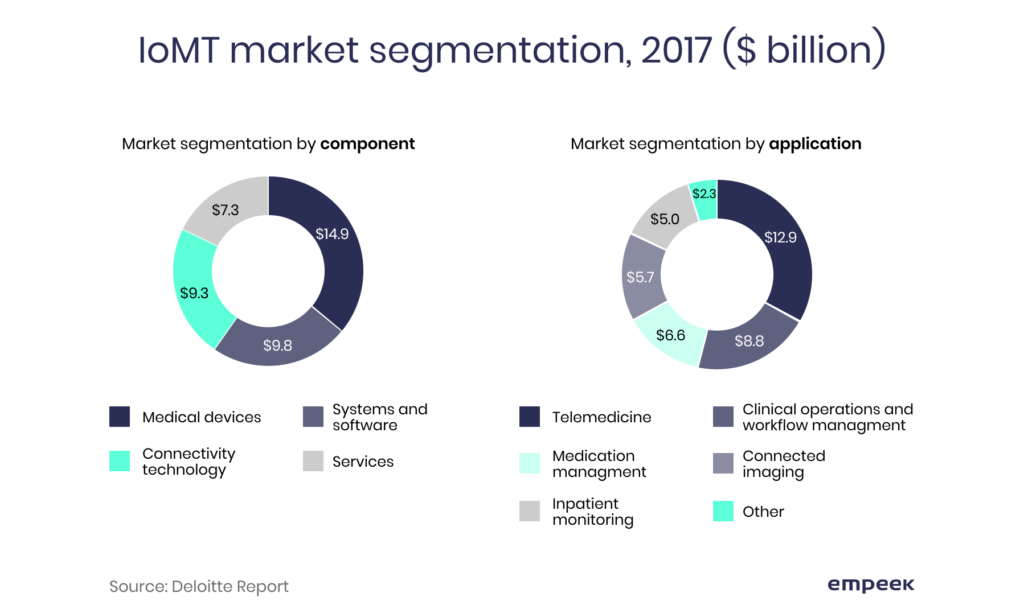 The market metrics are important for the hospital management to plan for the future and be ahead of competitors to draw more patients. The graph below explains the interconnected nature of the IoT medical devices for every party involved. Understanding this IoMT ecosystem is crucial for a hospital to employ those that currently fit the environment and show opportunities for further development.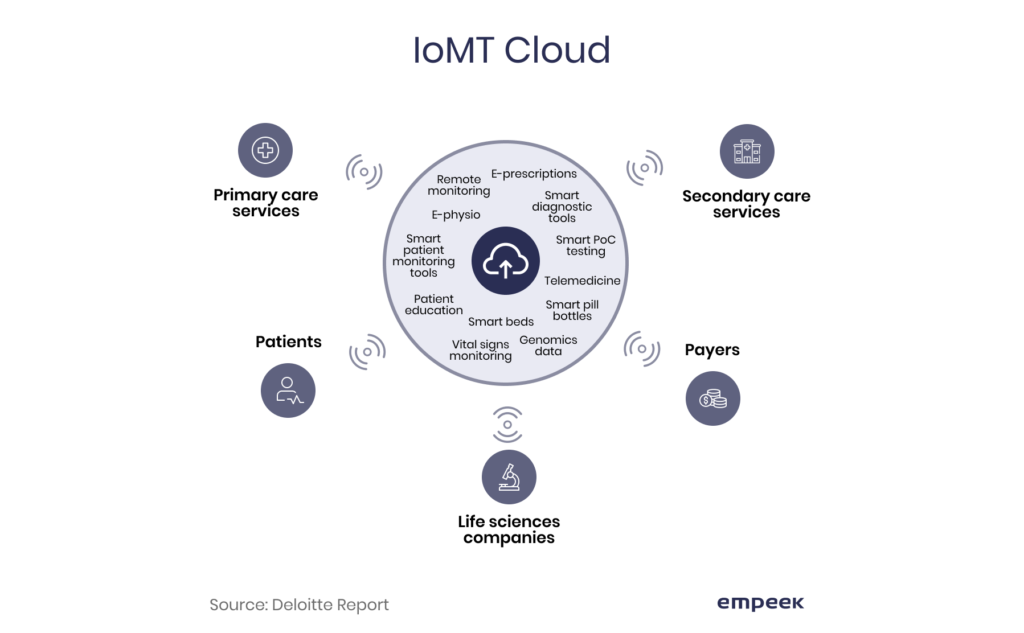 Benefits of IoT in Hospital Care Provision and Management
With the opportunities that the MedTech companies and the IoMT offer, it's possible to make your hospital stand out from the competition. So, how exactly does IoT help?
#1: More Services Provided
Telemedicine will remain a trend in healthcare as the pandemic showed the need for more accessible, safer, and more accurate treatment. With the changing medical landscape, telemedicine is regarded as an option for delivering acute, chronic, primary, and specialty care. And with the legal and reimbursement changes in the discourse, IoT medical devices and technologies will help with adding new services to the list.
# 2: Faster Treatment Process
IoT in hospital management power the hospital staff with insights about their patients, room availability, and equipment use. This benefits during regular workload times but when we're talking about crisis reorganization, it may be time-, cost-, and even life-saving. Knowing the condition of each patient and the hospital's capacity will help to allocate the resources where they are needed the most.
# 3: Better Resource Management
Preventive care is cheaper — and it's true for medical devices as well. With IoT solutions, the hospitals can be notified when maintenance is needed, so the staff won't be left unarmed when they need a device to be fully functional.
# 4: Increased Patient Involvement and Medication Adherence
Self-medication is the worst nightmare of any doctor, so tracking and observing are needed even in the case of adults. Investing in medical device software development, medical practitioners can be sure: patient will be reminded of taking pill on time. Connected devices will assist in that, thus increasing the patient's eagerness to following the treatment plan.
# 5: Effective ER Management & Triage
Not every patient that comes to the emergency room needs urgent treatment. With IoT solutions in hospitals, patients' cases can be categorized into more and less urgent ones, which won't only save hospitals costs but cut patient bills, too.
# 6: Improved Monitoring for Bedridden Patients
Home- or hospital-based, monitoring one's condition is paramount for choosing the right treatment tactics. Various wearable and implanted devices, alongside those that track the homeostasis of the bedridden patients, help staff provide the needed care. Also, they will signalize about opportunities for automation.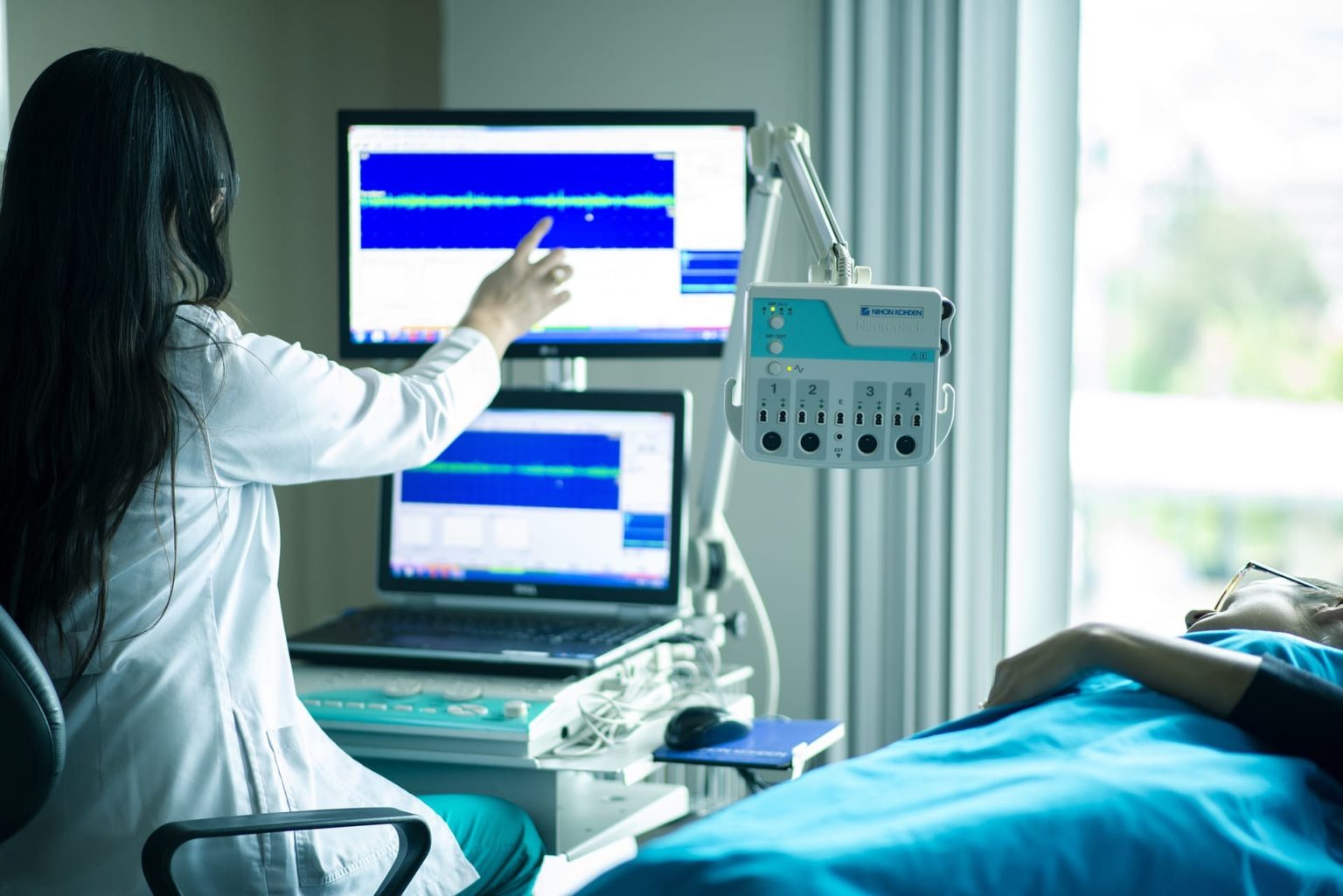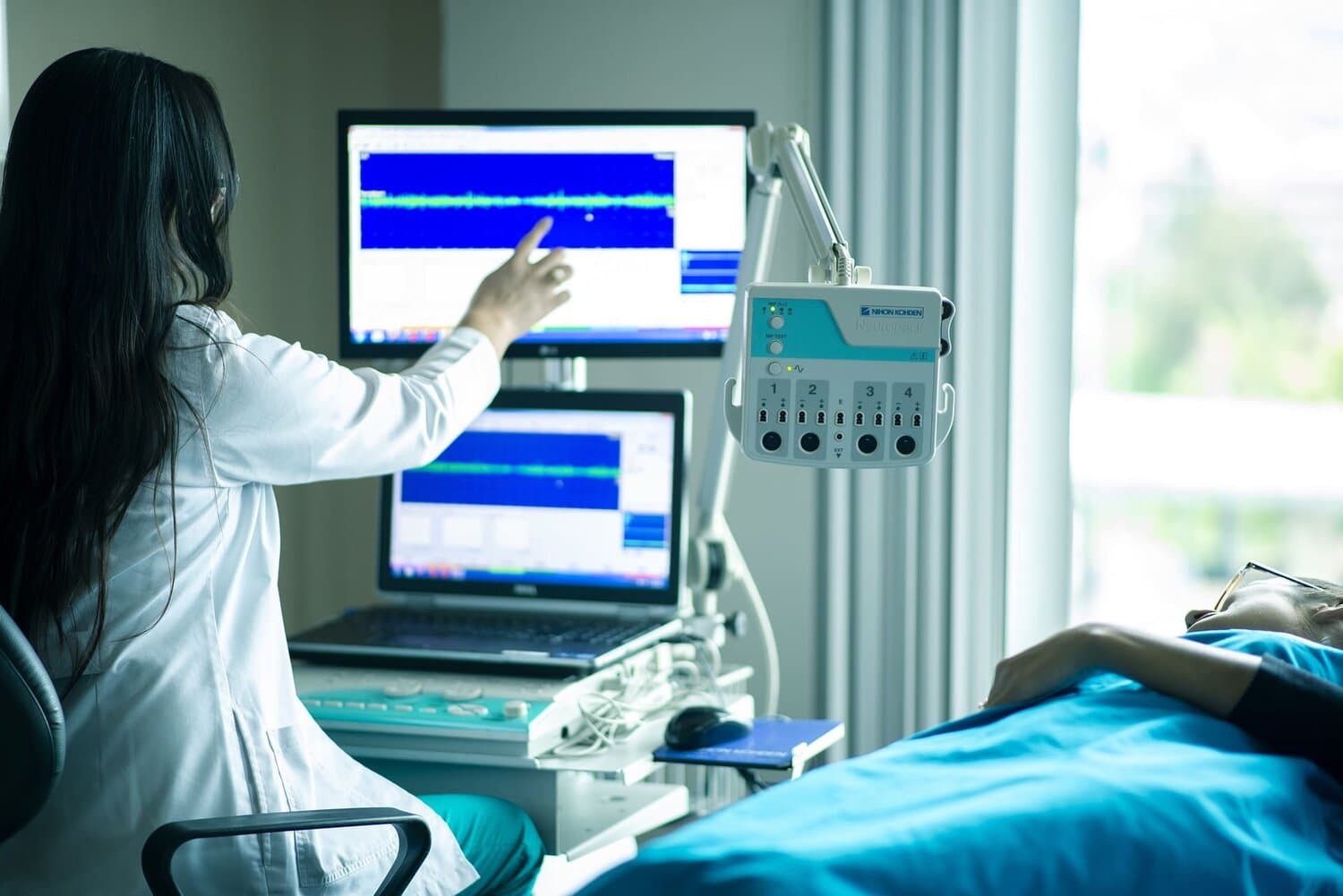 # 7: Safer and Faster Patient Data Processing
Complex algorithms are more accurate and faster in computing and organizing data than a human brain. In the hospital environment, and ERs, in particular, this swiftness plays an important role as it makes the personnel spend less time filling in information and focus more on patients.
# 8: Enhanced Preventive Medicine
Prevention is the best cure. IoT devices and algorithms gather data and detect the patterns that signalize changes in one's condition even if the symptoms aren't obvious yet. Also, they interpret the data from the wearable devices about measurements, advising both patients and doctors of possible hospitalization.
# 9: Decreased Error Rate due to Human Factor
Tests mix up, measurements may be taken wrongly, interpretation can be done based on limited factors — these are some of the human-caused errors taking place in medicine. Hospital IoT devices help to reduce human-attributed errors and improve diagnostic accuracy.
These benefits of hospital IoT aren't hypothetical — they are the results of the IoT use in many documented cases. Let's review a few.
Successful Hospital IoT Use Cases
Hospital bed IoT
Hill-Rom holding launched the production of hospital beds equipped with EarlySense heart and respiratory bed sensors in 2018 — and their adopters report significant improvements. Having these measurements tracked at all times helped decrease the cardiac and respiratory arrests rate ('code blue' emergencies) by 86% and 83 %, respectfully.
MyWall
Think Amazon married Facebook, but for hospital patients. MyWall interactive communication tools help patients take care of their everyday needs, order food and prescribed medicine without asking the medical staff. Plus, it allows having doctor's televisits when their physical presence isn't necessary.
AutoBed
General Electric creation, AutoBed is an algorithm that uses the provided nurse triage data, tool sensors, and real-time data to find the best bed for a patient in need. It accounts for 15 attributes, processes around 80 bed requests at a time, and monitor as many as 1,200 beds. The six-week trial showed a 50% reduction in wait time for the patients in the emergency room.
Real-time Medical Monitoring System
Empeek's 5 sub-systems project was developed to capture, analyze, and decode patients' vital signs and various psychological parameters. CA-approved and FDA-cleared, this IoT-enabled patient monitoring technology enables doctors and hospital staff to receive various measurements of the in-hospital and home-based patients and keep track of their progress.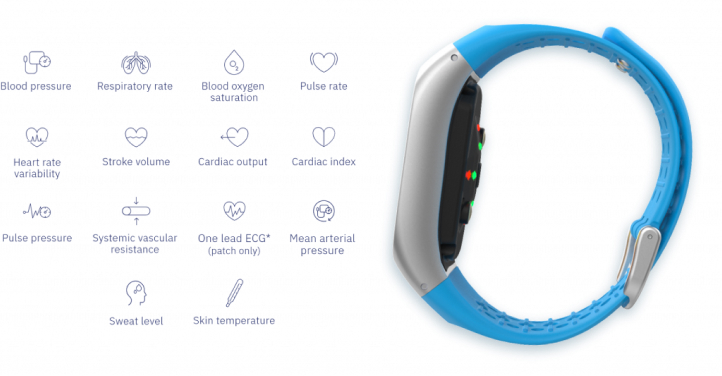 Real-Time Location System
A Real-Time Location System (RTLS) is a technology that helps the hospital staff and patients to easily and safely navigate the premises, manage equipment, and locate rooms and tools to speed up processes. Functioning as an indoor-GPS, it aids staff with finding everything they need to manage their workload with less stress in a shorter time.
Medtronic CareLink
Medtronic CareLink service allows Medtronic implantable cardiac devices to be remotely monitored through a network that is 24/7 available to authorized clinicians. The latter receive CareAlert notification, generated as a response to clinical events, thus eliminating the need for frequent in-person visits and reducing the emergency hospitalization rate.
These hospital IoT use cases explain how connecting the medical devices with cutting-edge algorithms and software products can improve the hospital's performance. Let's discuss a few more issues before introducing hospital Internet of Things in your environment.
Things to Consider Before Adopting IoT Technology for Hospital Practices
Understanding the peculiarities of your landscape and resources need is, of course, the first step to take to see where medical IoT will be most beneficial. Yet, it isn't the only thing.
Identify the available data assets and see which are accessible and interoperable
Make sure you have the right personnel that can provide meaningful reports and analyze the performance potential for a particular IoT
Know the legal privacy and security requirements of your state and make sure the IoT provider knows about them, too. Here we explained why it's important.
See which of the value-based care (VBC) business models is relevant to your practice and determine which IoT technology for hospital use would generate the data needed for the consumer-driven healthcare
Be ready to adopt industry-endorsed standards to improve interoperability
Final Thoughts
IoT in hospitals sets apart the healthcare industry leaders as it enables a smoother transition to all-around patient-centric care. With the plenty of usage domains, growing public demand, and current technologies, adopting IoT solutions into the hospital system is not a luxury but a necessity to respond to the challenges the healthcare faces now. Empeek has all the experience, tools, and knowledge base needed to come up with cost-effective solutions that would improve the quality of care, simplify the resource management processes, and place patients at the center of hospital activity. Contact our team today to discuss which IoT solution will be optimal for your business!