Medicine is expanding quickly, especially after taking a massive hit during the COVID and dealing with post-pandemic consequences. New technologies, popular trends, government policies, and regulations open consumers and providers to new things. On the other side, companies in this field are constantly under pressure; sometimes, it's tough to make necessary changes and try new approaches, especially when every process has been meticulously polished over the years. Rebuilding or reorganizing the workflow presents a real challenge, whether you have a small clinic or state laboratory.

Healthcare has one of the leading spots among other industries in adopting cloud technologies, but digital transformation remains a complicated process for many medical facilities. Today, Empeek discusses the future of cloud computing, the most common doubts about migrating to cloud storage, with real examples of how your company can benefit from applying it.
We'll also check out successful cases of Empeek-developed software and look closely into the complex healthcare cloud computing architecture created by market tech giants.
The Future of Cloud Computing in Healthcare
According to Thomson Reuters' report from last year, the US medical care system spends around $850B on inefficiency and unnecessary therapy. These numbers may be lowered by employing new software, especially cloud computing in healthcare.
Over the past two decades, it has considerably assisted medicine, giving a new method of managing EMR. McKinsey & Company anticipates that cloud computing for healthcare might go up to $170 billion in ten years. Medical centers can speed up a process by setting goals and embracing innovation. Strategy and planning in this sphere can drastically change how things are going.
Medicine is the only sphere where managing information still goes together with many difficulties. The reason why this happens is because of laws and precautions. The latest prognosis made by MarketsandMarkets is that the market's income can get up to $89.4 billion by 2027.
Empeek experts consider telehealth as the leading technology in the future of healthcare and cloud technology. Below, you can see the complete list of digital health technologies:
After the hit of COVID, cloud solutions started to integrate telehealth solutions platforms. It allows businesses to benefit from various collaborative features and welcomes them to try telemedicine.
Among the main advantages of telehealth are:
Reduction of care barriers;
Decreased wait time for patients;
Minimize waiting room queues;
Cover staff shortages;
HIPAA compliance.
In the US, almost 92% of the population has access to the Internet, which means that basic healthcare services can be easily delivered without the need for hospital visits. While the city population has no problem getting to the hospital, clinic, or doctor of private practice, the situation in rural areas is drastically different. About 55% of negative outcomes, such as death or hospitalization, happen due to the lack of or no access to special care. Telemedicine helps to reduce this number and provide care where it is needed the most.
According to the latest poll, more and more healthcare providers are looking into the cloud migration:
62% of responders of facilities increased interaction with patients after adopting cloud solutions;
76% reported an increase in telemedicine interaction after migrating to the cloud;
71% transferred their contact center into the cloud;
24% plan to move their contact centers into the cloud within the next 2 years.
It's not a secret that the workflow of any clinic is complicated and usually takes more than one professional to attend to a patient. Treating a patient requires much effort, and success relies on the correct details. If the physician has a fast and simple way to see the EMR, they can deliver the best care. They shouldn't waste time on additional verification or paper updates. Take a look at the global cloud computing market prediction made by Precedence Research:
Cloud computing in healthcare can lessen stress by updating all copies instantaneously. No need to go to the hospital to get a prescription, register for an appointment or receive lab results. Medical staff's job can be simplified by getting chart updates only by making a few clicks.
The perspective of medicine lies in the smooth interoperability inside the nationwide healthcare system and all connected recipients, whether it's software or a device. The job of many doctors and related specialists can get easier by automating some processes and applying approved technologies to the everyday doctor-patient routine. The final goal is to create a hybrid environment where care strategy and delivery are executed precisely and effectively.
From the Empeek standpoint, the further input of Cloud technology will go toward the following: establishing trusted relationships between software development companies and medical establishments, the fast introduction of new products and technologies, telemedicine, and remote monitoring of patients.
Advantages of Cloud Computing
This market has changed during the past twenty years, and cloud technology has contributed to it. Tech enthusiasts and innovators were the first to use it daily. Now, numerous clinics and laboratories have also embraced its advantages. Patients can now quickly check out EMR by connecting to the Internet. Meaning they receive the doctor's utmost attention. We will describe some benefits that directly solve challenges faced by medical institutions.
What you can boost with a cloud:
Medical research
Enhanced experience
Easy interoperability
Improved collaboration
Cloud Scalability
Many factors and parameters can be weighed in choosing the cloud, but we marked the most important one every business should pay attention to.
Medical Research
Let's get back to our first case study, where a client was a US-based company founded in 2013 and present among leaders of mid-sized mobile cardiac service providers.
Their business target was to provide telemetry for thousands of patients simultaneously, 24/7. However, the main reason was the research that addressed heart disease as the leading cause of death in the US. The market size constitutes about 20M adults aged 20-70 with Coronary artery disease (CAD).
Right now, they are able to not only monitor and treat CAD but also store all the data and provide for research purposes. Nearly ten years ago, the only way to do so was to go to scientific libraries or hospital archives. It was even more time-consuming to locate and study information. Now, cloud computing for healthcare can accelerate the timeline and ask for a reasonable price in exchange.
Such extensive research about cancer would not be possible without cloud technology. Now is the right time to speed up studies, using all information that was stored over the years, digitalize it, and open for analysis. Another great example is such relatively young medical fields as genome studies. It is the tenth anniversary of the founding of Genomics England company. It has facilitated thousands of revolutionary genome projects, which saved many lives. But it is only possible with the cloud, which is a primary instrument to its success.
Patient Experience
Sometimes, it's easy to forget that healthcare is customer-based, and cloud solutions were designed to improve patient experience, their engagement with medical facilities and provide more access to private information, basic healthcare services, and help from anywhere.
According to the Forbes report in 2022, only the telehealth program itself helped to reduce the mortality rate to 36% only in one year. This is real proof that healthcare cloud computing makes a huge difference already and brings actual results into the industry. Many might think that the digitalization of healthcare gives more advantages to one side, but check the list of benefits for providers and patients on the image below.
One of the great advantages for patients is care coordination among the healthcare providers. It can eliminate unnecessary tests, procedures, and hospital visits. The access to EMR by any medical facility also reduces the chance of mistakes in treatments.
The patient becomes an active participant in monitoring his own health, and various technologies, such as IoT devices powered by a cloud, help with it. They can monitor data collected by the widget and receive personalized insights or recommendations.
Finally, all administrative processes, such as schedules, appointments, and billing, become more efficient and less time-consuming.
Easy Interoperability
The ability to exchange medical data between the whole healthcare system, its facilities, and connected devices is interoperability. Digitalizing should be applied not only to the entry of the latest EMR but also to the old files.
A Fast Healthcare Interoperability Resources (FHIR) standard defines how to exchange information between several computer systems no matter how this data is stored. The biggest cloud providers have already included this standard in their list of features as a requirement to adhere to. Check out the survey conducted by Google in 2022, which shows how company owners prioritize data interoperability implementation and sustaining.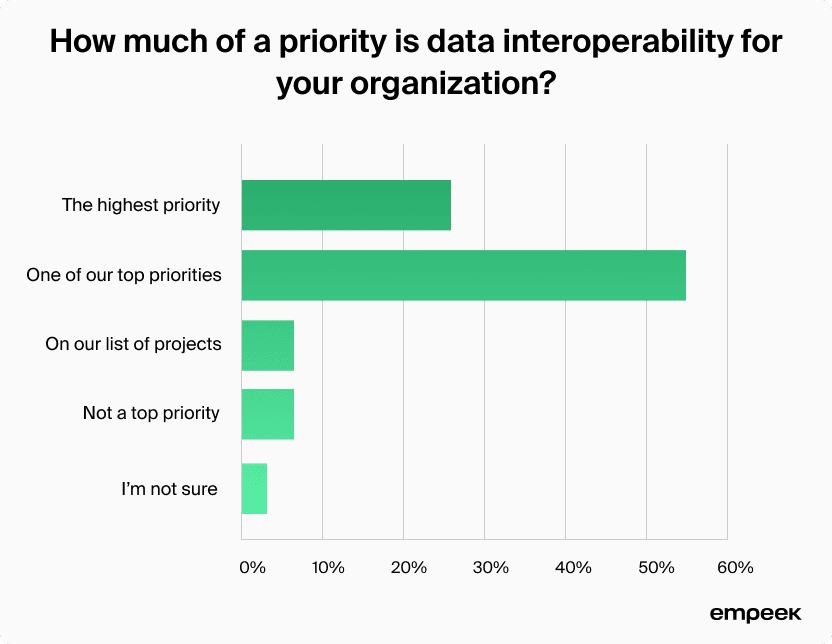 Interoperability can also help personalize patient experience, especially in preventative care. The whole incoming amount of data is getting analyzed to provide insights on the national level while keeping the privacy of every person.
Use Case: Cardiac Telemetry
The first is a mobile cardiac telemetry system consisting of an ECG device patch and an Android mobile app. It has been working for a few years now very successfully. Thousands of patients are monitored for specific cardiac parameters to prevent cardiac events.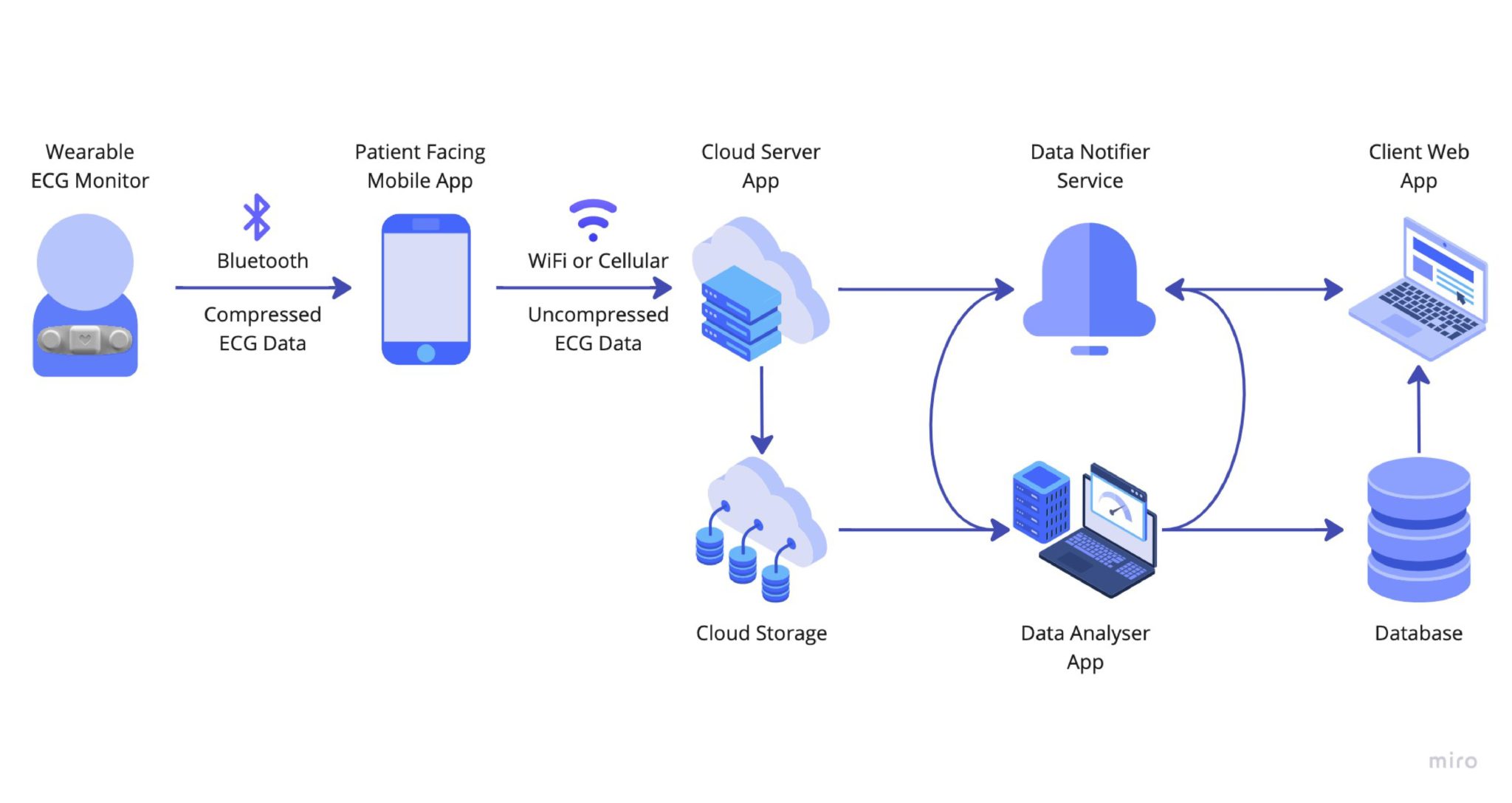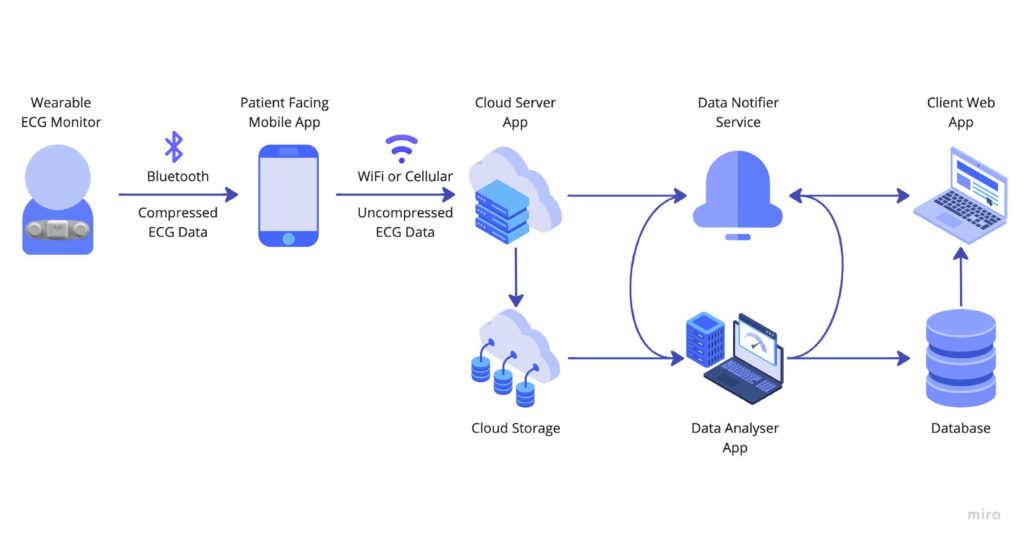 The heart data is collected all the time and sent to the cloud. It is analyzed and delivered as a weekly report to the doctor and patient. It also allows us to see the slightest changes or alert about abnormalities as soon as they happen. Empeek has talked to the FDA about making their own chip for a client company. They were supposed to get it certified by the FDA and HIPAA.
The Vital Activity Widget is an essential part of the project. This device is directed toward enhancing the patient's experience by showing vital data on a set timeline like every 12 hours, weekly, monthly, etc.
As a result, the company increased its operations by 37% and took it to the next level by doing research based on received data.
Use Case: Drug Testing
The next project was developing a drug testing management software system for a US company that tests residents, defense workers, and heavy industry employees. It was necessary to use the cloud for this project cause the data getting exchanged between many facilities, including documentation, reports, and billing.
The main challenge was how to provide access and seamlessly integrate every participant (client companies, our client's employees, laboratories, and medical review officers) into the testing process. Here is the illustration of how the interoperability map looks like.
The impressive results of the functioning system: 50 employees could process more than 1 million test results within a few months. The business boost constitutes about a rate of 800%, with reducing costs spent on previous drug testing systems. Also, an integrated billing option allows the client to control the payments and the company's income.
These cases show that the cloud helps achieve swift results. Healthcare will benefit when there is one unified standard for IoT devices and software solutions to process and share data. Medics have new ways to enhance treatment for every consumer without losing quality.
There are a lot of mobile apps and wearable widgets that allow input, transfer, and check of EMR. So, only cloud technology can provide the required safety, space, and support to keep all processes running smoothly.
Improved Collaboration
Sharing data about a specific patient can make a huge difference in the treatment process and overall outcome. Sometimes, even transfer from one wing to another, not to mention records from different physicians, can seriously jeopardize all efforts and the medical facility at a bigger scale.
Of course, it has a common ground with interoperability features, but only transferring data into a cloud makes the difference. It pushes all parties to collaborate more effectively by sharing the whole information. It also can minimize the civil liability of a doctor and the hospital in general because the ultimate goal, the high quality of patient care, will abide.
EMR plays a crucial role in making it possible, including HIPAA-approved data formats and standards. Once they have been input into a cloud, the data processing tools can easily manage and structure the records of a particular patient, so nothing gets overlooked. The navigation through the EMR becomes easier, and any doctor can follow up on prescriptions, refills, and treatment details made in another facility.
Service Scalability
This feature refers to the option to increase or decrease the IT resources of your business. Cloud technology has a lot of possibilities that can complement businesses of any size. Whether you are a small clinic or a research institute with a hospital, you can adjust a cloud space and infrastructure accordingly. Depending on the request, the biggest providers have even more options and can make space changes within days or even sooner. Please look at the Google pricing available for different regions and for providing various capacities so you can calculate the approximate budget required.

For example, once the research is finished and there is no need for a vast list of data management services or the data input volume won't be kept at a large scale, then you can go back to your previous configuration.
In case you are experiencing a rise in traffic, such companies as Google won't cut it – instead, it can automatically provide additional space and charge you for extra space. This is a great achievement that you don't need to worry about in advance. This also transforms into cost efficiency, especially in controlling precisely what cloud features you are paying for. In case you want to try out a new database, AI tools, or another standard on how to save your data, it can be fitted fast and easily.
Doubts About Adopting Healthcare Cloud Computing
Less than a decade ago, healthcare was the last among other industries by a percentage of adopted cloud solutions. Now, the situation changed, and there is real competition in the manufacturing, retail, government, and agriculture industries. Solutions for large-scale enterprises or applicable to the whole industry are called "industry clouds." They keep rapidly growing, which also can be explained that old and rich vendors holding a big part of the market share keep pushing to abandon the old ways and step into the future.
After almost 20 years, Empeek has insights about which establishments should try cloud computing for healthcare. In the first place, big clinics with complex IT systems deal with a massive flow of incoming information. Then come laboratories and similar organizations that transmit data to hospitals or other locations. Also, any company that uses telemedicine or similar technology would work sufficiently using the cloud. Other important are universities and laboratories that concentrate on clinical trials only.
What things you need to look for before choosing a cloud provider:
Migration support and exit planning;
Reliability and performance;
Data security protocols;
Cloud architecture;
Compliance (HIPAA, EU, IAM, etc.);
Data Management options;
Cloud Service Support (basic or advanced);
Storage Capacity;
Network Bandwidth.
The healthcare system relies mostly on dealing with a large volume of data daily. Medical centers and clinics can work with software development companies to digitize tasks. This makes it easier for consumers. Yet, some obstacles keep away from using new software innovations. Here is an illustration of the most common issues and opportunities you might consider about cloud computing as well as where it can be applied:
Healthcare operates on an enormous amount of data daily, and it's impossible to overestimate the necessity of data storage and management. In 2020, Forrester Research found that about 74% of companies purchasing cloud computing for healthcare signaled high demand in the market. Some controversial points, like security, can be considered an advantage and significant weakness simultaneously.
The easiest way to grow your application or increase its capacity is to do that in a cloud-based environment.
Alex Shpachuk, CEO & Co-Founder of Empeek

Whether you are planning to adopt cloud solutions now or only researching to find out what the options are, experts of Empeek already know what makes you doubt. We will discuss it further, but our experts are ready to talk you through any process.
Transparency
For years, transparency stands out as the biggest challenge in the cloud computing healthcare market. As a representative of a medical facility, you may have valid concerns that can stop you from using the cloud. It's almost impossible to imagine the scale of private data that goes through the healthcare industry daily and the dangers of getting stolen or breached. The well-being of a patient can be compromised, not to mention that the responsible healthcare provider can face legal action, bankruptcy, and end of operation.
Obviously, a need for more transparency and control over data is a valid concern. Empeek experts suggest a simple first step: contacting the healthcare cloud computing providers to verify every detail. It includes information about software architecture, inner infrastructure, safety protocols, and measures taken in case of breakdown or malfunction. For example, this is how IBM Cloud access infrastructure looks like in case you want to make sure who gets access to data and what kind of data that may be.
Security of data and transparency of operation benefit users and providers equally and is a crucial aspect of the adaptability and future of this technology. Empeek suggests choosing a provider that promises maximum transparency and shows they can deliver it.
Usually, clinics and laboratories need to understand how the Cloud provider handles all private information it gets. Another part of resolving this issue lies in the need to educate the management and technical staff of the client about the cloud provider's safety measures. Simply put, a client company and a provider should discuss it, run tests, and establish a trusted partnership.
To get the maximum protection, it is better to choose HIPAA-compliant healthcare cloud computing providers. It means they undergo a thorough certification process, regular verifications, and audit reports. You can request a HIPAA compliance checklist and see what security guidelines should be followed. We suggest looking at Microsoft OneDrive, Amazon AWS, Dropbox Business, and Google Drive, which were certified.
Integration
The integration worries many companies as a complicated process that takes time and effort. Medicine depends on how fast and correctly the staff operates. Minutes can make a critical difference in patient care, so the data should be accessible without breakouts. It's not news that employees can't be prepared for migration.
Changing the steady workflow means disrupting the whole process, causing mistakes, negative consequences, security flaws, and issues with data formatting. Usually, migration can get very expensive depending on many factors and much harder than one anticipated.
Cloud can be up to 75% more cost-effective than any other backup service provider.
Alex Shpachuk, CEO & Co-Founder of Empeek
There can be only one piece of advice: employ an in-house or dedicated team of IT professionals to oversee and handle your Cloud integration. All attention should be concentrated on every detail, and the integration plan also should be precise. It will be a stressful period, but the final result is totally worth it, as we will see next. To build something new, it's necessary to break something old.
We offer to get familiar with the cloud architecture you will be a part of after migrating. For your attention, the best market examples of Google and Amazon clouds are the most sophisticated yet simple in navigation and adoption.
Cloud Healthcare API by Google.
It stores and manages information in different formats. It also has the option to use Artificial intelligence (AI) and Machine Learning (ML) tools to automate many services, including making advanced analytics. Changing the size of your cloud is possible because it doesn't rely on in-house servers at the clinic. It also allows the usage of Identity and Access Management interfaces.
It can be recommended if you're looking for:
Operate long-term in the patient care sphere;
Provide healthcare staff with the latest tools and enhance collaboration and productivity;
Use analytics and data insights in business decision-making.
The infrastructure of Google's Cloud Healthcare API gives a powerful insight into what comes together with the cloud technology itself – a powerful set of tools designed to provide you and every user with the best experience.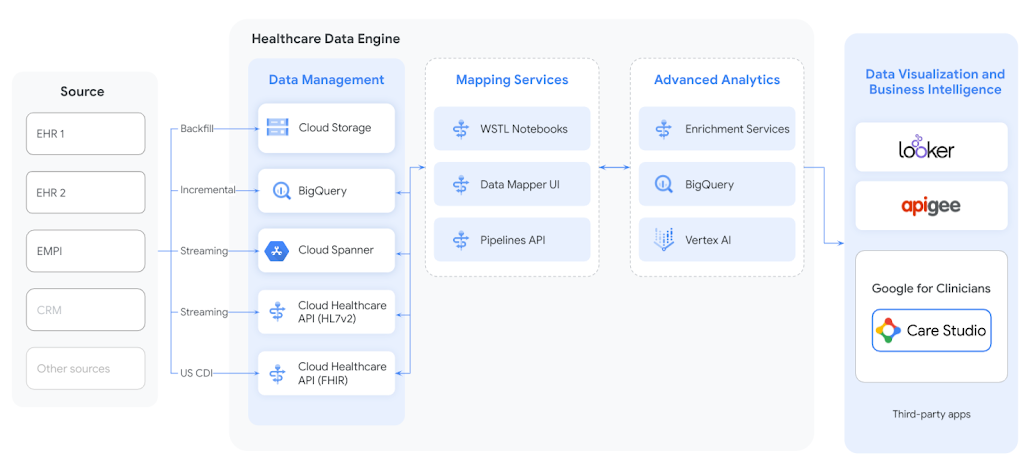 This solution was released in response to the crisis that COVID-19 brought to the healthcare industry. It was designed to store and retrieve data in the Google Cloud Platform, connecting running applications platforms with the healthcare system. The primary advantages that can be defined are security, data handling, and analytics tools.
It is a HIPAA-approved service. It uses the FHIR (R4) specification for clinical data. This service helps with data ingestion, storage, and analysis. HealthLake works like Google. It uses language processing to organize data and offer search options. You can use HealthLake to organize safely and index information in a compliant and transparent manner. Also, AWS presents a more complicated architecture for its Healthcare Data Lake, that you might want to look at and compare the overall operation concept.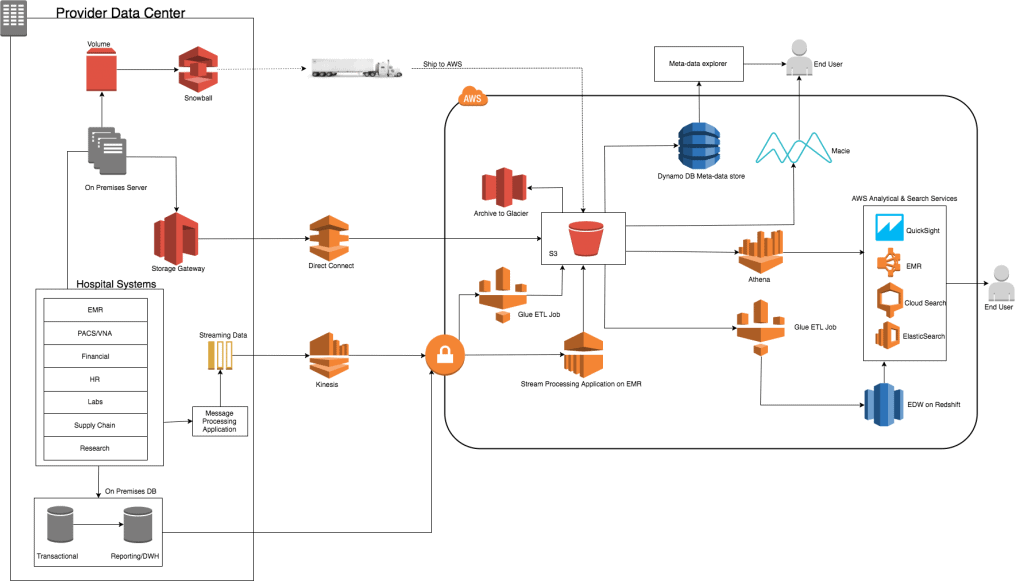 Among the main benefits mentioned is the architecture because you can create your own centralized "data lake" to save all data. All information that gets into the cloud will be stored in its raw formats, which means scientists and other researchers get access to it and the ability to analyze it. With the help of Machine Learning, the vast amount of data can be easily checked for patterns and key insights, and make models to predict certain tendencies.
In simple terms, EMR has potential when processed by centralized software applications. We can use the analysis we receive to predict epidemics, find the cause of diseases, and make medical discoveries.
Confinement
The final concern is about getting locked in with the provider of cloud computing in healthcare. It shows two things: the need for more expertise in the client company staff and trust in the cloud provider. The first part can be explained by the shortage of professionals in the healthcare sector. Especially if the medical facility is a small one and needs more funds. Employee's qualifications should be up-to-date because the market keeps expanding, and innovations come out faster than anyone can get familiar with them. Only the big enterprise can get a team with sound expertise that knows how everything works.
Also, sometimes cloud providers increase prices for their services, which means the client is obliged to pay according to the contract. This can lead to getting over the budget, practically pushing to the opposite situation. Instead of cutting off the spending on data storage, it gets higher and higher.
Described situations can lead only to one decision – migrate to another, more reliable provider. This is also a frightening step because applying cloud computing in healthcare was difficult in the first place, and transferring all sensitive information to another place is even worse. Sometimes, contract termination is also impossible when a client comes to a decision.
Without a consultation, you can check the approximate cost of the cloud service, excluding support or migrating in some cases. It also helps to understand what features you might need or compare the whole list of available services:
The only solution is to hire a professional to assist with integration in the first place and oversee the framework of the chosen cloud company. Contract conditions and legal issues, in that matter, play a vital factor in holding back the final decision to use the cloud.
Conclusion
Cloud computing for healthcare is about to become a vital technology. It makes all services more comfortable, cheaper, and adjusted for every party that uses it. Its main power lies in the ability to monitor and analyze specific parameters, which leads to helping many people and doing it faster. Doctors will be able to concentrate more on their work, excluding hours of paperwork. Essential medical data will be opened and checked within a few seconds after the doctor receives it. Every step of the software architecture is directed toward achieving positive results.
If you worry about integration, our experts are ready to help with any question. Empeek assisted many companies on their road to transforming their business approach. It's important for our company to develop law-compliant software that will help you to succeed in the long run. In case you are only in the stage of looking into the cloud, we can help you plan the transition and decide on the budget and required features.