EHR integration is one of the key IT infrastructure priorities in healthcare, and a failure of this step can be devastating to the overall medical practices performance. Is there any way to avoid this highly negative experience? Let's try to figure it out together.
In this article, we will guide you through the EHR implementation journey and share some best practices that will help you ensure EHR/EMR software development and deployment success.
What is implementation of EHR all about?
Like any technology adoption, implementing an EHR system is a complex, multi-step process that requires a lot of preparatory work including planning, analyzing current organizational structure and processes, setting project milestones, choosing the integration method, and much more. In fact, research findings demonstrate electronic medical records implementation and adoption failure rate reaches up to 50% due to technical, organizational, or financial barriers along with ineffective strategy. The major EHR implementation challenges are displayed below.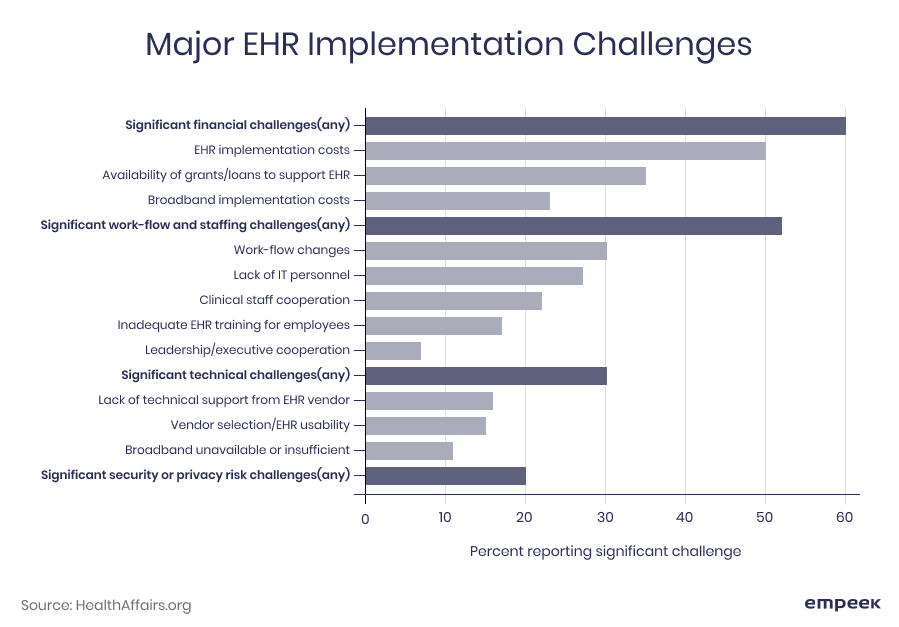 In the not so distant past, electronic medical records were used to help doctors access patient data. Modern EHR/EMR systems do all that and much more. They streamline doctor-patient interactions, improve patient care, and provide secure, reliable, and accessible patient medical records storage available for any healthcare provider. Therefore, if done right, implementing electronic health records brings multiple benefits for patients and doctors alike.

EHR systems vary in their complexity drastically, ranging from simple electronic data sharing tools to complex platforms for cross-functional alignment. Therefore, it should be noted that various EHR and EMR software solutions imply different implementation life cycles.
The researchers state that typically an implementation of EHR takes 16 to 24 months from the decision-making moment till the system roll-out. However, accelerated EHR implementations can take from 6 to 12 months depending on project scope.
According to the Healthcare Information and Management Systems Society (HIMSS), there are 7 stages of EHR complexity, which are displayed below.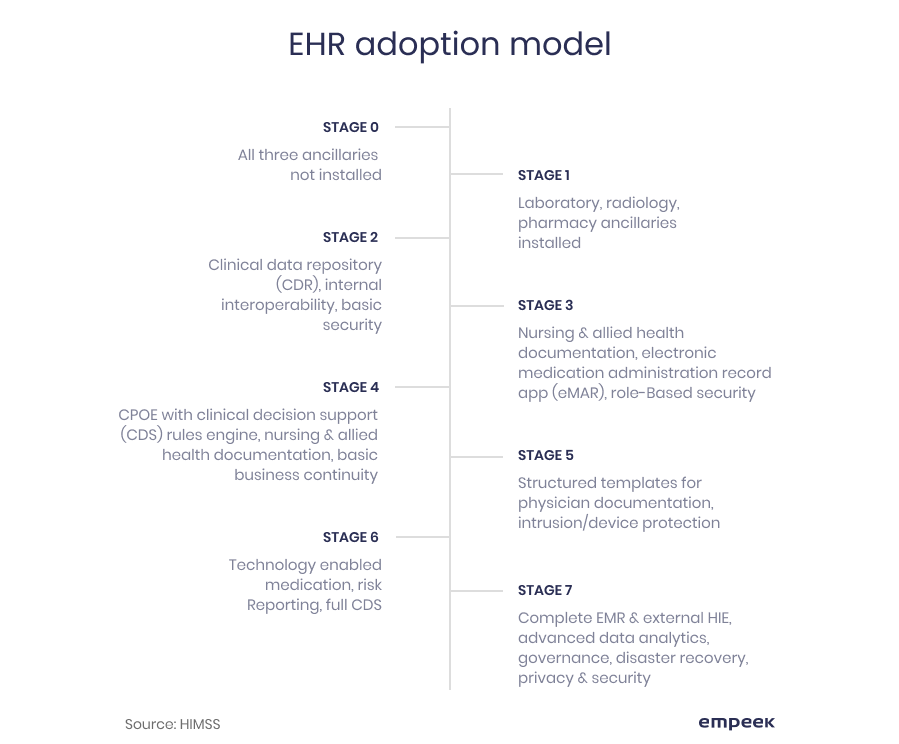 Figuring out how much time and resources it will take to implement EHR technology is not a trivial task, and a wide range of the system's capabilities and types of software makes it even more challenging. Is there any key to getting done successfully? Our advice would be to create a well-thought-out project roadmap with specific milestones, goals, and time estimates.
If you would like to get a more specific project estimate for your particular case, the best thing to do is to consult a team of experts who will help you out with project planning and estimation.
A step-by-step approach to EHR implementation
To make sure that EHR/EMR implementation duration is optimal for your specific case, it is crucial to follow a well-thought-out implementation strategy. You might have wondered how you could create one. Well, we've got you covered: a comprehensive 11-step guide provided below describes all the necessary stages of EHR implementation. Let's go through them together.
Step 1. Conduct business analysis and set clear goals for EHR implementation
While business research might seem to be not quite connected with software implementation, we assure you EMR and EHR implementation success is closely dependent on it. By taking a close look at current workflows and identifying data management or operational inefficiencies, healthcare organizations are able to set up for EHR software success.
Step 2. Choose a reliable software development vendor and build your project team
An effective software vendor selection serves as a prerequisite to implementing EMR system successfully. That is why it is vital to partner up with a trusted software development company that is able to dig deep into your business needs and provide you with software designed to solve your core operational problems.
A list of specific requirements or vendor evaluation matrix might come in handy at this stage. Some of the most common selection criteria are listed below.

Once your EHR implementation partner is selected, team roles and responsibilities of the parties should be specified. A close synergy between your staff and the vendor's experts along with clearly defined roles is what makes a strong team. A common EHR implementation team consists of the following members:
Project Manager, who is responsible for establishing proper communication channels between your team and the EHR vendor. It may be your in-house expert or a specialist from a software vendor's side;
A physician champion and a team or medical assistant and nurse advocates responsible for aligning business and IT needs;
Business Analyst who takes care of identifying and specifying key requirements for the software based on one's industry expertise. This role is commonly played by the company's CEO, COO, tech executive, or dedicated in-house business analysts;
Early system adopters who test out the system's usability and define bottlenecks in user experience;
Software developers who are responsible for building custom software and adding all the necessary features. Depending on project scope, either one or several developers may work on the project;
QA test engineer who checks the system's performance before the software roll-out;
Data migration specialist who ensures a smooth transition between the legacy system and the new one.
Even though the roles listed above are the most common for a fully operational EHR implementation team, the projects having a large scope might require some additional members. Depending on a specific business need, organizations might also assign someone responsible for workflow redesign, billing process optimization, appointment scheduling and registration, and others.
Step 3. Define implementation milestones
Implementation milestones, software development plan, the roadmap for EHR implementation – this stage might have different names, but all of them describe a single purpose: understanding how your perfect EHR/EMR system should look like.
At this point, it is crucial to identify success criteria for your project, plan the features set for your future software, agree on implementation costs, and set project deadlines together with a vendor. Also, it is high time to research government regulations and compliance standards, such as CCHIT and ONC-ATCB certification in the US.
Another thing to consider at this stage is the rollout method. For large-scale deployment, it might be a good idea to break down your software deployment process into several stages. You might also consider rolling out an MVP first. It is best to discuss all these aspects with your software development vendor who will help you out to opt for the best option in your specific case.
Step 4. Develop a communication strategy for optimized vendor relationships
A successful alignment between the key project stakeholders is one of the key factors for software's timely deployment and its implementation success. That is why you need to make sure a specific communication strategy is created and agreed upon with the entire team. The frequency of regular meetings, software development progress reports, communication channels – all these aspects should be discussed beforehand and controlled strictly throughout the project.
Step 5. Pay attention to the layout and UX design
Designing a user-friendly and intuitive layout should be one of the key priorities when implementing an EHR system. If done right, UI/UX design can improve both medical practitioners' and patients' experience significantly. Isn't it the business outcome you expect from a new EHR/EMR system? Then, don't underestimate the importance of the user interface design.
Also, pay close attention to adaptive design best practices: believe it or not, the entire nature of the doctor-patient relationship and communication changes by introducing tablets, mobile-based solutions, and IoT devices.
Step 6. Get your IT infrastructure ready
Preparing your existing IT infrastructure for a new software implementation is one of the most critical EHR implementation steps that requires a thorough analysis of the existing technology landscape. Either you get the proper hardware for your EHR system or deploy a cloud-based solution, make sure data interoperability will not be affected by the changes in your IT landscape. Otherwise, your overall operational efficiency might be at stake.
Step 7. Prepare to data migration
Transferring the old electronic health records to the new system is another important step. Data migration checklists prepared beforehand can be very useful. They will help you identify the scope of data that needs to be transferred, the sets of data that need to be excluded, and data conversions or transformations that must be done.
Also, don't neglect to run several test scenarios with a set of users and compare the results with the same scenarios after the migration. It will ensure that the old data is intact and functioning properly.
Step 8. Perform system testing
Software testing might be a mundane and time-consuming stage, but it is crucial for EHR software success. At this step, dedicated QA specialists will run the system tests to identify and fix software bugs and make your EHR solution more reliable and easy to use. Your role at this point is to monitor the process and ensure the services are delivered to you on time.
Step 9. Streamline user adoption with training sessions
To accelerate user adoption successfully, basic and advanced user training should be performed before a new EHR software goes live. It will make them feel more prepared for the change and even anticipate the new way of working. At this point, there is no need to show them all the nooks and crannies of the new technology solution. Demonstrating basic and necessary functionality will be enough, and you will be able to catch up on the rest of it later on.
No training can be successful without a skillful trainer. Therefore, picking up someone from the team who can "sell" the idea of using a new software is vital. The best thing to do is to pick someone from the project team since those who have been involved in the entire EHR implementation process make the most insightful and inspiring teachers.
Step 10. Always have the contingency plan in place
Of course, it is expected that the software you implemented is flawless and runs smoothly at all times. Nonetheless, even the most robust software solutions have a certain level of risk of malfunction. Embracing this fact and being ready with a backup plan in case it happens may help you avoid chaos and diminish negative its effects instantly. That is why it is crucial to create a well-thought-out contingency plan and stick to it.
Step 11. Collect feedback for further software improvements
Last but not the least, encourage your users to think of the ways the EHR system can run more efficiently. Finding navigation shortcuts, improving or adding some features, and perfecting the system's UI/UX will be highly beneficial for user experience and bring better ROI in the long run. It's also a good idea to keep in touch with your EHR vendor so you could upgrade the system from time to time and make it more efficient.
Top tips for successful EHR implementation
There are quite a few barriers to implementing such complex systems. Here are some tips to make the transition to a new EHR system successful.
The right partner is the key. Make sure you select a reliable software implementation vendor who understands your business needs well.
Listen to your team, and not only decision-makers. Keeping the future system users engaged in the EHR or EMR implementation process may lead to gaining some valuable insights that would allow for designing a more efficient EHR solution.
Don't underestimate change management efforts. Winning the hearts of users who are reluctant to change might be harder than expected. That is why having a set of adoption strategies in place for your users is by far not less important than a software deployment itself.
Remember that automation and optimization are not the same. A critical evaluation of organizational workflows will be required to tackle user experience challenges and design a new EHR software layout accordingly.
While sticking to the plan, don't let your ideas stagnate. Obviously, you cannot adjust a software development plan every time you come up with a new improvement idea. However, what you can do is create a project roadmap and keep all the ideas safe and sound until it is good timing.
The cost of implementing an EHR system
The cost of implementing an electronic health record system may range from tens to hundreds of thousands of dollars depending on various factors. It depends on the deployment method, the hardware and software choices, the scale of the system, the cost of support, user training, and many others.
Some of those components would be rather pricy, but quite recommended since neglecting them may cost you more in the long run in terms of efficiency or post-deployment costs.
To learn more about the cost of implementing an electronic health record system, visit our article dedicated to EHR cost breakdown.
Conclusion
Implementing an EHR system in a hospital or any other healthcare institution is a serious decision that will take a lot of time, money, and work to implement. However, the benefits of using this system are obvious. That's why a growing number of healthcare providers are interested in the secrets to successful EHR implementation.
EHR/EMR technology allows clinics and other healthcare institutions to be on the front line of the digital transformation ready to adopt other innovative solutions. Getting it right from the start is very important and we hope that this article will help you achieve it.
If you need more help with any step of the process, be it providing time and cost estimates, designing the system, or implementing it, our experts will gladly help you.
Summary
Author Rating
Software Name