Fast and efficient management of patients' data can do a lot of positive changes in healthcare provision globally. Those who already implemented electronic health records reported measurable benefits in terms of clients satisfaction, care improvement, and more. So how does ehr software development improve patient care? Learn how using EHR for patients care impacts these and other aspects of the medical system, and also what is the benefit from EHR ROI.
How Electronic Health Records Can Improve Patient Care
Imagine a person having an urgent need to consult you as a healthcare provider on, let's say, a chronic disease that all of a sudden reminded of itself. It is not a rare case that the people can't provide their paper medical carts for some reason. Therefore, even though the patient explains the issue as detailed as possible, the information you acquire as a doctor is somewhat limited. Based on the patient's symptoms, you prescribe the medicine you think is the most efficient. Two days after starting treatment, the patient's condition worsens, they experience allergies and all of the adverse effects.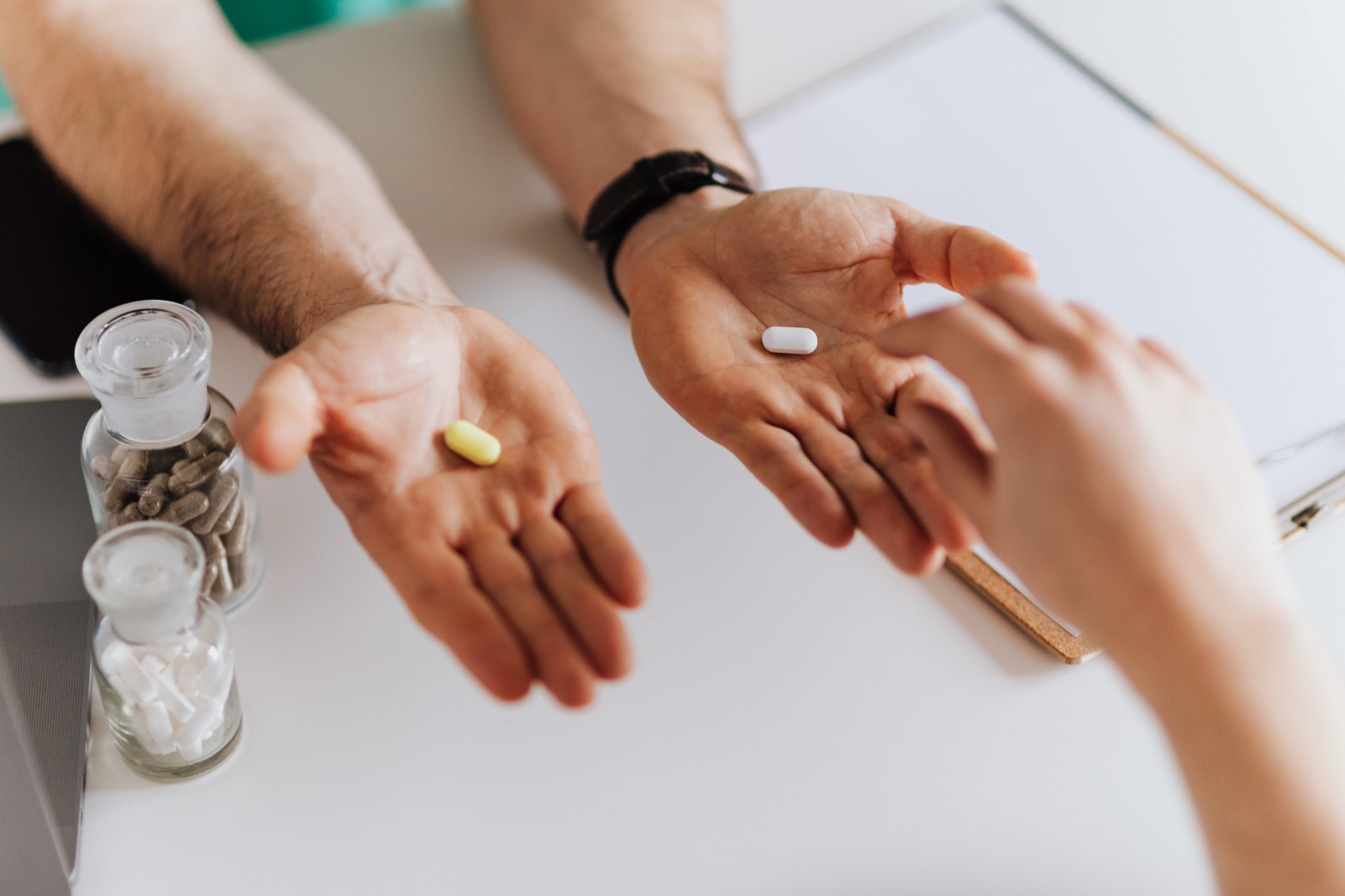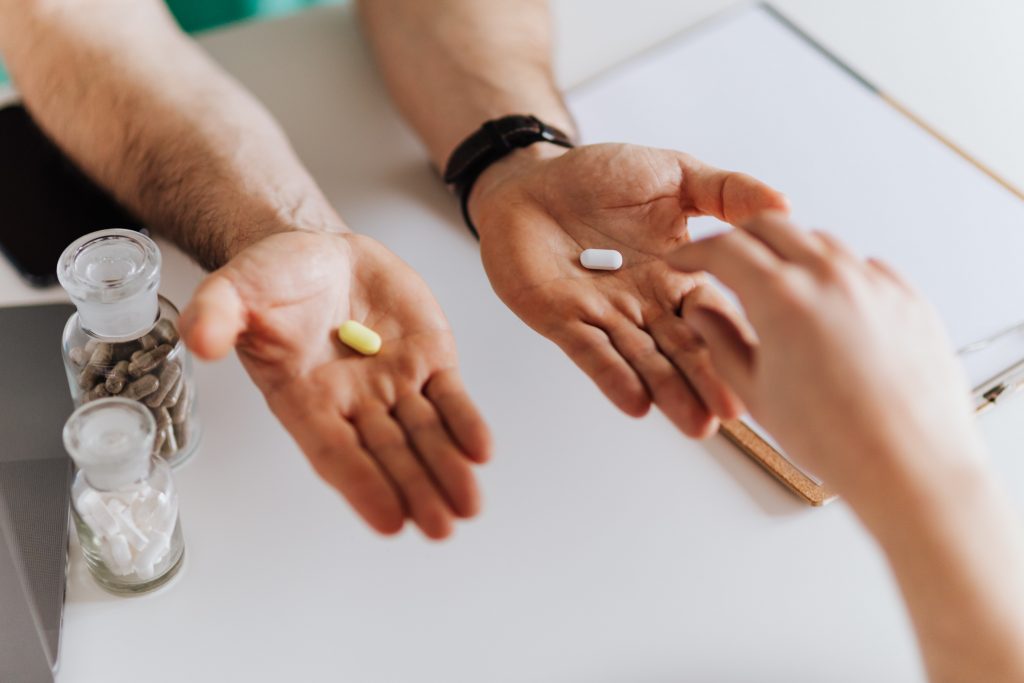 A person comes back and complains about the terrible care she/he received. After a few costly exams and blood tests, it turned out that this patient should have not been prescribed that very medicine since he/she was allergic to some component. Suddenly, the patient indeed recalled having severe side effects for that medicine a few years ago. This angry and unsatisfied patient leaves your cabinet, cursing the health care system, its providers, and everything on Earth for not only not being cured but also having to experience extra suffering.
This scenario is painful to read, to say nothing about being that person or a doctor.
Now imagine another scenario. You as a healthcare provider have all the access to the medical history. Since you are aware of this allergy, you choose another medicine that causes no side effects. In the end, the patient is satisfied with the treatment, maintains his/her trust in the physician, and becomes even more loyal.
As unfortunate as it may seem, the first scenario is more common in the medical practice. What would prevent it?
We do have an answer: electronic health records for better patient care. Implementing an EHR software allows any authorized provider to access the data from previous visits and thus provide evidence-based treatment while minimizing the risks of medical errors. In this article, we'll describe multiple ways how EHRs can improve patient care and why you should consider replacing your paper-based medical records with them.
How Does EHR Improve Patient Safety? Research and Statistics
Improving patient care means making safety a priority and creating the conditions that allow the medical workers to diagnose, treat, and facilitate positive patient outcomes every step of the way. It includes having accurate data concerning one's health condition at all times, securing the data from unauthorized users, and having confidence that the vital information is available at every point of care even if a patient arrived unconscious. Implementing electronic health records for patient care assist in achieving, allowing for:
Collecting and storing all personal health information (patient's medical history, diagnoses, medications, treatment plans, immunization dates, allergies, radiology images, and laboratory and test results);
Providing access to evidence-based tools for better data-driven decision-making about patient care;
Automating and streamlining physician workflow.
Exploring the impact of digitizing the data management in the healthcare system has been a subject for many research. The findings by Agency for Healthcare Research and Quality, the researches published in British Journal of Clinical Pharmacology and Journal of the American Medical Informatics Association, and the results of the US National survey of doctors are only a few studies that proved the efficiency of electronic health records. There is plenty of evidence that electronic health records improve patient safety. Learn more about them in the stats below.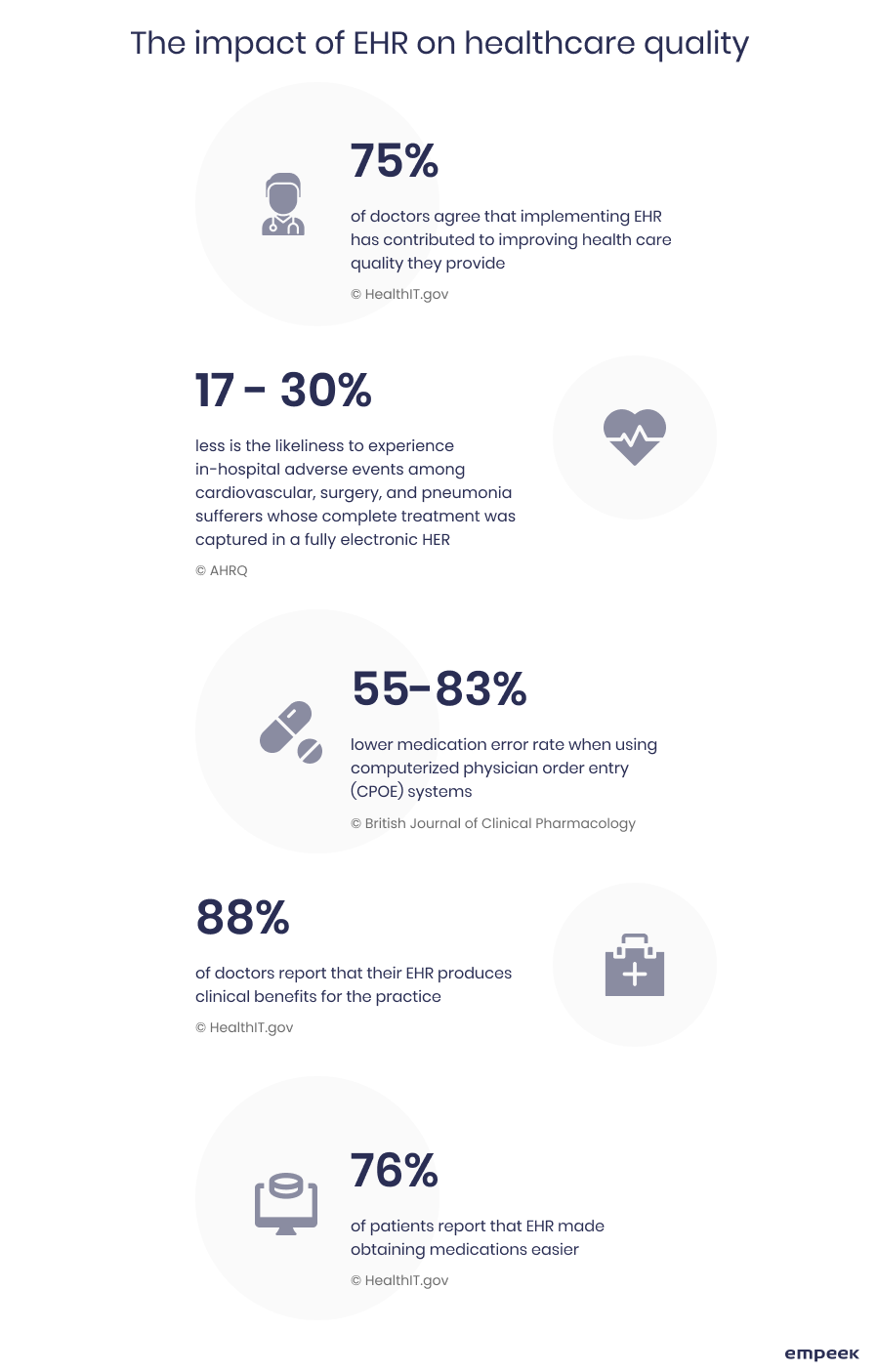 The stats we have shown features only a small amount of research conducted over the past decade. However, it's obvious that switching to a fully-electronic medical records system is key for both providers and patients to achieve and control a better quality of care. Let's review the benefit of each side in more detail.
How EHRs Increase Patient Safety: Clinicians' and Patients' Perspectives
When it comes to healthcare and wellness, both clinicians and patients are actively involved in the process. Of course, it's up to the medical worker to choose the most effective solution for the particular person, but it's also a patient's responsibility to maintain one's health in good condition and control what one can (weight, healthy diet, etc). Let's review how different types of EHR systems can benefit both sides.
Providers & clinicians' perspective on EHR and patient safety
The success of one's treatment and care is predominantly, though not entirely, the responsibility of the healthcare provider. And here's where health records come in handy. So how does EHR improve patient care and safety?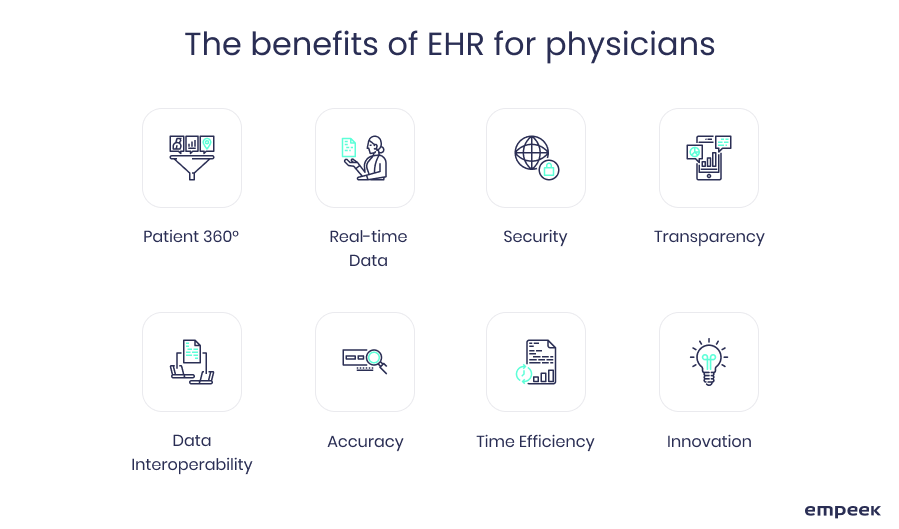 EMR allows for accessing a patient's full medical history at the point of care. The immunization, medication, surgery, and other important data is available at doctors' disposal at any time whether it is a planned visit or emergency situation.
No more lost data or results. The system will keep a record of every medical entry.
Effective data management between departments and providers. It's unlikely that the patient will stay with one healthcare provider during his/her whole life, so the ability to access full patient data is critical for the current provider's performance.
No-delay transition of data. Most EHR solutions are cloud-based, and it means that if there is a need to change the cloud provider or a healthcare provider, this transition is possible in real-time without shutting down the whole thing for some time.
Higher security compared to physical medical records. No unauthorized users will access the data stored in the EHR system without notice, whereas physical medical records can be viewed or used by third parties without permission and notification.
EHR reduces medical errors. Since there is a direct correlation between the effectiveness of medical data management and the level of patient safety, healthcare providers are able to improve the quality of their services using electronic health records. With the EMR and patient safety solutions at hand, doctors are more unlikely to find themselves in situations like the one described in the beginning of this article.
EHR shortens the response time, which can be life-saving in some cases. Take, for instance, the pre-surgery conditions, where you have this much time to save the bleeding unconscious patient without worsening the situation. In this way, instead of running tons of blood tests, you need to do a few controlling ones just to make sure about the type and etc.
Proper use of EHR has the potential for medical discoveries. The AI-powered EHR could have provided the ability to analyze the data, uncover safety issues, and discover unusual clinical findings. Let's take the COVID situation. It's only recently the doctors found out that the coronavirus can provoke blood clotting – and for many older people, that was the reason why the COVID treatment resulted in fatal accidents. This discovery could have been done earlier if every provider had been alerted to the similarities in symptoms in a certain category of people.
Patients' perspective on EHR and patient safety
Implementing EHR and patient safety solutions also have a lot of benefits for the patients involved in the process. Let's view them some of their main advantages.

Having better control of their health. Not many people are health-conscious because they lack data to track, forget about some diseases, or don't have access to the information when needed. With electronic health records and on-demand access to them, patients will be more likely to make the check-ups their routine thus preventing many diseases. This proves one more time how significantly EHR improves patient care and safety.
Ordering prescribed medicine faster. The electronic medical records made it easier to order and buy the necessary medication. Also, it made it possible to control whether the patient has followed the doctor's instructions.
Zero worries your medical history will be lost. Every time you go to any provider that uses EHR, you know it will be there.
How to Improve Patient Care Using EHRs Starting Today
Electronic health records and patient safety are linked tighter than many think and the above-mentioned benefits are just a few of many that digital records can have on the healthcare processes. If you want to know how to improve patient care using EHRs and where to start, we'll guide you through it.
Tips for implementing the EHR
Make sure the provider takes digital safety first, especially if billing is involved. After all, the system stores a significant amount of sensitive data..
Keep it up to date. If there is a way to improve the EHR service – do it before your clients notice you need to.
Apply SWIFT's perspective. Although banking and healthcare are not even close to similar, there are some lessons one can learn from the banking system regarding handling data.
Encourage your patients to use it and be actively involved in the care. This can be done via messaging or reminder options.
Conclusion
Using EHR for patients care brings multiple benefits for doctors and patients. Keeping the records on-demand and spending more time for actual caretaking instead of searching for the needed data are just a few benefits of implementing EHR in your network. EHR increases patient safety, streamlines clinical workflows, improves doctor-patient interactions, and many more. The efficiency of EHR systems makes more and more healthcare providers digitize patient records.
At Empeek, we know from experience that this transformation path has a lot of its own peculiarities, safety issues, and requirements – which is why we offer you our expertise to help you help other people in an easy and cost-effective way.