Every company deals with routine and tedious tasks. While doing them, employees can make mistakes, which lead to colleges' and customers' dissatisfaction. RPA (robotic process automation) tools help to avoid such errors.
In this article, you will learn how tools can help save companies time and costs by taking over some of the most monotonous functions, what types of RPA tools are available on the market, what industries they are used in, and the pros and cons of twelve analyzed examples of such tools.
What Types of RPA Tools are Available on the Market?
Attended. They need an employee's interaction to start and finish an automation process by a bot.
Unattended. They usually launch virtual machines without human involvement.
Hybrid. This type combines the two aforementioned categories to speed up all processes.
If we talk about the healthcare industry, hybrid RPA tools work more effectively. For instance, attending tools deal with patients' claims processing. Bots transfer data from files and emails to databases in the background mode without involving humans in the process.
Why We Need RPA Tools
It was proved that the usage of RPA tools saves time. According to statistics, workers release around 10-25% of their daily time on a routine job for non-monotonous tasks. It also augments the accuracy of day-to-day operations. The rule-based automation allows you to get results without mistakes, bugs, and other kinds of errors.
Robotic process automation tools improve customer satisfaction. A client receives his order at the right time and place without errors. It increases employees' fulfillment and they are eager to take on more creative jobs. Such RPA tools also help you to scale up your business and reduce costs. Enterprise owners reduce their costs on customer service.
Wonder how the RPA market has grown over years? Let's look at the statistics below.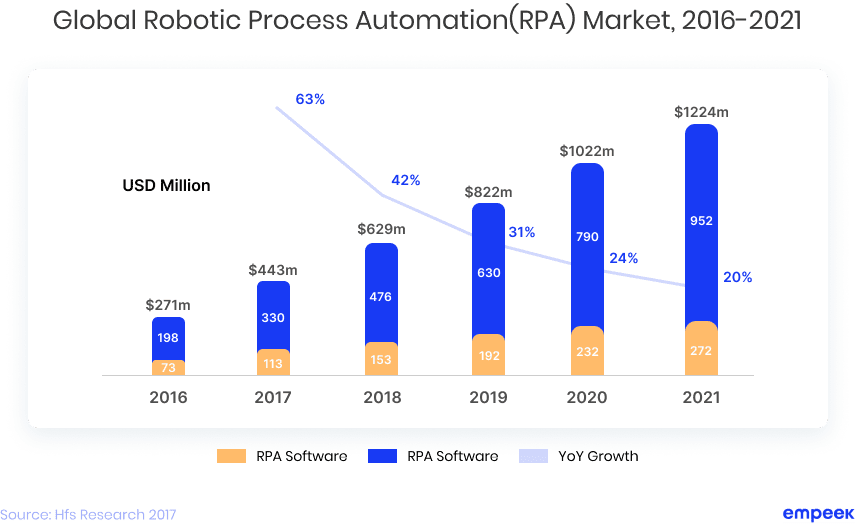 What Industries are Using RPA Tools?
Healthcare, Banking, Insurance, Manufacturing, Retail, and Delivery are the most common domains that use robotic process automation tools.
In Healthcare, you can use Robotic Process Automation software tools for data entry, patient claims, scheduling appointments, information retrieval, data tracking, and document security. In Banking and Insurance, they help employees with client verification, data entry, closing banking accounts, and billing.
In Retail, business processes automation is primarily used to work with data from payable accounts, retrieval accounts and to streamline inventory processes. In Delivery, RPA tools help with data extraction, create automatic reports about transportation status.
The List of Robotic Process Automation Tools
Let's discover the top RPA tools list with all software features, advantages, and disadvantages. There are several companies, that create such software. Find the list of RPA tools in the market below.
1. Blue Prism
This is one of the leading companies in the RPA industry. The company provides scalable services on any device 24/7 using multiple automation processes within the cloud platform. It perfectly suits medium and large organizations. Among its features are round-the-clock monitoring, it's available on any platform, provides cloud support, and data encryption.

2. Automation Anywhere
One of the key companies in the RPA industry. This RPA tool provides cloud-based solutions for medium and large-sized companies. Its features include automation scales processing using the interface, analyzing data using real-time reports and analytics, providing PRA workplace, and implying Discovery Bot, which tracks automation with the help of AI.

3. UiPath
It is one of the leaders in RPA tools creation. Its system is user-friendly and cost-effective. You can use its tools for any kind of business. It automates any number of tasks, you can use drag-and-drop solutions, the company provides an open platform, and the tool works eight to ten times faster using Citrix for automation.

4. Keysight's Eggplant
The software by Keysight Technologies is for testing different systems: mobile, desktop, Windows, Mac. It uses a fusion system and provides automation services for various tasks. It automates mundane tasks, works with any data repository, scrapes data, links data sources, and executes tasks for each record.

5. Inflectra Rapise
Inflectra presents Rapise as a solution for testing in such environments as MS Dynamics, Salesforce, SAP, and others. It automates web and desktop tasks, records and automates processes, supports projects of any size with an open platform.

6. Pega
Pega is a cloud-based tool for Business Process Management. You can use it on Windows, Mac, and Linux. Medium and large companies may efficiently implement this solution. This RPA tool is used on cloud servers, stores all data not in the database but the memory, deploys solutions to customers within a cloud, and provides a real-time decision-making engine.

7. Winautomation
Winautomation is a part of Microsoft Power Automate. Among its features are 360 prebuild actions, protection data from intervention, and providing solutions with Microsoft Power Platform.

8. Nice Systems
This is an attended tool called NEVA. It assists in monotonous tasks, equips with actionable guidance for automation, provides robust integration with any customer's application, suggests recommendations for better automation processes, and provides server automation.

9. Kofax
This RPA tool can work with any application. You don't need to be a developer to use it. Kofax can extract data from any Web page and Desktop application, automate processes from a centralized server, provide analytics, monitor and optimize processes, and remove errors using intelligent data gathering.

10. Kryon
Kryon is an AI-based full-cycle RPA tool. It combines attended and unattended automation, delivers the Process Discovery bots, provides recording capabilities, and can be used for repetitive tasks.

11. Visual Cron
Visual Cron robotic process automation tool is designed for integration and scheduling tasks. Coding skills are not required for this tool. It is Windows only, has a user-friendly interface, provides tools for non-programmers, and suggests custom solutions.

12. Work Fusion
This RPA tool is cloud-based. Work Fusion's pre-built bots help you to reduce time-consuming tasks. Its analytics and automation tools streamline business processes and provide automation analytics.

Existing RPA Tools vs. Custom Solutions: Which Will Be More Cost-Effective for Your Needs
When there is a question of whether to choose one of the leading RPA tools or opt for a custom solution, there is a number of criteria to take into consideration before making the final decision. These parameters often depend on the specific needs of your business. Let's look closer at the most popular criteria businesses in healthcare should pay attention to.
The Industry Type and Size of Enterprise
Before opting for the existing robotic process automation tool, discover how well it will respond to your business needs, adapt to changes, and handle big masses of data.
Security
As a medical services provider, you must be confident in the security of the system you are relying on. Containing vulnerable patients' health data, the RPA tool must be totally resistant to any kind of cyberattacks.
Total Cost of Ownership
The total cost includes the RPA tool setup, license fees, and cost maintenance. Some of the tools are free, whereas others cost from $15000 to $18000 annually. Consider a low-maintenance RPA solution if you want to decrease costs.
Ease of Use
The user-friendly interface of the RPA tool can significantly increase the productivity of your organization, as it doesn't require time-consuming training of the staff.
Let's compare the top three leading robotic process automation tools and a custom solution. Have a look at the table below: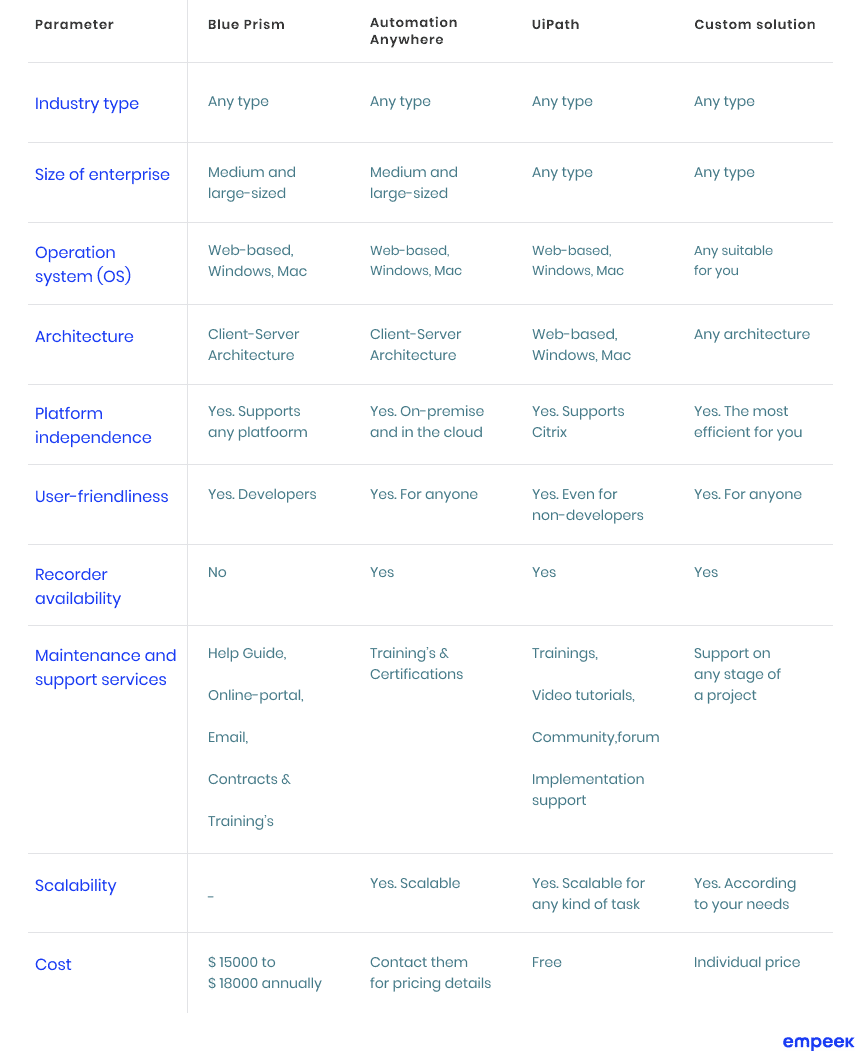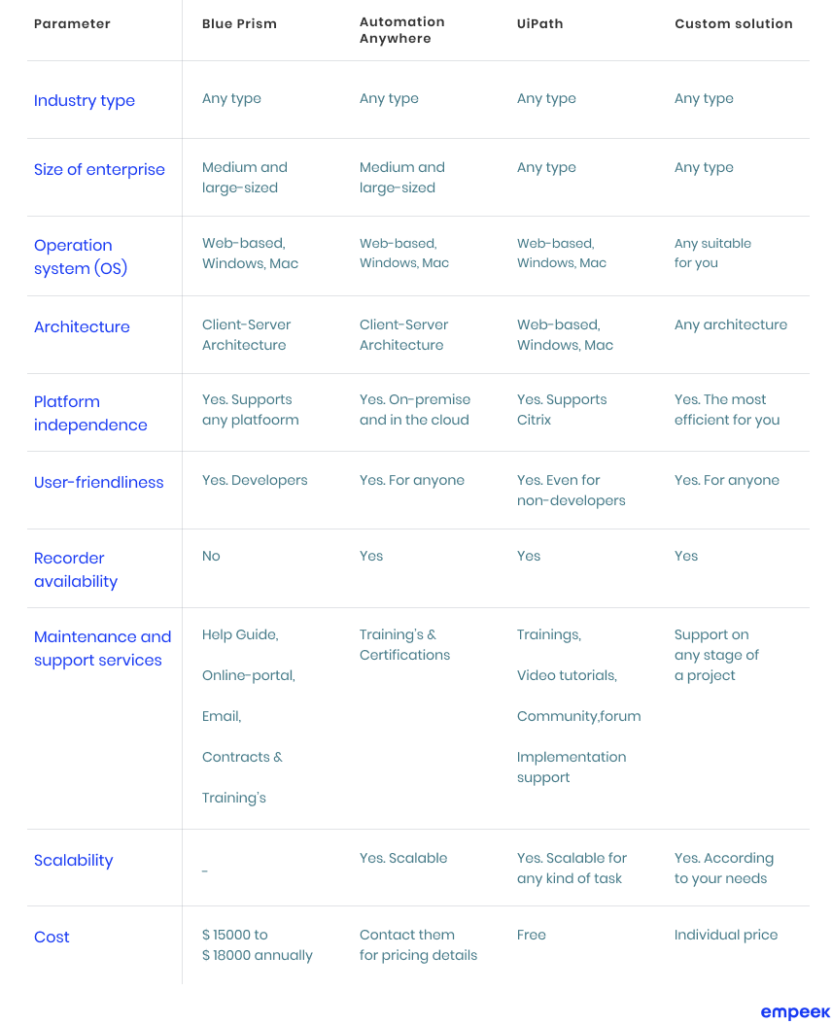 Now, let's analyze the parameters more precisely.
Industry Type
All three top companies and bespoke solutions suggest RPA tools for any industry where business process automation is available.
Size of Enterprise
Blue Prism and Automation Anywhere provide RPA solutions only for medium and large companies. UiPath, as well as tailored projects, are for any business.
Operation System
Top RPA leaders support Web-based, Windows, and Mac. However, they are not suitable for Linux. Implementing robotic process automation software, consider the OS that will bring maximum benefit for your business.
Architecture
UiPath has Web-based architecture. Blue Prism and Automation Anywhere use a Client-server system. The last one may be overloaded when many users make requests simultaneously. If you want to choose a suitable solution, consult with an expert for the individual piece of advice.
Platform Independence
Blue Prism and Automation Anywhere have access through apps. UiPath has mobile and browser accessibility. Bespoke solution setups mobile, browser, desktop, or any other platform for RPA implementation.
User-friendliness
UiPath has a dashboard with drag-and-drop functionality. Automation Anywhere is a script-based developer-friendly environment. Blue Prism has a lot in common with UiPath, but its features are less user-friendly. The first robotic process automation tool is the one without coding skills requirements. According to the table above, the best choice is UiPath.
Recorder Availability
Recorders are used to record repetitive actions in systems. Blue Prism doesn't have them. So it is inferior in this respect to the other two companies.
Maintenance and Support Services
UiPath fully supports enterprises on every project step. Other software tools have limited benefits. So it's much easier to communicate with UiPath to get top-notch customer service. Tailored business solutions consider your wants and needs, and cater to your best-class service.
Scalability
Blue Prism shows high execution speed. Automation Anywhere offers large-scale deployment with limitations, and UiPath RPA tools are for medium-sized projects.
Cost
The most expensive software among the top three is Blue Prism. Besides that, it doesn't have any free trial versions of the product. UiPath, in turn, has a free trial.
Each RPA tool has its prebuilt features. But do they always fit into your situation? Every industry has its unique and specific processes. So some product details may suit you perfectly, and some won't. For instance, in the healthcare industry, you need to deal with staff overloaded with routine paperwork, patients' claims, and so on.
Consider Empeek Your Trusted Partner
Choosing an already designed robotic process automation solution is as challenging as developing a new one. Thus, a trusted partner will help you not to miss any tiny detail. If you're in need of an expert in robotic process automation tools, consider outsourcing to Empeek.
We are a software development company, specializing in the delivery of advanced custom solutions for the healthcare industry. We have experience in developing top-notch EMR/EHR solutions, specialize in healthcare IoT app development, offer telemedicine app development, and process digitization services among many others.
We have experience dealing with projects including features as file encryption, secure data sharing, cloud integration, and financial data analysis. In case you're shortlisting your future partner now, learn about our services. As a tech company with a strong focus on healthcare, we know how to develop an RPA tool that can conquer the market.
Final Thoughts
The USA medical system has specific data collection and distribution methods and here RPA tools come in handy. They can be applied to EMR/EHR systems, Telehealth, and CRM development, among many others.
Healthcare organizations often face the issue of dealing with repetitive tasks. Medical billing and claims processing, patient onboarding, generating reports, and prescription management are common mundane tasks across all medical facilities. These tasks create the perfect environment for the robotic process automation tools to help streamline patient experience, reduce costs, and increase efficiency.
One of the most commonly used features in the RPA solution is OCR (Optical Character Recognition) bot. It recognizes records written by a doctor or medical personnel. The bot collects information and sends it to the clinic's database. You may use robotic process automation (RPA) tools in Telehealth to process data about online meetings automatically without doctor's interaction. They also deal with the patient's claims in real-time and increase customer service efficiency.
There are twelve of the most popular RPA tools in the market. They are Blue Prism, Automation Anywhere, UI Path, Keysight's Eggplant, Inflectra Rapise, Pega, Winautomation, Nice Systems, Kofax, Kryon, Visual Cron, and Work Fusion. All of these RPA tools have their own pros and cons and might not fully meet your business demands. In this case, a custom RPA solution can bring more value to your business.