New technology in healthcare benefits every stakeholder in the medical process.
Patients get more affordable, accurate, and accessible care. Providers use data obtained from the patients and tests to manage treatment processes, detect at-risk individuals, and automate administrative processes. Drug researchers develop new medicine faster and assess its risk/benefit ratio better. Developers satisfy their professional curiosity by creating solutions that save lives and help users to keep track of their health. Everybody's happy!
Empeek decided to overview the digital trends in healthcare based on our practice, a global research, market stats, and adoption level. It also set us in the mood for predicting what might happen next, which you'll also find out as you read on. So let's get to business!
Digital healthcare technology trends in 2021
Nobody doubts anymore that digital technology in healthcare is here to stay, and as the market figures suggest — for a long time. The report on digital health from July 2021, states that "the global digital health market size was valued at $145,884.3 million in 2020, and is projected to reach $767,718.9 million by 2030, registering a CAGR of 17.9% from 2021 to 2030". We see four major reasons for such progress.
Global Covid-19 pandemic. The industry will experience this steady growth due to the demand for broader adoption of tech solutions (especially regarding telehealth) to mitigate the consequences of the Covid-19 pandemic.
Legal base expansion. More tech-based services are getting recognized on the legal level and covered by insurance policies, which increase their adoption by the providers.
Need for business adaptation. C-level executives want to adapt their business to 'new normal' and 81% of survey respondents admit their digital transformation is already increasing, with 87% agreeing that their organization's business and technology strategies are becoming inseparable.
Tech possibilities. New technologies like blockchain, deep learning, and artificial intelligence make possible the development of new healthcare tools and software.
Everybody's curious, however, how exactly these new technologies in medicine will be applied and what we should expect. Here's what's going on today.
Digital transformation
Post-Covid healthcare initiatives regarding collecting, storing, and exchanging of data continue transforming at the speed of light. Take for example the electronic vaccination certificate that allows authorities to check whether they can admit a person to a facility or even a country. So far, it's the first medical-related record that can be used by various administrations throughout the world to collect data, monitor the vaccination level, and reduce the chance of spreading the disease. There are, however, other cases of how digital process automation is used.
Think about electronic medical records (a.k.a. digital version of a patient's card within one care provider) and electronic health records (a.k.a. patient's record collected from different care providers). Automation paper process in medicine gives the ability to safely store and collect patients' clinical data, test results help the hospitals track the treatment progress, detect at-risk patients, renew medication subscription without an in-patient visit, schedule appointments, set reminders, and generally boost healthcare process improvement. Digital transformation also enhances benchmarking in healthcare.
Use of public cloud services and cloud-based analytical platforms
New services that partake in data generation, storing, and processing need a robust system that would ensure efficiency, safety, and interoperability of these processes. Being more performant than an on-premises infrastructure in terms of scalability and maintenance, cloud and hybrid cloud solutions have become a hot trend in healthcare businesses: 66% of interviewed executives said that they'll be in the cloud within the next year, and 96% plan to move there within three. Why such a rush?
Strict data processing policies and the need for enhanced safety. Whether it's a medical IoT, EHRs, or connected devices, the governments demand following the best security practices and implementing industry-accepted standards when developing and adopting new technology in medicine.
Artificial intelligence (AI) and machine learning (ML)
Tech innovations that have data processing at the core of their operations are impossible to imagine without artificial intelligence and machine learning. AI means the application of cognitive technologies for medical purposes or in healthcare facilities. The graph below exemplifies the market share of AI solutions as of 2020.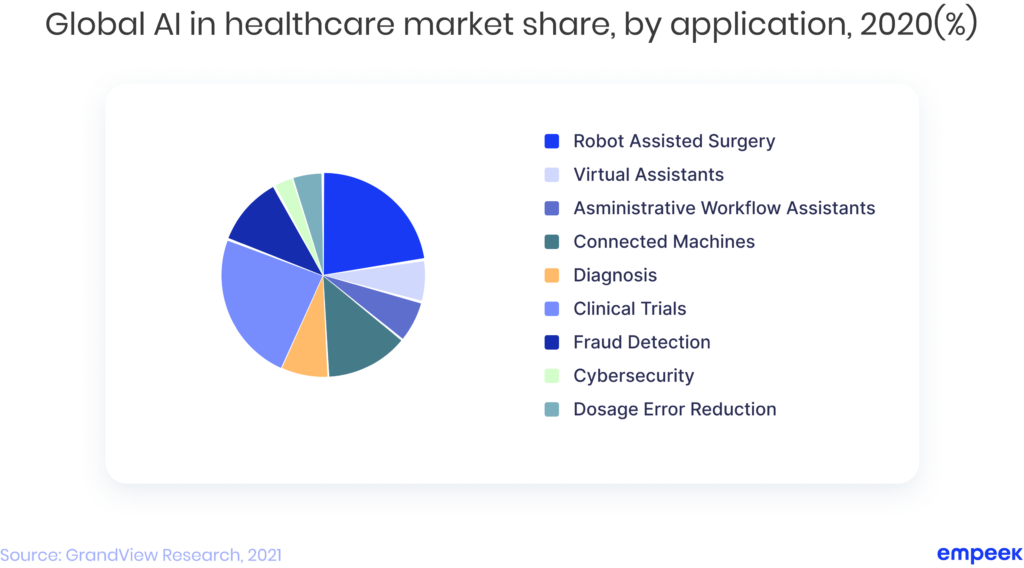 AI- and ML-based solutions are used for many purposes — from tracking one's health data and search patterns for disease development to drug trials and administration. In the following graph, you can see the most common application of AI in a medical setting.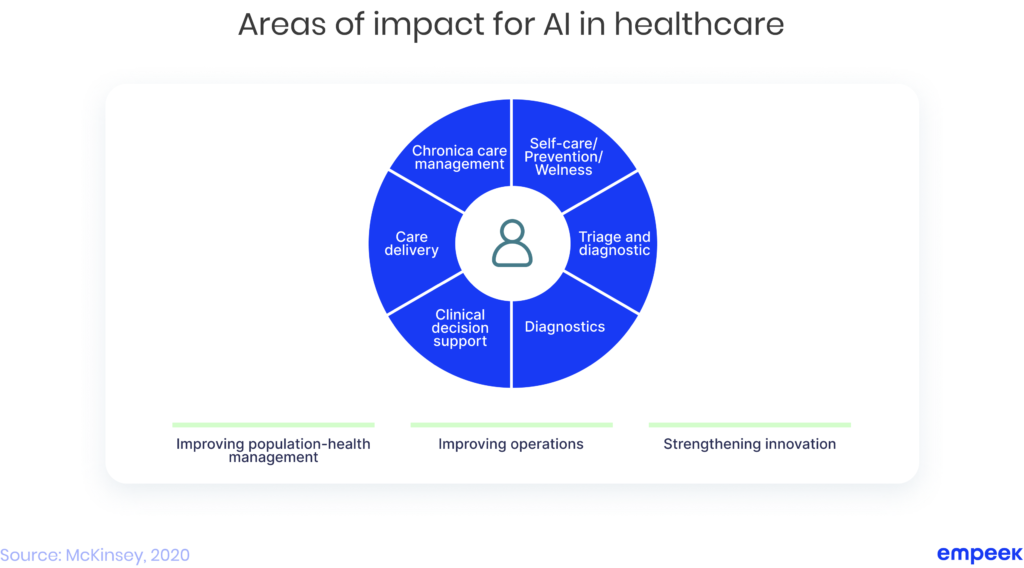 Internet of Medical Things (IoMT)
Of course, talking about healthcare technology trends can't omit to mention the Internet of Medical Things (IoMT). Simply put, it's the combination of software that transmits, shares, and processes data obtained from connected devices.
With IoMT, the doctors can measure the vital factors of the patients without the latter visiting the office in-person, hospital administration can manage the patient flow and bed availability, while the patients get reminders and statuses about one's health. Combined, they increase the healthcare culture and involvement in the diagnostic, treatment, or monitoring process.
Wearables and implanted devices
Fitness trackers, pulse oximeters, pacemakers, and other wearable and implanted devices help care providers and patients monitor their vital signs. Some tools even replace organs, needed for the human system to function. If such tools are connected to the network that analyzes the performance of the devices, the doctors can assess the health condition of the patient, schedule the required device diagnostic, and receive the signals when the parameters get abnormal. As the result, the doctor can initiate preventive treatment and save the patient's life.
Telehealth
From a smartphone app allowing round-the-clock healthcare assistance to medical platforms for video monitoring and conferences — telemedicine solutions are plenty. And since these telehealth visits got covered by the insurances on par with the in-patient ones, these online consultations became popular with the specialized physicians. Have a look at how Covid-19 has influenced the use of telehealth in just three months!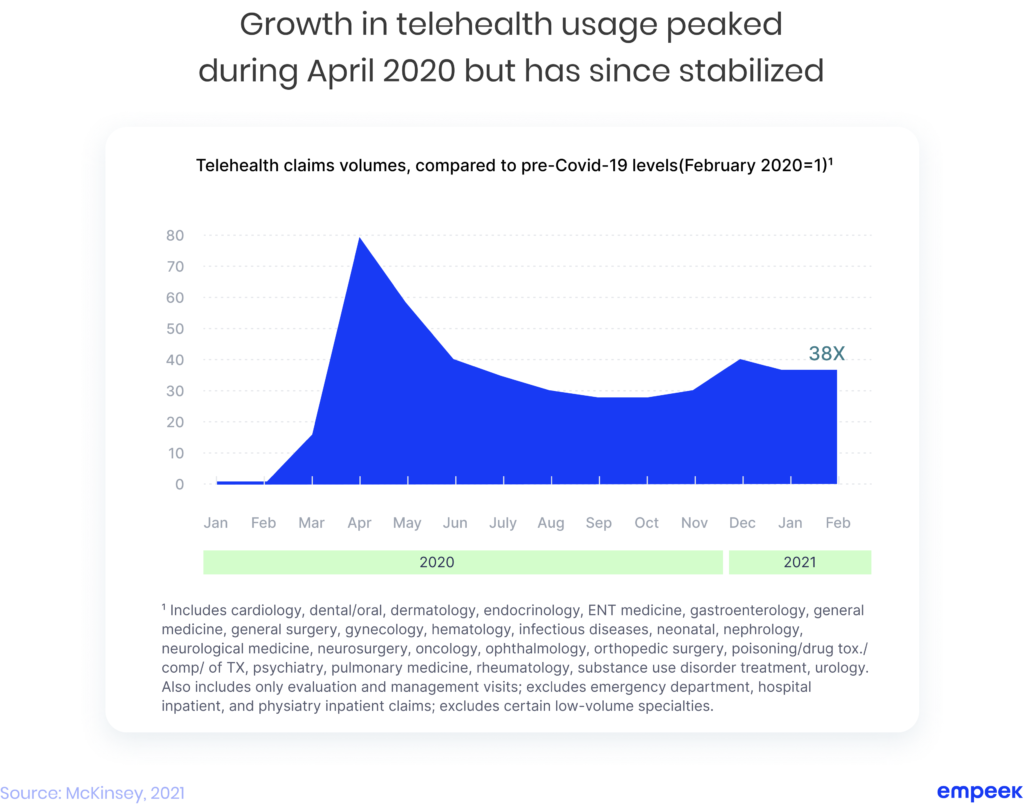 Use of VR and AR technologies
Virtual and augmented realities are used for teaching the new generation of doctors and helping those on duty to perform better. Two fields that benefit from VR and AR the most are surgery and oncology, as they allow to replicate the exact form and qualities of the organ, thus providing the specialists with better imaging. VR-assisted surgeries proved to increase the efficacy of correct identification of the organ's position and real dimensions, thus minimizing the need for unnecessary cuts. Read a deeper Empeek's insight on VR/AR here.
Robotization of medical procedures
Five years passed since the first autonomous surgery was performed by the Smart Tissue Autonomous Robot (STAR). This event became a milestone for traditional surgery practices since the work of algorithm-based robot outperform the results of the same surgery done by humans. This unfolded the trials aimed at collecting more information to assess the cost-efficiency ratio of such procedures. Currently, surgeons all over the world use robot-assisted da Vinci Surgical Systems to perform complex surgeries that require precision.
Wellness apps
You can spot a variety of these in your phone's app store. Their development is often initiated by enterprises that began digitalization of the health services they provide. Such apps collect and measure the vital signs of the patients based on the signals that the device receives, and notify the doctors about them.
Technology trends in healthcare continue growing proportionally to how the technologies that allow their functioning, do. Let's describe what it can mean for the whole healthcare system.
How IT innovations shape the future technology trends in healthcare
Intelligent automation in healthcare paves the way to a new kind of medical services and how we receive them. Here's what they allow for.
Personalized care. When the physician receives the data from your wearable device, s/he can monitor your health indicators in progress, and coordinate you to visit a specialist if they see that some results can mean the development of certain conditions.
More accurate image interpretation. The MRI results matter only when they can be correctly interpreted by a specialist. Doctors already use cancer-identifying algorithms that help spot malignant cells better than a human can. This accuracy is vital to avoid false-positive or negative results and choose proper treatment tactics.
Administrative process automation. Routine tasks shift the focus and distract our attention from the details that sometimes can entail negative consequences. AI-powered software is capable of doing routine human work without making human errors. Take filling out the form as an example: mentioning the wrong code may cause increase the patient's out-of-pocket payment and will surely lead to negative feedback associated with this transaction. Also, with patient check-in automated process, visitors have more opportunities to manage appointments. As a result, the number of no-shows will be eliminated.
Data centralization and ecosystem creation. Imagine you have data from 100000 patients all over the world of the same age who suffer from the same cardiac disease. Observing what kind of concomitant diseases they have and the treatment they received, the researchers can suggest what works better and what worsens their conditions.
Faster drug discovery. AI cell simulation algorithms already shorten the time that researchers spend on testing the efficacy of various vaccines, pills, and procedures. Together with the data that can be obtained from EHRs, they will have a better clinical picture of how drugs can affect the target cells.
How will it all affect the further development of digital healthcare technology trends? See what the Empeek team thinks about it.
Future technology trends in healthcare: Empeek's take
More low-code cloud solutions
We strongly believe that the future is low-code, especially when it comes to cloud infrastructure. Hence, we predict that the medical cloud solutions will enable the vendors to use them as services instead of creating them from scratch.
Standardized medical tech specs for digital health
In its strategic report on digital health, World Health Organization (WHO) mention interoperability and network centralization as the main priorities for supporting digital health on local, regional, national, and global level. This won't be possible without embracing the standardized solutions that would allow smooth performance and the highest security level. From this perspective, the medical software developers will use two-factor authentication features, create various user account types and accesses, and design the data transmission process that would eliminate the possibility of successful hacker attacks.
Increase of portable measuring devices
If not for Covid, most of the population won't even know about the existence of oxymeters. We believe that in the future, there will be more connected devices that would be used to monitor people's vital signs and allow for faster first aid when needed.
Development of medical education platforms
There are AR-based apps that can locate the closest AED kit and assist in emergency CPR training. The development of such educating platforms can save people's lives and assist the patients with emergency care before the ambulance arrive.
Consider Our Company Your Trusted Partner
It would be hard to predict any of it if we didn't observe the trends that the IT-sphere has. Knowing the tech side of the story, powering it with the market research, and adding customer insights help Empeek to deliver the products that allow companies to produce solutions for the healthcare providers to monetize their services and bring more value to the patients.
Final Thoughts
Future technology trends in healthcare depend on technological innovations that are already used and integrated into the global and local healthcare systems. Empeek is ready to move these innovations forward. Contact our team today, and let's discuss how we can help your business to add value and offer a more accessible, accurate, and affordable care
FAQ
What's new in healthcare technology?
Medtech constantly evolves and solutions that were innovative a year ago are now using on the daily basis. However, it's great that world organizations like WHO started to admit the global importance of digital health adoption and already developed strategic plans for the upcoming five years. This should facilitate many of IT future trends in healthcare, including the expansion of the 5G network, and push the developers to come up with ecosystem-suitable solutions. Meanwhile, have a look at the latest medtech inventions.
WIll digital transformation in the healthcare industry entail changes in legal?
We think it'll be vice versa. There have been a lot of trials, tests, and studies that proved the efficacy of the solutions but the developers can't unfold the mass distributions without having the solution tested and approved by regulatory bodies. And for that, they need to develop regulating papers and tech specs guides.
Why digital technology in healthcare isn't used worldwide at the moment?
There are a few reasons for that. First, it's the lack of public awareness and technological base to improve the existent system. Second, any change requires investments and planning. Plus, the healthcare innovations have to be certified to be used in practice, and this takes some time.