Thanks to the World Health Organization, numerous healthcare providers all around the world are moving in a sustainable healthcare direction. No doubt, hospitals' workflow faces specific problems day-by-day, year-by-year.
One of the critical problems we hear from our customers is unnecessary expenditures. The tendency is a two-way street — the rise of healthcare IT requires a qualified tech approach to manage it. That's why many hospitals struggle with operating and updating their health record systems.
Here, at Empeek, we tried to put light on some insights about smart EHR cost-efficiency, and EHR and patient safety according to the latest Deloitte GHCO 2019 research. So, here are the main industry issues:
— Growing data volumes are hard to keep and backup
— Typos & misprints in patient-related data
— No alternative for the pen-and-paper way of work
— Legacy EHR systems are continually escalating costs and complicating digital infrastructure. How can healthcare providers get rid of it without losing sensitive information? Well, every cloud has a silver lining. The cloud-based healthcare solutions and EHR system is the brightest one.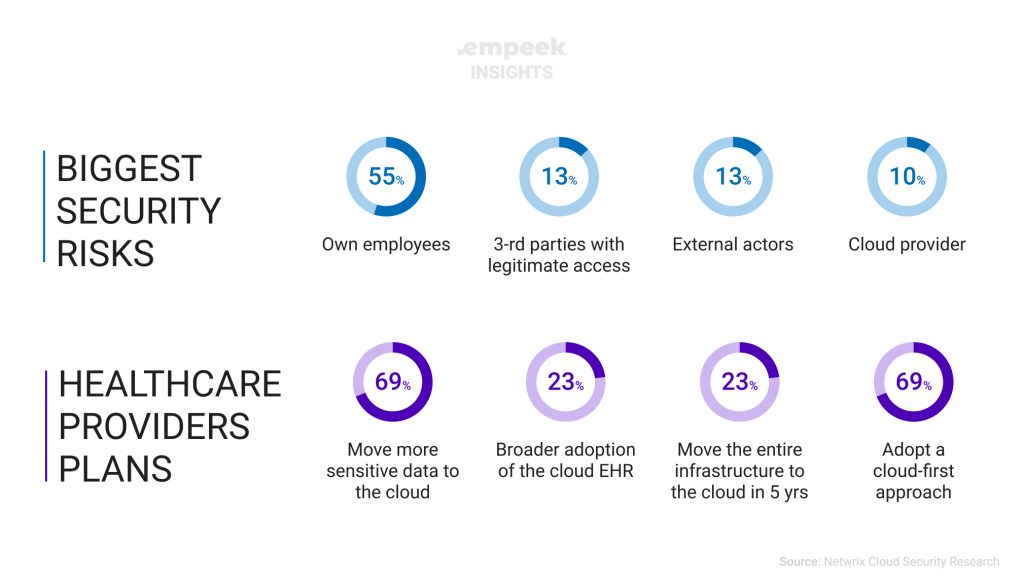 Implementing an ehr system in a hospital is an intelligent and cost-efficient solution to store, manage, and access your patient-related data. When you store data on internal servers — you pay for storage, performance, cybersecurity, and maintenance. When your data is on the cloud (i.e., trusted datacentre) — you pay only for what you need and when you need it. Sometimes hospitals struggle with EHR privacy and security issues. Check our guide to figure out how to cope with them.
You can quickly scale cloud-based EHR according to your business needs. Want some useful insights? Hire the experts to develop a smart platform with behavior tracking and risk management graphs. Doubt on the new software? Tailor an intuitive interface according to your vision and needs. You don't need to care about servers maintenance, data backups, or security — cloud providers already did it. Cloud EHR system development is the right way to:
— increase business agility
— reduce unnecessary costs
— analyze infinite data
— automate hospital processes
— prevent avoidable medical errors
Cloud EHRs are priced on a 'per user per month' model, though providers charge per record, event, or encounter. You also don't need dedicated staff training because reputable vendors provide 24/7 qualified support.
Web-based EHR systems achieve HIPAA compliance through data centers with bank-level security and high-level encryption methods. If a security breach occurs — patient-related data is still unreadable.
Ready or not, the cloud is coming.
EHR screen design and user interface play a major role in system usability. The more agile software providers you choose, the faster they'll adapt to industry changes. There are many compelling reasons to start planning the transition: from accessibility and scaling to security assurance, safeguarded HIPAA compliance, and reduced expenditures.
Long story short, EHR data migration isn't an uncontrollable process. Going step by step, consulting with experts, healthcare providers can reach a secure and seamless EHR transition to the cloud.