A card payment system is so deeply rooted in our daily lives that we take many aspects of it for granted, like its accessibility, availability, and safety. The medical sphere is no different, and it's a rare case when we pay for healthcare services with cash or checks, especially for those services we've received online.
Credit card processing for healthcare services differs somewhat from other card processing optionsbecause of its legal side. Most popular billing services like PayPal or Vimeo can't be used for medical billing because their technologies don't meet HIPAA requirements for the online payment processing.
There are many nuances that healthcare providers should pay attention to in a HIPAA-compliant online payment. Often, these aspects are left out by the mainstream payment systems. For instance, the payment system used in the medical field should not provide any patient's health information on the bills or receipts, the processor should be PCI DSS compliant, the data shouldn't be stored electronically or otherwise, etc.
Many of the aforementioned legal requirements are stated in the Health Insurance Portability and Accountability Act (HIPAA). Adopted in 1996, HIPAA serves as a set of guidelines for securing patient data. In this article, we'll review the importance of HIPAA-compliant payment methods for the involved entities, discuss how to arrange compliance if you're in the telemedicine business or support it, and how the Empeek team can assist your business with secure card payment solutions.
Secure Payment Processing Solutions for Telehealth Business
Shortly put, HIPAA obliges medical providers, business associates, insurers, and developers to conduct their activity regarding the patient's information without exposing it to risks associated with sharing, transferring, storing, or using the patient's information. In this article, we will focus on HIPAA-compliant credit card processing solutions as an essential element of most patient-hospital interactions. Every time a patient receives services offline or through a telehealth app, they will need to complete payment.
For the medical industry, HIPAA compliance, including HIPAA-compliant credit card processing practices, is the most important criteria for being deemed as a lawful provider since HIPAA violations can entail penalties, license loss, or even criminal charges. They also undermine the healthcare organization's reputation and show patients they should never trust it.
Therefore, if you run a medical office, provide telemedicine services for therapists and patients, help the provider institution with maintenance/service, store or process the personal patient's information, your payments must be in accordance with Hipaa's payment processing requirements. Here's what the situation is as of now.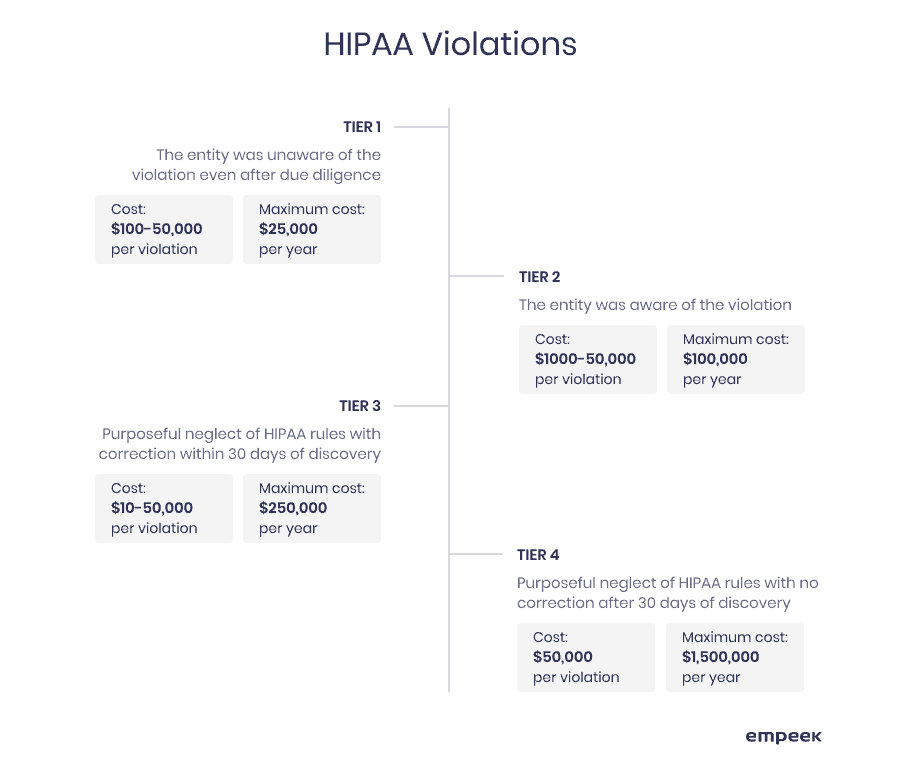 Telehealth Industry Overview: Current State and Stats
Even though the mhealth and telehealth industry is more than 40 years old, it's because of the COVID-19 pandemic that it became extremely popular. The demand for remote care made both providers and patients prefer convenient telehealth solutions that cut long queues at hospitals and enhance care in rural areas.
As a result, the CARES Act adopted in March 2020 enforced the insurance companies to include 85 telehealth services as their covered services – and they don't include solely the services associated with the pandemic.
On top of that, it's only a start for the industry, as it's expected to grow from $61.40 bn in 2019 to $559.52 bn in 2027, with more than half of it dedicated to service provision. The reason? Telehealth allows health care providers to increase continuity of care, extend access beyond normal clinic hours, reduce patient travel burden, and help overcome clinician shortages, particularly in rural areas. Patients can access telemedicine services for surgeons and other specialists to consult on minor health issues remotely.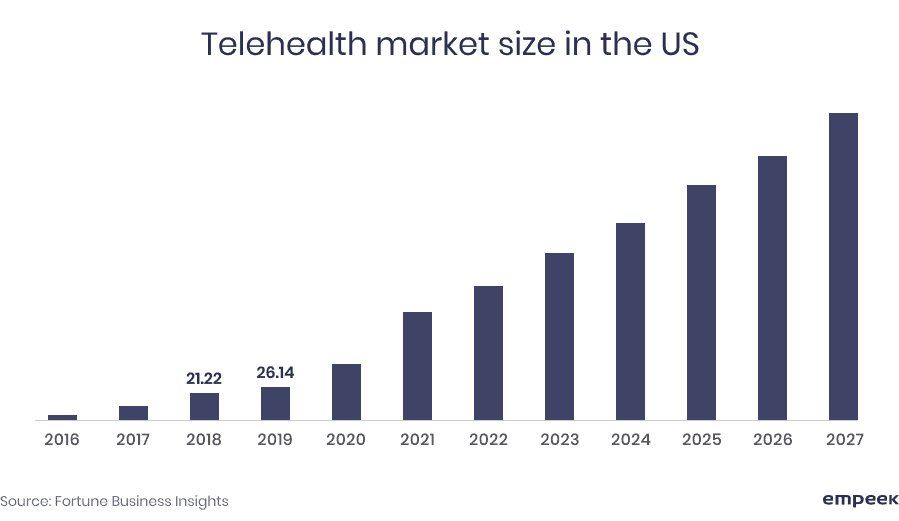 Naturally, the need for making secure credit card processing solutions for the telemedicine business will grow as well. Consequently, healthcare institutions will be facing even tougher restrictions and regulations concerning financial data safety. Therefore, if you're a telehealth business, this is what you should know about the implementation of the payment system.
The Bigger Scope, the Bigger Risk
The rapid development of telehealth services means, among other things, a bigger volume of data to process. As a result, there are also more attempts to steal sensitive information. Medical data, bills, and contact information allow criminals to receive treatment under a false name, make fake medical claims, and, most importantly, ruin the reputation of the healthcare provider related to the leakage.
The HIPAA Act is designed with consideration to this to protect the patient's right to have their information intact and regulate the provider's activity regarding the patient's data they receive, use, or store.
While the credit card processing does not fall within the scope of HIPAA since no health record information is being stored, the provider should be careful with choosing healthcare credit card processing that won't use the merchant account to store, process, or receive the protected health information (PHI).
The PHI includes the legal name of the patient, their DoB, credit card number, any information from the medical record or insurance, etc. If the merchant/payment system uses any of it in their billing, they violate the HIPAA terms, which will entail legal consequences. Let's review how one can implement HIPAA-compliant online credit card processing without risking a thing.
To learn more about how to develop a HIPAA-compliant telehealth platform, read our article dedicated to compliance requirements for telehealth.
HIPAA and Credit Card Processing: A Subtle Bond
It is important to understand the card processing mechanisms and the involved parties to choose the right processing company for your healthcare business. Let's start with the involved parties.
Who Partakes in Credit Card Processing
Credit card processing is the transaction initiated by the credit card holder, forwarded by the provider's POS, and processed by the provider's payment processor. The processor sends the transaction request to the credit card network, and the network forwards it to the card issuer to approve or decline the transaction.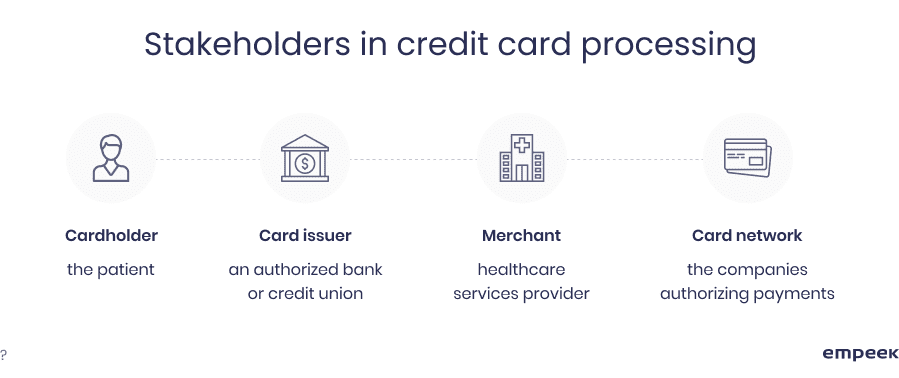 The key stakeholders in the credit card processing process are the following:
Cardholder: in this case – the patient who wants to pay for provided services with the card.
Card issuer: a bank or credit union that's authorized the card issuing to the particular person.
Healthcare provider/merchant: an establishment that provides medical services.
Card network and brands: the companies that allow the financial transactions between the cardholders and merchants to occur.
To prevent the credit card information from being intercepted or hacked during the transactions, a merchant should select a processor that adheres to Payment Card Industry Data Security Standards (PCI DSS).
What Are the Most Common Credit Card Processing Types in Telemedicine
Because the telehealth services are provided online, so are processed the payments. It involves the exchange of the information necessary to initiate, process, and finalize the payment request. So how is it done these days?

By Phone
As we become more mobile, many patients also switch to smartphone payments and demand such services from healthcare providers. As a result, some providers choose to take payment by phone.
In this case, the client is sent a request for specific information to finalize the payment. While mobile payments keep gaining vast popularity, this type of credit card processing has two issues. Let's review them below.
Firstly, many issuers do not allow "card-not-present" payments and require creating a charge record and verifying the cardholder's name and billing address. Secondly, the providers cannot store or write down the obtained information anywhere else except for the payment system. Therefore, this method might not be the safest or the best HIPAA-compliant credit card processing solution.
Integrated Telemedicine Software
This HIPAA payment processing option is becoming more and more popular because of the opportunity for instant payment. The system provides a pop-up window with the payment form. Once the form is filled up with the required financial data, the request gets processed.
Usually, the payment portal is PCI DSS compliant, which means the merchants only need to integrate it into your system to set up the process and secure online transactions. However, the drawback of this option is having to sign up with a specific payment provider while making HIPAA-compliant payments.
Direct Payment
This type includes a HIPAA-compliant telemedicine payment processing gateway. The biggest advantage of this type is that you can customize the form, send it before or after the appointment, and include various payment providers. Here, the clients themselves type in the necessary information, and the process gets finalized for a provider after the patient confirms the transaction.
Direct payment solutions are the safest and the most convenient for healthcare providers as, if set up and managed right, they can ensure a HIPAA-compliant payment processing system. How? Because the developers can come up with a solution that will service your clients only and involve the technologies that ensure the HIPAA security requisites.
When choosing the credit card processing type, medical services providers should be careful that it won't cause a situation when the HIPAA requirements will be violated. The next part will give some pointers to consider when implementing HIPAA-compliant online payment processing into your business.
Implementing HIPAA Compliant Credit Card Processing: Dos and Don'ts
The payment process involves a few stages after a service has been provided such as generating an invoice/bill, sharing it with the payer, and getting the transaction done. Since creating an invoice cannot be done without stating the personal health information on it, every step of the way falls under the HIPAA-compliant electronic payments rules.
While there are many payment systems that other merchants can use for their services, they can't be used when it comes to medical practice. This applies to the systems like PayPal, Venmo, Zelle, QuickBooks, and Wave, which don't belong to HIPAA-compliant payment methods. Therefore, the option of using them for healthcare billing is off the table. What are the potential solutions or best case practices in this case? Let's further review them.
Don't:
Provide any protected health information that includes details about treatment or care in the billing;

Send receipts via text or unsecured email, and make sure your processing company doesn't do so either;

Sign up with a payment processing company before checking if they are HIPAA-compliant. Never collaborate with the companies that left it unanswered;

Use by phone payment if you have an option of not doing so.
Do:
Create an official inquiry on whether a payment gateway provider offers HIPAA-compliant medical payment processing;

Secure the credit card data by investing in an encrypted vault to make sure the sensitive card data isn't saved electronically for open use;

Sign a business associate agreement with the company that processes payments, especially if they not only deal with the payments but also assist you with marketing or data collection;

Use payment data security encryption technology (P2P, vP2PE);

Consider an in-house payment integration solution, especially if you already have a practice management network.
A HIPAA-compliant payment solution does involve a lot of resources and following many legal guidelines to do it right. The above-mentioned points are here to give a general idea of what direction to follow and what to avoid. But because every healthcare provider is different, we recommend reaching out to our team and asking what can be done, so your telehealth patients are sure of the safety of their data when they pay for the services.
How Empeek Can Help with HIPAA Compliant Credit Card Processing?
Empeek is a healthcare software development provider focusing on telehealth software development. Our company is dedicated to the healthcare industry and, therefore, knows how to create solutions that meet strict requirements of healthcare regulations, including HIPAA. We also have worked with projects where our team had to implement payment solutions as a part of medical platforms from scratch.
We offer custom telemedicine software development services. The combination of the healthcare and fintech engineering experience enables us to create telehealth solutions with reliable and HIPPA compliant online credit card processing. View some of the projects Empeek has completed here.
By choosing our company, you get:
A dedicated team with narrow-field experience in HIPAA payment processing solutions
Flexible cooperation model we can adapt based on your business and technical needs
Software engineers and tech specialists ready to help you with specific tasks like consulting on HIPAA-compliant payments or from scratch development
Are You Sure That The Technology Your Company Is Using Doesn't Hamper Business Growth?
Contact Us
Creating a safe credit card payment is in the best interest of the healthcare provider that wants to deliver telehealth services effectively, secure its position on the healthcare market, and create a convenient and safe payment option for its clients.
If you require to set up the billing process for your telehealth business, Empeek is ready to design a HIPAA-compliant payment software solution for your business and help you to focus more on care provision rather than payment collection. After all, this is what healthcare should be about. Contact ustoday, and let's talk about your project in detail.