While fintech may seem to many as rocket science, the overall trends are quite simple. Fintech is about everything related to money.
Financial technology has forced a shift in established financial services models. Nowadays, it prompted large financial organizations to re-evaluate how they do business. The impact that fintech has on the industry over the years is really disruptive.
We can discover the strange market situation in the latest PWC research. It says, "82% of banks, insurers, investment managers plan to increase FinTech partnerships; 88% concerned they'll lose revenue to innovators".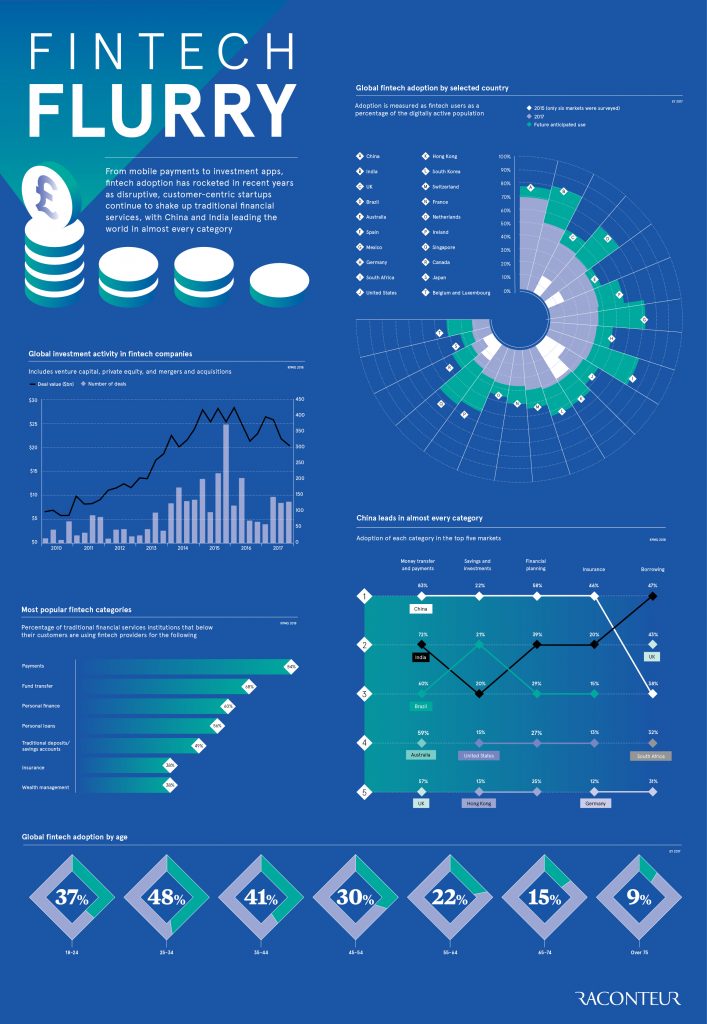 The global financial status quo is undergoing a full rethinking, all thanks to fintech startups and blockchain technology. Here at Empeek, we think that the best way then is to meet these trends head-on. Let's start with a few of them.
Digital-only banking
Digital-only banks are a great gift to humanity: we don't need to waste time to visit any brick-and-mortar bank, no lines, and no torturous paperwork.
They've granted us a snap-a-pic bill payment, convenient expense management, quick balance review, and real-time analytics.
Key takeaways:
Digital-only banks are popular for a huge value proposition: convenience banking;
Visits to banks will drop by nearly 35% thanks to digital-only banks;
A new way to pay
You've probably heard about mobile payments, contactless payments, mobile wallets, etc. And perhaps, you're the one who is using them daily.
As it is, they are the first generation to see the rise of cashless transactions: Mobile payments are already well on their way to ramp up a total of $1 trillion value in 2019.
The number of people using contactless payments already stands at 440 million in 2018 alone. Add the blockchain technologies, and fintech payments will explode further in just a few years. Well, that's the next topic!
Key takeaways:
Digital wallets and cashless payments will drive fintech payment innovations.
The blockchain factor will definitely disrupt payment systems all around the globe.
Generation Z will be a prominent driver of payment disruption.
Smart contacts
Imagine a world in which a string of code could recognize the fulfillment of conditions, automatically transfer assets at the agreed times, and register those transfers.
That's what the smart contracts are all about.
Without going to the deep technological, legal, and philosophical underpinnings of contracts, smart contracts digitalize trust in a way that makes transactions robust, safe, and enforceable anywhere.
Key takeaways:
Fintech will not be fintech without smart contracts.
Smart contracts will be accessible to anyone.
Smart contracts are incredibly robust in terms of trust and execution.
Win-win instead of win-lose
Anyway, established banks and age-old financial institutions will compete with fintech startups. As in every business, each company old and new has something the other offers that each lacks.
The easy answer is a win-win logic of working together – bringing a new vision to the concept of collaboration and co-create. Goldman Sachs has just done that with Elinvar, giving it a stake in the digital banking space. Visa launches an investment fund for fintech startups.
Key takeaways:
Fintech startups and established companies will work together, redefining the financial industry.
Old names in the financial sector can opt to invest in fintech startups to gain a foothold in the digital-only banking industry.